BUILD Students of the Week: December 14, 2018
Published December 18, 2018
Every Friday we'll highlight one BUILD Trainee from each of the Learning Communities -- 295, 395 and 495 -- so that you can get to know them better.
UNIV 295
Image
Angelica "Gil" Ang
Associate
Major: Psychology
Hails From: Downey, Calif.
Research Interests: Cognitions neuroscience and abnormal psychology
Personal Interests: Doing arts and crafts, hanging out with friends, watching tv shows
Fun Fact:
I am a dog mom. I have a "side business" decorating parties
UNIV 395
Image
Bianca Godinez
Year One Scholar
Major: Linguistics
Hails From: Rancho Cucamonga, Calif.
Research Interests: Computational Linguistics, Bilingualism, Phonetics
Personal Interests: Finding great music, Reading, Drawing
Favorite Scientist: Yolanda Lastra
Fun Fact: I row for the CSULB Women's Rowing team
UNIV 495
Image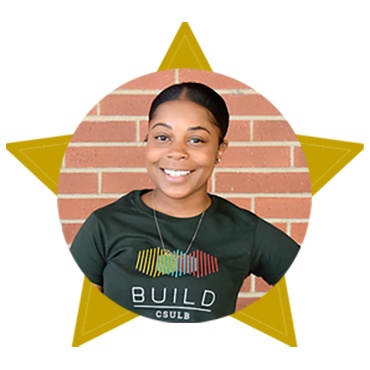 Destyn Jones
Year Two Scholar
Major: Psychology
Hails From: Oakland, Calif.
Research Interests: My research interests are forensic psychology, correctional psychology, impulsive behavior, self and social judgment, logical reasoning, and intergroup interactions. I am currently working on developing a study on suspect misidentification and police lineups in hopes of finding a better way to conduct the police lineup process so there are less false positive identifications.
Personal Interests: I love volunteering at hospitals working with Neonatal Intensive Care Unit (NICU) babies as a cuddler, shopping, watching crime shows, painting, and hanging out with friends.
Favorite Scientist: My favorite scientist that inspires and motivates me is Katherine G. Johnson because she managed to navigate through a discriminatory society in order to accomplish her goal of creating the calculation to send astronauts to the moon. She shows me how with resilience, dedication, hard work, and perseverance, anything can be achieved.
Fun Fact: In the future, I want to work for the FBI as a special agent.