CSULB's state-of-the-art Immersive Design Research Lab finds new home in University Library
Published September 27, 2021
Heather Barker, an associate professor in the Department of Design, wanted to build a design lab at Cal State Long Beach, a place where students could create virtual worlds in which dolphins swim down the streets of Long Beach, dance in front of a sacred mosaic or install a virtual auditorium on any corner in the world.
It would be a lab where students could test their innovative, human-centered and collaborative approaches to spaces and experiences and produce impactful research. Think the van Gogh immersive experience with a research component tracking how people engage with the exhibit. 
The Immersive Design Research Lab came to life in 2015 and was scheduled to occupy a space in the College of Arts. But when plans changed, Barker and her team found they had to rebuild the lab every time a group of students wanted to research a design project or test the space where interactions of humans and machines occur.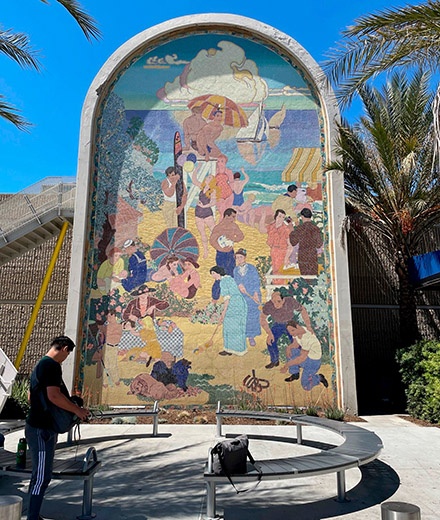 "People were like, 'where is it?' and we would say, 'hang on, let us build it.' It was really awkward," Barker said of the past six years since the department received a substantial donation from Nissan Design America toward a design lab. "It was mobile; we would construct it wherever we could." 
The "mobile" IDRL is no longer on the move. The lab, which reopened this fall, now occupies a permanent spot in the Gerald M. Kline Innovation Space, located in the University Library. The design lab will be situated next to the recently installed Virtual Reality & Augmented Reality Tracking Wall and Igloo Vision Cylinder, giving students a more inclusive virtual shared space. 
Roman Kochan, dean of the University Library, said these technologies "will show how these technologies apply across disciplines, creating a catalyst to expand the technical familiarity and skills of students and faculty at CSULB."
Barker gave Kochan much of the credit for the lab's new home. "He felt it fit in with his vision for the library," she said. 
Barker said plans to bring the IDRL to the University Library started in late 2019, when Dr. Chris Beyer, a professor in the Engineering Department and director of the Innovation Space, Kochan, several faculty members and she agreed to make it happen and "now it's happening." 
The IDRL is research-driven and uses a wide range of accessible, mobile tools to meet its research agenda, Kochan said. 
"The I-Space is technology-driven and makes cutting edge high-tech, stationary, room-scale technologies available to the campus community," he said. "The spaces are complementary and synergistic with the distinction being in access, mobility, resolution, and scale." 
Now, design students can visit the permanent immersive lab to construct environments that have applications ranging from disaster relief training to merchandising and consumer behavior studies. 
With an interdisciplinary focus, this research allows students to collaborate with others across campus, from architecture to engineering to sociology to business. Barker said students can track individuals' behavior in a game, movement or voice, including in virtual reality.