CSULB's roots in the Long Beach Cambodian community run deep
Sophea Seng and her students are taking their studies to the streets. 
The assistant professor in Asian and Asian American Studies teaches the Cambodian American Experience. In April, most of her class volunteered with the annual Cambodian New Year's parade in Cambodia Town, a specially designated district of Long Beach with a high Cambodian population. Two of the students dressed in traditional attire and participated in the parade. 
"It was good to be able to meet people in the community who were putting the parade together," said Seng, who began teaching full-time at CSULB in fall 2021 and is the second tenure-track Cambodian professor in the Beach's history. She obtained a master's degree from CSULB in Asian American Studies a decade ago, studying with anthropology professor Karen Quintiliani, considered by Seng and others to be one of the foremost scholars over the past 30 years on Cambodians in Long Beach. 
"Volunteering for the parade really makes them think about the narrative and gives them a ground-up perspective," said Seng (pictured above). "They learn about what makes this parade happen." 
Long Beach is home to the largest Cambodian community outside of Southeast Asia. The 2010 U.S. Census Bureau estimated about 18,000 Cambodians living in Long Beach, while more recent estimates put the number between 19,440 and 20,000, or about 4% of Long Beach's total population of 486,000.
Over the years, faculty, staff and students have been building bridges between The Beach and Long Beach's Cambodian community, between students and their parents, all the while promoting healing and advancement for a group that has survived one of the most brutal and deadly regimes of the 20th century. 
Cambodians have been living in Long Beach and attending Cal State Long Beach since the 1950s, according to "Cambodians in Long Beach" (Arcadia Publishing) by Quintiliani and Susan Needham. The earliest students at CSULB were affluent, on a foreign exchange program and were the children of government officials and diplomats, according to The Washington Post.
More recently, over 579 Cambodians were enrolled at The Beach in spring 2022, according to university records. That represents about 7.8% of the AAPI student population.

Professor Leakhena Nou, who joined the CSULB faculty in fall 2005, has done extensive research and outreach with the survivors of the Khmer Rouge genocide, in which nearly 2 million people were killed between 1975 and 1979. Her organization, the Applied Social Research Institute of Cambodia (ASRIC), has collected testimonies from hundreds of survivors living in the United States, including dozens from Long Beach. 
Those testimonies were submitted and used in a major war crimes tribunal in Phnom Penh, leading to the convictions of two key leaders from the Khmer Rouge regime. Nou's efforts are depicted in the 2016 documentary "Daze of Justice," directed by Michael Siv, and are included in the U.S. Holocaust Memorial Museum. 
"For me, as a Cambodian scholar, I can't just publish the findings and let it sit on the bookshelf and collect dust," said Nou, who also serves as co-advisor for the CSULB Cambodian Student Society, founded in 1984. "I had to do something. I couldn't just let the data get lost in the academy. I had to speak on behalf of my community."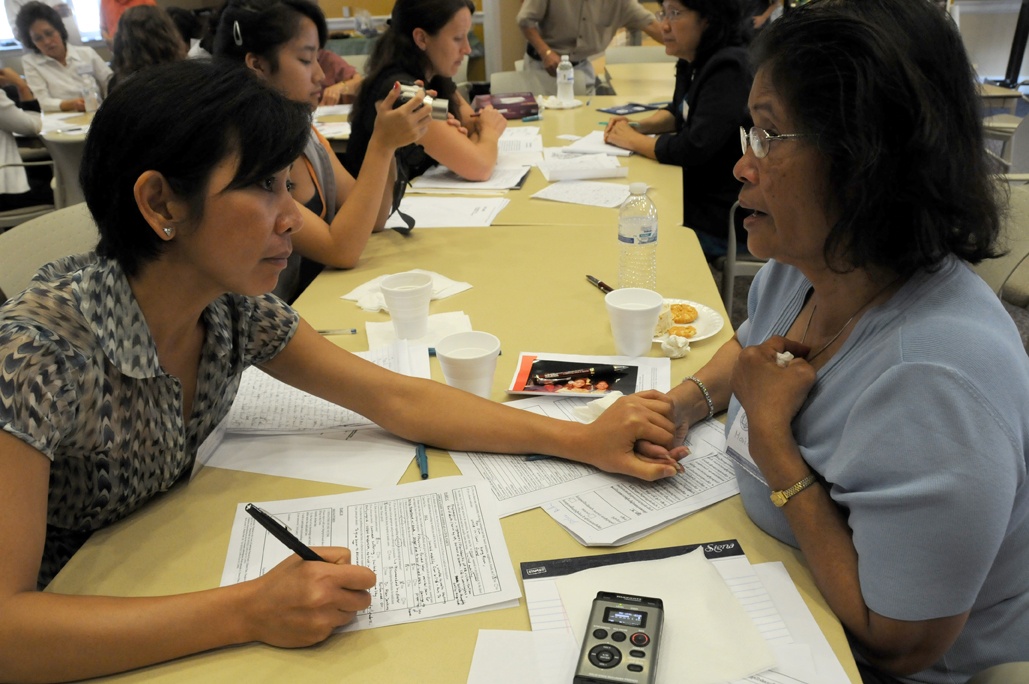 Nou, a full professor in sociology, is the first Cambodian professor to obtain tenure on campus. Other Cambodian faculty at CSULB include Seng; Darith Ung, a lecturer who teaches the Khmer language; and Phatana Ith, a lecturer in Communication Studies.
Nou continues to work with survivors of the genocide in Long Beach and other communities. 
"It's not just about finding justice for the Cambodian people," she said. "It's about helping them to find their voice, their inner power, that they feel has been stolen or taken away from them. Their power is still within them." 
Journey to Success
Between 2011 and 2019, the Journey to Success (JTS) project brought hundreds of Cambodian American middle and high school students to campus, as well as parents and community members. They attended college fairs, met with faculty, staff, students and alumni, and got tours of the campus. The youths also watched CSULB Homecoming basketball games.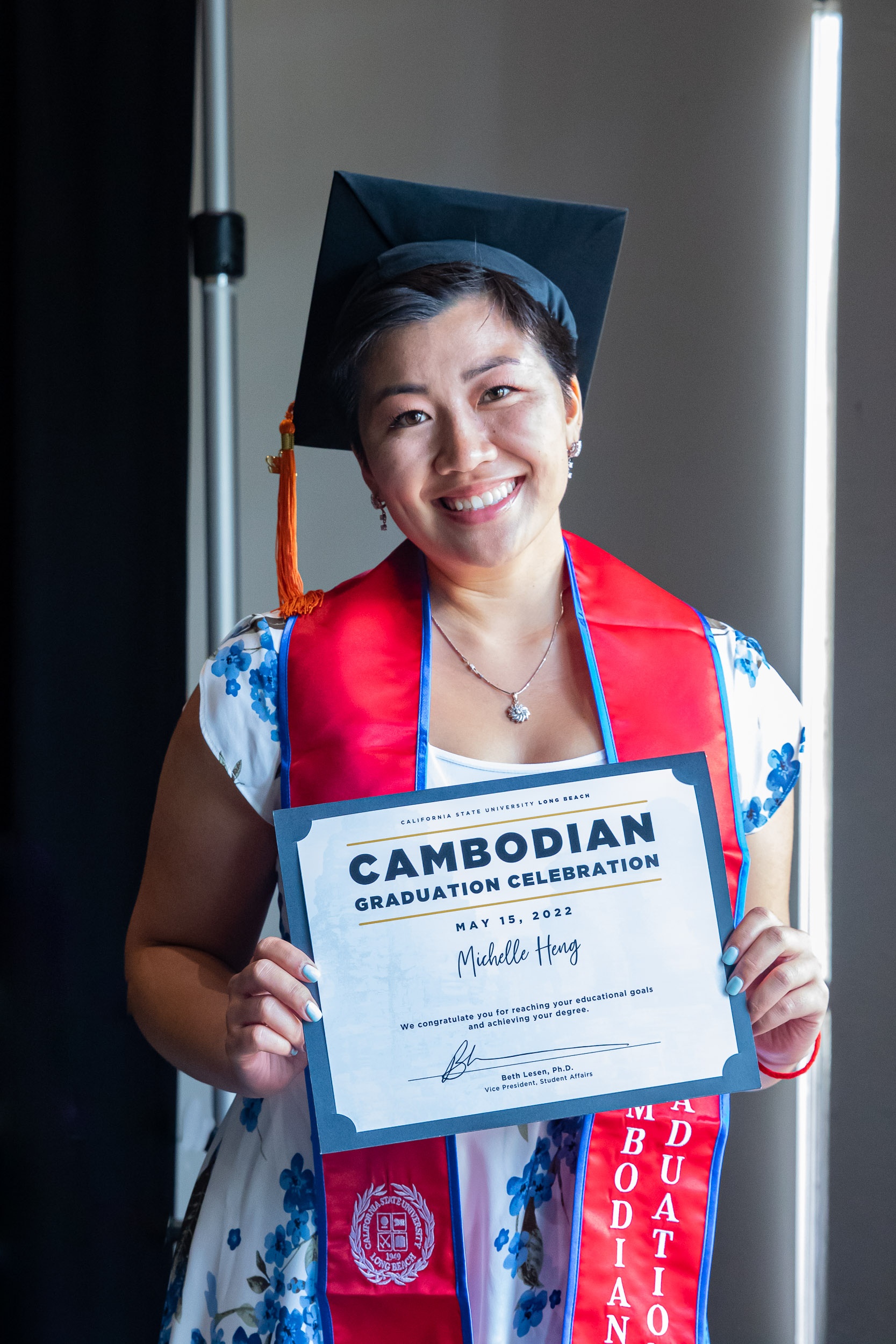 During that period, workshops on college awareness and financial aid were also held in the Long Beach community, including sessions at the United Cambodian Community center, Khmer Girls in Action and the Khmer Arts Academy. Planning committee dinners were held annually at Long Beach Asian restaurants with President Jane Close Conoley in attendance, along with members of CSULB's Asian American Pacific Islander Initiative Committee.
"That was a good way to introduce students to Cal State Long Beach," said Ung, who has also taught the Khmer language at Wilson High School in Long Beach since 1997. 
"When that program was enforced, I always had 20-plus of my students attending the event. Not all of them attended CSULB, but they got exposed to the university way of life. It benefited them, absolutely. I had several students every year that graduated from Wilson and attended CSULB. Many of them went through that program." 
Ung also cited the Long Beach College Promise as a vital program that has helped Cambodian youth get through high school, take a tuition-free year at Long Beach City College and eventually attend CSULB. 
A New Chapter
Charlene Chhom, a fifth year in Asian and Asian American Studies, was born and raised in Long Beach. She lived in Cambodia Town until her senior year at Long Beach Polytechnic High School. 
In spring 2022, Chhom took the Cambodian American Experience class with Professor Seng and participated in the New Year's parade in April. 
"I really liked the class," said Chhom, who can speak Khmer but can't read or write the Sanskrit-influenced language. "Especially because Long Beach is such an important place for Cambodians."
During her time at the Beach, Chhom has been involved with the Cambodian Student Society, and even raised funds for an expedition to Cambodia in 2019, just before the pandemic. The society bought school supplies and distributed them to Cambodian students. 
"It was definitely an eye-opener," she said. "They can tell if you are an American."
For many on campus, having Professor Seng teach the Cambodian American Experience fulfills a decades-long goal. 
"We wanted to be really authentic and bring in Cambodians to speak their stories, and students to go out into the community," said Quintiliani, who has taught the course in the past. "I'm so thrilled to have Sophea teaching it. That was the dream."
Through classes such as the Cambodian American Experience and Khmer language, groups such as the Cambodian Student Society, and outreach efforts like the New Year's parade, CSULB's Cambodian students are learning to venture past the legacies of the Khmer Rouge, genocide and the travails of being a refugee. 
"There are lessons learned with the new generation – they can imagine themselves to be proud of their heritage," Nou said. "We want to inspire and motivate the young Cambodians, not only to be proud of their heritage, but to reclaim their identity and voice, become scholars, learn and grow as a mechanism to thrive."