CSULB ER tech stays strong in the face of COVID-19
Beads of sweat form on Ethan Sauser's forehead as he begins steady chest compressions on the cardiac arrest patient. He's hot and sticky — in a full body protective suit and helmet — and sweat pours down his face as he performs CPR for two minutes straight. 
He yells back and forth with the doctor, respiratory therapist and nurse, who are also working on the patient, straining to hear each other over the fans whirring inside their protective garments, now required because of COVID-19.
After an hour of trying to revive the patient, the doctor turns to the group and asks if there are any objections to stopping resuscitation measures. They call the code, and the room goes silent. 
"The virus has added this level of adrenaline-fueled chaos that's almost self-isolated because you're completely contained in this suit," said Sauser, a Cal State Long Beach senior and emergency room technician. "It gets chaotic quickly. It's mentally and physically exhausting to be in these suits all day long." 
Coronavirus has killed thousands of people throughout Los Angeles County and placed unimaginable demands on the medical profession. But the pandemic has not dulled Sauser's passion for helping others.
Already an EMT, Sauser said he knew he wanted to become a doctor after he was unhappy with the level of care his father received when he was in the ER in 2015.
It's a taxing profession, "so you have to want it. This is a calling, you have to love what you do," he said.
Sauser deals with the coronavirus stressors by venting with his coworkers and getting lost in his hobbies, such as painting, fixing his bike and exercising. He said it's important to stay strong and maintain a positive mindset because it reflects in how well he's able to take care of his patients.
"When you come to the ER, people are looking at you to be bigger than them," he said. "The people that are taking care of you need to be stronger than whatever it is you're facing. They need to step up and need to help you fight, but for us to do that, we have to be strong ourselves."
Coronavirus has put a strain on the St. Mary Medical Center ER in almost every aspect. Staff are required to wear more layers of personal protective equipment to limit their risk of exposure, medical equipment is closely monitored and at points, rationed, rooms need to be thoroughly decontaminated so they are safe for the next patient, and a technician now screens patients for the virus and sorts them outside of the hospital before they are admitted, he said.
Image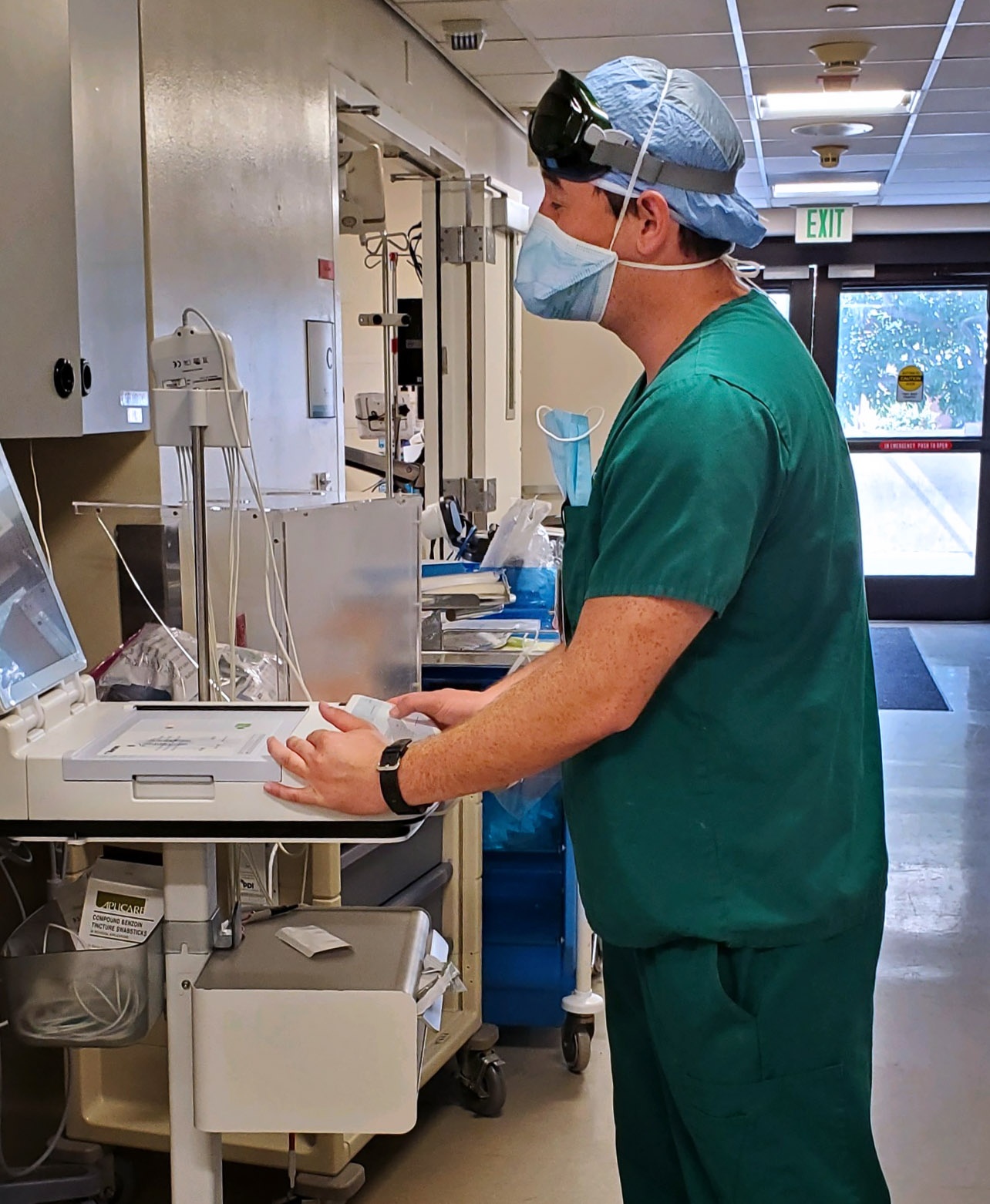 Sauser said they can no longer use equipment "frivolously," and his team must be careful of what and how much they use to avoid running out. Certain protective gear can't be "skimped on," such as gloves and major equipment, but masks are worn for a full shift because of shortages, he said.  
One way they conserve isolation gowns is by hanging used gowns outside of the rooms of patients who have suspected COVID-19 exposure. Every person who enters the room is logged, and only the one gown can be worn inside the patient's room.  
"Coronavirus hit us like a tsunami," he said. "It can be difficult to get these basic pieces of equipment, and we were not prepared for the wide range of symptoms that this particular virus exhibits."  
While the virus forces Sauser to take extra precautions in the workplace, he also makes sure to decontaminate himself before coming home to minimize the risk of exposing his immunocompromised mother to the virus. He keeps all his equipment, including his goggles, badge, stethoscope and blood pressure cuff, in his car. 
"I try my best to minimize tracking it in," he said.
Although Sauser plans to become a doctor, for now he's working on his kinesiology degree with a concentration in Adapted Physical Education (APE). His APE coursework and being a student assistant for Dr. Melissa Bittner, an assistant professor and Camp Nugget co-director, have helped him connect with ER patients "of all spectrums of life." 
"I'm very thankful for Dr. Bittner and all of the CSULB staff," he said. "They're amazing, and I hope to one day be amazing like them and make them proud."