Dr. Jaime Gonzalez learns devastating effects of COVID-19
The young patients affect Dr. Jaime E. Gonzalez the most. Seemingly healthy 20-somethings who come into the ER with a cough and within days are placed on a ventilator.
Yet, they aren't the only ones that stick with Gonzalez. There are others, who arrive with mild symptoms of coronavirus and within hours of being admitted, they suffer kidney failure. He wants to ask why, but there is little time for questions as new patients arrive. 
As an emergency room doctor at Garden Grove Hospital Medical Center, Gonzalez pretty much has seen it all in his 17 years – patients who have been victims of violence or who have been involved in an automobile accident. They come in having had at-home mishaps, trauma or cardiac arrests. COVID-19, however, has made it difficult to maintain a level of understanding. 
Image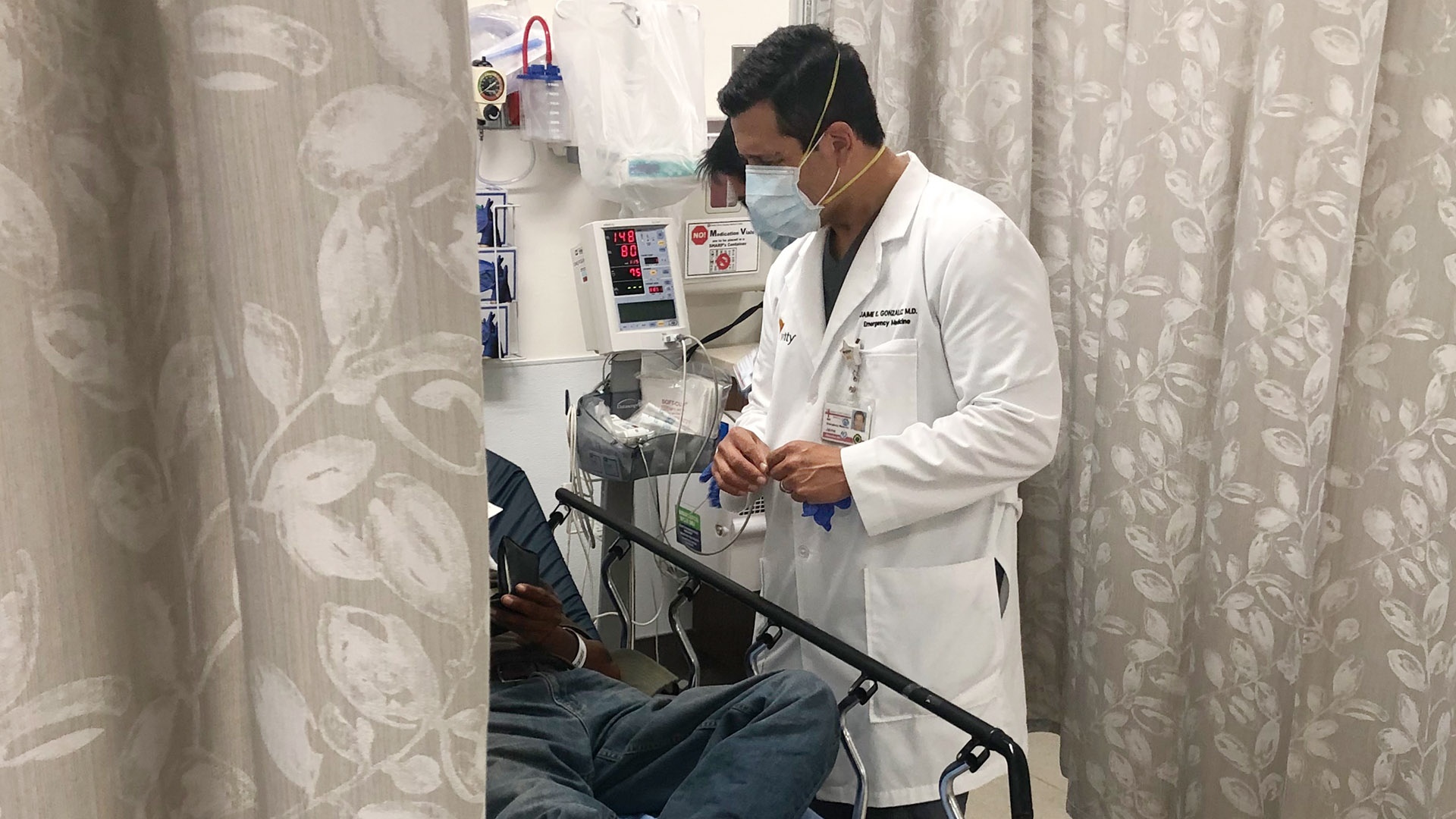 "I've admitted some of these patients and they had some respiratory distress, but it was mild," said Gonzalez, a 1994 graduate of Cal State Long Beach before attending Stanford School of Medicine. "They were being controlled by oxygen but within several hours had to be placed on mechanical ventilators because their breathing got bad very quickly. 
"That's been something that I've never seen before. Definitely not in healthy people." 
Although Orange County has not been hit as hard as other places, such as Los Angeles County, Gonzalez said COVID-19 patients continue to show up at his hospital.
"This disease is so new, every day we are learning something about it," he said. 
Gonzalez said among the new things he has had to learn during the pandemic is how to stay healthy. Before coronavirus, he routinely showed up for work in a white lab coat with his hospital identification card and maybe a stethoscope. 
Now, he shows up for his eight-hour shift wearing a face shield, face mask, scrubs, surgical gown and booties over his shoes. He also brings along a second pair of pants, shoes and a shirt to change into after work. 
"Other than washing my hands all the time, I didn't have to worry about wearing gowns and masks and respirators," Gonzalez said. "That has changed. The routine has changed quite a bit." 
So has his level of concern for his family of three – his wife, a 10-year-old and 2-year old at home.
"COVID-19 has increased the level of fear, anxiety and stress for sure for everybody, not just providers," he said. "Nurses, doctors, physician assistants, x-ray technicians – anyone who works for the hospitals who have family. You don't want to bring it home to your family." 
Which is why Gonzalez showers and changes into the extra set of clothes before making the drive home from the hospital. Once he arrives home, he takes his scrubs that he has stuffed into a plastic bag and immediately puts them and a healthy dose of bleach into the washing machine with the temperature dial set to hot. 
Image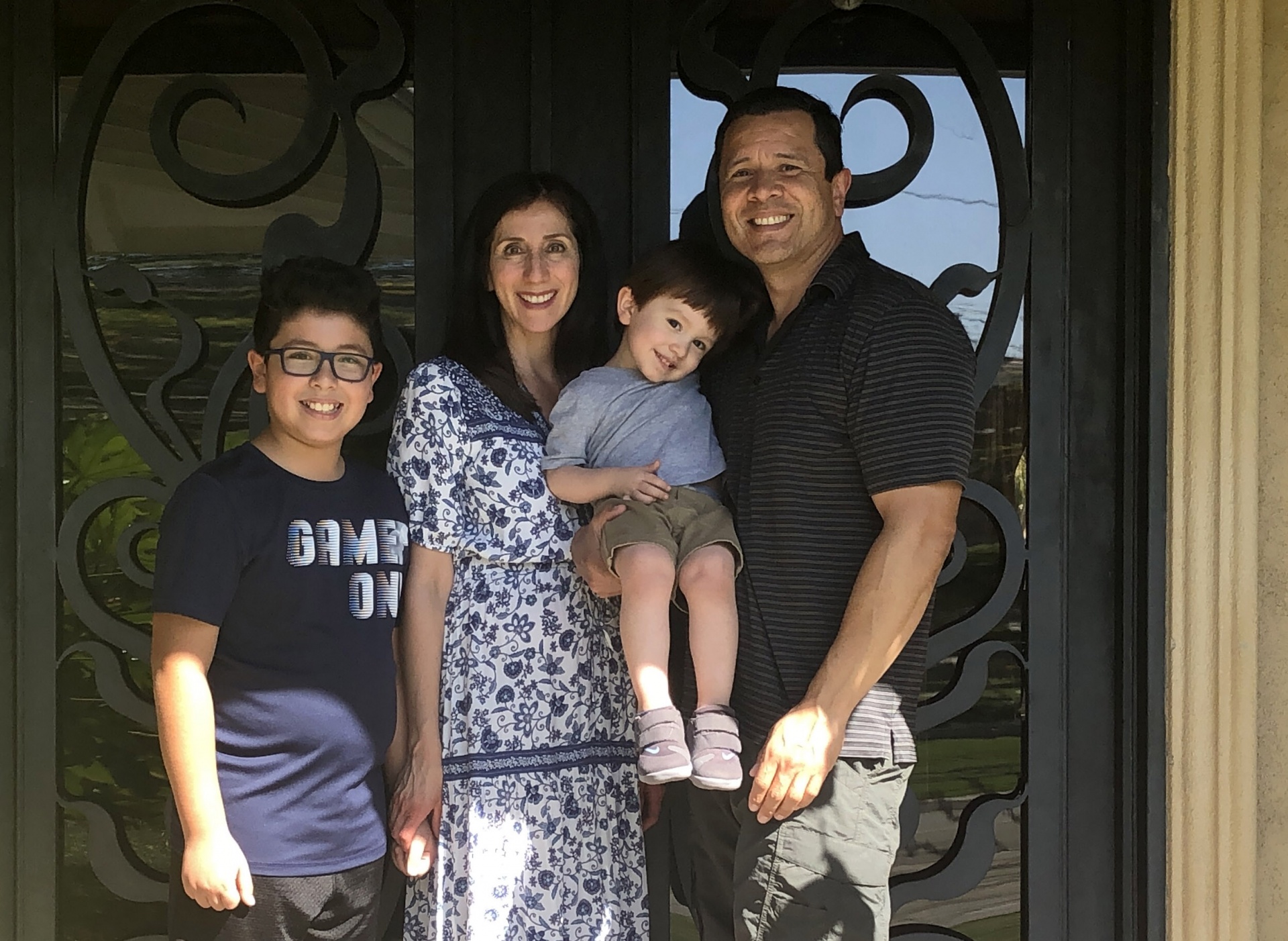 "The type of work we do, there's always a sense of risk. During normal times, people may come in agitated or they may be violent, so there always are some baseline levels of security issues going on," Gonzalez, 49, said. "But this is different because of the way the infection works; everyone is at risk. Including ourselves." 
When the stress of COVID-19 gets too much, Gonzalez reaches out to colleagues, medical professionals who are dealing with similar situations, such as Dr. Eloisa Gonzalez (no relation) and Dr. Michelle Higley, both of whom graduated from Cal State Long Beach. 
"I like sharing stuff with them because we are kind of like a support network," he said. "That really helps. Gonzalez met both Eloisa Gonzalez and Higley while at CSULB, and have remained friends over the years, celebrating birthdays and other achievements before the pandemic hit. He counts his long-time friendships as one of the highlights of his time at Cal State Long Beach. The others are his mentors, Drs. Henry Fung and Roger Bauer. 
"They really took me under their wing. They were so supportive. I owe a lot to them because they really believed in me and helped me believe in myself. 
"I wanted to be a doctor my whole life, and being around such wonderful people who were so giving allowed me to achieve that," said Gonzalez, who now mentors college students who want to work in the healthcare business. 
When his college friends aren't available, Jaime Gonzalez uses the solitude of his 30-minute drive from Garden Grove to his home in Whittier to unwind and process the emotions he has kept bottled up for eight hours. 
"When I'm at work, I have to do my job," he said. "I have to do my best to control my emotions, set them aside because I can't really help these people if I'm too emotional. So, I try to be as clear-thinking as possible, doing what I've been trained to do and take care of people. 
"It's afterward, where I try to possess all the emotional stuff of what I do. I try to stay emotionally balanced in a healthy way." 
Yet Gonzalez is never far from thinking about what he has seen in the emergency rooms – or what he hasn't seen. Over the past three months, Gonzalez said he has noticed a decline in heart attack and stroke victims arriving at the ER, which is not always a good sign.  
"We have found patients are afraid to come to ER and are staying home while having heart attacks and strokes," he said. "We want people to come to the ER if they are having any serious health problems." 
Just one more thing to worry about in a troublesome time.