CSULB and AstroAccess demonstrate that space has no bounds
Published October 19, 2021
The Beach was proud to welcome the 12-member Mission: AstroAccess crew back to Earth and onto campus after their historic zero-gravity parabolic flight on Sunday, Oct. 17.  
Assembled on Oct. 18 for a press conference and panel discussion in the Walter Pyramid, the project's organizers and participants – "AstroAccess Ambassadors" – described the goals and accomplishments of their flight, which represented a substantial step in AstroAccess' mission for disability inclusivity in space exploration. Responding to questions from reporters and livestream viewers, the team couldn't help but interweave the breathless thrill of zero G, the personal challenges and triumphs that led them to the project, and the inspiring milestones they crossed. 
"This is why I do what I do," said Ambassador Centra (Ce-Ce) Mazyck, a U.S. Army veteran and Paralympic athlete. "To show people that just because you have a disability, life does not end.
Life begins at the edge of your comfort zone.
Soaring to an altitude of 32,000 feet, their Zero Gravity Corp. B-727 aircraft (named G FORCE ONE) performed "parabola" maneuvers to simulate varying degrees of weightlessness. During each parabola, the 12 Ambassadors completed tasks to assess the abilities of mobility, vision, and hearing-impaired crew members in a microgravity environment. Their work adds to a growing body of research that aims to not only increase accessibility for differently-abled scientists and astronauts, but to leverage their abilities to improve spaceflight safety systems and procedures for astronautics in general.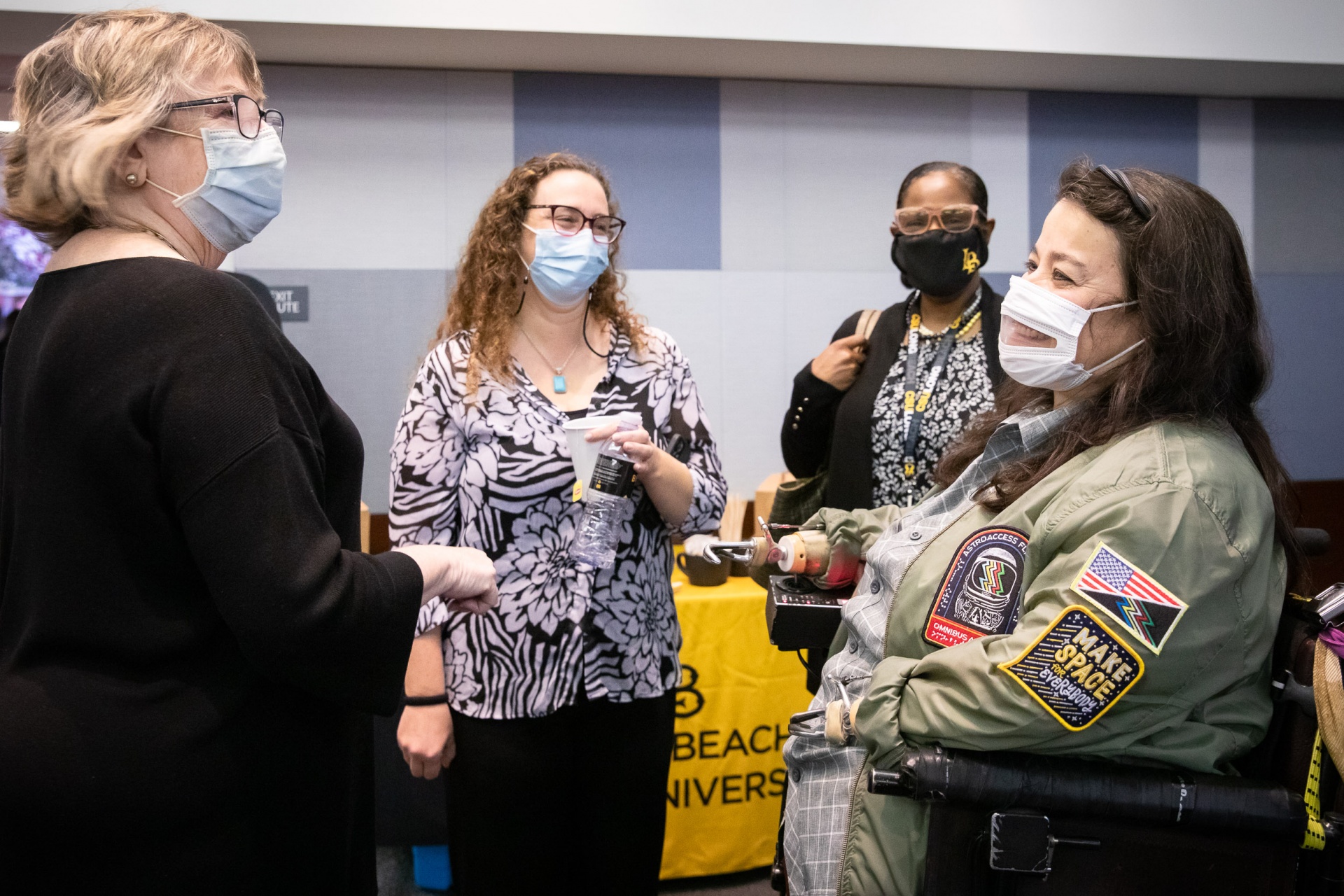 CSULB is a host site partner for AstroAccess and a longtime supporter of aerospace and astronautics enterprises in the region. Opening the panel discussion, President Jane Close Conoley welcomed the AstroAccess team and recognized Ambassador, NASA Science Communications Program Manager, and CSULB alumna Dana Bolles '93. 
"It's great to be back at my alma mater," Bolles said as she described her experience. "Our team is showing the benefit of being more inclusive and drawing on the unique perspectives of the disabled community. I'm doing this for our community, to raise us all up and to help everybody enjoy life more." 
Ambassador Mona Minkara, an assistant professor of bioengineering at Northeastern University who serves in numerous advocacy roles for people with disabilities in STEM, described with infectious sincerity the joy of weightlessness and her pride in the team's accomplishments. 
"When I first started to feel the lunar gravity for the first time, I couldn't stop laughing," Minkara said. "It was a phenomenal experience. Imagine being at the top of a roller coaster and instead of going down, you keep floating away…
I deeply hope this shows that you can follow your dream… The stars are not actually that far away.
For Mazyck, the flight was a testament to perseverance. Mazyck became paralyzed after an injury in 2003. "I was 27 when this happened to me - a single parent of a 1-year-old. He was all I could think about. How could I raise a 1-year-old in a wheelchair?" 
Mazyck was told she would never walk again. "But look," she said, standing from her wheelchair to applause. "I'm up. Today my son is 19 and a sophomore in college, and I did it. I did that. If you have determination, strength and, a support system, you can do anything you put your mind to. We are paving the way for the future. We are the future." 
George Whitesides, co-project lead of AstroAccess and former NASA Chief of Staff and CEO of Virgin Galactic, was joined by a "world-class assembly of disability advocates, military veterans, space industry leaders, and medical experts" in producing the flight.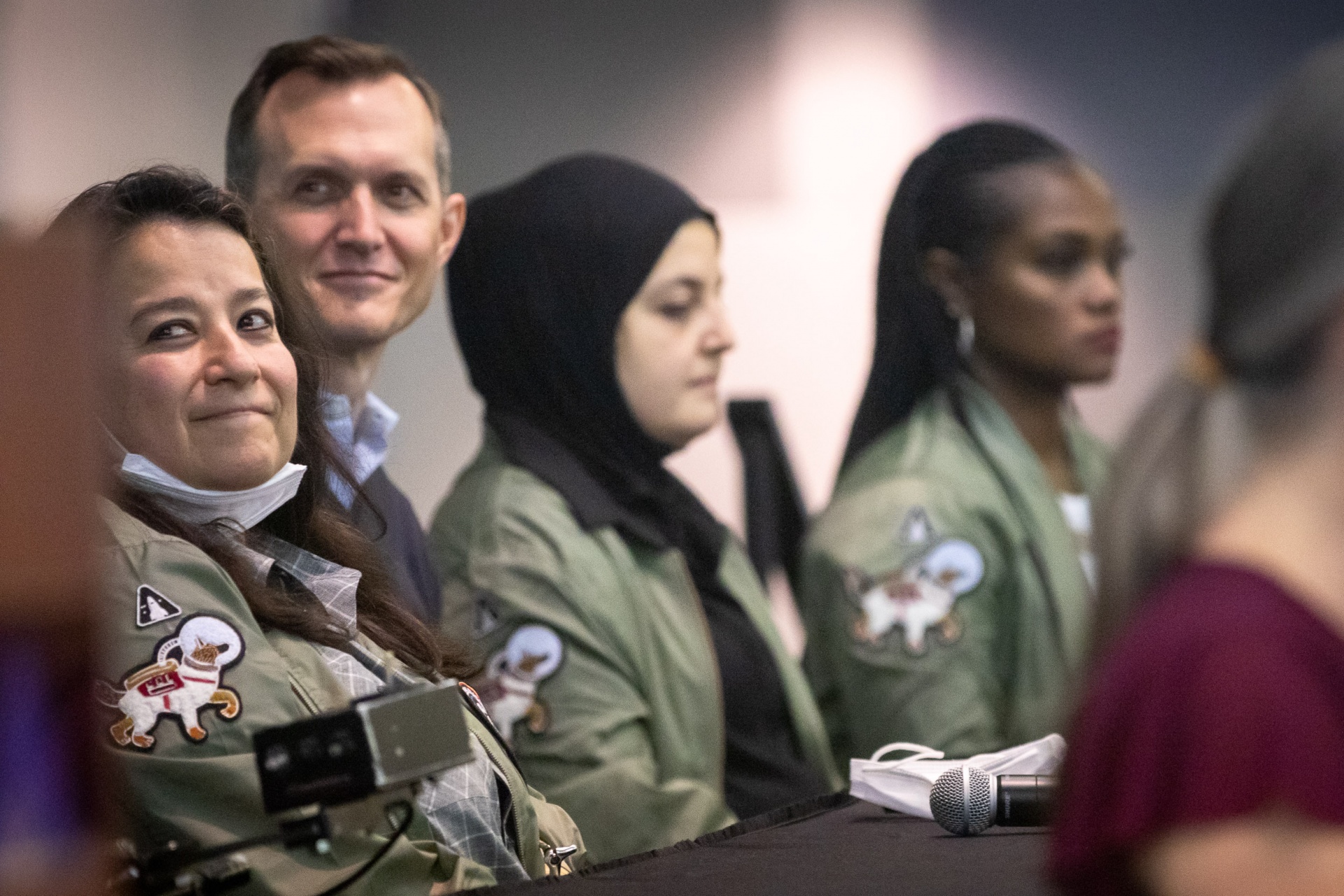 The Mission: AstroAccess project is part of the SciAccess Initiative, "an international organization dedicated to advancing disability inclusion in STEM." The 12 AstroAccess Ambassadors are an accomplished team of passionate disability and space advocates representing a wide variety of diverse abilities. As their mission continues, the team will look forward to flying one or more members to space in the coming years. In the meantime, they will serve as spokespeople for the SciAccess Initiative and a source of inspiration and representation for the next generation of STEM workers.  
Citing National Science Foundation statistics, the Mission: AstroAccess website acknowledges that 26% of the U.S. population has a disability, but people with disabilities make up only 8.4% of the country's employed scientists and engineers, and only about 1% of U.S. doctorate degrees in science and engineering are held by people with disabilities. 
A recent influx of aerospace and astronautics businesses has been an economic catalyst in Long Beach, which has seen a 48% increase in aerospace jobs since 2018. The intersection of public and private aerospace enterprise with CSULB academics was recently dubbed "Space Beach" by Long Beach Mayor Robert Garcia '02, '10.   
"Virgin moved to Long Beach early, and it's amazing to see the transformation of the area," Whitesides remarked. "CSULB is such a great innovation space for aerospace, and there are thousands of high-quality jobs here now. It's the new space age… And that's why this mission is so important. Let's inject principles of equitable design into the design of space vehicles, orbital vehicles, space stations, and eventually Lunar and Mars mission. It will be a better, safer future." 
Spotlight on Dana Bolles '93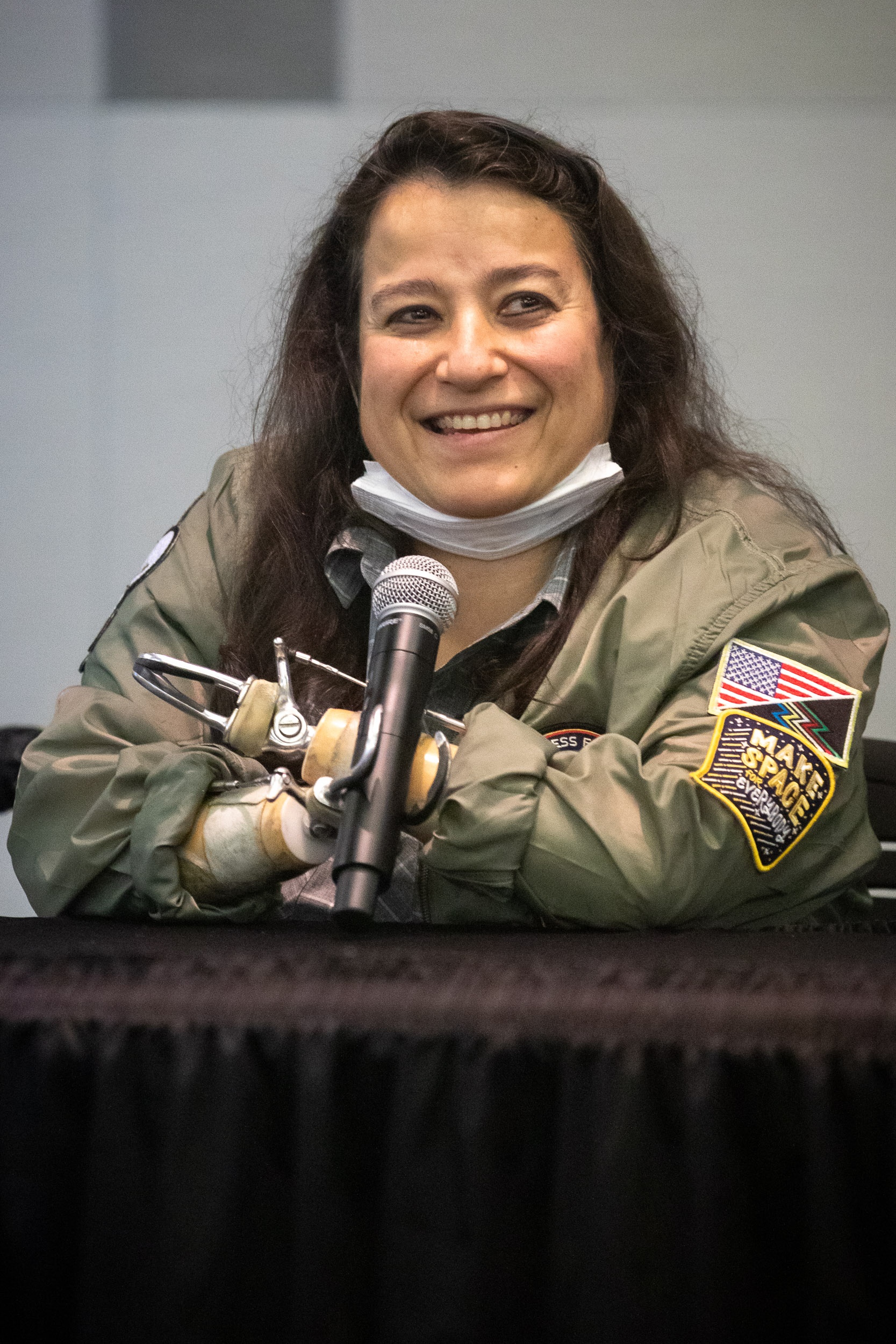 NASA Science Communications Program Manager 
AstroAccess Ambassador 
Dana Bolles has dreamed of being an astronaut since she was a little girl. Growing up with the need of an electric wheelchair and prosthetic hands, her mother instilled in her that there were no limits to what she could do, and Bolles has since made a career out of breaking down barriers for underrepresented communities. 
Her drive to excel instilled a passion for engineering: devising new ways to solve problems and advance the technologies that are a part of her life. Bolles did her lower-division studies at UC Santa Cruz, but her desire to design, create and innovate drew her to CSULB's lauded Mechanical Engineering program. On campus, she found a supportive community among her professors, the Latinos in Engineering and Science (MAES) club, and the Disabled Student Services office. 
After graduating with a B.S. in Mechanical Engineering, Bolles drew on connections she made in MAES to get in touch with NASA recruiters. She joined NASA in 1995 as a payload safety engineer and has since worked in the renowned Kennedy Space Center, Goddard Space Flight Center, and Ames Research Center. Much of her work has focused on making space exploration safer for humans, and her portfolio includes high-profile projects like NASA's Tracking and Data Relay Satellites (TDRS), the third assemble of the International Space Station, and a Mars orbiter.  
Now at NASA headquarters, Bolles works in "Science Communication for the Search for Life Beyond Earth," where she and her team develop strategies for communicating the possibly-eventual discovery of extraterrestrial life.  
Alongside her work for NASA, Bolles is a dedicated volunteer and advocate for women, people with disabilities, and LGBT communities. She is an Association of Science and Technology Centers (ASCT) IF/THEN Ambassador, a gender equity initiative that aims to increase the number of women and girls in STEM fields.   
Bolles' participation in the Mission: AstroAccess project is a tremendous step toward her dream of being an astronaut, but more importantly, it's a shining example to the communities she supports. The project is eliminating barriers to access and empowering groups who remained on the margins of science and STEM – not to mention space travel – a generation ago. Back on the ground, Bolles' mission for STEM equity continues, but already, girls and children of all abilities have an inspiring new example of the heights they can achieve.