Cal State Long Beach launches its ambitious No Barriers campaign
Published September 30, 2022
Cal State Long Beach launched its most ambitious fundraising effort in its 73-year history Thursday with its $275 million No Barriers campaign to the applause of hundreds of alumni and university supporters. 
With the large iconic Beach letters behind her on stage, President Jane Close Conoley thanked campus leaders, community partners and local representatives at the kick-off gala for their time, influence and financial backing, which has been instrumental in this effort.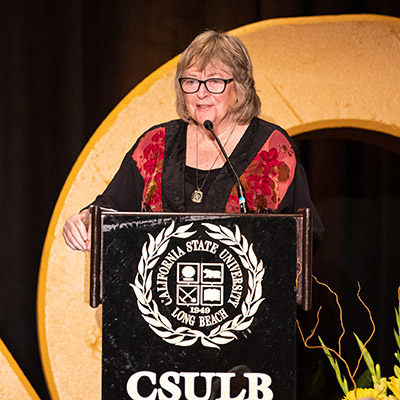 "We know that students, staff and faculty will thrive in environments that are responsive to their needs and have a purposeful focus on helping us all be our best selves," Conoley told the attendees at the Hyatt Regency Long Beach. 
She added, "You can all help by sharing your time, your influence and your treasure to support our unique model in U.S. higher education." 
The campaign announcement comes at a time of high institutional energy and momentum, particularly after U.S News & World Report recently ranked The Beach No. 3 nationally for promoting social upward mobility and No. 1 in the publication's assessment of student outcomes. 
Jeff Cook, interim vice president of University Relations and Development, outlined the three pillars that The No Barriers campaign is built upon. These focal points will enable CSULB to be positioned to create a transformative education for all students. These pillars represent The Beach's most pressing opportunities: 
Create a national model for student achievement, empowerment and equity.
Shape California's future workforce.
Elevate our community and advance the public good.
Cook invited The Beach community "to rise to this moment, just as the people of this remarkable university have done for 73 years."
The gala spotlighted students who have been impacted by The Beach's pillars. Undergraduate student Michelle McKenzie, a physics major, said STEM professors empowered her to pursue her passion, a facet of the first pillar. 
"I feel so grateful to be part of a department that supports the student's growth and pushes us to pursue our dreams," McKenzie said. "(They) support all students to really explore their academic pursuits, to lessen their financial burden so they can dig deeper into their fields, and to increase opportunities for the underrepresented women in STEM — game-changers for so many of us." 
CSULB's commitment to preparing students for the workplace has enabled Martina Ortiz, a first-generation business major, to succeed. She said through various programs, such as Educational Opportunity Program (EOP) and Student Orientation, Advising and Registration (SOAR), she developed leadership and interpersonal skills. 
"I listened to every recommendation and became involved with the College of Business through a student organization where I now give back and mentor accounting students," Ortiz said.  
She added that the mentoring allowed her to develop leadership skills that have "prepared me to jump into the workforce ready to work, ready to succeed and ready to contribute to my community and to the economic health of the state of California." 
Strong community partnership opportunities give students such as Nishi Ladhani, a candidate for a master's in healthcare administration, the tools to reach her goals. She said CSULB provided students the chance to interact with professionals while completing her coursework. 
"Without Cal State Long Beach removing these barriers, it would have been very difficult for our class to learn so much with and from one another," Ladhani said, adding that she and her fellow students now have the tools to impact their communities in a positive manner. 
Conoley said that she has learned over the past eight years that CSULB shines brightly "because we are completely obsessed with student success" for all students – formerly incarcerated, from the foster care system and from every ethnicity and identity.  
Bruce Mac Rae, vice president of UPS, said supporting students is important because if "we don't pay it forward and take care of all of student athletes and all of our students, we fail."