Beach professor's poetry collection earns national recognition
When David Hernandez '98 was a student at Cal State Long Beach, he was extremely shy - the self-described "quiet kid" who sat in the back of the classroom. 
Now, as an associate professor in English at The Beach, Hernandez teaches the same English and creative writing classes he took years ago. 
"It's really strange," he said. "I'm teaching in the same classrooms that I was a student in. I never imagined I would become a professor. But it's a joy." 
In the classroom, Hernandez shares with his students the process of creating poetry. It can be hard work, with little to no recognition or monetary rewards. But the professor and poet recently received an honor that only a handful of writers have achieved.  
His latest poetry collection, "Hello I Must Be Going," was picked as a finalist for the National Book Critics Circle Award.  
Although the book didn't take the top honor at the awards ceremony Thursday night in New York City, being nominated is still a great achievement that only five other American poets can claim per year – out of the thousands of poetry books published annually.  
"Nothing like this has happened to me before, in terms of recognition," he said. "I was just really surprised (to be named a finalist). I was shocked. I couldn't believe it."  
Ruben Quesada, an editor, poet, critic and board member of NBCC, recently wrote on the National Book Critics Circle website: "David Hernandez's fifth poetry collection, 'Hello I Must Be Going,' guides us through lucid and surreal observations. His writing trajectory over the years is impressive …. People who love poetry and art will find resonance in this imaginative and coherent collection." 
Hernandez likened the National Book Critics Circle Awards to the Golden Globes in film and TV, or perhaps the Screen Actors Guild Awards, which are judged and presented by fellow actors.  
"Many of the people who serve on the committee – they're critics, they're writers, they have experience in the book world," said Hernandez, who has also won an NEA Literature Fellowship and two Pushcart Prizes for his poetry. 
When he got word of the NBCC honor from his publisher, "I let my friends know. I called my parents. But I'm really sort of modest. I didn't tell my students. But they heard anyway, because my wife teaches (at CSULB), and has some of the same students." 
Hernandez's wife is Lisa Glatt, a novelist who teaches contemporary fiction, including novels and short story writing, in the English department. He dedicated his book to her. 
A Meditative Collection 
"Hello I Must Be Going" is a collection of meditative poems that explore the fleeting nature of life, time and daily moments, good, bad and in-between. 
Many of the poems are related to art, and comment on visual art in a literary way. In fact, Hernandez began his experience at CSULB as an art student.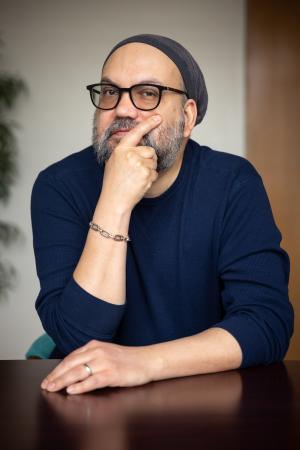 "I was really close to getting a degree in art, but I started writing more in my sketchbook than drawing. I took a poetry workshop with Hayley Mitchell Haugen ('90, '93 and onetime CSULB professor) – it was my first poetry workshop.  
"I was just blown away. I had no idea that contemporary poetry could do what it can. I was just familiar with Robert Frost, (Emily) Dickinson. Contemporary poetry was just eye-opening to me. And I thought, 'This is what I'm going to do now.'" 
After graduating from CSULB, Hernandez got an MFA in creative writing from UC Irvine, and started teaching at The Beach in 2015. He achieved tenure two years ago. 
"I hope that students who take my class not only learn how to become better writers, but become, in some ways, more empathic people in the world," he said. "I believe that reading stories and poems — when done with an open, ready mind — fosters empathy, and I'm interested in tapping into that empathy and making it one of our goals. 
"I'm personally enriched by the teaching experience — witnessing a new writer's creativity and growth fulfills me and inspires me to keep my teaching fresh and new. I feel lucky each time I step into the classroom." 
Patty Seyburn, a fellow professor in the English department, said of Hernandez: "David is a tremendously gifted poet whose work traverses subject matter and various tonalities, always keeping an eye on the inherent musicality of language. Besides being a strong poet and generous colleague, he cares deeply about his students, consistently welcoming them into the (sometimes) strange world of poetry and helping them find ways to meld personal expression with artistic value." 
About the NBCC nomination, she said, "Being a finalist for the National Book Critics Circle Award suggests that the literary world knows and values David's work – as it should." 
And now a lot more people know about Hernandez's work and craft. Just this month, the Commonwealth Club of California announced that "Hello I Must Be Going" is a finalist for a California Book Award. Winners will be announced in May.