VR Day Program Info
Virtual Reality and Your Health
Virtual Reality (VR) is a new technology that may cause some individuals physical or emotional discomfort. If you experience seizures, loss of awareness, eye strain or twitching, altered vision or visual abnormalities, dizziness, disorientation, migraines, impaired balance or any symptoms similar to motion sickness, please discontinue use! 
Campus Map and Parking
VR Day will take place at various locations on campus. Registration check-in is at the Duncan Anderson Gallery, Department of Design, CSULB Campus. Parking available at CSULB Foundation for $8, located just across the street from the Design building at 6300 E State University Dr, Long Beach, CA 90815.  If you are not familiar with campus, review the campus map for location details.
VR Films
Built Not Bought In the midst of widespread gentrification and heightened police activity, many traditional practices of South Central Los Angeles have been dubbed criminal, an inconvenience, and pushed into invisible corners. Built Not Bought explores the lively generational car culture in South Central LA through personal narratives and neighborhood portraits. While on a 24 hour journey, the viewer will see that the people of South Central, despite adversity and conflict, are still here.
Conozca Sus Derechos (Know Your Rights) is a VR film that immerses the viewer in an I.C.E. raid at a home. This film educates viewers about rights to which everyone in the United States is entitled, regardless of their citizenship status. The film also illustrates the options people have while being confronted by federal agents about one's immigration status. The immersive experience of this VR film is intended to educate undocumented people on their rights with seven steps on what to do during an I.C.E. raid as well as to engender empathy for those affected by deportation and family separation. The current political climate in the United States has created much uncertainty and fear surrounding issues regarding displacement. This film attempts to combat this by both giving power to the undocumented viewer through knowledge of their rights experience in a safe space and giving people the opportunity to gain insight on what it may be like to be an undocumented person.
Image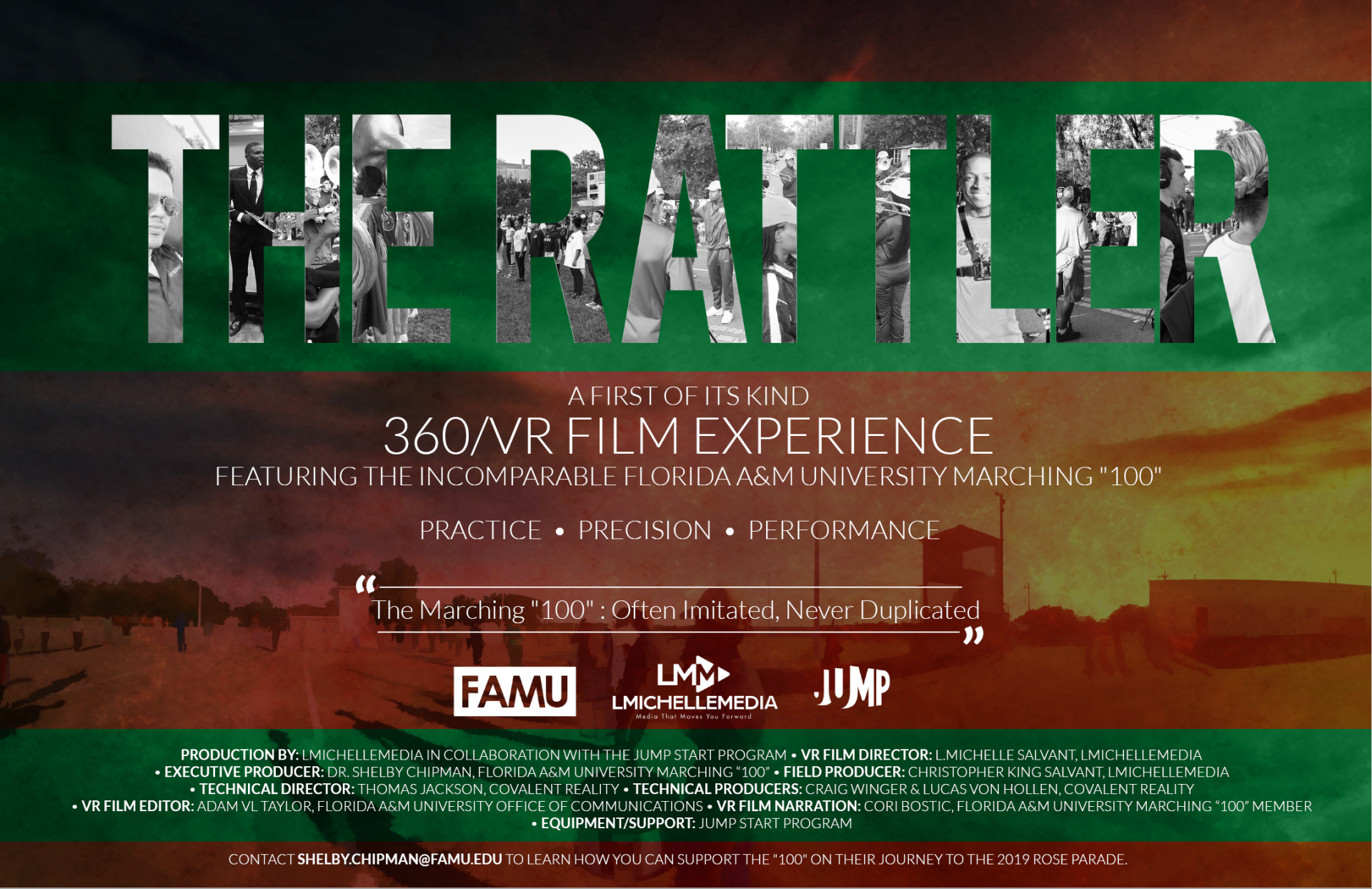 The Rattler is a first of its kind immersive experience that takes visitors inside the Florida A&M University's World-Renowned Marching 100 band.  The experience gives viewers a first hand account of practices and performances surrounding the school's much anticipated annual Homecoming activities. Marching Bands are a staple at Historically Black Colleges and Universities and are a vital part of the African American Experience.
Created by Nathalie Mathe, Ryan Lynch, and Justin Chi, UTURN is an immersive live-action virtual reality film where viewers get to experience both sides of the gender divide in tech. UTURN innovates by placing the viewer in the middle of two intertwined stories about a young woman coder who joins a male-dominated floundering startup that's deep in an identity crisis. One perspective is told from a female character POV; the other from a male character POV. At any time during the experience, viewers can choose which character to embody and which side of the story to follow by simply turning their body around. Only the scene being looked at will be heard through a unique spatial sound design. Whatever they miss changes their perspective on the overall story. UTURN provides an inclusive and engaging experience to foster dialogue on gender issues in a safe space. As a comedy, it allows viewers to tackle serious issues in a light tone. As an innovative VR experience, it is fun and engaging to play. Visit Uturnvr for a trailer.
Explore an immersive virtual reality environment where you can investigate and interact with a virtual world in a room-sized setting! The BeachCAVE lab houses the Viscube M4 system that consists of front-projected four panel displays with ART real-time full body motion tracking. The lab facilitates interdisciplinary research in human-machine interaction in a dynamic environment.
M.I.N.D. Labs presents a demonstration of collaborative augmented reality. Two participants can enter the collaborative augmented reality environment to create a 3D painting with a friend, tour and rotate strange designs, while accompanied by a 6 ft virtual "robot" assistant. Spectators "outside" will also be able to enter the virtual environment via Skype telepresence "window".
Demos on the Oculus Rift will be available to participants to choose. The experiences range from comfortable to intense. There is also an opportunity to try some VR with Google Cardboard for those who prefer a less immersive 3D experience.
 
DEMO LEVEL DESCRIPTION :
Oculus First Contact
Comfortable
Experience the magic of 'presence' in VR, explore moments that feel as real as they are fantastically impossible with the help of a robot guide.
 
DreamDeck
Comfortable
DreamDeck transports you to impossible places and magical worlds.
 
Rec Room
Comfortable
VR club where you can play active games with friends from all around the world!
 
Face Your Fears
Moderate
Expose yourself to terrifying scenes based on common fears & phobias.
 
InCell
Intense
Race through the cell's organelles to the nucleus, to find a cure for our volunteer and impress TMEAR07.
Available for Google Cardboard.
Projection Mapping is a large composite faces-of-the-world, AR Projection mapped will "supervise" the spectators and participants.
The Human Performance and Robotics Laboratory (HPRL) is directed by Dr. Emel Demircan and is part of the Mechanical and Aerospace Engineering Department at California State University, Long Beach. The group is involved in research pertaining to many aspects of human biomechanics and robotics, including dynamics, control and simulation of musculoskeletal systems, rehabilitation robotics and assistive technologies, human-robot interaction, human motor control, human motion synthesis,virtual environments and dynamic simulation.
VR Pictionary: Play Pictionary through the Oculus Rift Virtual Reality System. Draw 3-D objects that represent specific words or phrases while your teammates try to guess the words! Strictly for ages 13 and up.
VR Exquisite Corpse: Create 3-D drawings in virtual reality and expand on other drawings to create a whole virtual world in a game of VR Exquisite Corpse. Strictly for ages 13 and up.
Remember those awesome classic arcade cabinets? Imagine if those were immersive… Space Pirate Trainer puts you in one of those; fighting off relentless waves of droids with all the weapons you would ever need as a Space Pirate. You better dodge some of those incoming lasers though, since just using your shields won't get you in the top rankings.
Tilt Brush (by Google) lets you paint in 3D space with virtual reality. Unleash your creativity with three-dimensional brush strokes, stars, light, and even fire. Your room is your canvas. Your palette is your imagination. The possibilities are endless.​
WarePlai is "the smart clothing experience." With recent developments in augmented reality, virtual reality, specialized ink, blockchain technology, and the growth of artificial intelligence, WarePlai evolves the way people experience their clothing and makes clothing smart in the same way that phones are smart. Merging augmented reality and apparel, we call our gaming experience blended reality which successfully blends the virtual world, the real world, and physical items. The WarePlai platform accomplishes this by allowing users to point their camera-installed device, e.g., a smartphone or a tablet, at a T-shirt, bracelet, backpack or any other object to trigger a unique end-user experience.
Terri Armstrong has been a Career Professional in Higher Education for the past 11 years. In her current position as Career Advisor and Communications Specialist, she plays a key role in developing collaborative partnerships and outreach strategies to increase student engagement with the Career Development Center. Terri is committed to fostering an environment conducive to students' successful navigation of campus resources and championing student development. For Terri, education is a learning experience and she considers herself a lifelong learner.
Heather Barker is the Director of ROAM.STUDIO, an interactive design research space developing solutions across a range of scales – from urban to haptic. Engaging in a human-centered approach to design, the studio develops novel solutions integrating the psychology of experience and the performative factors of interface and space. In Heather Barker's scholarly work, a synthesis of philosophy of mind with philosophy of science reveals synergistic conditions in our hybrid virtual-physical condition. This work develops synthesized design methodologies applicable to personal interface, space and sustainable architectural and urban conditions while supporting pedagogy built upon a rigorous theoretical premise combined with the intelligence of making. Heather Barker practices and teaches in both Los Angeles and in Munich, Germany.
Dr. Frank Biocca pioneered virtual and augmented reality systems working on classic systems at NASA, Stanford, and the University of North Carolina and patented mobile and augmented reality technologies. A former Silicon Valley executive, Dr. Biocca is now the World Class University Professor at Sungkyunkwan (SAMSUNG) University, Newhouse Chaired Professor at Syracuse University, New York, and Director of the international M.I.N.D. Labs. Dr. Biocca has explored the design, use, and effects of virtual and augmented reality systems and environments through research and books on virtual reality and presence. He has also served on the executive board or consulted with several virtual reality and augmented reality companies.
Steve Boyer is an artist, designer, inventor, entrepreneur, and educator with over 25 years of experience developing technology and creating content for a wide variety of interactive media including video games, electronic toys, musical instruments, and fine art installations. He has served as a software engineer, hardware engineer, designer and producer at top media entertainment companies and has been on the faculty of the leading art, design and technology programs in the United States including The School of the Art Institute of Chicago, Otis College of Art and Design and The University of California at San Diego. Mr. Boyer earned his Master of Architecture degree at The Southern California Institute of Architecture. He also served as Director of Research and Development for Interactive Entertainment at Vivendi Games and is the founder of three startups.
Verlan W. Grant III, CEO of VG3 Media, is a digital content specialist. He facilitates the development and production of video, still image, audio samples, and sound effects for advertisements, documentaries and marketing projects.
Jazzy Harvey is a Virtual Reality filmmaker who shoots, writes, edits, and produces immersive stories. Born the middle of three girls to a Jamaican mother and Black and Native father in South Central Los Angeles, Jazzy prides herself on intentional and original content creation and output that empowers frequently misrepresented communities. She earned her BA from Cornell University where she studied Socio-cultural Anthropology, Africana Studies, and Global Health with a collective focus on urban community development. Jazzy aspires to use the intersections of technology, art, multimedia forms, and education to amplify the voices of those often unheard and unseen. Jazzy founded Thatmiddlechild Productions as a creative platform to celebrate the lives of silenced communities and make new media more accessible.
Makenna Henry is a current CSULB graduate student preparing to complete her M.S. in Kinesiology with an emphasis in Sport and Exercise Psychology in Spring of 2018. Her research interests include exploring possible VR application to the realm of sport injury recovery in collegiate and elite athletes, along with reviewing the possible implementation of trauma and stress related disorders, as listed in the DSM-5, as a way to describe and contextualize the negative psychological impact that sport injury can impart on a collegiate or elite athlete. Makenna plans to pursue her doctorate to continue identifying the various uses of VR and how its application can be a catalyst to the return to pre-injury performance level rehabilitation regimen of injured collegiate and elite athletes.
Dr. Hannah Kum-Biocca is User Experience Designer and interactive media artist featured in over 25 Solo and Group Exhibitions in USA, England, Korea, Australia, and Japan. She was most recently lead User Experience Designer at the Design Centre, Hewlett-Packard Inc.. Dr. Kum-Biocca's professional portfolio includes designs for Samsung, LG, and several tech companies. As a lecturer-researcher at seven research universities and design schools in the United States, England, Korea and Singapore, she is currently an Assistant Professor in the Department of Design at CSULB and a research associate in the M.I.N.D. Labs Network both at Syracuse University and Konkuk University, Seoul.
Long Beach Public Library Studio at the main library serves as a community workspace where people can meet, socialize, innovate and collaborate using technology and resources.
Dr. Nathalie Mathe is an experienced VR creative and an award-winning animation and documentary shorts director. She contributed to over 35 cinematic Virtual Reality projects over the past four years, including Zero Point for Condition One (Sundance New Frontier 2015), Paul McCartney in concert, The North Face Climbers, and The North Face Nepal for Jaunt. For twelve years, she was one of the few women creating visuals effects on feature films like Fast & Furious 6, Skyfall and Dark Knight Rises. She also led innovative research for NASA AI Lab and holds a Ph.D. in Computer Science and an M.A in New Media. Nathalie now runs NativeVR, a VR studio focused on celebrating gender and cultural diversity. She is a member of Women in VR and an instructor at the Academy of Arts University and Bay Area Video Coalition.
Adam Moore is an Assistant Professor of Screenwriting in the Department of Film and Electronic Arts. For more than ten years he has been a screenwriter, video game writer, comic book writer, television show creator, and professional educator. Adam is the Faculty Advisor for the Video Game Development Association, a student organization whose mission is to publish a video game every semester. He is also a member of the Immersive Design Research Lab which develops practical applications for virtual reality technologies that will improve the lives of others.
Danny Paskin is an associate professor of Journalism and Public Relations, having joined CSULB in 2008.  His research focuses on the latest developments of Journalism and Public Relations, especially concerning new technologies, and new media's effect on the profession, a field he has studies for almost 20 years. He has presented, published and written extensively on how readers react to content published online, and on how media professionals adopt and use new trends and technologies. Before joining academia full-time, Danny worked in newspapers, including the Miami Herald, where he received national accolades for his work.  He received his Ph.D. and Master's from the University of Miami, in Florida, and Bachelor's and Technical Degree in Data Processing from institutions in Brazil, where he was born and raised.
William Pitts, CEO of Napalm Entertainment, customizes mobile game development for international brands, advertising companies, and publishers. As a technology partner to small and medium sized businesses, Napalm Entertainment delivers mobile app solutions designed to expand corporate outreach and efficiency by providing superior cross-platform development and integration on all operating systems from desktops to tablet and mobile devices.
L. Michelle Salvant has been in media, specifically journalism/storytelling since 1997.  Her passion for media and ministry work combined in 2004 to led her to start L. Michelle Media in 2008.  Her specialty has been introducing New Media methods in faith and education. In 2014, she became among the first Google Glass Explorers in Florida and now has several pioneering efforts in the area of Virtual and Augmented reality. L. Michelle is currently pursuing her MBA degree at Florida A&M University with a focus in Disruptive Innovation. She also is an ordained Ministry leader at her church Higher Dimension Church Tallahassee.  L.Michelle is married to Sgt. Christopher King Salvant, Sr. and has one son, (Christopher King Salvant, Jr. "Peek"). They live in Tallahassee, FL.
Katherine Scully is an undergraduate in the Anthropology Department at CSULB. She creates virtual reality ethnographies with the primary goal of broadening the types of experiences that people are exposed to in order to foster a greater understanding among people of different backgrounds. Her films vary in topics but are all centered around a common theme of social justice. She has shown VR films at both academic conferences, such as the American Anthropological Association conference, and at industry conventions, such as VR Fest.  She is the co-founder of LBXR Collective which is an organizational space for interdisciplinary collaboration and community outreach utilizing VR/AR/MR emerging technology.
Jordan Service is a new media artist and producer. He has worked with Machinima, Studio 71, Activision-Blizzard, and starting in 2017 is the founder and CEO of the Pietra Network. His work covers the cross-section of art, media, and technology, with a special interest in the role how artistic and symbolic systems are formed and evolved over time. Jordan's personal work has been featured in the Museum of Contemporary Art Miami, in various galleries, on the covers of Sourcefed, TubeFilter, and the CG society, and included in the "Best of Reddit Comedy." He is the creator of the VR experience "The Garden Parade" and runs the LAVR meetup group.
Breauna Waterford is a undergraduate in the Film and Electronic Arts and Anthropology Department at California State Long Beach. As a Creative Producer of multimedia content she approaches virtual reality through whimsical displays of color and artistry. Weaving taboo topics such as recreational drugs and spirituality into poetry and recreation she submerges the viewer in a new world. This is passionately showcased in her VR film "The Experience" a psychedelic recreation of a spiritual substance, psilocybin. Currently ,she is the Creative Producer of the VR Ethnography, "Built Not Bought,"  a creative exploration of South Central Los Angeles Car Scene.
Dr. Scott Wilson has been at CSULB since 2003 and teaches courses on identity theory, the history of anthropology, and new media technology. His dissertation research was on identity politics in China and Taiwan, but his most recent work has been on the relationship between new media technologies (augmented and virtual reality) and collaborative ethnography.
Michael Wolf is a professional VR/AR Game Developer who has developed and published several VR games on Steam. Over three years of working in the industry, Michael has worked with and developed for nearly every commercial VR/AR platform, including the Vive, Oculus Rift, Microsoft Hololens, Google Cardboard, and GearVR.  Currently, Michael is a student at CSULB, and is the Training Officer in the Video Game Development Association (VGDA), where he teaches Unity game development through weekly workshops.
Steven Xu is the VR Evangelist at HTC Vive. He is dedicated to empowering individuals to organically drive VR adoption through community engagement and positive VR experiences. Previously, he was at Oracle and IMAX offering software solutions and VR experiences. He transferred from Santa Monica College to UCSB and graduated with a BA in Communication.