CSULB alumnus inspired to give back to athletic training program
Junior Domingo '02 recalled injuring his ankle during a high school football game. It was a typical mishap - a sprained ankle is common in sports. But what stuck with him most was how the injury was treated. 
"It was a running joke: take a bag of ice, and whenever you feel better, go back and play," he said.
Domingo knew he wanted to work in the medical field. But it wasn't until he volunteered at a physical therapy clinic that he discovered athletic training — in which sports medicine experts treat athletes on and off the field. 
He explored schools with athletic training programs, including Cal State Long Beach. His high school guidance counselor pointed out that as valedictorian, he qualified for The Beach's President's Scholarship program and encouraged him to apply.
Domingo landed a spot in the President's Scholarships program, which covered his tuition, books, dorm and meals.
Image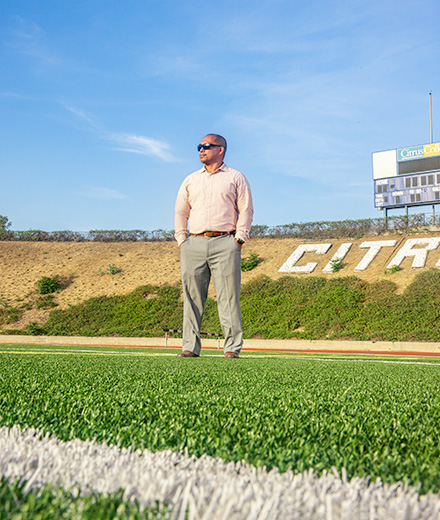 "Having the opportunity to be able to capitalize on that was one of the big reasons I was able to get through school and be able to be successful through it," he said.  
Once he was officially accepted into the program, which is now offered as a Master of Science in Athletic Training, he had the chance to work directly with student athletes.  
"Being around those programs, and being around some of the athletes, it really gave me the opportunity not only to learn how to be an athletic trainer, but also how to work with different types of individuals," he said. 
Since graduating, Domingo has made gifts to not only President's Scholars, but also the Athletic Training program. He also guest lectures and volunteers several times a year at The Beach's Department of Kinesiology.
"I want to pay back what I was able to gain from the program," he said.
Domingo worked in a range of athletic programs, from water sports to men's basketball, baseball and track & field. He said working with different types of athletes helped round out his experience.
That exposure propelled him into a career focused on higher education at both four-year and two-year institutions. He's worked as an athletic trainer at Utah State University, University of Redlands and Chapman University. He currently works as the Dean of Kinesiology at Citrus College in Glendora.
In his role as dean, Domingo does not work directly with student athletes much. He tries to maintain those relations by keeping an open-door policy and regularly having conversations with athletes. 
But the best part about working with student athletes is seeing their progression, he said.
"Winning championships is great and winning games is great," he added, "but seeing the student athletes grow and mature and learning how to take care of themselves is the biggest thing that drives me every day."