Using Academics Requirements Report
The Academic Requirements report is an interactive tool that allows you to review current and up-to-date details regarding your progress toward degree completion. The Academic Requirements report matches all of your completed and enrolled courses at CSULB and any external coursework and credits from other institutions, including exams (e.g. Advanced Placement, International Baccalaureate) and other credits (e.g. military credit), to your current academic program(s) requirements.
The Academic Requirements Report can be found in the "other academics" pull-down menu.
Select Academic Requirements, and then click the advance arrow. This action opens your Academic Requirements report.


Image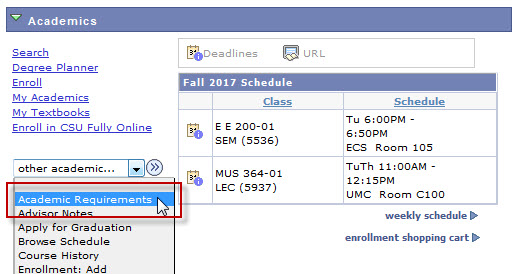 How often should I review my Academic Requirements Report?
Your Academic Requirements report is current as of the time you access it online.  Since any change to your academic record, such as dropping or adding a course, changing your major, or repeating a course, could affect your Academic Requirements Report, we encourage you to review it whenever you make registration changes.  You should also check your Report after grades have been posted, and in preparation for advising and registration appointments.
What if I repeat a course?
If you have repeated any courses and they have been graded, your Academic Requirements report and Course History will reflect the impact.  In the Repeat Code column, you can review how the repeated courses impact your GPA - whether the posted grades are or are not included in your GPA and in units earned. Your unofficial transcript also reflects these repeat adjustments.
What if I'm thinking about changing my major or adding a minor?
Before you meet with your advisor to discuss a change of major, add a minor, etc., we encourage you to utilize the "What-If Report" from your Student Center pull-down menu. This feature allows you to create a simulated Academic Requirements report for a different plan (major and/or minor), or a different subplan (major concentration, emphasis, or specialization), helping you to determine what impact a change in plan may have on your academic career.
Image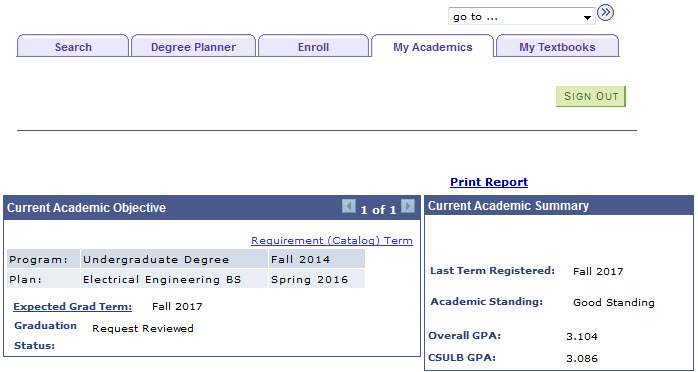 Current Academic Objective box has your official program and plan objectives. Notice that the Requirement (Catalog) Term column displays the catalog requirement year for each of your objectives. These catalog years are the basis of your Academic Requirement Report. The Expected Grad Term will have a notation under Graduation Status of Applied, In Review, etc., if you have filed a Request to Graduate with the Office of Enrollment Services.
Current Academic Summary box displays the last term you registered, your academic standing, and your Overall and CSULB GPAs.
Advisor Notes link will appear when your Advisor has posted notes for you to view.
The Print Report link provides a printer-friendly print capability.
Image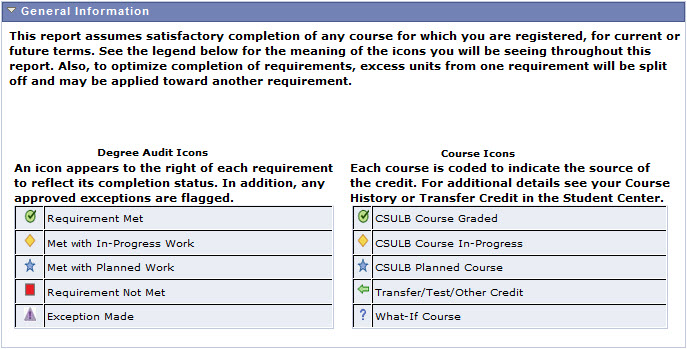 The Academic Requirements report is designed to enable you to focus on your progress toward completing your degree as well as provide information to assist your advisor. The features that allow a quick scan of the report include:
The report's display expands the unmet degree; while the completed degree are collapsed. You may alter the view by clicking either the collapse all button, or the expand all button.
Icons are used throughout the report for a quick view of the completion status of degree and the sources of the course credit. A legend is provided to explain the icons.
The requirements are clearly separated by blue bars. The darker-blue bar signifies a specific requirement. The light-blue bars represent the various areas to complete within a specific requirement.
For major requirements, a course grid will display all courses needed to satisfy the requirement. These grids display the status of the course requirement indicating if it has been satisfied – complete or in progress, etc. In addition, the course grid will display course requirements that you still need to take to fulfill the requirement.
Image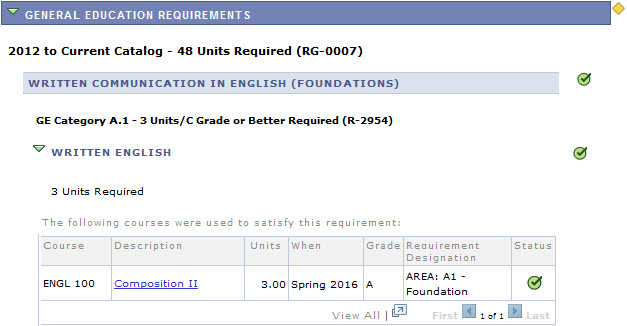 The Academic Requirements report organizes program requirements by categories.
Image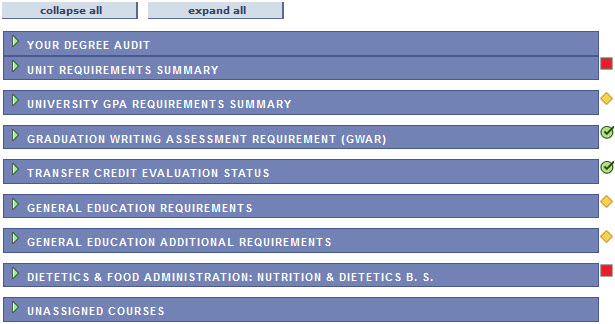 Your Degree Audit notifies users of the purpose of this report.
Unit Requirements Summary - minimum undergraduate degree unit requirements for a bachelor's degree.
GPA Requirements Summary - Overall and CSULB undergraduate GPA requirements.
Graduation Writing Assessment Requirement (GWAR) – student's WPE status.
Transfer Credit Status – "Official" if all coursework received to date has been evaluated; "Unofficial" if any coursework remains to be evaluated.
General Education Requirements- undergraduate General Education (GE) requirements.
General Education Special Requirements - special GE requirements (e.g., Global Issues, Human Diversity in the United States, and Upper Division Capstone courses) required by CSULB.
Academic Program Requirements – designates the requirements for a specific academic objective (major(s), minor(s), and certificate(s).
Unassigned Courses – successfully completed courses which have not been used to meet specific GE or major/minor/certificate subject requirements.
There are some course requirements that have more than 10 courses from which to select in order to complete the requirement. For such requirements, you may expand the course list to display the courses allowed.
Step 1:
Click the View All icon or the button to expand the list of courses that may be used to satisfy a specific requirement. Your list will expand to show all courses allowed.
Image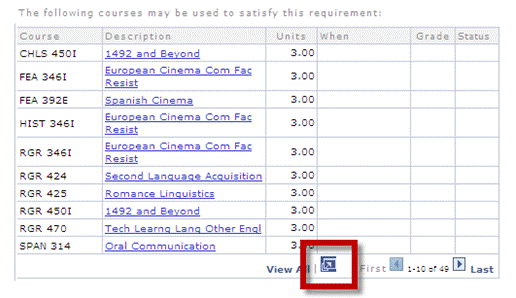 Step 2:
Once you are finished viewing the expanded list, click the Return button.
Image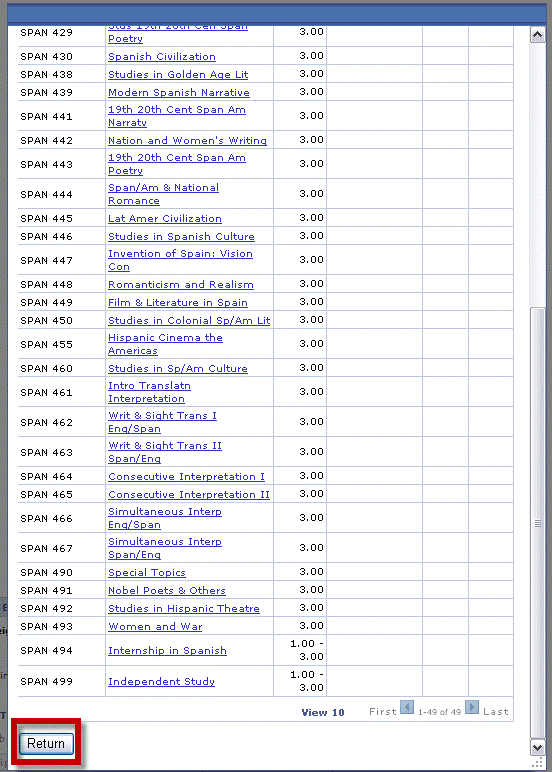 Clicking a course description (i.e. Appl Thry Teach Ind Dual Sport) advances you to the Course Detail page, which displays additional information on the course including enrollment requirements and course description.
Image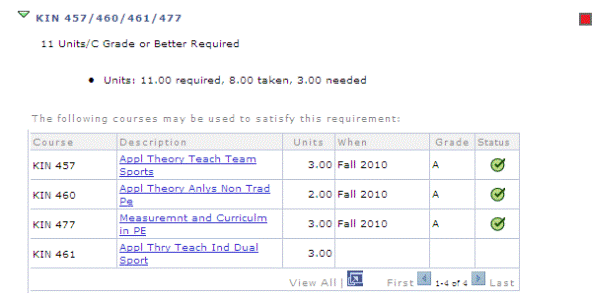 Click the view class sections button to expand the Course Schedule for the course offerings.
Image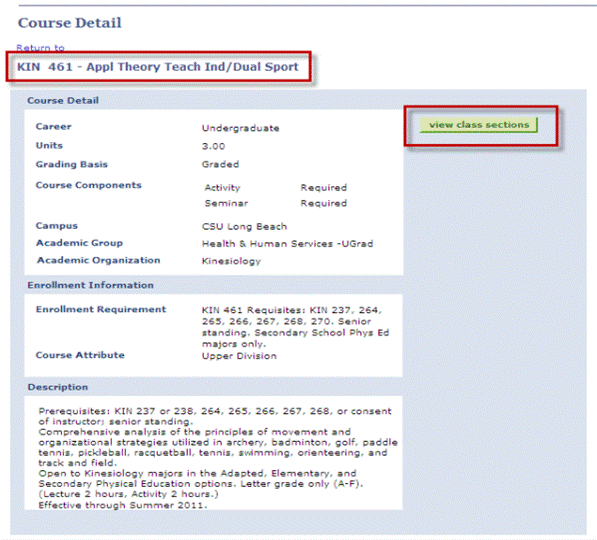 You may view the terms and sections that a specific course is offered.  When you are finished viewing this information, click the Return to link to return to the Academic Requirements report. Should you wish to check the course availability and add the specific course to your Shopping Cart for enrollment, you may proceed by clicking the Select button.
Image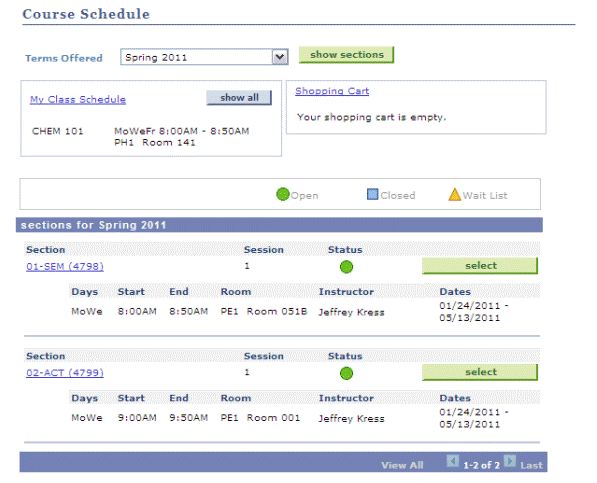 You may add courses to your Shopping Cart by selecting from the Course Schedule.
Image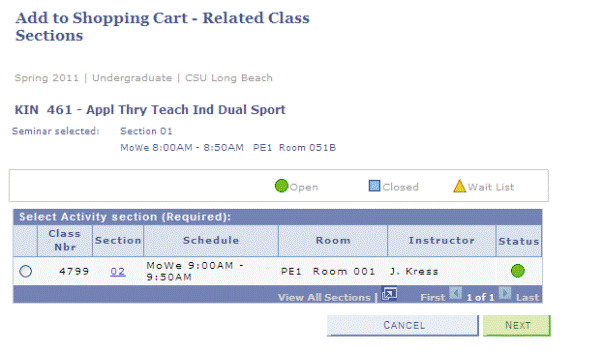 Courses that may be used to satisfy requirements may be included in a list. To view the list, click the View Course List link. This action displays all courses that may apply to the specific requirement. 
Image

When you are finished viewing this information, click the Return to link to return to the Academic Requirements report.
Image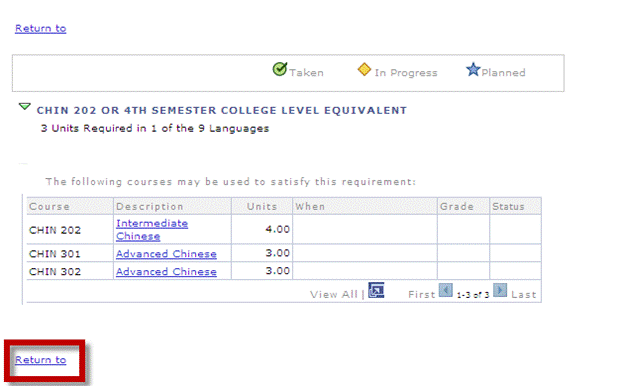 Unassigned Courses are courses not assigned to meet specific GE or major/minor/certificate subject requirements. Students are encouraged to contact their Advisors if they believe any of the unassigned courses could satisfy any unmet requirement. Only courses with earned credit will appear in the grid. For a complete list of all courses taken, please refer to your Course History or Unofficial Transcript.
Image