Ceremony
During the ceremony, graduates will have their pre-recorded name called as they pass across the vehicle stage. Grads will be celebrated by the platform party of college and campus leadership. Each grad will be livestreamed as they cross the telecast area with their name and major proudly displayed on the screen. The pre-recording of graduate names will be done by professional voice actors. During registration, students will have the opportunity to explain the correct pronunciation of their name.
CSULB's current proposal has modified Commencement based on the LA County Public Heath vehicle-based parade guidlines pending approval from the Long Beach Department of Public Health.
Event Locations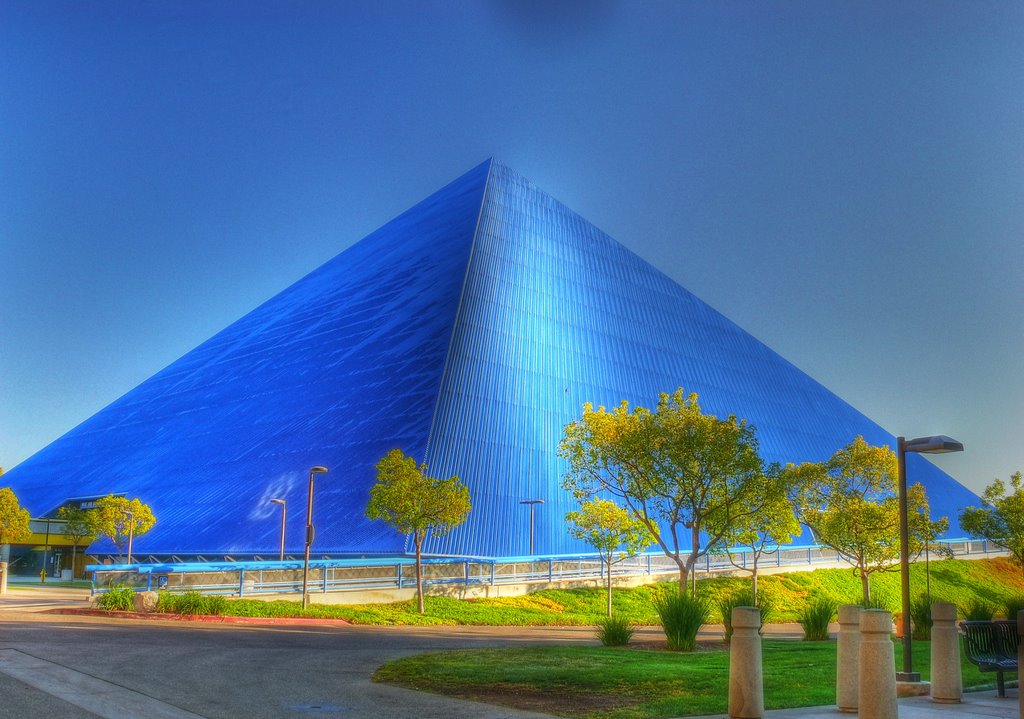 The two sites, the Go Beach sign and on the westside of the Walter Pyramid, will run concurrently. Colleges will be prescheduled at one of the two sites. Each site will have their own live stream, name reading, platform party, and check-in. Check-in location will be announced when the ceremony times are confirmed. Complete arrival instructions will be communicated on the vehicle pass. 
RSVP
A unique registration link will be sent to the graduate's CSULB email when registration begins on Monday, March 22, 2021. All graduates of the classes 2020 and 2021 must register if they wish to attend the commencement ceremonies taking place May 18-22, 2021. Registration will close on Friday, April 9, 2021.
Commencement Vehicle Pass
Each graduate must claim their vehicle pass to attend the physical commencement ceremony. Only one pass will be allocated per graduate and will allow the graduate and their household members to join them in the same vehicle. Passengers are limited to the number of legal seats in the vehicle.
Prerecorded Name and Custom Grad Slide
All graduates attending the ceremony must provide information to create their pre-recorded name and custom grad slide. Name pronunciation information must be provided by April 9, 2021. Graduates will be able to upload a custom photo and quote to be displayed when they enter the telecast area. This process must be completed by: May 1
Vehicle Pass Claim
Starting April 19, 2021 vehicle passes claim will be available through the same registration portal. After claiming their pass, students will know the 30-minute window when they will proceed through the Commencement route. Graduates that do not arrive at the start of their 30-minute time-window may be denied entry. No extra vehicle passes will be given. Graduate must be in the vehicle for the vehicle to be permitted entry.  There are a limited number of passes per time window and the time window will close once the capacity limit has been reached.
Create Your Account and Slide
The university is partnering with MarchingOrder to allow graduates to personalize their graduation slide.  This slide will be shown during commencement and will be available to be shared with family, friends and loved ones online and via social media on their special day. An email will be sent to 2020 and 2021 graduates via their csulb.edu student account on March 22, 2021. The email will be sent from commencement@csulb.edu with information on how to login and get started. A sample of what the personal slide will look like will be included in the email.
Graduates will be able to upload a photo and a statement that's personal to them regarding their Beach experience. The statement can be a quote that inspired them while working toward their degree, a word of thanks to any family, friends and faculty members that helped them during their journey, or a reflection on their time as a Beach student. This information must be uploaded by May 1, 2021. Additionally, the completed slide will have an audio file that will "announce" the graduates name upon opening the slide. Within the MarchingOrder login, graduates will be able to provide the correct pronunciation of their name before April 9, 2021.
Health and Safety
The Commencement Ceremony will be a contactless, in-vehicle event to maintain the lowest possible risk from COVID spread.
Students will show their vehicle pass claims twice: once at the beginning of the check-in line, and again when they are about to appear on live stream.
Vehicle Requirement
In order to comply with Long Beach Health Department guidelines, vehicles must be completely enclosed. The following are not permitted:
Convertible with the top open
Vehicles without doors (like utility off-road utility vehicles)
Golf Carts
Motorcycles
Bicycles
In vehicles with windows rolled down, all occupants must have face coverings for the entire duration the window is down. All occupants in the vehicle must be from the same household.
The ticket scanner is on the driver-side of the vehicle. Graduates should be in the driver's seat or front passenger seat. The event is designed to only have one graduate per vehicle and to be accompanied by their household. 
Graduates Without Access to Approved Vehicles
Arrangements will be made to feature the graduate in the live stream and have their name called.
Because of health orders, graduates not in an enclosed vehicle will not be permitted to attend the event in-person. Email commencement@csulb.edu for specific questions.
College Ceremony Dates 
Class of 2020
College of the Arts | May 21
College of Business | May 20
College of Education | May 21
College of Engineering | May 20
College of Health & Human Services | May 18 & 19
College of Liberal Arts | May 18 & 19
College of Natural Sciences & Mathematics | May 21
Class of 2021
College of the Arts | May 21
College of Business | May 20
College of Education | May 21
College of Engineering | May 20
College of Health & Human Services | May 18 & 19
College of Liberal Arts | May 18 & 19
College of Natural Sciences & Mathematics | May 21 
Join in the Celebration
It is no secret this year's ceremony will look different. This will lead the entire campus community to find new ways to embrace the accomplishment of our graduate's new degree.
Vehicle Decorating
Vehicle decorating is highly encouraged. Graduates are welcome, if not urged to display their excitement on their vehicles as they would their cap.
Vehicle Magnets
Custom Commencement car magnets will be available through 49ers shops. 
Celebrating with Loved Ones
Those who do not live in the grads' household or do not fit in their vehicles are encouraged to join the excitement online through the live stream and join the conversation on socials at our hashtag #BeachGrad2020 and #BeachGrad2021
Mortar Board Decoration
Some things don't change and that includes grads decorating their cap.
Live Stream
Live Steam feeds will be available at csulb.edu/commencement and shared on official social media accounts.
After the live event is over, streams will be available on YouTube and linked to from the commencement website.
Grads will receive more detailed information emailed to them prior to the event.
Accessibility Accommodations
To request disability-related accommodations, complete the Bob Murphy Access Center Event Request Form.
Commencement Checklist:
Share information with Friends and Family
Get Commencement Gear at Grad Fair: March 8-12
RSVP to attend Commencement: March 22 – April 9
Submit name pronunciation information: March 22 – April 9
Submit custom grad slide photo and quote by: May 1
Claim vehicle pass from April 19 – May 3