Grad Events
CSULB is thrilled to share a number of upcoming events for this year's graduates!
CSULB is excited to offer the opportunity for friends and family of graduates to see and explore the campus with fun activities for all!
FREE PARKING in these lots ONLY:

E1, E2, E10, E11, G1 and G3

Start your tour and day at the University Bookstore:

Pick up a complimentary Campus Icon map of the notable locations on campus to take photos with your family and friends at CSULB's 'famous' spots!
Discounts!
Pick up last minute celebration gear and accessories!
Photo opps with our mascot, Elbee (LB), from 11 AM - noon!

Photographers from Pro Pics will be at two iconic spots on campus on May 13th to take your graduate photos!

Stop by the Walter Pyramid or GO BEACH letters anytime between 10 AM-3 PM, no appointment required! Register HERE
No cost to have your photos taken and no obligation to purchase.
Proofs delivered quickly- don't miss this opportunity!

Show off the University Library, where you spent a good amount of time studying and conducting research and check out the following:

A celebratory arch made of real books in the main lobby in front of the donor wall!
A "Congratulations Grads" banner in the computer lab with balloon columns all in black and gold!
A "Dark Academia" themed corner in Reference for those who want books in their backdrop and love an Edgar Allen Poe vibe!
A few other graduation-themed surprises!

Visit the Carolyn Campagna Kleefeld Contemporary Art Museum, open from 10 AM to 2 PM:

Sculpture Tour begins at 12 PM
Enjoy lawn games such as Jenga, bean bag toss, soft lawn darts, and Twister!

Stop by the world famous Shark Lab, Marine Lab, and the Mammals Lab in the Hall of Science in the College of Natural Sciences and Mathematics between 10 AM to 2 PM!
Check out the Science Learning Center open from 10 AM to 2 PM!
Bring everyone by The Nugget between 11 AM - 2 PM for a hearty breakfast or lunch!
The Bookstore will be holding a Fall Grad Fair on Wednesday, November 16th from 10 AM to 6 PM!
Congratulations to George Bartlett, the winner of the 2023 Grad T-Shirt Design Contest! George is Film and Electronic Arts - Theory and Practice of Cinema major in the College of the Arts. 
Image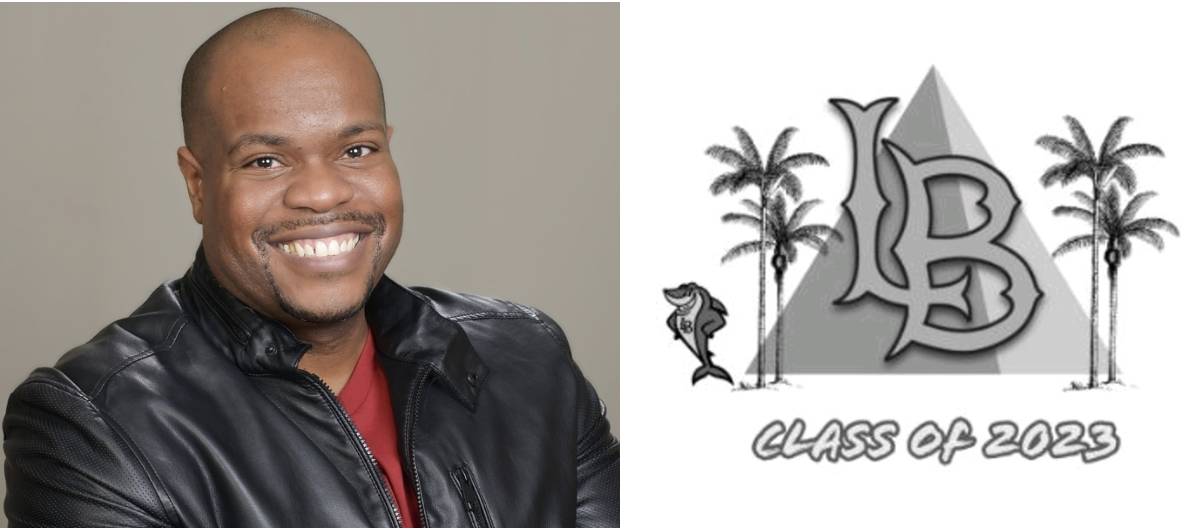 March 13-16: 10am-7pm at the University Bookstore
Senior Portraits - free sitting and proof
Order Custom Graduation Sashes
Order Custom Grad Memorabilia like lawns signs, banners, and more
Purchase CSULB Medallions and custom engraving
Order Graduation Announcements
$5.00 off any Grad 2023 or Alumni T-shirt/Sweatshirt
Sign up for CSULB Alumni Beach Nexus
Information for Cultural Graduation Celebrations
Play the Game of Grad and enter to win fabulous prizes!
With the opening of the MarchingOrder and RSVP/Ticket portals, we focused on these two topics, in addition to other important commencement-related steps such as Applying to Graduate, grad events, and key deadlines! We will hold an additional session if need/request arises.
Due to the very large volume of emails we receive, please give us time to respond to any issue or question/s you may have. Also, please see the Commencement website first for information! 
*This event was originally scheduled for March 20th at 11 AM but was rescheduled to Tuesday March 21 at 11AM due to login issues/technical difficulties. We apologize for any inconvenience this may have caused.
Come together with other grads for a pre-commencement celebration! There will be two times to best accommodate students' schedules:
April 18th, Tuesday: 5 - 7PM
April 19th, Wednesday: 12 - 2PM
This event will have an RSVP for each day. THE RSVP has closed as we are full. HOWEVER, please stop by as many students forget or just don't show so we will have some room for walk ins!
Complimentary snacks & refreshments
Image

Domino's Pizza generously provided by Tony Manos

Cap (Mortarboard) decorating

Basic art supplies provided: paints, stickers, beads, tassels, scissors, glue

Decorating templates

University Bookstore - Grad Central

Commencement accessories

available for purchase

R

egalia (

Caps and Gowns as supplies last)

Extra craft supplies for purchase

Alumni gear

CSULB Alumni-Beach Alumni for Life!

Learn how CSULB Alumni support

s

you after graduation through Beach Nexus

Opportunities go give back to your alma mater

Contribute to the Senior Gift

The Commencement Group

Raffling floral and commencement t-shirt coupons!
Pre-order fresh orchid leis, bouquets, and apparel for pick up at the ceremony HERE

Career Development Center

Resume review, interview tips, and job information. Student resources HERE

Long Beach Financial Credit Union

Learn more about opening an account with LB Financial Credit Union and how you can get your exclusive LB debit card HERE! 

Raytheon Technologies

Stop by to speak with Juan Morales, our own alum, and his path to becoming Associate Director, Systems Engineering at the world's largest aerospace and defense manufacturers. 
Download their resume writing resource HERE! 

Talk to alums and their career path post graduation!
Enjoy tunes spun by Long Beach based all-female, all-vinyl DJ collective, Meowhaus! Core members are all CSULB alumni. Come chat with them about vinyl DJ'ing!