Guest Speaker Encourages Students to Shoot for the Stars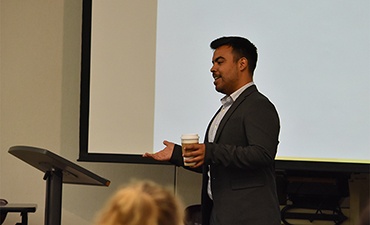 When Jacob Barrera, MPH, decided not to be a doctor, his parents pulled their support for his education. But that didn't stop him. He went on to earn a double major Bachelor's degree (Psychology and Dance) and continued on to earn a Master's in Public Health at Harvard.
"I personally thought that today's colloquium gave me more motivation to follow my passion and to continue to do what I love," said Year One Scholar Brady Carbajal.
Barrera shared his story during the first Fall 2018 Colloquium held Friday, Sept. 28. He shared the ups and downs of his career and encouraged attendees to be unapologetic about their goals and who they are as individuals.
"I really appreciated hearing from someone who had a similar background as me and I was inspired to continue in my own journey to a career in research," said Year One Scholar Bianca Godinez.
Julissa Duran added, "It was really inspiring and insightful. As a first-generation Latino student myself, I have been encouraged and challenged to dream big and pursue grad school. Passion and determination are needed to accomplish one's goals."
Barrera, a first-generation college student from a Latino family, used his story to embolden students to set big goals.
"One takeaway he emphasized," said Year One Scholar Cammie Lam, "was to not be afraid to apply for opportunities that may feel out of reach for you. You miss 100% of the shots you don't take."
The Colloquium was followed by a special Q&A session for all College of Liberal Arts and College of Health and Human Services BUILD trainees.
Photo Gallery