Alan Knipe '96
Alan Knipe
---
Men's Volleyball Head Coach
 
EDUCATION
1996 B.A. Speech Communication,
Image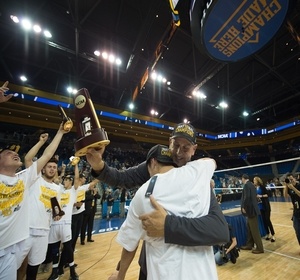 By Karla Lopez
The Culture of Winning
Winning the 2018 NCAA Division National Championship wasn't the only way last year's men's volleyball team mirrored the 1991 squad. Under the direction of Coach Alan Knipe, the team adopted the close-knit culture embodied by previous teams.
Knipe, a member of the 1991 championship team, said his experience as a student-athlete has enabled him to maximize his own teams.
"The magic is the constant model, we can do amazing things individually, and collectively we can do amazing things as a team, it is one of our strong suits," said Knipe.
As a student-athlete, Knipe said Long Beach State was the right choice for him. Then-assistant coach Mike D'Alessandro had built a strong work-ethic culture for the 1991 team, which helped them win the school's first volleyball title.
"Culture has to be pure and true, and you have to be passionate about it," said Knipe.
Knipe reinforces the bond and brotherhood within his teams in an effort to honor the traditions set by the former alumni athletes. Decision making, work ethic, communication and importance of the impact on the Long Beach community are areas Knipe stresses in his practices.
"We want them to shine in all areas of their life," added Knipe.
Knipe believes there's never been a better time to attend LBSU and hopes Long Beach student-athletes take advantage of the available resources and facilities. The support from the university has allowed the volleyball program to spread its wings and truly realize those great plans envisioned in the 1990s. Knipe strives to maintain the success of the program by promoting that unique culture of achievement.