BLACK FACULTY & STAFF ASSOCIATION
The mission of the Black Faculty & Staff (BFAS) Association is to build a community amongst Black professionals at California State University, Long Beach that cultivates a supportive atmosphere, provides an opportunity to connect, and contributes to student success by building a foundation of resources for the community and support for Black students at the Beach.
Image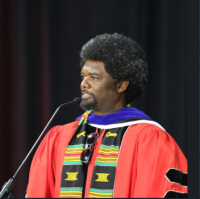 Dr. M. Keith Claybrook, Jr. is an Associate Professor of Africana Studies at CSU, Long Beach where he teaches classes on Black History, Research Methods, and Critical Thinking. He is also advisor of the Black Student Union and the Black Business Student Association. Claybrook serves on CSU, Long Beach's Presidents Equity and Change Commission, and served two terms as Vice President of the Black Faculty and Staff Association and. He regularly attends conferences such as the National Conference of Black Studies National conference, the African Heritage Studies Association, Sixth Region Diaspora Caucus conference, and other conferences where he has presented on a diversity of topics including the Black Freedom Movement, Black Students Movement, History of Black Los Angeles, African American intellectual history, educational history, African Deep Thought and critical thinking, identity and consciousness, reparations, Hip Hop, and African-centered pedagogy.
Claybrook is the author of Building the Basics: A Handbook for Pursuing Academic Excellence in Africana Studies which offer tips, tidbits, and suggestions for studying at home, African Deep Thought and critical thinking, critical reading and questioning, scholarly writing, working collaboratively in groups, and preparing for quizzes and exams. He is also a life-time member and regular contributor to Black Perspectives which is the award-winning blog of the African American Intellectual History Society (AAIHS) and is the leading online platform for public scholarship on global Black thought, history, and culture. Claybrook has also published in the International Journal of Africana Studies, the Journal of Black Studies, the Journal of African American Studies, and Africology: The International Journal of Pan African Studies. He has lent his expertise on "Today in L.A." on NBC4, KJLH's "Front Page with Dominque DePrima," KPCC- NPR on "AirTalk with Larry Mantle," and other television, print, and internet media outlets. He has also participated in a host of community programs and events.
Image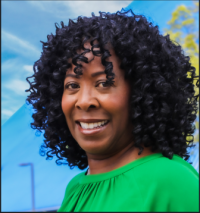 As the Director of Faculty Affairs for California State University, Long Beach, Dr. Morton supports academic personnel process, policies, and procedures for tenured, tenure track, and lecturer faculty on campus. She has more than 10 years of professional experience in higher education, specifically in faculty administration. She is passionate about working on how universities can provide access to quality education to students in historically underserved communities and support their academic success and well-being. Dr. Morton is actively involved in the Long Beach community and currently serves as a Commissioner for the City of Long Beach Commission on Youth and Family. She earned her doctorate in Organizational Leadership from Pepperdine's Graduate School of Education and Psychology, MBA from Pepperdine's Graziadio School of Business, and bachelor's degree in communications-Public Relations from Cal Poly, Pomona.