Two CSULB teams finish in top 4 in global animation contest
Published October 27, 2022
Shina Idemoto entered the 24 Hours Animation Contest on a whim.
They wanted a distraction, and they had no expectations. Idemoto just didn't want to stay another night stuck in their room.
"I joined the contest because I wanted to be stressed out a little bit," said Idemoto, a fifth-year animation student at CSULB. "I didn't know anyone on my team, but I was kind of feeling isolated in a way."
Idemoto emerged 24 hours later, a second-place winner out of 300 teams and 1,500 participants in the global competition created by Aubry Mintz, a CSULB animation professor. Their group, Keyframe Coffee Break, produced a playful animation titled "Atomic Shores," featuring a surfer in a Hazmat suit riding a polluted wave. Idemoto did the voiceover in an enthusiastic, yet slightly sarcastic tone, and the video really impressed the judges, nearly winning the entire contest.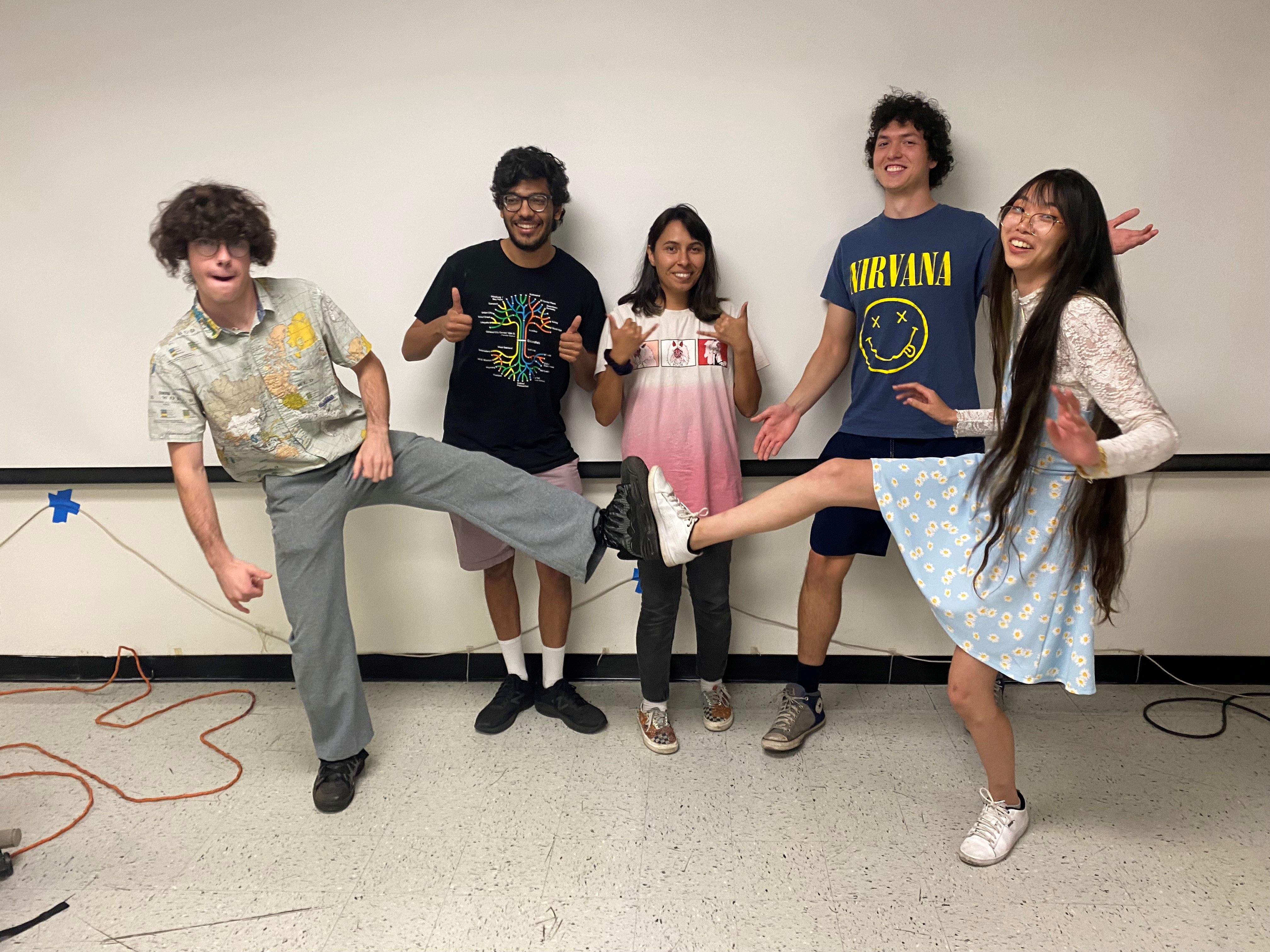 "I thought we would get maybe like, top 20, top 10," they said. "I don't like to have my hopes up too high. But I was very happy and ecstatic," when they got the news of her team's second-place finish.
"The whole day, I was in disbelief. It didn't really sink in that we won anything."
In fact, Idemoto and their teammates won $300 and a digital tablet each, software subscriptions, animation books, tickets to an animation expo and a bunch of animation company-sponsored swag.
Idemoto is one of 35 Beach students who participated in the Oct. 14-15 contest, which brought teams of five students together in a hectic race to complete a 30-second animated video in 24 hours. This year's theme: What the future will look like 100 years from now.
The competition just celebrated its 20th anniversary, and contestants from The Beach did incredibly well, coming in second and fourth place out of 300 teams from 17 countries. It was Cal State Long Beach's first top-five showing since the contest went international in 2012.
Almost uniformly, the CSULB participants came into the contest with little to no expectations, and surprised themselves with the quality of their work. Plus, they learned some valuable lessons in the process.  
"We all learned a lot about working together, being able to share ideas, give our opinion on other people's ideas, as well as learn our own personal limits," said Saatvik Dube, a fifth-year animation student who was also on the Keyframe Coffee Break team.  
Jordan Glickman was the director for The Doodlers, the fourth-place team. He joked that his group was the "team of rejects," because they came together at the last minute after being turned away by other teams.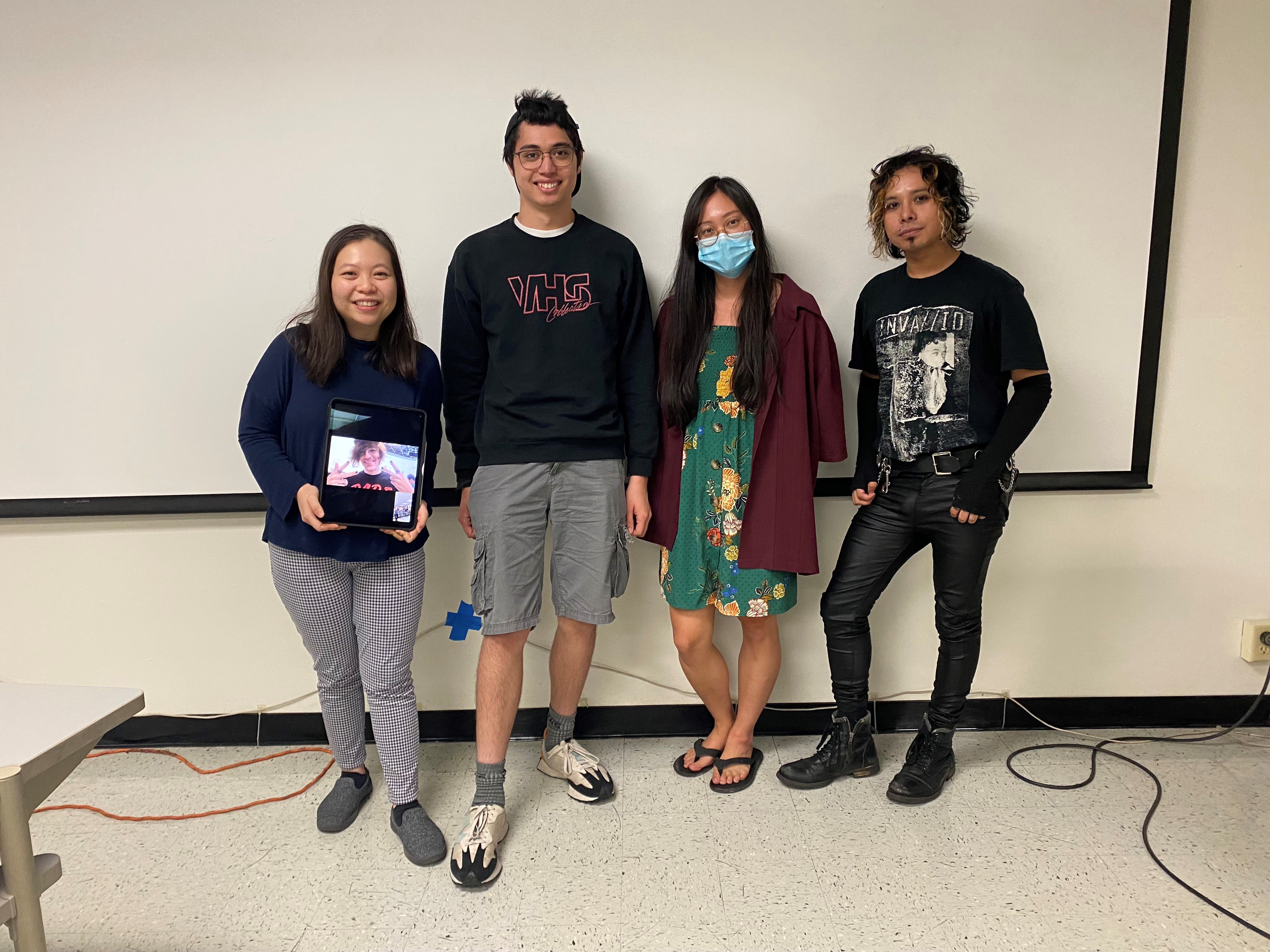 "It was the first time I had a team that actually liked my idea and just let me go full-throttle with it," said Glickman, a fifth-year animation student. "I'm very surprised. I saw a lot of people who I thought were going to beat us." 
The Doodlers created a mock infomercial – titled "Premium Vision Plan" – touting the imagined service "Cyber Eye Premium Vision Plan," which allows users to block out uncomfortable or disturbing things happening around them.  
"We honestly had no expectations going into this at all," said Robin Yi, a fourth-year illustration/pre-production student who worked on the color on Team Doodlers' animation. "When they announced the winners, it was unbelievable. I was delirious, literally."  
Michael Miranda, another member of The Doodlers, concurred. "We just wanted to do it and have fun," said the second-year studio art major, who's in the process of applying for the BFA in animation. "I just wanted to finish. I didn't even imagine winning anything. What ended up happening exceeded my expectations 1,000%." 
Nearly all the students who participated in the contest expressed an interest and desire to pursue animation as a career after they graduate. And they said this experience gave them a taste of working on a real project with a tight deadline. 
As the contest grows in size and reputation, animation companies are beginning to recognize and look for the competition on applicants' resumes, Professor Mintz said.  
"Hopefully, it's contests like this – and internships – that can pry open the doors," said Patrick Daugherty, a fourth-year animation student who was on the Keyframe Coffee Break team.
"That's the plan right now. I just love doing it," Dube said. "This really motivated me to do more. I'm looking forward to working for a studio or something. I appreciate the collaboration and being able to work with other creative people."  
Next year's 24 Hours Animation Contest will be in early to mid-October 2023, Mintz said.