Camp Nugget will be a virtual experience for kids
Adapting is what the professors and students in Cal State Long Beach's Adapted Physical Education (APE) program know best. So when it was announced that summer camps couldn't be held in person because of COVID-19, they naturally pivoted to take Camp Nugget online.
"One of the things about APE is that 'to adapt' is to be creative and to modify, so people in the APE community, it's in their DNA," Camp Nugget co-director Dr. Barry Lavay said. "We're creative and we'll find a way."
Camp Nugget, which is celebrating its 50th anniversary this year, is a four-week camp designed for children ages 5-12 with special needs and disabilities. Camp Nugget co-directors, Dr. Melissa Bittner and Lavay, said they were driven to offer the camp online rather than cancel it altogether because they saw a need within the community.
The virtual camp will be staged at 1 p.m. Tuesdays through Fridays from June 15 to July 10 on the Long Beach State APE social media Facebook and YouTube pages. Thanks to generous grants and donations, the camp will be free for families and the staff will still be paid for their online instruction, Bittner said. Classes will be about 30 minutes long and will include activities such as fitness, yoga or dance that can be done with no equipment and limited or no space.
"What's challenging for parents of kids with disabilities is that they can't plug their children into any program, there has to be someone with expertise there," Lavay said. "Last year, Camp Nugget was out there and available to them but there aren't other camps like it. If we didn't offer it virtually this summer, they wouldn't have had any other options."
Image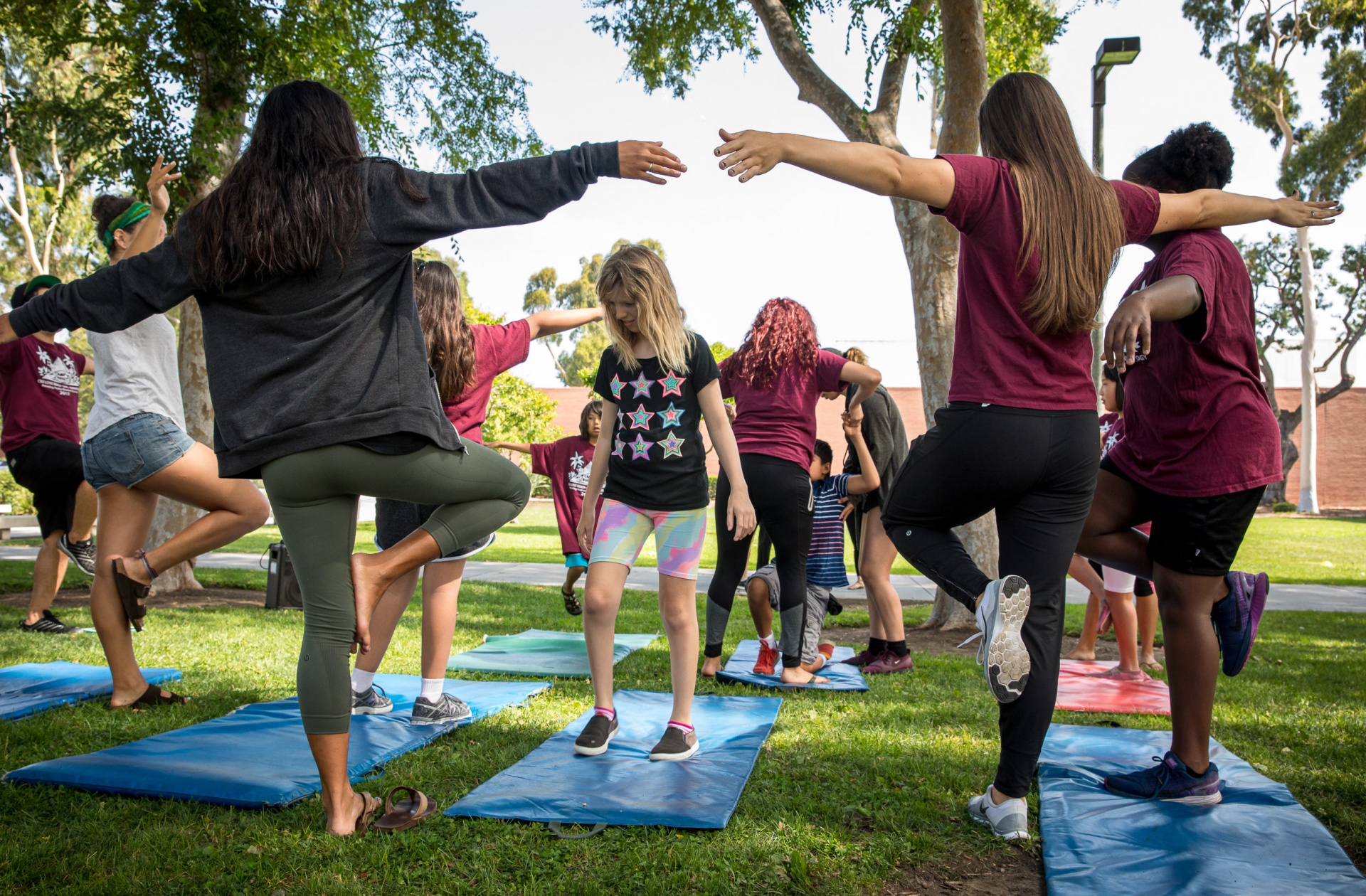 The APE program is currently providing online physical education classes through Facebook and YouTube, including bilingual Spanish and English instruction every Friday. Each student leads a five-minute segment with visuals and verbal cues, and the various skills are offered in at least two different ways, so the program is accessible to everyone.
For some of the university students, enrolled in the physical education teacher education course this spring, these online classes are their first opportunity to teach. But virtual Camp Nugget will have four student instructors who have already received their Kinesiology degrees and are in the process of getting their APE credential, so the caliber of the programming will be stronger, Bittner said.
"It's unfortunate that we won't have Camp Nugget in person and the students won't be able to come out and socialize, but it's great to have the opportunity to share this, online at least," Ivan Reyes Acosta, a virtual Camp Nugget instructor, said. "We're still powering through and we're going to do the best we can through this new virtual medium."
Image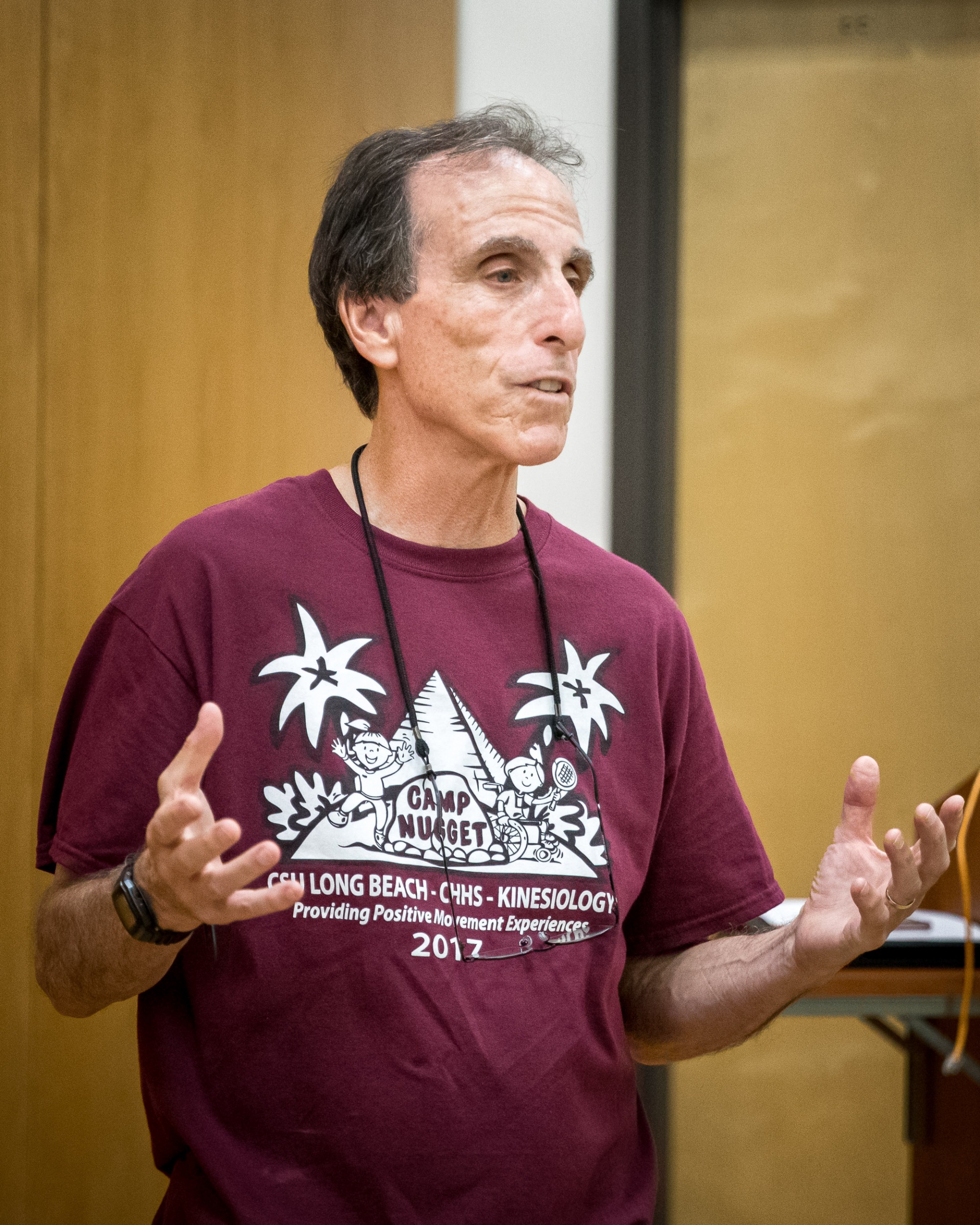 The co-directors acknowledge the limitations of moving Camp Nugget online — such as not being able to physically help the children with the movements.
"We'll try to get the participants to shout out their answers, but that's a limitation of this particular environment. It's a one-way window," Bittner said. "We can see out, but we can't see the students and what they're doing."
The directors said they will try mitigating the limitations by keeping an open communication with parents. They'll ask parents about the challenges they are facing and encourage them to give feedback on the program as it is livestreaming, Lavay said.
Lavay, who is retiring after more than 30 years at Cal State Long Beach, has had to adapt quite a bit in his last semester as a professor and camp director. Camp Nugget's anniversary party and Lavay's retirement celebration were postponed because of coronavirus restrictions, with a new date to be determined, but his spirits remain high.
"It is what it is, and I'm healthy. That's a big thing. When people finally get together for my retirement party, they'll be so grateful because it'll be an opportunity to finally get out of the house!" he said.