March Spotlight: Carl Fulbright
Image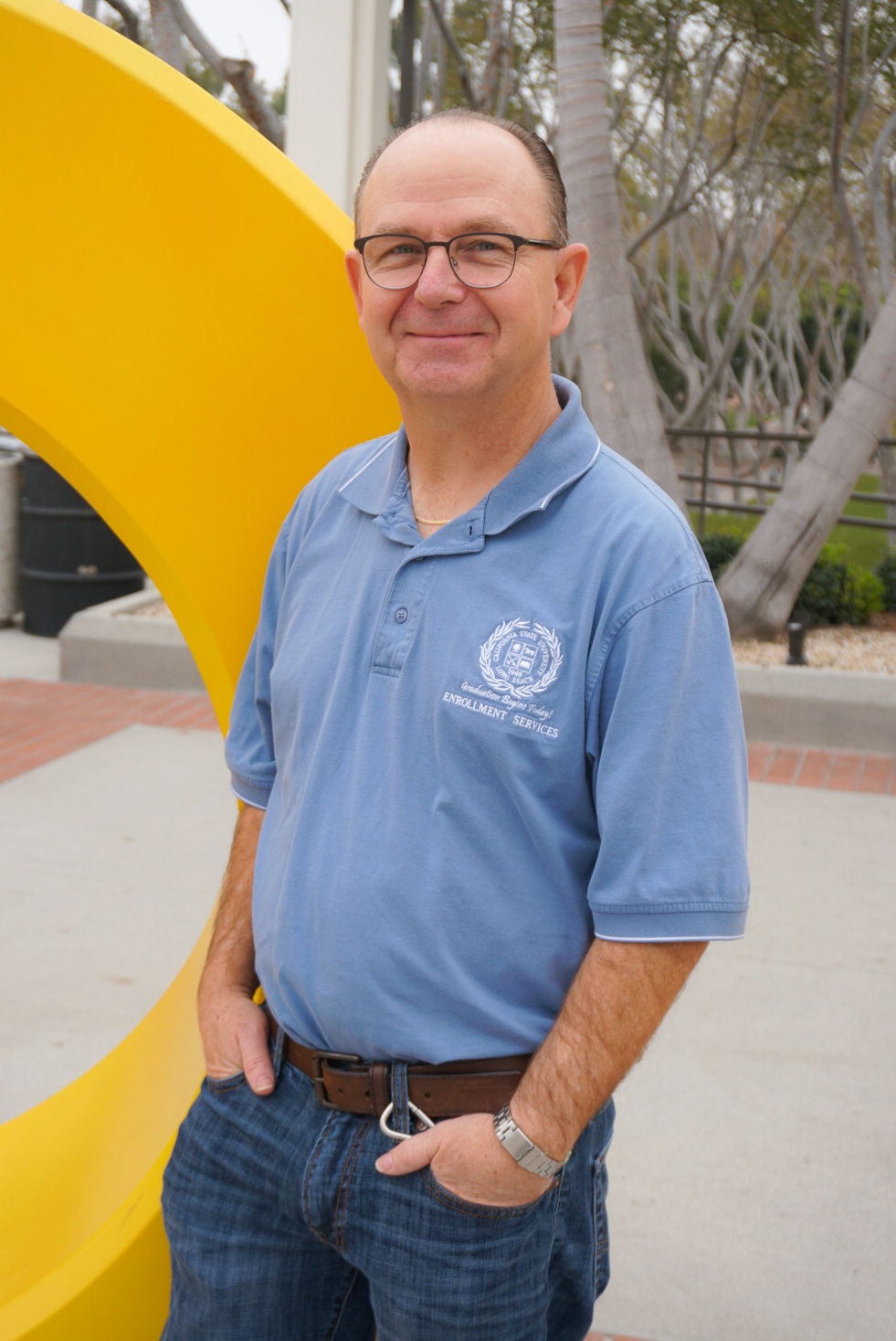 Carl Fulbright not only spreads joy throughout Enrollment Services with his friendly smile and desktop treats, but he will also help lead the newly developed Wellness Team. Carl has served the college for over 36 years and is an indispensable member of the Admissions team in his roles as a Transfer Admissions Evaluator.
---
Where are you from originally? Is your family in California?
I was born and raised in California in the Gardena, Torrance, and Long Beach areas. Most of my family is in the California area, but I have a niece that lives in Texas.
Where did you go to school? What did you study?
Some of my most enjoyable studies happened at LBCC studying Geology, doing Geology fieldwork and taking Geology field trips… and my most enjoyable course taken here at CSULB was beginning American Sign Language. The course was a blast working with the deaf community.   
How did you come to work for Enrollment Services? What do you do in ES?
The long answer is…. I began working at CSULB for the Testing Office doing Saturday testing in 1982 (I must have been 12 at the time…) and started full time in 1994. Over the years I became familiar with a lot of staff and faculty at CSULB and the community. After working in the Testing Office full time for eleven years, I decided to expand my horizons and a position opened up in Enrollment Services.
As a side note, I ran into the love of my life, Nancy Cohn, when we were both doing Saturday testing back in 1980 something ... Nancy also started to work in Enrollment Services when she must have been around like 12 years old or so (LOL), and we spent quite a few hours discussing the when, what, where, and how-tos of Enrollment Services life. She decided to retire after working here for 37 years. (Side side note: Nancy's mom retired from CSULB after working in Benefits for 30 years.)
Working with the Transfer Admissions Unit, I mainly deal with assessing transfer credit for admission and/or posting transfer credit. Over time, I have developed an understanding and working knowledge of different aspects of Enrollment Services such as Disqualification, Leave of Absence, Appeals, and Returning Student processes.
Tell us a story about your best day in Enrollment Services?
Actually, I feel that there is no one best day in Enrollment Services, but one of the most memorable days started before I worked in the department. I had worked for years with a disabled student, assisting with testing, and advice, and was incredibly happy when I found out he was graduating.
We work with students every day assisting them with the admission process and for me knowing that at some point these students will be able to accomplish a dream and graduate is really rewarding.
Tell us about your life outside of the office: Do you belong to local or national organizations? Do you have hobbies? Are you active in sports or recreational activities?
I try to be active every day. Most days my activity just involves taking a 20-minute walk around campus… or my neighborhood. I am interested in architecture, old books, gardening, walking, sailing, animals (cats), wine…
Are you working on a special personal project?
Currently working on space development in my garage… an on-going and never-ending project.
I'm planning a "not for profit" to assist the homeless and currently donate to the Illumination Foundation for homelessness in Orange County. 
Are you planning a vacation this year?
We are planning to visit some wineries in Napa.
Do you have a favorite quote you'd like to share?
Too many quotes to pick just one…
"Here's to the crazy ones. The misfits. The rebels. The troublemakers. The round pegs in the square holes. The ones who see things differently." - Steve Jobs (Apple's 1997 Think Different campaign)
"Count your age by friends, not years. Count your life by smiles, not tears." - John Lennon