Students Respond to COVID-19: Photovoice Project 2020
This project gallery gives voice to multiple generations of students who face challenges, economic hardship and social upheaval from the coronavirus pandemic. Carolyn Campagna Kleefeld Contemporary Art Museum hosts this online exhibition space and updates it on an ongoing basis through the fall 2020 semester. Thank you to all the students who submit photos and narratives—your vulnerability and willingness to share your experiences are inspiring. 
Send submissions and questions to researchers and organizers Drs. Trimble (brian.trimble@csulb.edu) or Manke (beth.manke@csulb.edu). 
No images or narratives may be used without the express permission of the researchers.
More information: Photovoice Project Details | Photovoice Project Informational Video | Photovoice methodology
Image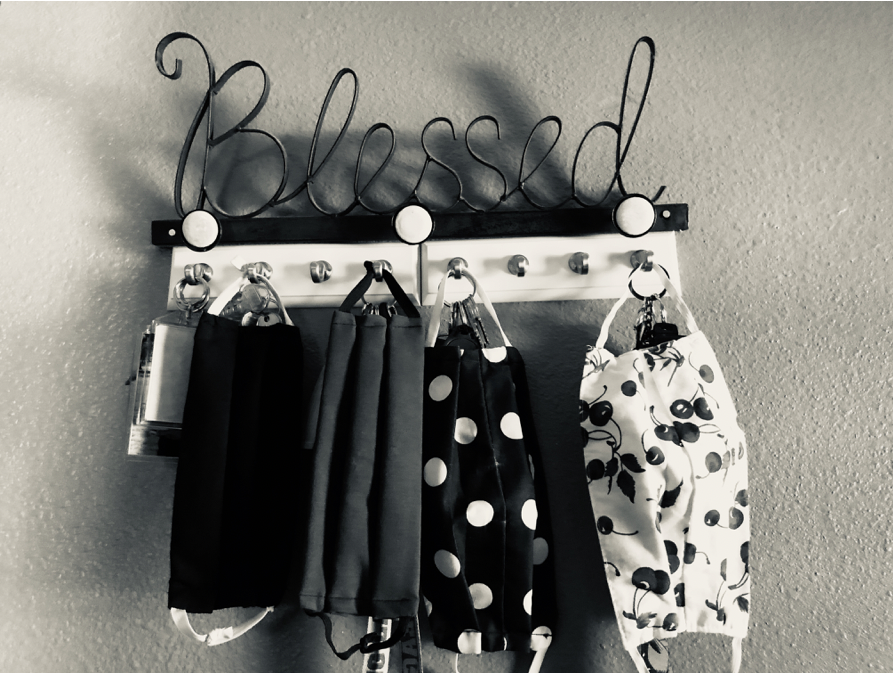 In the beginning of March, all I could think about was passing my midterms. Little did I know that my thoughts and cares about school would temporarily be on hold as news of Covid-19 unfolded. From one day to another, the world shifted, and media outlets roared as the numbers of deaths and those infected increased by each passing day. The colorful life I knew was long gone as schools shut down, jobs closed, and inner circles abruptly stopped meeting. Life has become dull, knowing thousands of lives have passed away, and that new orders and norms have been placed.
Image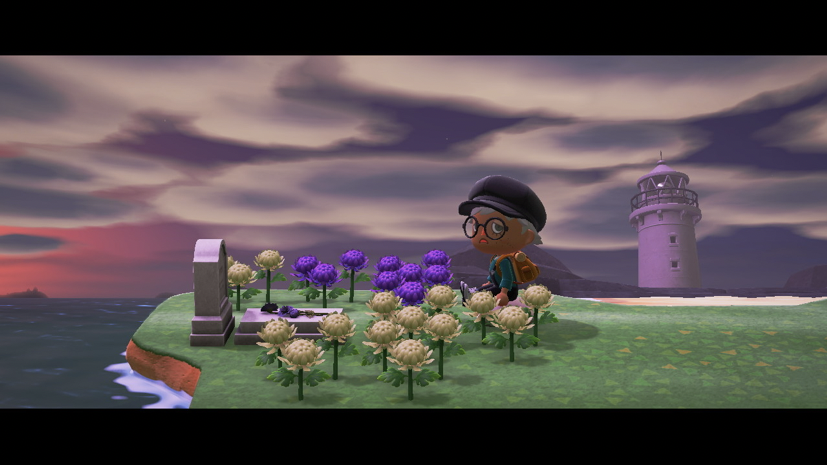 When I was younger I had a hard time reading, my dad was dyslexic as well so he understood how hard it could be reading. One day he came home and told me he had a new game for my Nintendo and it was animal crossing. He told me I would love it because it had cute animals in it!!! I popped it in and was a little frustrated with all the reading but he pushed me to keep going and I loved it and it helped me so much, through a lot more than just reading. My dad got sick this January very out of no where and ended up passing away February 21st.  I needed animal crossing new horizon and it has helped me a lot. Whenever I play I think of him and I made this little spot on my island for him. Seeing other memorials inspired me to make this, and I'm so happy I did. It's now my favorite spot on my island and forever will be.​
Image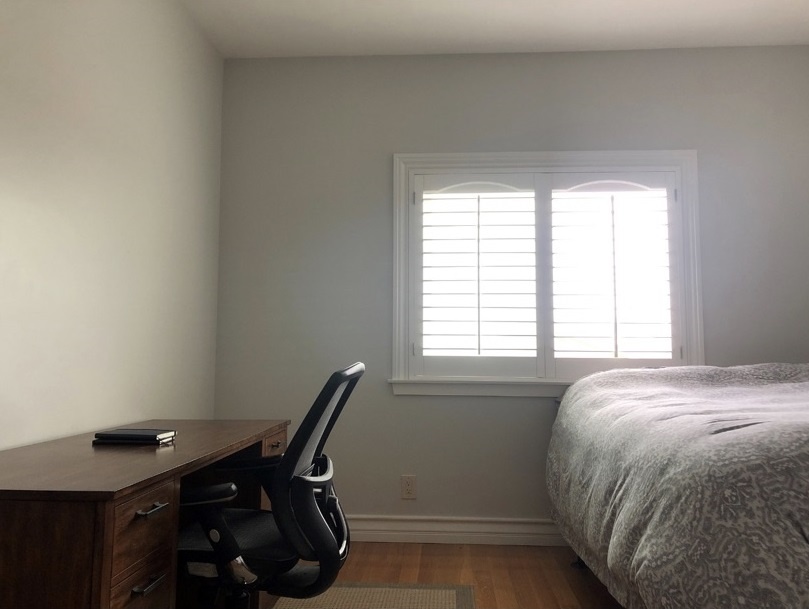 "Where shall the word be found? Where will the word resound? Not here. There is not enough silence." -T.S. Eliot, Ash Wednesday
Image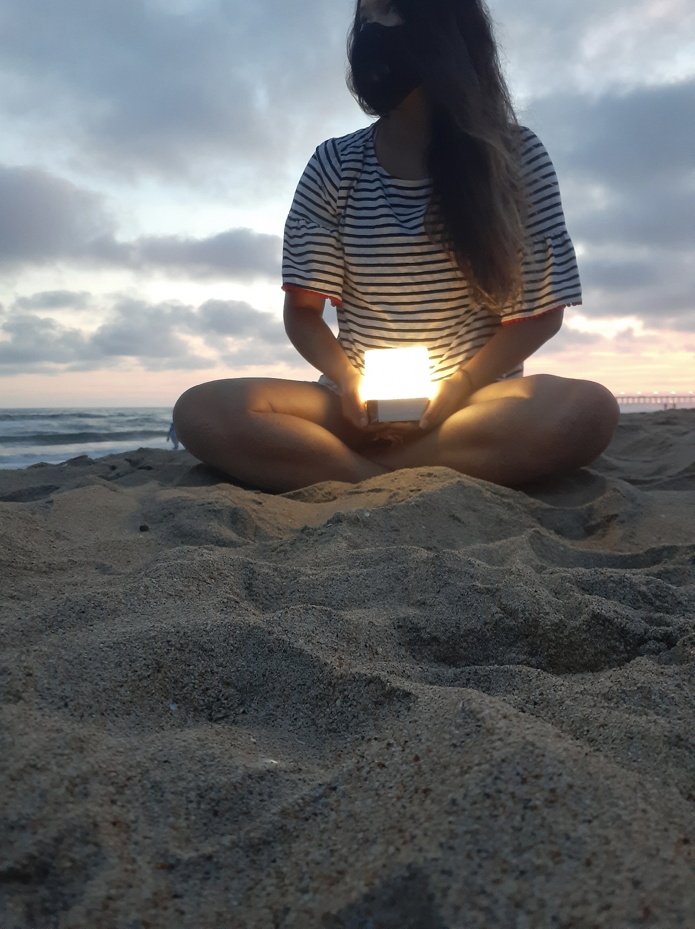 ​"Happiness can be found even in the darkest of times, if one only remembers to turn on the light." – Dumbledore​
​
The COVID-19 is a dark time. Although I love going to the beach, I still cannot enjoy it without a dark cloud over my head. The dark cloud follows me through work, school, and worrying about my loved ones. The mask hides my fears for my health, my safety, and my sanity. All alone; I'm trying to hold onto the light in the middle of the darkness.
Image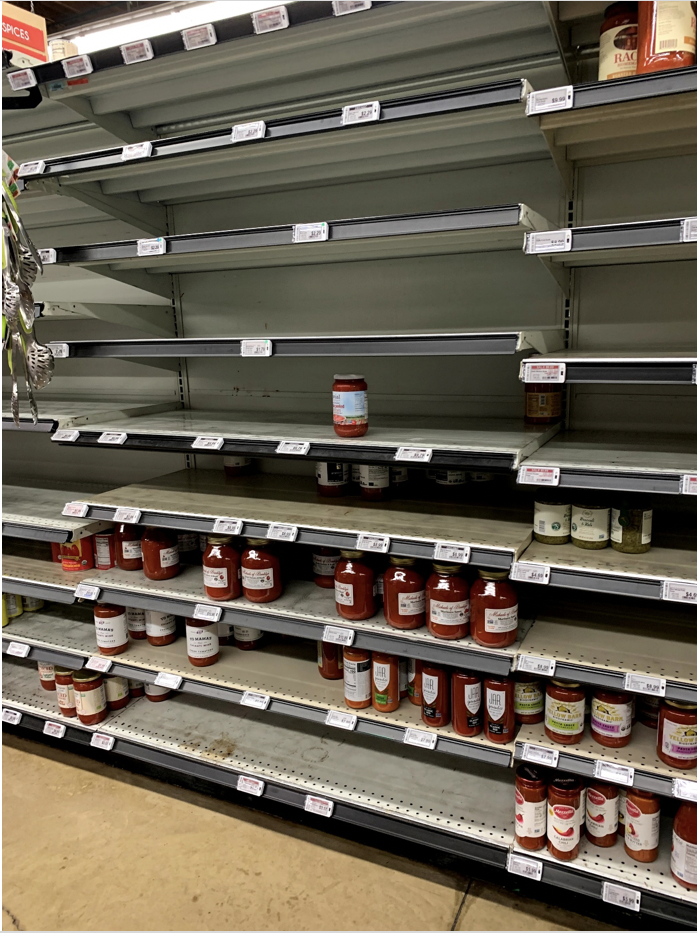 This picture was taken March 13, 2020. It was the last Friday that I saw anyone face to face for the next 2 months. No universities or public schools would be in the classroom. As a part time dance teacher and dance grad student that meant not only losing time with my students, but no more rehearsal and a loss of income. Rumors swirled that Friday that the grocery stores would be shutting down. I arrived at Whole Foods at 2pm and this is what I found. Aisles and aisles emptied due to panic shopping. As a vegan I became afraid I wouldn't have anything to eat. I was scared, and disgusted with the lack of consideration people had for other peoples lively hood. Covid-19 exposed the economic disparities that lie within our country. Food, sanitary items, and money were going to be low for the next several weeks to come. This shelf represents not only our American greed but our lack of critical thinking in our society. Americans panicked, with no real leadership, people were left to fend for themselves and discern for themselves what was true or false. An elderly woman was in the aisle with me. I left without getting any tomato sauce.
Image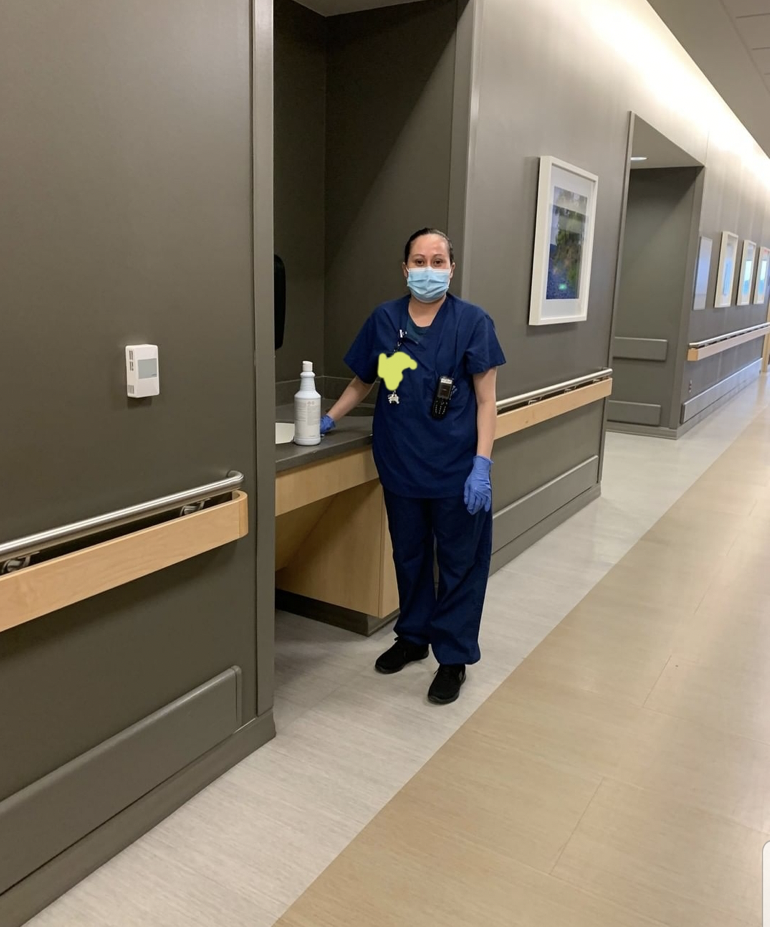 The attached photograph shows a single mother, who is a good friend of mine, raising 5 children on her own. She works at a hospital as a maintenance worker and recently tested positive for Covid-19. She has now been in isolation for weeks without seeing her children. The biggest fear for essential workers is bringing the virus home to their families. Many essential workers have already tested positive for Covid-19 while some have died from the virus. Some of them have health conditions that put them at higher risk, but they're working anyway to put food on the table for their families.​
Image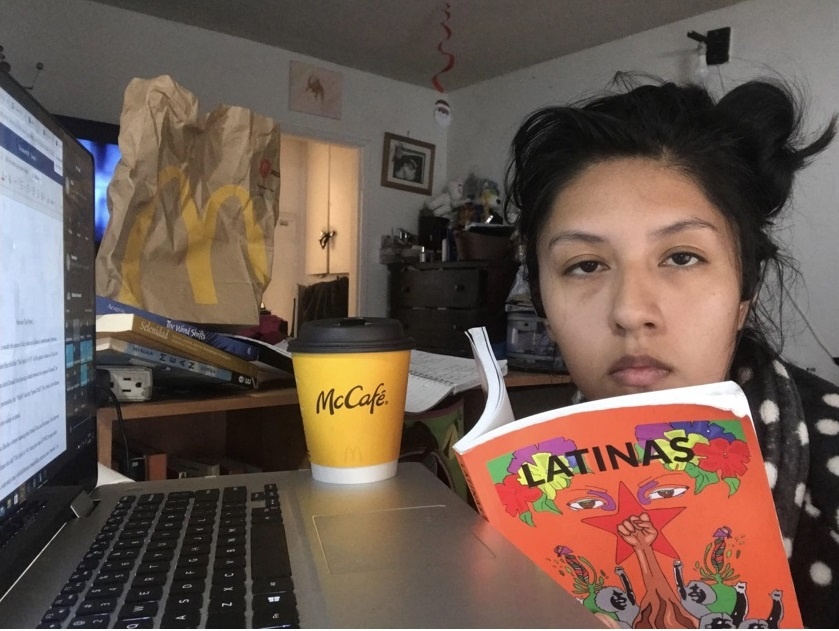 Like many other college students I was put on "remote learning". This is how I looked for the most part. I am squeezed into a one-bedroom apartment with five people (including me) and a dog. I sleep in the living room, eat in the living room, and now I go to school in the living room. I feel crowded most of the time and my sleep schedule is screwed. My books scrambled, my notes unorganized- everything is cramped. I go days without showering until I realize, "wait how many days have passed?" I have no privacy- ever. I am tired.​
Image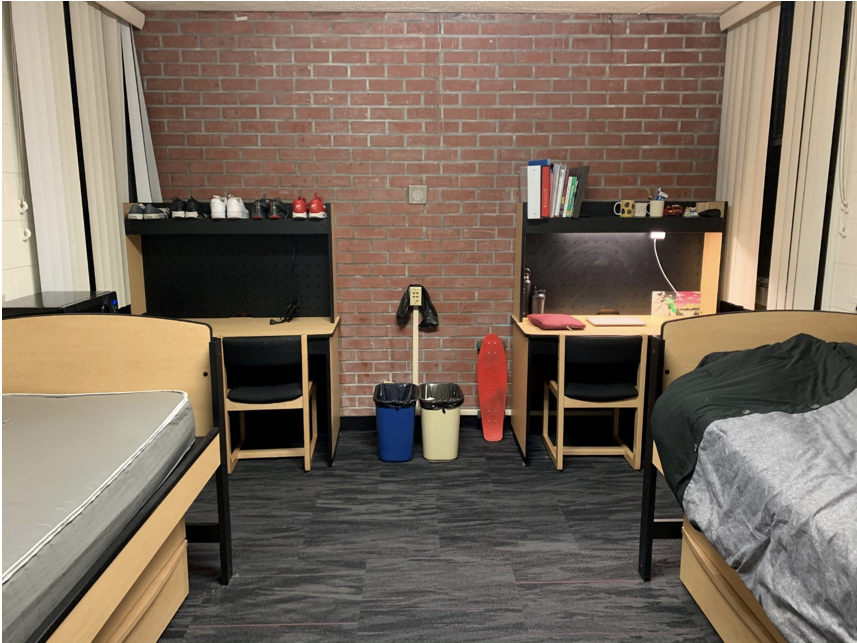 This is the picture of my room in the dorm. Before COVID-19 spread. I had a roommate and friends in the dorm. However, after the campus locked down, everyone was gone to their own house. This picture shows the empty room that tells I am lonely.​
Image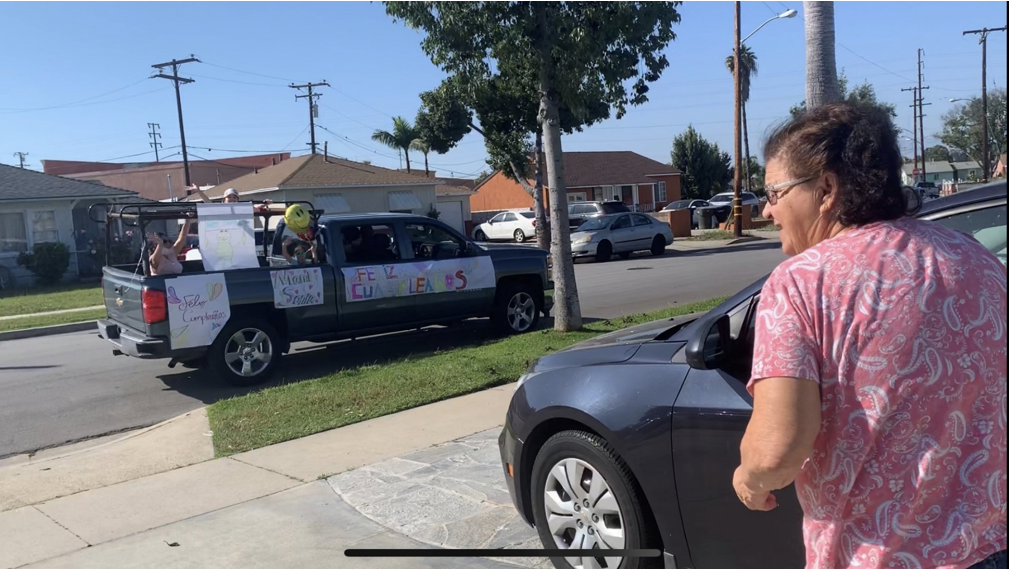 In order to surprise my grandmother my family came together to do a wonderful (car) parade, so that she would have her family with her, even if we aren't allowed to be closer than 6 feet apart. A quarantine birthday can be the light in the dark that gives people a reason to be happy during these crazy times. It can instill hope and show us what is waiting for us once quarantine is over and Covid-19 is gone.​
Image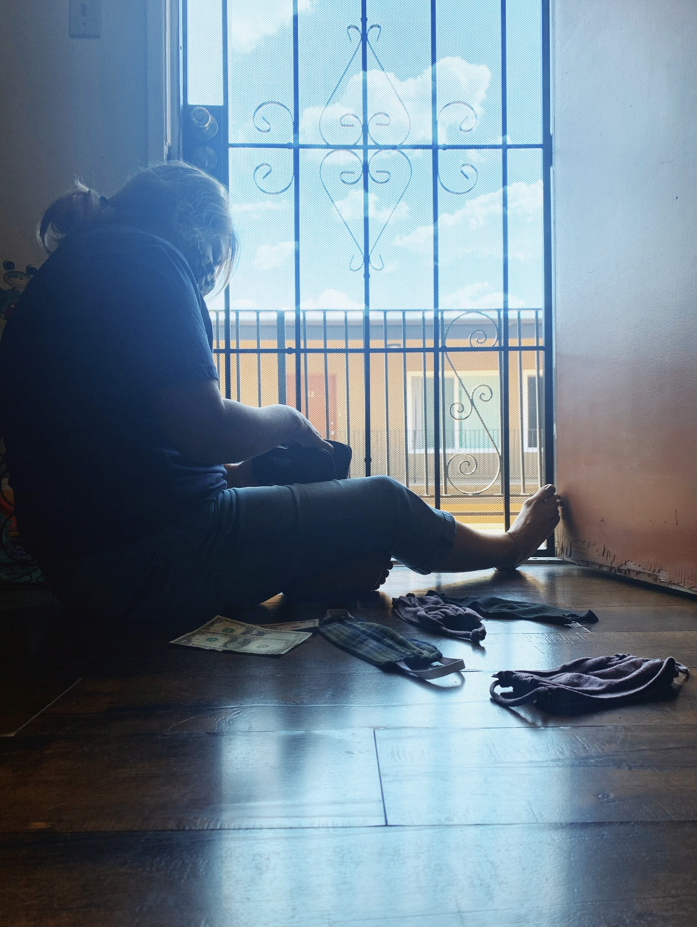 The focal point depicts a woman on the floor looking through a screen door. The screen door represents the way we feel when wearing a mask every day for our safety. It represents a barrier that keeps us from being connected with people and the outside world. There are masks on the floor to emphasize how masks have had such a huge impact on our world. The woman is seen checking her wallet if there is enough. Due to the pandemic, there have been losses of jobs and struggles of paying for simple things such as food, water, and rent.​
Image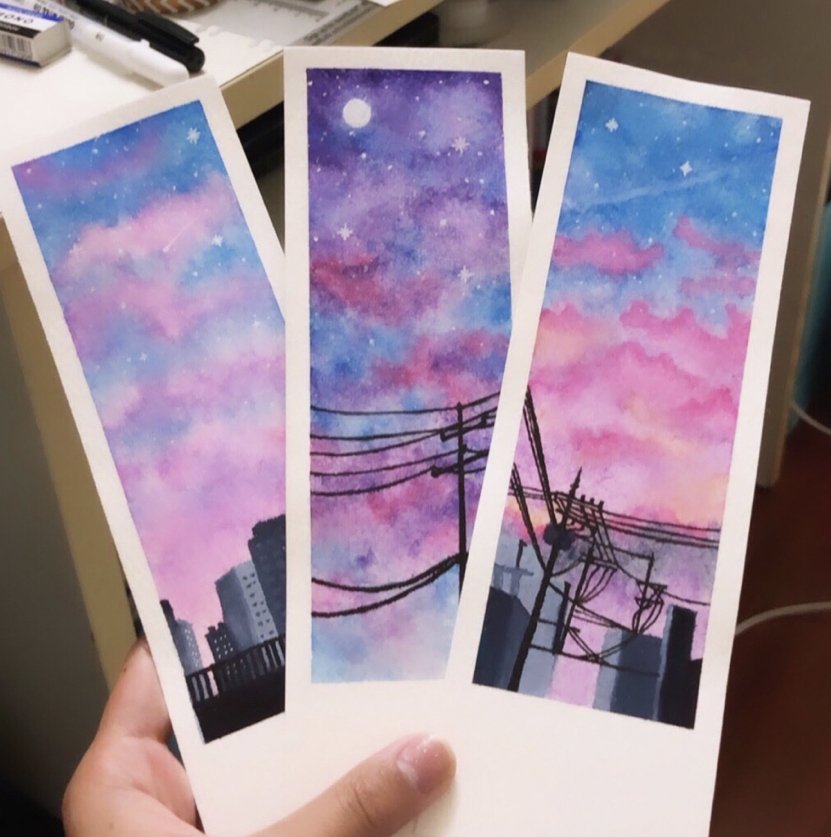 Prior to quarantine, I had no time to pick up a hobby since I was juggling school as well as work. As we transitioned to life at home, I became more aware of how much time I have now to reflect on myself, maintain a healthier lifestyle, and spend more time with my family. Although it was a challenge at first, painting has helped me remain positive and optimistic that we will be able to make it through this. I also enjoyed cooking and baking new things with my mom. We will be alright.​
Image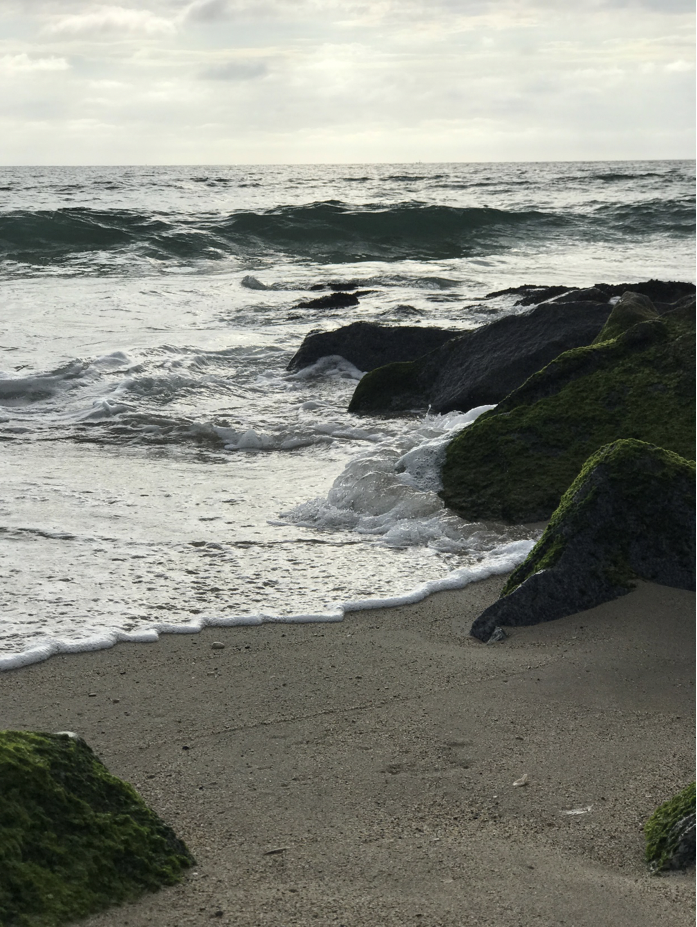 Since we have entered quarantine due to the pandemic, it has been a unique experience. My mental health has definitely taken a toll because of having to stay confined in my home and not being able to do my normal routine. There have been a lot of adjustments. The pandemic has made coursework a daunting task to find energy and complete and internships are hard to come by because people are afraid. I chose this picture of the ocean because with every wave comes uncertainty just like the pandemic. We can't control the ocean, we can't control the rhythm of the waves just like not being able to control this virus or how many get infected. ​
Image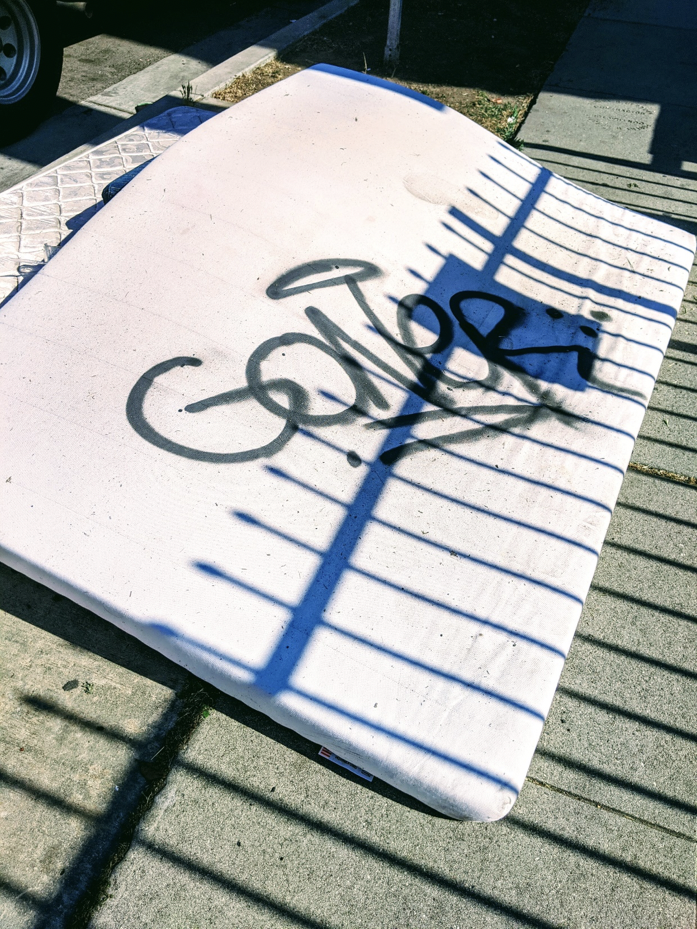 Living in Los Angeles County, COVID-19 has effected the lives of many with it being the hardest hit county in California. This has caused the people of the country to lose their jobs. This has caused significantly more littering, and trash among my community. Notably, the homeless who resided on the streets have vanished. The mattress that once belonged to a homeless man has been vandalized with the word "Goner". This word describes the state of the community due to the pandemic. The people have vanished and are gone. It no longer looks like the community I once knew.
Image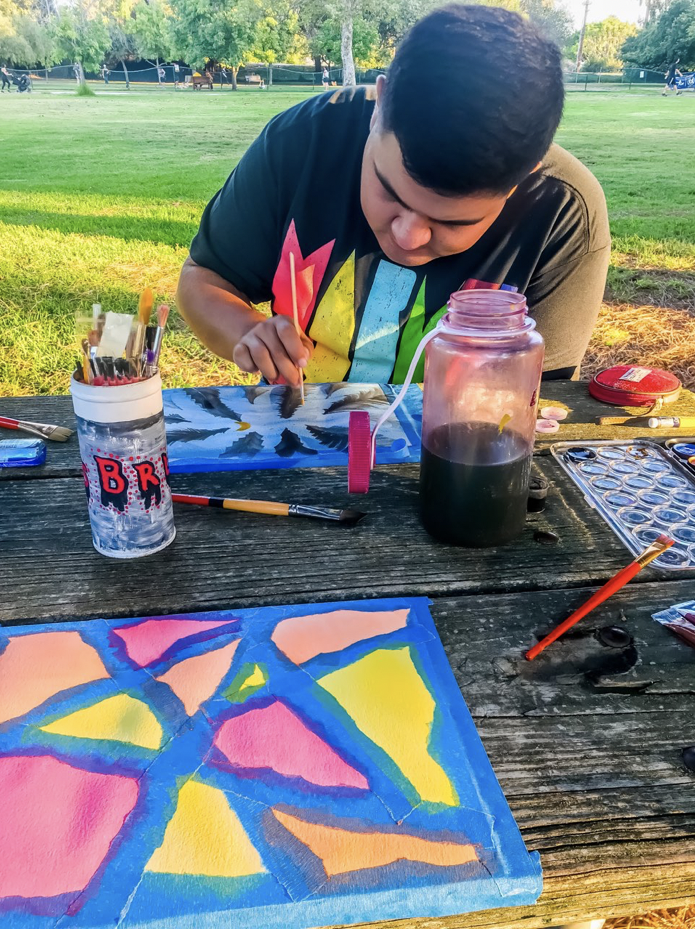 Not long into the pandemic, I knew I wanted to marry my girlfriend. With the stress due to the shutdown, not getting hours at my restaurant job, struggling to pay rent and creating a budget for a wedding, I was hospitalized for a severe panic attack that felt like a heart attack. Thankfully, my girlfriend was supportive and told me that she would rather have me healthy and alive than have me dead with a ring on her finger. She's been helping me with my mental health and anxiety management, doing things like water coloring and watching sunsets. Here we are.​
Image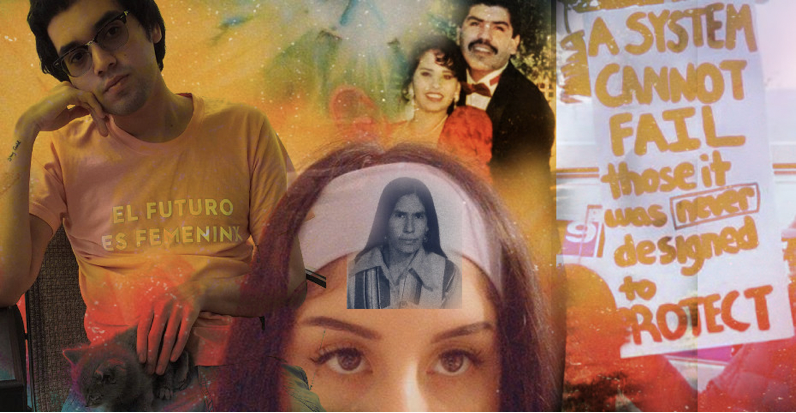 This piece includes people that represent a larger community that has shown me nothing but love and support in these tough times. My soulmate is truly someone who I see spending the rest of my days with due to the beautiful friendship we have developed with one another. My parents have given me all that I have and not just materialistically but spiritually and emotionally. My Abuela who is my vine that guides me back to my roots and family. The quote that motivates me to continue to strive and reach my radical goals and ambitions in life.​
Click images below to see the narratives with photos