PROGRAMS
WORLD AIDS DAY
Friday, December 1 and Saturday, December 2
FREE EVENT open to the public | SEE EVENT PAGE
Image

Join us for special programming in commemoration of World AIDS Day and a Day With(out) Art on December 1st. Continuing into December 2nd, this two-day event highlights wellness and self care strategies while raising awareness about the HIV/AIDS epidemic and celebrating artistic expression that supports LGBTQ communities.
Don't miss this unique opportunity to enrich your wellness practices and engage with the community as we move deeper into the holiday season. Through explorations of artful self awareness and beauty rituals, we advocate and support for individual and collective healing in several activities.
Generous support for this project provided by Art Bridges.
Discover Collection Series
Thursday, November 16
Prints and Drawings Room
RSVP here | Limited to 10 attendees
Image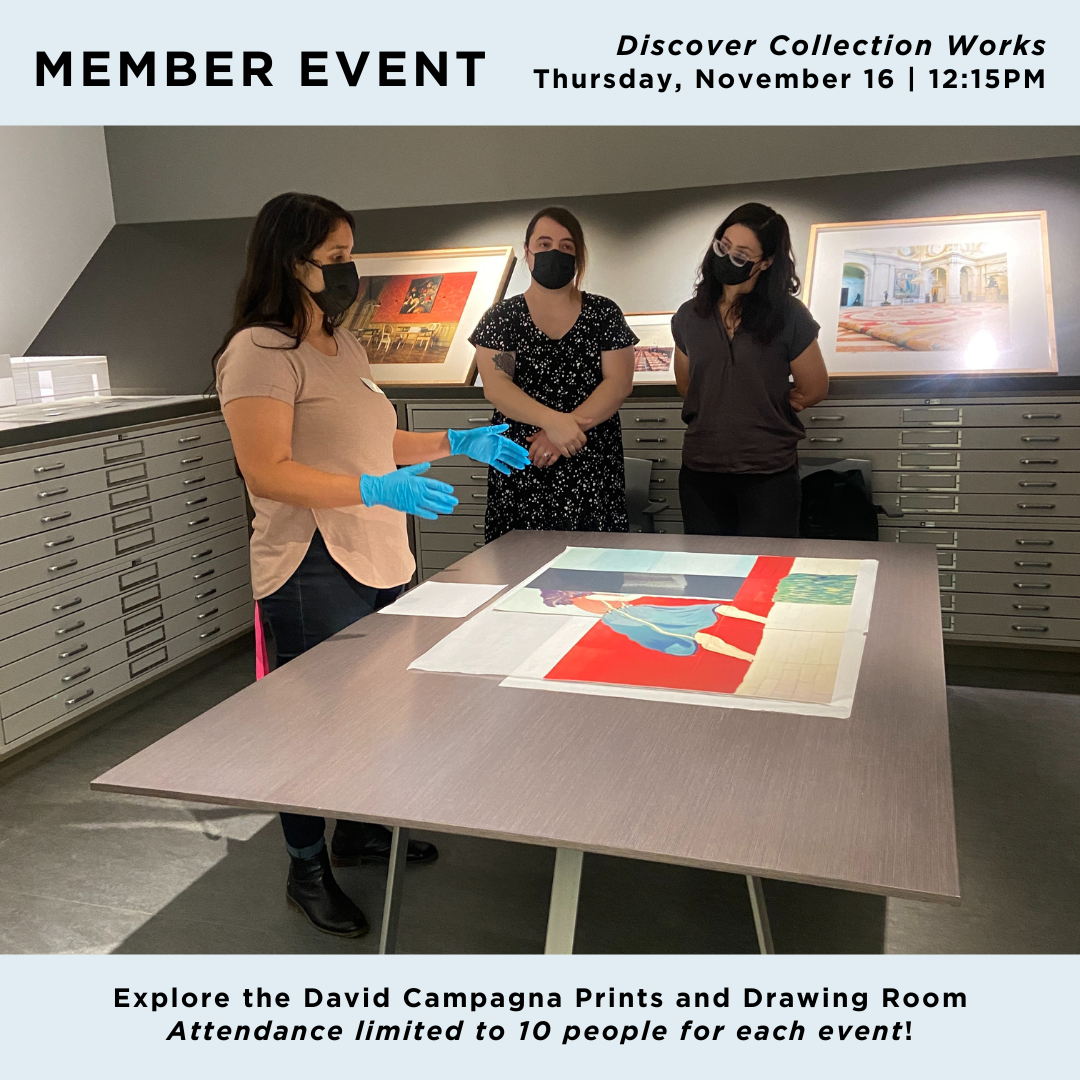 In these behind-the-scenes programs, folks can explore two-dimensional collection holdings in the Prints and Drawings Room. There is a 10-person maximum occupancy in this space, so please RSVP while there is still space. Enjoy this rare opportunity to get up close and personal works on paper. Join our registrar, Alyssa Torres, who will present works from our collection.
Tuesday Talks
Image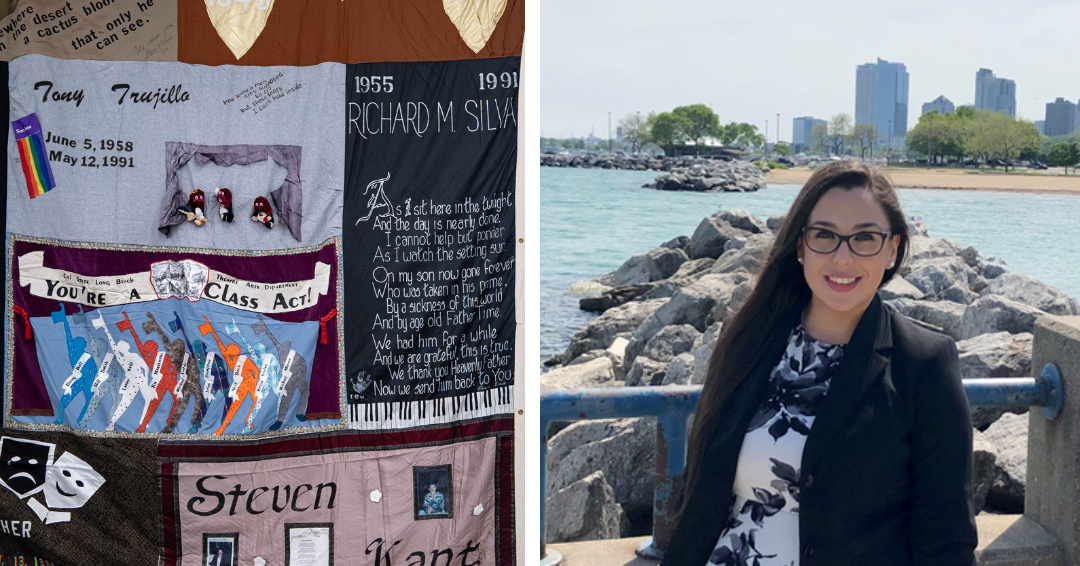 Tuesday, November 28 | Dr. Joanna Barreras | 12pm, noon | FREE
Dr. Joanna Barreras, a CSULB faculty member in the School of Social Work, will discuss the history of the AIDS Movement in relation to Drag Show. She is an expert in HIV stigma and discrimination and also the Associate Director of Research and Evaluation at Bienestar Human Services, Inc. Her scholarly work focuses on addressing comorbidities and disparities linked to HIV among Latinx people—as health inequities continue to affect Latinx communities. Specifically, she aims to develop and test culturally responsive interventions to improve health and health care service utilization among vulnerable populations.  
FINAL DRAG STORY HOUR of the Semester
Image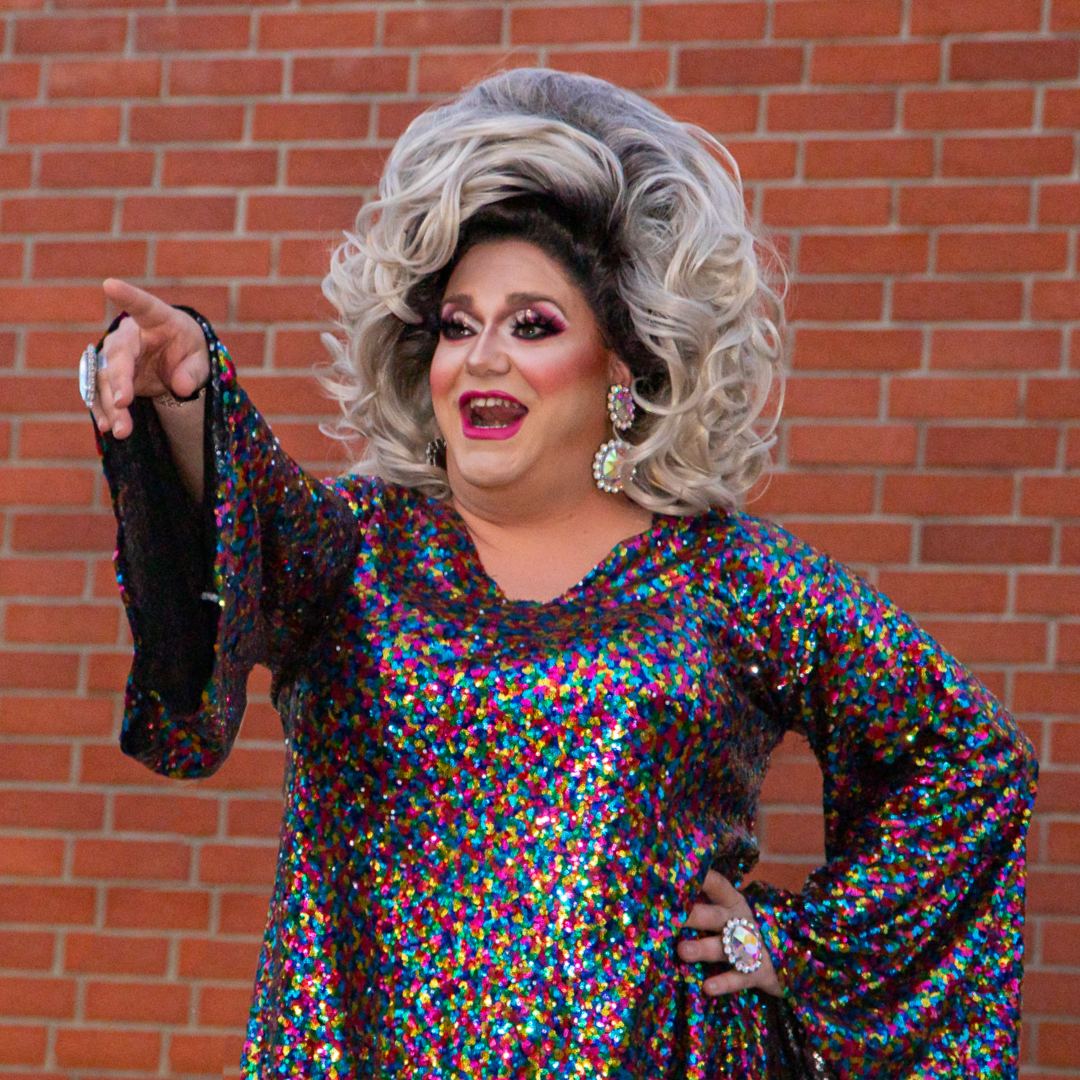 Tuesday, December 5 | Jewels Long Beach — Drag Story Hour | 12pm, noon | FREE
Join us for a edition of our Tuesday Talk series featuring the wildly popular entertainer and personality, JEWELS. Drag Queen Story Hours celebrate diversity and inclusivity through storytelling within the Drag Show exhibition space. These events draw upon accessible literature and highlight stories designed to inspire a sense of acceptance for all. Drag Story Hours are presented in association with fall exhibitions that highlight important LBGTQ moments in history and themes that are very much alive today. 
For over 21 years, JEWELS has been proud to call Long Beach her home. Jewels produces and hosts dozens of events, shows, and fundraisers throughout all of Southern California, but her heart belongs to Long Beach. Since the beginning, Jewels' mission has always been to ensure that everyone who visits Long Beach feels welcome, loved, and entertained. When she's not hosting charity fundraisers or attending local community events all over Long Beach, you can find Jewels at Hamburger Mary's, The Eagle 562 or The World-Famous Falcon hosting comedy shows and exuberant Drag Queen Brunches. Long Beach can always count on Jewels to be there, brightening and enriching the city with her charm, wit, and love.
 
Image

Live Drawing Model Sessions 
Thursdays starting September 21 | View Event Series Page
12PM–3PM 
COST — Students:  $5 | Non-students:  $10
Organized by CSULB School of Art's BFA Drawing & Painting Club, the Museum hosts life drawing workshops in our Education Lab. All skill levels are welcome to practice life drawing with in-person models. Event fees support the compensation of models.
Image

Second Saturdays: Family Day
October 14, November 11, December 8 | 10AM–2PM | FREE
Participate in accessible art making and Public Art Park tours for the whole family.
SCHEDULE
10:00AM to 2:00PM | Art making activities all day long
Ed Lab: TBD

Patron's Plaza: TBD
TOURS
12PM, NOON: Museum docents will lead a tour of museum sustainable garden and Public Art Park

11AM and 1PM: Museum gallery tours
Virtual Event Archive
Cooper Hewitt, Smithsonian Museum National Design Month 
2021 National Design Awards: InVert Self-Shading Window | Climate Action
via Cooper Hewitt YouTube Channel
Image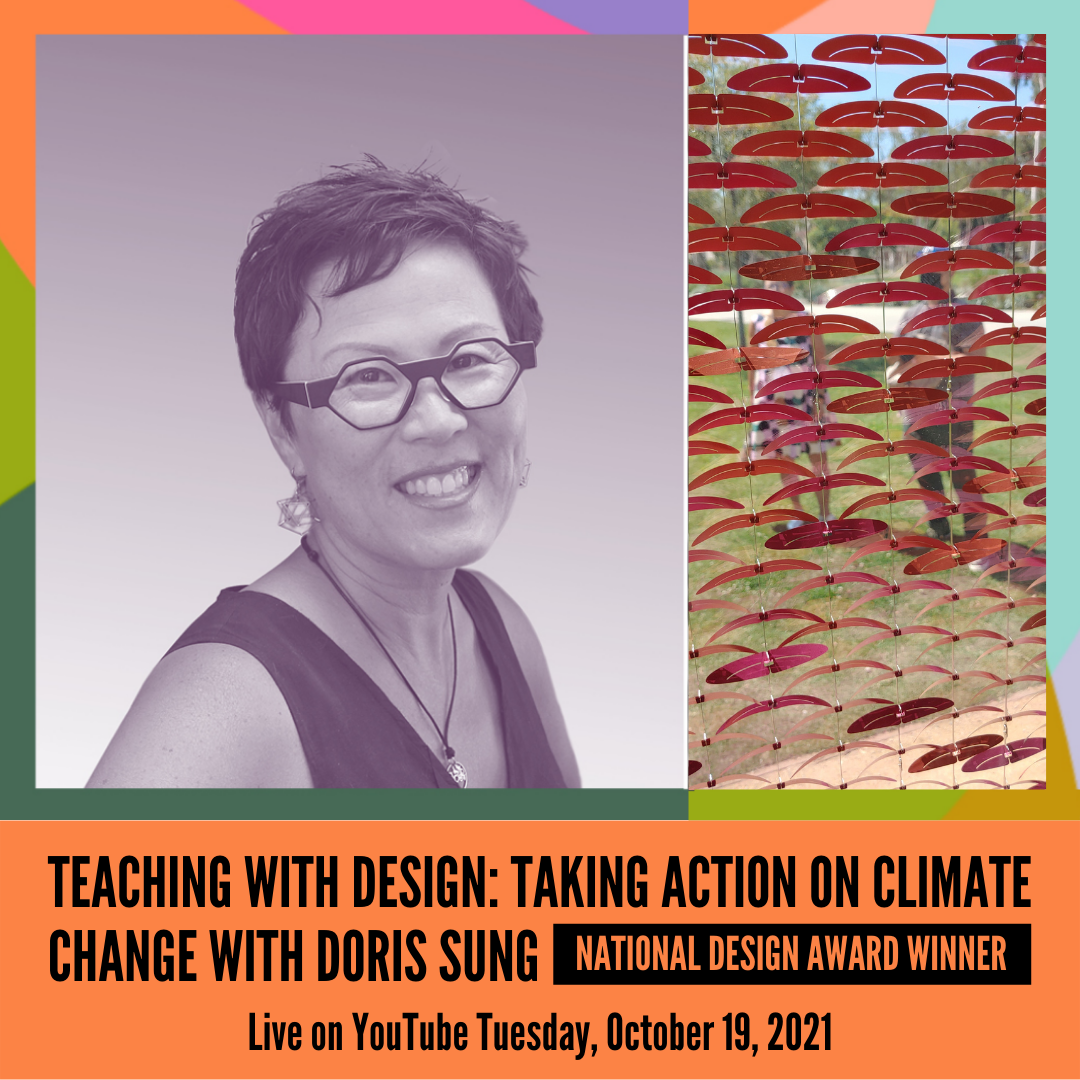 Teaching with Design: Taking Action on Climate Change with Doris Sung
via Smithsonian Education YouTube Channel
Art Encounter Programs
Art Encounter YouTube Playlist
via Carolyn Campagna Kleefeld Contemporary Art Museum YouTube Channel
Earthly Matters: Artist Neha Choksi and Curator Kristina Newhouse in Conversation
via Carolyn Campagna Kleefeld Contemporary Art Museum YouTube Channel
Image

Plugged-In Classroom Connections serves students in the Long Beach and ABC Unified School Districts with in-person and virtual art activities at no cost to schools or students. The recently expanded program presents arts-integrated lessons for elementary school, high school students, and life-long learners. Lessons offer multidisciplinary enrichment for educators and learners of all ages, especially for K-12 students in need of creative activities. With this program fully funded by the Earl B. and Loraine H. Miller Foundation, Carolyn Campagna Kleefeld Contemporary Art Museum is the largest provider of K-12 art education programs of any museum in the City of Long Beach.
Explore our archive of virtual programming, including our artist video series, and Art Encounter content will be accessible on our new Watch page, YouTube, and on Instagram TV.  A generous grant from the RuMBa Foundation funded the entirety of video production and allows growth of the program to serve teens and young adults. 
The ConSortiUm coalition is a newly formed collaborative project of CSU art museums and galleries presenting PLATFORM, a virtual event series for 2020–2021. Programs actively engage students, faculty, staff, and communities through visual arts-based discussion. ConSortiUm features live virtual conversations with contemporary artists, collectives, and curators whose work is critical to current re-imaginings of the art world, and the world at large.  All events are presented live via Zoom and during Pacific Standard Time hours with access for all CSU campuses. These events are also free and open to the public. Recordings of the events will be available for post live-stream viewing and archived by the sponsoring institutions for future viewing.
The 2020–2021 inaugural program, PLATFORM, featured curators Erin Christovale and Valerie Cassel; artists Beatriz Cortez, Cristóbal Martínez and Kade L. Twist, Eyal Weizman, Shuan Leonardo, Howardena Pindell; and People's Kitchen Collective. More programming in the 2021–2022 academic year to be announced.
ConSortiUm's participating CSU art museums and galleries include:
Bakersfield, Todd Madigan Gallery; Chico, Janet Turner Print Museum; East Bay, University Art Gallery; Fresno, Center for Creativity and the Arts; Fullerton, Nicholas & Lee Begovich Gallery and Grand Central Art Center; Humboldt, Reese Bullen Gallery and Goudi'ni Native American Arts Gallery; Long Beach, School of Art and Carolyn Campagna Kleefeld Contemporary Art Museum; Los Angeles, Luckman Gallery, Luckman Fine Arts Complex; Northridge, Art Galleries; Pomona, W. Keith & Janet Kellogg University Art Gallery and Don B. Huntley Gallery; Sacramento, University Galleries; San Bernardino, Robert and Frances Fullerton Museum of Art; San Diego, University Art Galleries; San Francisco, Fine Arts Gallery; San Jose, Natalie and James Thompson Gallery; San Luis Obispo, University Art Gallery; Sonoma, University Art Gallery; and Stanislaus, University Art Gallery and Stan State Art Space.
We welcome students from all academic programs to connect with contemporary art with us.  The museum encourages professors and campus communities to use our collections and exhibitions as an educational resource.  The museum actively develops multidisciplinary programming with Cal State Long Beach faculty to link museum content to curriculum, positively impact our campus communities, and help students reach learning objectives. We regularly collaborate with the School of Art as a partner in the presentation of the annual student exhibition, Insights, and serve as a mentoring organization for the Museum and Curatorial Studies Graduate Program.
The Plugged-In Virtual Connections Program was developed to align with Common Core, State and National Standards in the areas of visual arts, social studies, language arts and mathematics. Every semester, this multi-phase program introduces students to contemporary artist practices, permanent collection works or current exhibitions, and visual elements and principles, while connecting to grade subject matter.  Through guided lessons, students create related art projects that encourage critical thinking, collaborative process skills, and emotional awareness.