LOOK
Current Exhibitions
INSIGHTS 2022
Image
The annual juried School of Art student exhibition at California State University, Long Beach is on view at the School of Art Galleries through May 11–19 and at Carolyn Campagna Kleefeld Contemporary Art Museum from May 11–July 29.
After two years of online exhibitions, INSIGHTS 2022 returns to CSULB campus with the exhibition primarily taking place in the Max L. Gatov, Dr. Maxine Merlino, Dutzi, and Werby galleries, which comprise the main School of Art Galleries located between Fine Arts 2 and Fine Arts 3. Select works will also be displayed at the Carolyn Campagna Kleefeld Contemporary Art Museum.
Undergraduate and graduate students were invited to submit up to three works for consideration, and the exhibition was juried by School of Art alumni from their respective program area: Ceramics, Drawing & Painting, Fiber, Graphic Design, Illustration/Animation/Pre-Production, Metals & Jewelry, Photography, Printmaking, Sculpture/4D, and Wood. 
Works are also be featured on the SOA Insights Instagram account: @soa_insights 
banner image credit: Javier Munar, Josh Vasques in the Studio, 2021. Oil on canvas. Courtesy of the Artist.
Carolyn Campagna Kleefeld: In-Between the Silence
Through fall 2022  |  Carolyn Campagna Kleefeld Gallery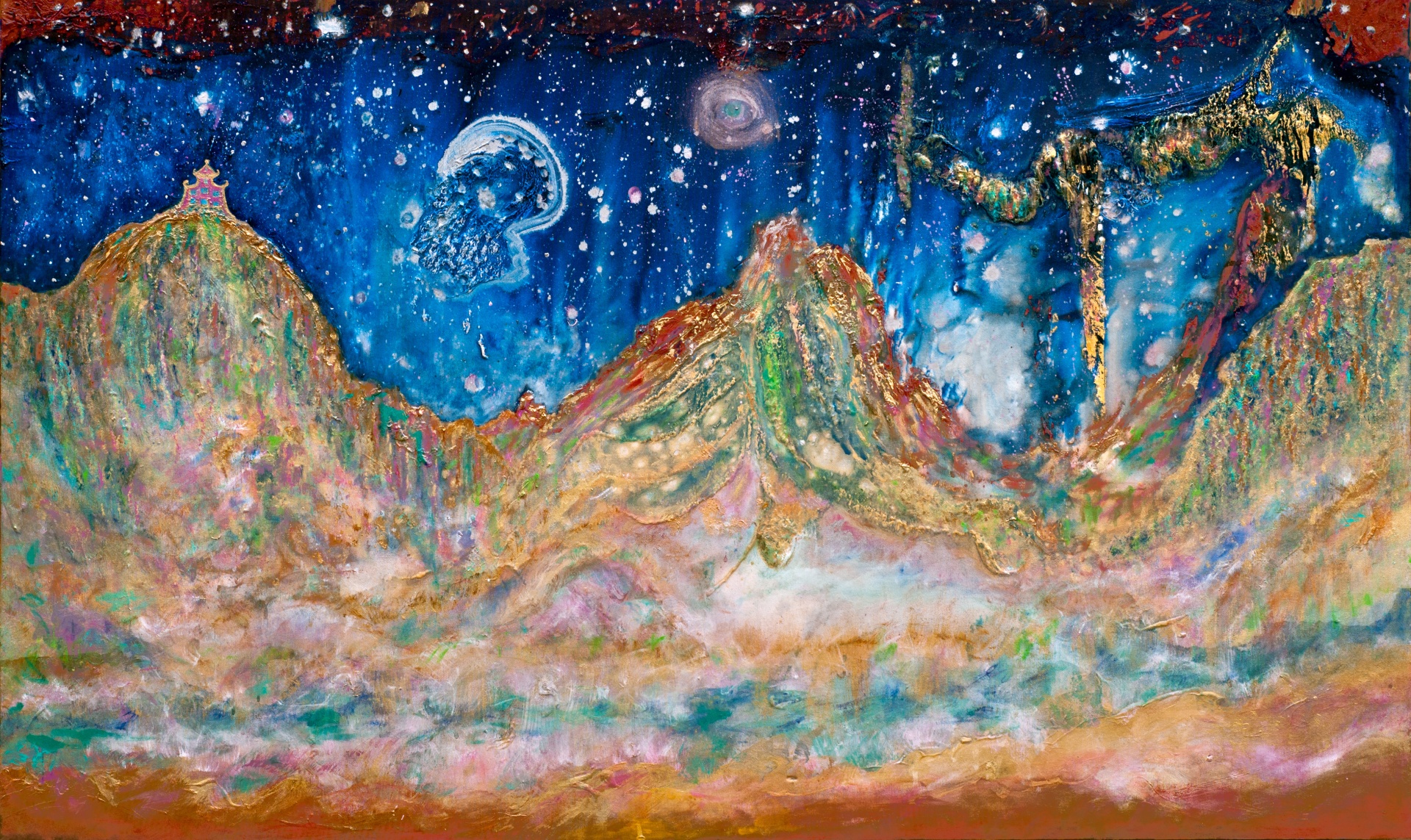 In-Between the Silence is the inaugural exhibition of Carolyn Campagna Kleefeld. The space in-between the silence can best be described as a place that is not knowable by the mind, but its power and strength can be directly experienced by basking there. It is where the artist allows her mind to go, which is breathed back into her art and poetry. In giving new life and a deeper truth to how she sees the world around her, her artistic practice is heightened and ever evolving. In the mystery of this unknown she gains focus and clarity.  
In-between the silence is the space where the Tao, the Mystery resides, where Carolyn is renewed, and her realm of creativity is enhanced. From that space and in those moments, she explains: 
I bathe in this unconditioned realm of sheer possibility. I cast off the extraneous, ready for liberation, for fresh landscapes. As the numinous silently beams from the darkness, I humbly begin again.  
–Carolyn Campagna Kleefeld, prose from A Realm Birthed in Silence, 2007 
Carolyn is a poet, visual artist and writer who resides in Big Sur, California. Being on a never-ending quest to expand her spiritual and creative reach in her art and life is what guides her. To achieve greater understanding, Carolyn reads a wide range of philosophical thought and teachings. Influenced by luminary colleagues and friends Timothy Leary, Laura Huxley, Anais Nin, and Alan Ginsburg, she strives to comprehend the universe more fully through her artwork and writings. She fuels her art and poetry by challenging herself in new, unfamiliar realms. Her work goes through an organic evolution as each artwork is transformed, it emerges into existence. She is moved to resolve life's contradictions and paradoxes to find inner balance and harmony through painting, drawing, and writing poetry. 
Ongoing Project
sm[ART]box
Project by TBM Designs (Doris Sung, Scott Horwitz, Karen Sabath)
Installed on Cal State Long Beach campus from December 2020–2022
Curated by Kristina Newhouse
View Curatorial Essay and other additional resources in the sm[ART]box Linktree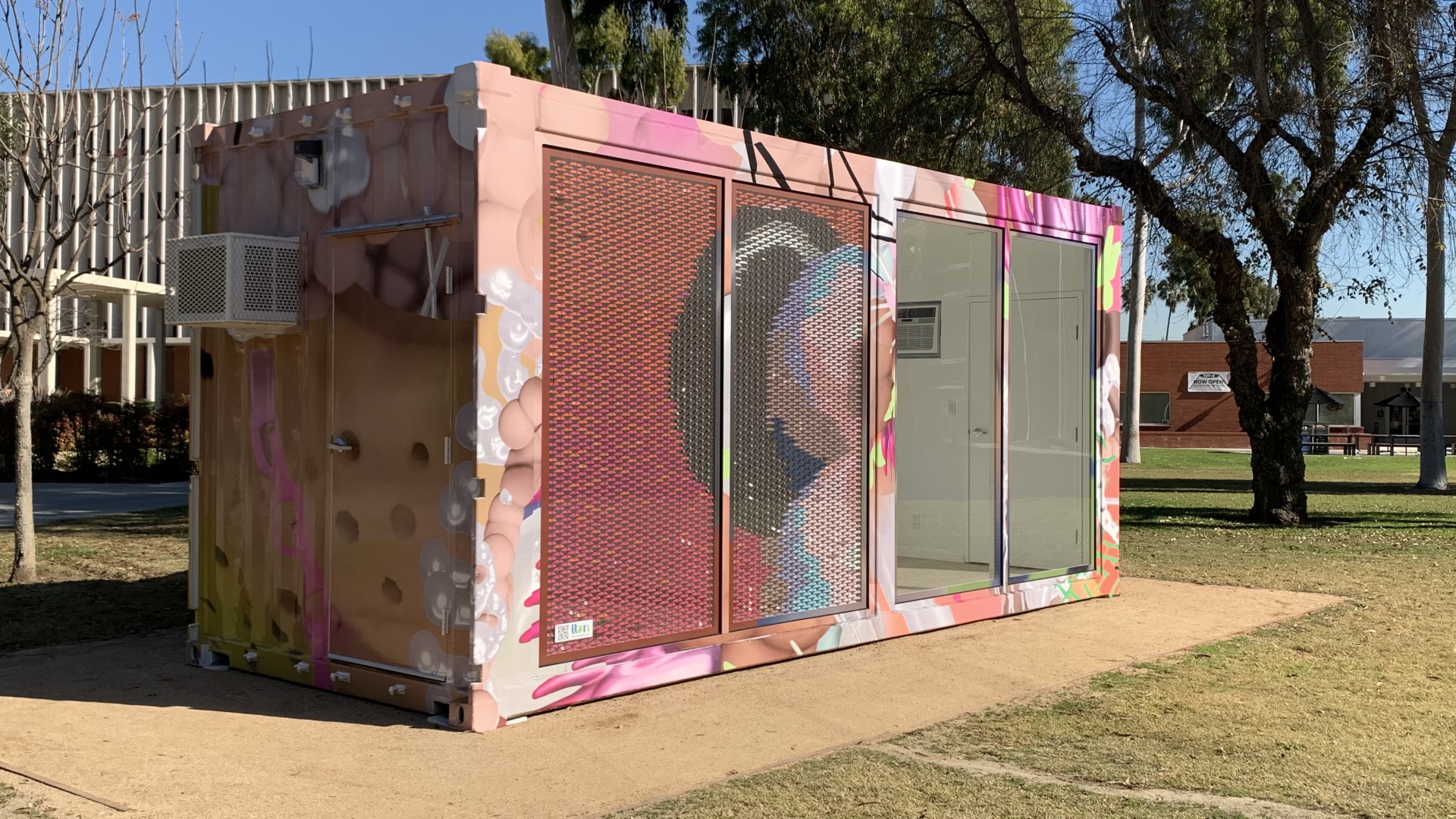 Carolyn Campagna Kleefeld Contemporary Art Museum presents the newest sustainable design to be installed on Cal State Long Beach campus: sm[ART]box. The structure, which repurposes a 20-foot steel shipping container, sparks imagination with self-cooling technology. Inventor Doris Sung designed the kinetic InVert™ Self-Shading Window System (InVert) to index time and temperature; the museum embraces its multidisciplinarity and ingenuity to prompt discussion of an integrated and sustainable future.  Standing apart from other smart technology—sm[ART]box tracks the sun and responds to the changing temperature of the air—all without computers or human intervention. Besides its impressive passive technology, the structure expands thinking about the function of materials, our environmental experience and even our sense of time and space.
sm[ART]box will soon be installed within the built environment on campus. Although temporary, its stay on a grassy quad next to a busy pedestrian thoroughfare will last for two years. Its inventions, instruments and design innovations will activate communal space. As an art object and an architectural structure, sm[ART]box will be perceived as a "place" over time. The unique building element of thermostatic bimetal (tbm) in the InVert shade system will attune observers to the visible presence of time; indeed, the structure's function brings to mind philosopher Mikhail Bakhtin's concept of a chronotope, the awareness of time as it "thickens, takes on flesh, becomes artistically visible." With the movement of the sun overhead, individual tbm pieces bend or flatten, alerting visitors to perceptions of time: personal or collective, biological, seasonal and geographic, among others. Through awareness of time, Bakhtin believed "space becomes charged and responsive to the movements of time, plot and history." His concept of the chronotope aligns with Sung's description of sm[ART]box as a sundial of sorts.
Sung's self-cooling technology is inspired by organic forms. The gentle yet marvelous diurnal movement of its tbm components calls to mind the heliotropic activity of plants, like flowers that open and close or leaves that rotate in relation to the passage of the sun through the sky. This activity is a subtle index of ambient changes in atmospheric conditions.
Learn more about the sm[ART]box project through Doris Sung's Material Concerns lecture linked below.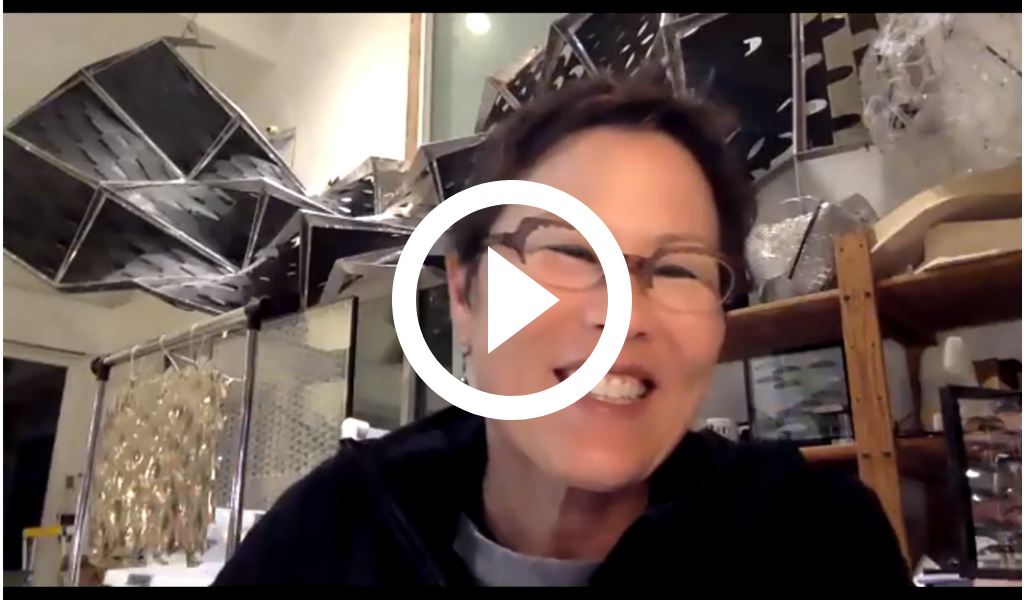 In its first phase, limited faculty, students and campus community will be able to view sm[ART]box. Once campus re-opens, the art installation and architectural case study unit will become an observation site and educational hub for students, researchers, designers and scholars. The structure's simple response to the warmth of sunrays proposes a novel way to view, sense and feel air, light, and space in the built environment. In this, perhaps it helps us to imagine a future less dependent upon energy consuming creature comforts like air-conditioning. Sensing and absorbing the project's potential impact may seed new insights about sustainable collective responses to climate change. We all must commit to significantly alter the trajectory of the Anthropocene. We cannot exist outside the environment, and it is our charge to think meaningfully and creativity about our position on the planet.
The exterior walls of sm[ART]box will incorporate eye-catching visual design by Yaloo Ji Yeon Lim, a South Korean contemporary digital artist who relishes the opportunity to collaborate on site-based installations. Yaloo, the mononym she goes by, recently inaugurated the first ever Korean Media Art Series in September at the Korean Cultural Center in Washington, D.C.
Design History
As an architect in the early 2000s, Sung thought of exterior walls as "skin." Walls are an essential aspect of the human environment, which architectural critic Sibyl Moholy-Nagy once described as a "shield between withinness and withoutness." Investigating the boundary between interior and exterior, Sung deeply examined how permeable and responsive materials could transform the future of energy efficiency and sustainable building methods. She was especially drawn to "smart materials" that react "flexibly to external conditions physically or chemically in response to changes in the temperature, light, electric field or movement." Computational advances followed material innovations and soon digital modeling accelerated to such a degree that the construction-based "low-tech" side of architecture yielded new capacity for innovation. The technology used in sm[ART]box epitomizes Sung's belief that cost-effective, responsive architectural systems will help us keep up with changing ecological dynamics in an ever-changing and ever-warming world.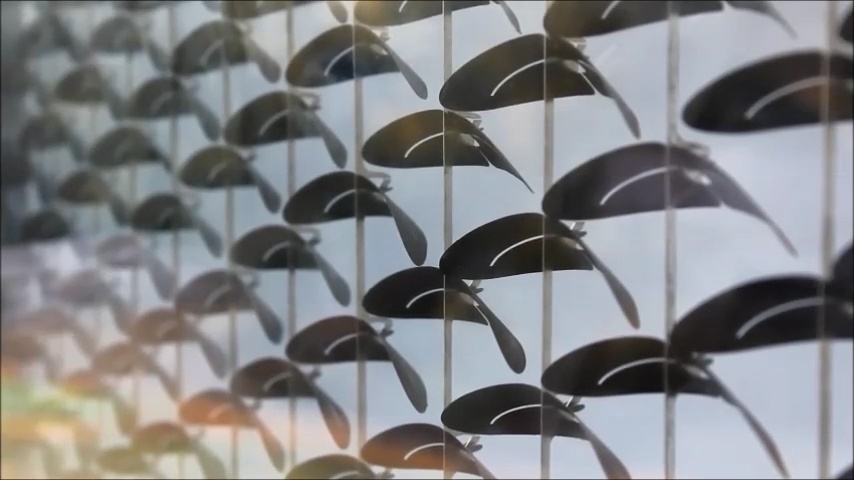 About the InVert™ Self-Shading Window System 
Doris Sung and Karen Sabath named their firm, TBM designs, after the material used in their InVert™ Self-Shading Window System—environmentally responsive thermostatic bimetal (tbm). The innovative technology has the potential to improve window design and make high rise buildings less dependent upon air conditioning. These design and engineering feats are one step in the road to a greener and more arts-integrated future.
Activated by solar heat, the tbm pieces inside the sm[ART]box insulated glass unit flip and reflect heat away from buildings. Assembled in interlocking shutter systems, tbm pieces bend and curve as temperatures change throughout the day. Their movement lowers sunlight exposure, shades interior spaces and cools structures passively—without any manual intervention, mechanical support, or added energy use. This dramatically reduces solar heat gain, lowers need for artificial cooling and cuts greenhouse gas emissions.
Cal State Long Beach research opportunities
This project offers distinctive interdisciplinary learning opportunities for Cal State Long Beach. The TBM Designs team aims to collect quantitative data to measure the efficacy of the InVert system and survey-based qualitative data to assess visitors' attitudes about the technology, including its appeal and thoughts on potential future applications. Faculty and students from a variety of disciplines will be encouraged to experience sm[ART]box to spark discourse and discuss creative solutions to bring about societal and environmental change.
Sustainability and community impact
sm[ART]box calls attention to Cal State Long Beach's environmental goals named in the President's Commission on Sustainability (PCS). These goals were established in 2018 with the mission of integrating sustainability, defined as the intentional and simultaneous focus on environmental, social and economic health—into all aspects of university life. sm[ART]box also offers opportunities to engage Cal State Long Beach students, Long Beach residents and Southern California communities in dialogue about sustainability and urban planning.
banner image: sm[ART]box rendering by TBM Designs, exterior by Yaloo (Mike and Arline Walter Pyramid by Donald Gibbs in background), 2020. Courtesy of TBM Designs (Doris Sung, Karen Sabath and Scott Horwitz).