LOOK
Upcoming Exhibitions
Hurry Slowly
"Slowly is the fastest way to get to where you want to be." 
—Andre DeShields  
Hurry Slowly celebrates nearly fifty years of collecting leading up to the Museum's Golden anniversary in the 2023-2024 academic year. Now settled into our recently expanded home, we step into the future while honoring our origins as a teaching and collecting museum in service to our community. With over seventy objects on view, the exhibition encourages visitors to consider why and how museums collect works of art and learn about why we continue to acquire today. Hurry Slowly traces the Museum's growth around steadfast themes, echoes shifting influences that have driven our evolution, and previews a future that reflects a more inclusive and progressive notion of how museums might grow. 
This exhibition recognizes the important work of founding director Constance W. Glenn, who laid the foundation for collecting practices in the 1970s and early 1980s. Starting from the first work acquired by the Museum, Lucas Samaras' Photo Transformation (1974), Hurry Slowly unfolds episodically around major collecting events and thematically connects with interests of multiple disciplines taught on campus. Objects made by participants in the 1965 International Sculpture Symposium, including Kengiro Azuma and Piotr Kowalski, reflect the Museum's long-term interest in artists who use matter and medium in new ways. A selection of works by Pop artists including Robert Rauschenberg, James Rosenquist, and Andy Warhol index Glenn's leading scholarship into artists whose critique of Post War society laid the groundwork for contemporary art practice. Our Museum has long invested in abstraction, multidisciplinary practices, and in artists and objects that use material in unexpected and innovative ways. A review of transformational gifts from both the Hampton family and the Gold family respectively, National Endowment for the Arts purchases, and recent acquisitions demonstrates these Museum vision areas. 
Hurry Slowly includes only a fraction of more than 2,000 objects that have been added to our permanent collection held in stewardship for our communities. Works by artists including Kim Abeles, Lita Albuquerque, Rhona Bitner, Michelle Vignes, and Dorr Bothwell are celebrated alongside new acquisitions from Clifford Prince King, Nancy Graves, Star Montana, Theodore Boyer, Brad Eberhard, Robin Mitchell, Stephanie Weber, and Charles Harlan. 
The title of this exhibition comes from the Latin motto festina lente, which was recently referenced in Broadway actor Andre DeShields' Tony Awards acceptance speech. The adage suggests urgency be met with thoughtfulness and diligence. With this meaning in mind, Hurry Slowly recognizes the fraught nature and pressing concerns of our time while emphasizing the Museum's abiding and long-term commitment to public service across the past five decades. 
Image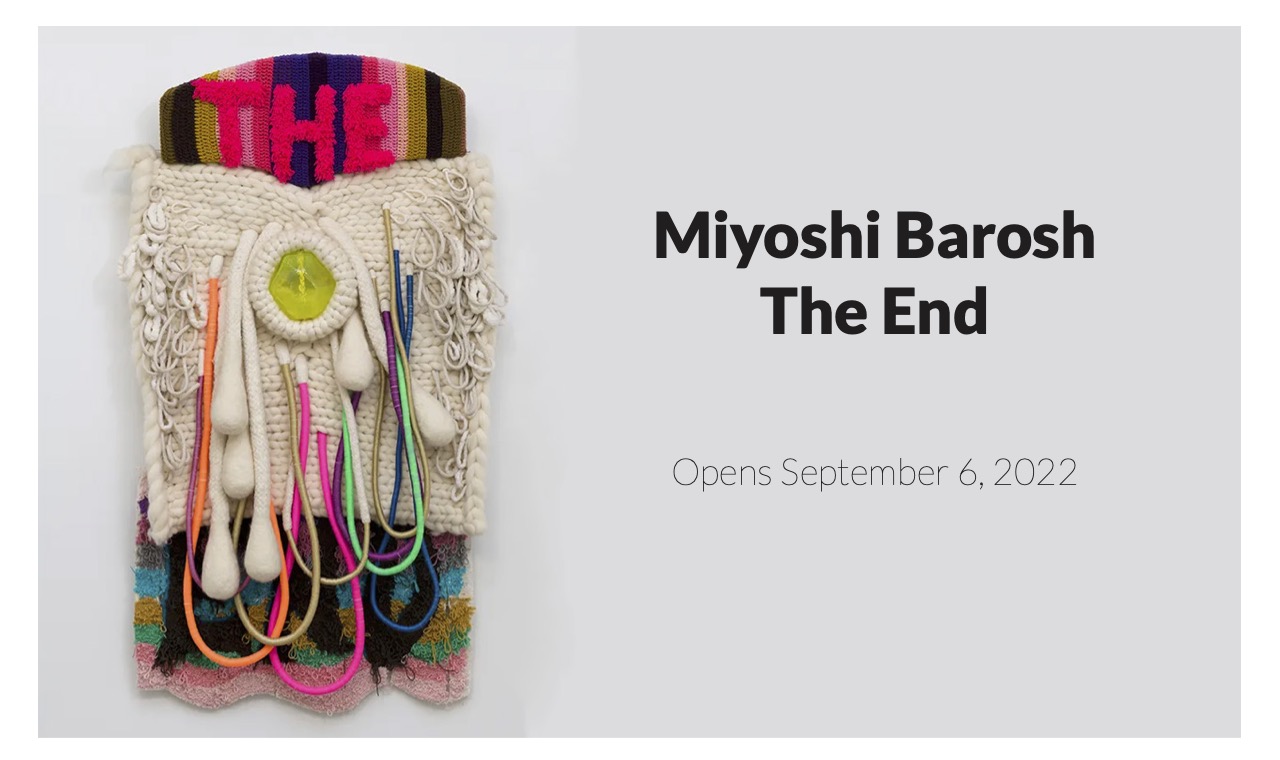 Miyoshi Barosh: The End
Carolyn Campagna Kleefeld Contemporary Art Museum presents five works by the late artist Miyoshi Barosh in a concise exhibition called The End. Centered on the eponymous 2017 sculptural mixed media work and the study sketches that led to its completion, the Mini Gallery holds space to explore an especially poignant creative process. Created shortly after the artist's 2016 diagnosis with uterine cancer, The End is an exhibition that contemplates expression during the most profound conclusion one can consider: the end of one's own life.
The artist began her process with quick doodles, which led to three-dimensional works that despite their physical complexity still retained a "fresh, unfussy, drawing-like quality," according to the artist's widower, fellow artist Jeff Colson. In presenting four of these quick drawings that evolved into the wall sculpture, THE END (2017), we see the completion of a work's life cycle through an existential lens. Visitors are invited to witness how sketches progress into a fully realized work densely packed with various textiles and yarns, cast glass, and steel cables. 
Barosh spent the last three years of her life making work that confronted her mortality with fierce excess, mockery, and dearth of sentimentality.  During this particularly prolific time, she contemplated her own demise and processed personal challenges through artistic production. Working in diverse media—from thrift shop afghans and craft store yarns to cast glass and welded steel, and more—she explored her insatiable interest in the socio-political underpinnings of American culture. The artist's signature "Conceptual Pop" art style combines a quirky mix of materials and delightful color choices with a resonating sense of anxiety and discontent. Laden with humor, satire, and grotesquery, Barosh's multimedia works remain bright despite their common references to abject bodily functions. Within her whirlwind of hues and textures, carnivalesque feminisms and critiques live on.
About the Artist
Miyoshi Barosh (1959-2019) received a BFA in painting at Rhode Island School of Design in 1981, and soon after moved to New York, where she became the first Managing Editor of BOMB magazine. Upon receiving an MFA from CalArts in 1989, Barosh became involved with A.R.T. Press (Art Resources Transfer), where she worked on book-length interviews with artists Vija Celmins, Felix Gonzales-Torres, and Mike Kelley, among others. During this timeframe, Barosh published and edited her own arts journal, Now Time. She was also involved in the artist collaborative, Project X, which evolved into X-tra Contemporary Arts Quarterly. Barosh was artist-in-residence at the Pilchuck School of Glass in 2014 and the first artist-in-residence at the New Children's Museum in San Diego in 2009. Barosh's life work was recognized in a three-part solo exhibition entitled LOVE (2020) collectively presented at the commercial venues Luis de Jesus Gallery, the Pit, and Night Gallery.
Image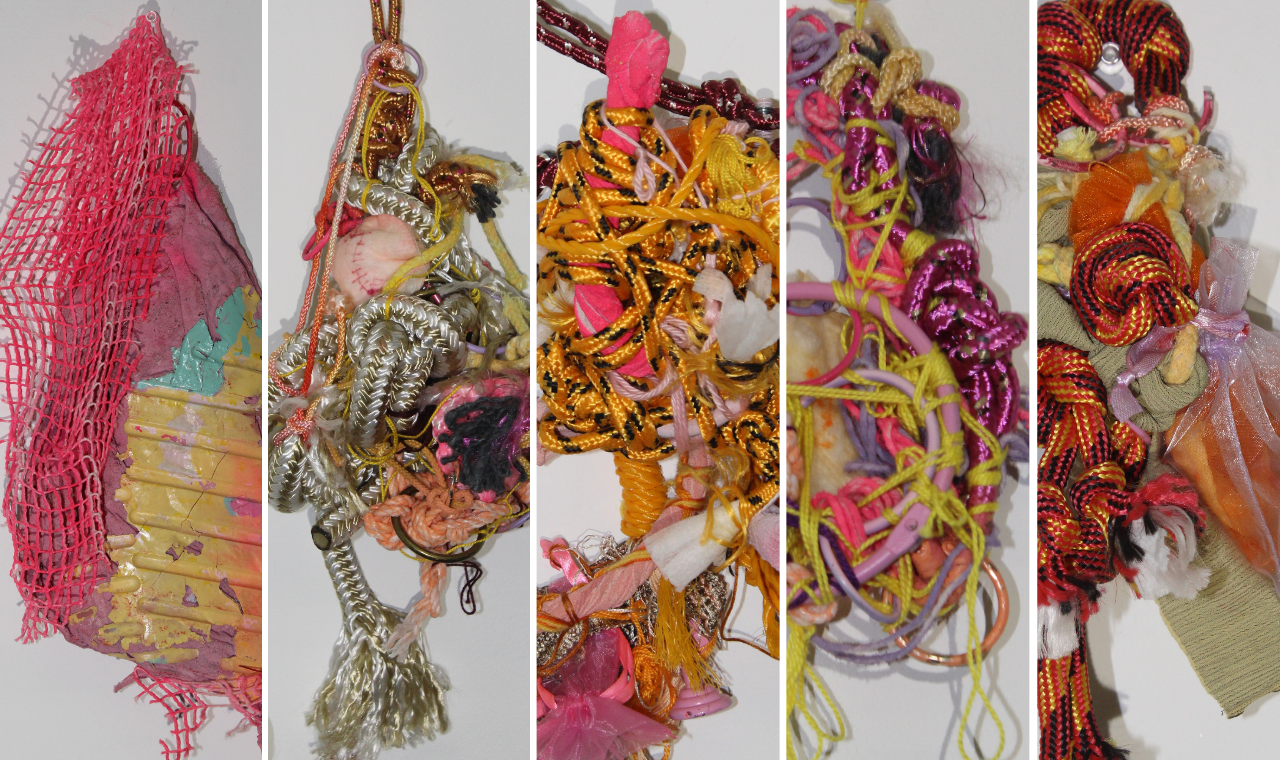 Juan Gomez: BeautifulBlood/Sangre Hermosa
September 6–December 22
Community Gallery | Press Release | Object List and Exhibition Essay
Tied, tangled, and stitched into existence, the soft sculptures of Long Beach-based artist Juan Gomez honor his ancestors and his immediate family's immigration experiences, trials, and tribulations. Beautiful Blood/Sangre Hermosa opens in the Community Gallery of Carolyn Campagna Kleefeld Contemporary Art Museum September 6. The mixed media works exhibited express heartfelt kinship, as Gomez pays homage to his family members' individuality, labor, and tenacity through their journeys into the United States.
My art practice keeps me engaged with my culture and visualizes my ancestors' trek through life, building a blueprint to reference as I walk through mine.
–Juan Gomez
The intertwined works in Beautiful Blood/Sangre Hermosa tell tales of familial traditions through physicality. Intentionally selected materials are imbued with personal meaning, weaving individual stories into works of art. Gomez shares, "This body of work creates family heirlooms that make the experiences of my parents Juan Gomez and Maria Gomez physically present. As memories become a less clear over time, my work continues my family's tradition of sharing oral histories in a tangible way." The artist's utilization of rope as his primary material represents the ranching life of his ancestors in Zacatecas, Mexico and references his father's skilled use of knots to secure heavy loads in his work as a trucker. Through his use binding ties and fabric, Gomez recognizes the labor of his mother, who stayed at home, took care of the children, and spent many hours mending torn clothing. The way his mother sewed garments to restore damaged cloth mirrored her intricate strategies to repair social structures to closely bind the family together as a whole.
Gomez's sculptures signify the injuries visited upon his hardworking family. The artist has conveyed that his work "honors family sacrifices while it helps me cope with trauma." Certain materials act like medical gauze used for wound dressings. Delicate cotton rounds incorporated into works are encased in protective netting to help heal the generational scars. He shared in his artist statement: "These structures are keeper of memories, they hold a lineage of struggle, prosperity, and triumphs." In acknowledging his present position, Gomez emphasizes the opportunity he has been given to flourish in the United States and frames his family's sacrifices within gratitude.
Related Program:
Tuesday Talk: Juan Gomez | Tuesday, September 13 at 12:00 p.m.
About the Artist
Juan M. Gomez was born in Santa Ana in 1982. He is the third of five children. His parents emigrated from Zacatecas in the 1960s to seek a better life, however, they retained close ties to family back home. During his childhood, his parents would take the children back to the state of Zacatecas to visit relatives, experience rural life, and hear the family stories. In the small, predominantly agricultural villages of north-central Mexico where they stayed, Gomez was drawn to crumbling adobe structures, ancient spaces where he could hear the sounds of the past. Gomez is a multidisciplinary artist who received his Bachelor of Fine Arts in Drawing and Painting from California State University Fullerton.  While his family ultimately encouraged him to pursue his dream to be an artist, they instilled in him the importance of hard work and finding secure employment. Gomez supported his studies by becoming a library paraprofessional in Santa Ana.
Candida Höfer
September 6–December 22, 2022 
David Campagna Prints and Drawings Room 
Carolyn Campagna Kleefeld Contemporary Art Museum presents Candida Höfer's architectural photography in a small exhibition in the David Campagna Prints and Drawings Room. Höfer is known for her precisely composed, large-scale color images of architectural interiors that evoke a quiet, mysterious elegance. Typically, the people who would inhabit her environments are absent, thus enabling her to discover in the spaces what she describes as an "almost magical presence of things." The artist's images ask viewers to conduct a distanced examination through the window she has created. Her rhythmically patterned images present a universe of interiors wholly constructed by human intention, unearthing the patterns of order, logic, and disruption imposed on places by their now absent creators and residents. 
Carolyn Campagna Kleefeld: In-Between the Silence
Through fall 2022  |  Carolyn Campagna Kleefeld Gallery | Curatorial Text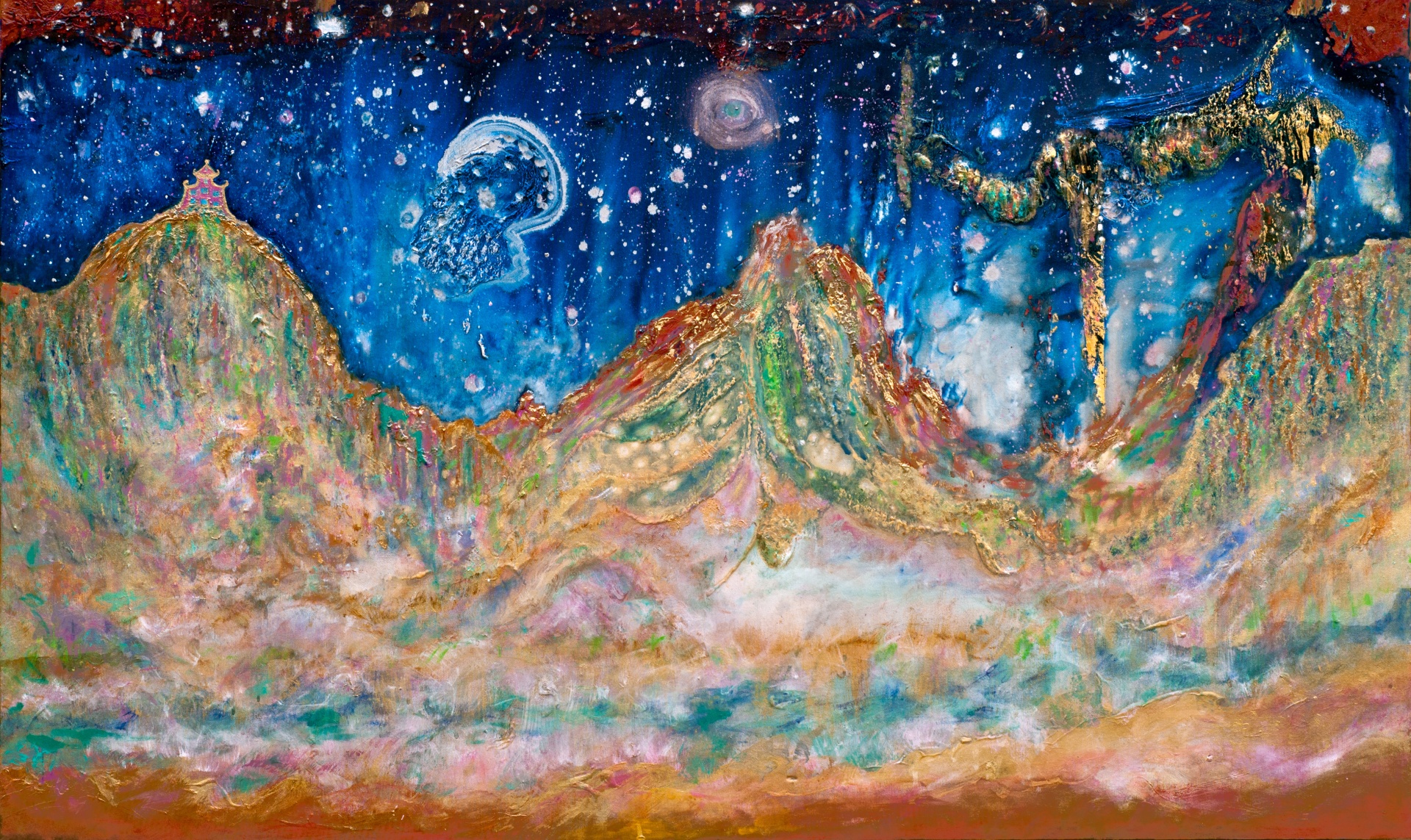 In-Between the Silence is the inaugural exhibition of Carolyn Campagna Kleefeld. The space in-between the silence can best be described as a place that is not knowable by the mind, but its power and strength can be directly experienced by basking there. It is where the artist allows her mind to go, which is breathed back into her art and poetry. In giving new life and a deeper truth to how she sees the world around her, her artistic practice is heightened and ever evolving. In the mystery of this unknown she gains focus and clarity.  
In-between the silence is the space where the Tao, the Mystery resides, where Carolyn is renewed, and her realm of creativity is enhanced. From that space and in those moments, she explains: 
I bathe in this unconditioned realm of sheer possibility. I cast off the extraneous, ready for liberation, for fresh landscapes. As the numinous silently beams from the darkness, I humbly begin again.  
–Carolyn Campagna Kleefeld, prose from A Realm Birthed in Silence, 2007 
Carolyn is a poet, visual artist and writer who resides in Big Sur, California. Being on a never-ending quest to expand her spiritual and creative reach in her art and life is what guides her. To achieve greater understanding, Carolyn reads a wide range of philosophical thought and teachings. Influenced by luminary colleagues and friends Timothy Leary, Laura Huxley, Anais Nin, and Alan Ginsburg, she strives to comprehend the universe more fully through her artwork and writings. She fuels her art and poetry by challenging herself in new, unfamiliar realms. Her work goes through an organic evolution as each artwork is transformed, it emerges into existence. She is moved to resolve life's contradictions and paradoxes to find inner balance and harmony through painting, drawing, and writing poetry. 
Ongoing Project
sm[ART]box
Project by TBM Designs (Doris Sung, Scott Horwitz, Karen Sabath)
Installed on Cal State Long Beach campus from December 2020–2022
Curated by Kristina Newhouse
View Curatorial Essay and other additional resources in the sm[ART]box Linktree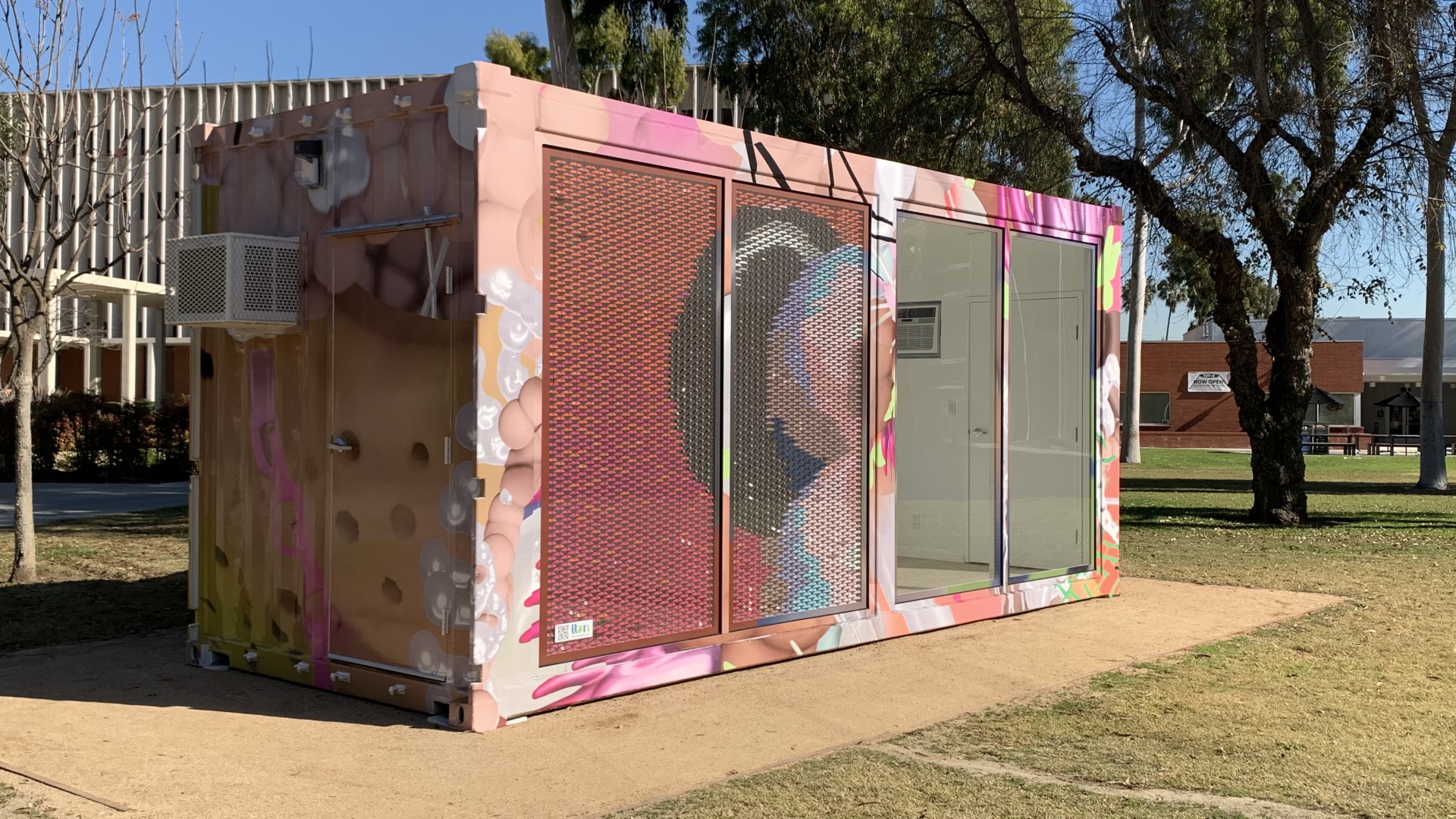 Carolyn Campagna Kleefeld Contemporary Art Museum presents the newest sustainable design to be installed on Cal State Long Beach campus: sm[ART]box. The structure, which repurposes a 20-foot steel shipping container, sparks imagination with self-cooling technology. Inventor Doris Sung designed the kinetic InVert™ Self-Shading Window System (InVert) to index time and temperature; the museum embraces its multidisciplinarity and ingenuity to prompt discussion of an integrated and sustainable future.  Standing apart from other smart technology—sm[ART]box tracks the sun and responds to the changing temperature of the air—all without computers or human intervention. Besides its impressive passive technology, the structure expands thinking about the function of materials, our environmental experience and even our sense of time and space.
sm[ART]box will soon be installed within the built environment on campus. Although temporary, its stay on a grassy quad next to a busy pedestrian thoroughfare will last for two years. Its inventions, instruments and design innovations will activate communal space. As an art object and an architectural structure, sm[ART]box will be perceived as a "place" over time. The unique building element of thermostatic bimetal (tbm) in the InVert shade system will attune observers to the visible presence of time; indeed, the structure's function brings to mind philosopher Mikhail Bakhtin's concept of a chronotope, the awareness of time as it "thickens, takes on flesh, becomes artistically visible." With the movement of the sun overhead, individual tbm pieces bend or flatten, alerting visitors to perceptions of time: personal or collective, biological, seasonal and geographic, among others. Through awareness of time, Bakhtin believed "space becomes charged and responsive to the movements of time, plot and history." His concept of the chronotope aligns with Sung's description of sm[ART]box as a sundial of sorts.
Sung's self-cooling technology is inspired by organic forms. The gentle yet marvelous diurnal movement of its tbm components calls to mind the heliotropic activity of plants, like flowers that open and close or leaves that rotate in relation to the passage of the sun through the sky. This activity is a subtle index of ambient changes in atmospheric conditions.
Learn more about the sm[ART]box project through Doris Sung's Material Concerns lecture linked below.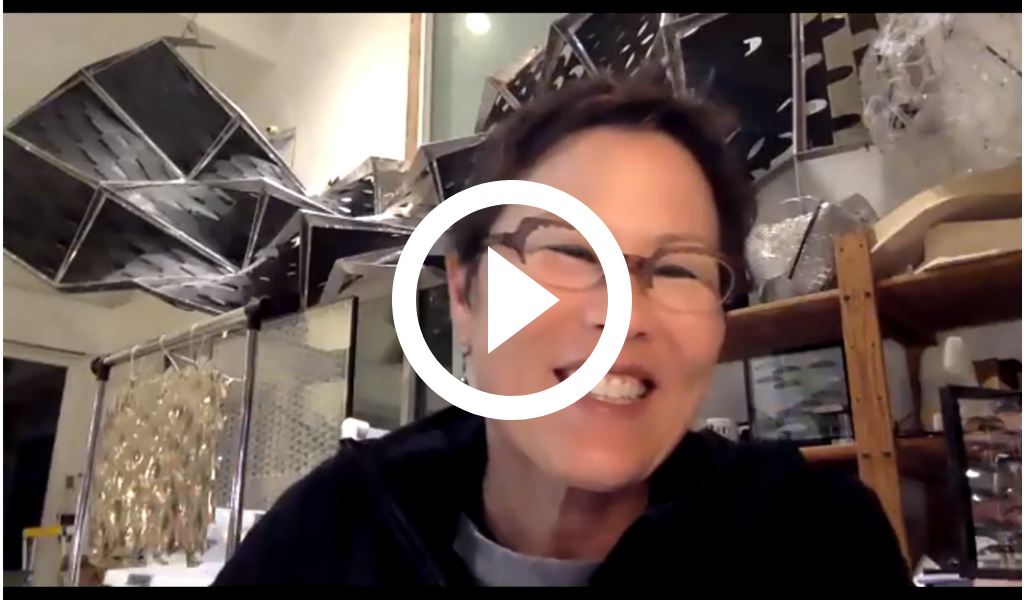 In its first phase, limited faculty, students and campus community will be able to view sm[ART]box. Once campus re-opens, the art installation and architectural case study unit will become an observation site and educational hub for students, researchers, designers and scholars. The structure's simple response to the warmth of sunrays proposes a novel way to view, sense and feel air, light, and space in the built environment. In this, perhaps it helps us to imagine a future less dependent upon energy consuming creature comforts like air-conditioning. Sensing and absorbing the project's potential impact may seed new insights about sustainable collective responses to climate change. We all must commit to significantly alter the trajectory of the Anthropocene. We cannot exist outside the environment, and it is our charge to think meaningfully and creativity about our position on the planet.
The exterior walls of sm[ART]box will incorporate eye-catching visual design by Yaloo Ji Yeon Lim, a South Korean contemporary digital artist who relishes the opportunity to collaborate on site-based installations. Yaloo, the mononym she goes by, recently inaugurated the first ever Korean Media Art Series in September at the Korean Cultural Center in Washington, D.C.
Design History
As an architect in the early 2000s, Sung thought of exterior walls as "skin." Walls are an essential aspect of the human environment, which architectural critic Sibyl Moholy-Nagy once described as a "shield between withinness and withoutness." Investigating the boundary between interior and exterior, Sung deeply examined how permeable and responsive materials could transform the future of energy efficiency and sustainable building methods. She was especially drawn to "smart materials" that react "flexibly to external conditions physically or chemically in response to changes in the temperature, light, electric field or movement." Computational advances followed material innovations and soon digital modeling accelerated to such a degree that the construction-based "low-tech" side of architecture yielded new capacity for innovation. The technology used in sm[ART]box epitomizes Sung's belief that cost-effective, responsive architectural systems will help us keep up with changing ecological dynamics in an ever-changing and ever-warming world.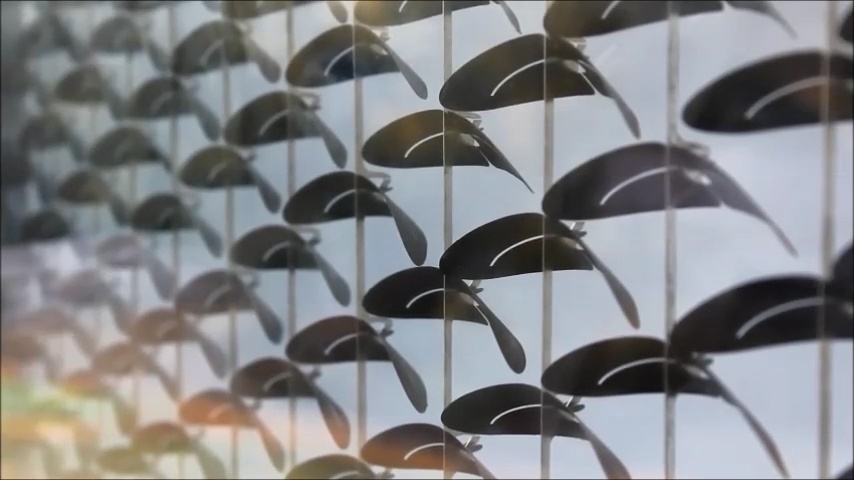 About the InVert™ Self-Shading Window System 
Doris Sung and Karen Sabath named their firm, TBM designs, after the material used in their InVert™ Self-Shading Window System—environmentally responsive thermostatic bimetal (tbm). The innovative technology has the potential to improve window design and make high rise buildings less dependent upon air conditioning. These design and engineering feats are one step in the road to a greener and more arts-integrated future.
Activated by solar heat, the tbm pieces inside the sm[ART]box insulated glass unit flip and reflect heat away from buildings. Assembled in interlocking shutter systems, tbm pieces bend and curve as temperatures change throughout the day. Their movement lowers sunlight exposure, shades interior spaces and cools structures passively—without any manual intervention, mechanical support, or added energy use. This dramatically reduces solar heat gain, lowers need for artificial cooling and cuts greenhouse gas emissions.
Cal State Long Beach research opportunities
This project offers distinctive interdisciplinary learning opportunities for Cal State Long Beach. The TBM Designs team aims to collect quantitative data to measure the efficacy of the InVert system and survey-based qualitative data to assess visitors' attitudes about the technology, including its appeal and thoughts on potential future applications. Faculty and students from a variety of disciplines will be encouraged to experience sm[ART]box to spark discourse and discuss creative solutions to bring about societal and environmental change.
Sustainability and community impact
sm[ART]box calls attention to Cal State Long Beach's environmental goals named in the President's Commission on Sustainability (PCS). These goals were established in 2018 with the mission of integrating sustainability, defined as the intentional and simultaneous focus on environmental, social and economic health—into all aspects of university life. sm[ART]box also offers opportunities to engage Cal State Long Beach students, Long Beach residents and Southern California communities in dialogue about sustainability and urban planning.
banner image: sm[ART]box rendering by TBM Designs, exterior by Yaloo (Mike and Arline Walter Pyramid by Donald Gibbs in background), 2020. Courtesy of TBM Designs (Doris Sung, Karen Sabath and Scott Horwitz).