Look
Upcoming Exhibitions
Spring semester exhibitions open Tuesday, February 7.
Lee Krasner: A Through Line
Main Gallery
"I am never free of the past. I have made it crystal clear that I believe the past is a part of the present which becomes part of the future." —Lee Krasner 
Carolyn Campagna Kleefeld Contemporary Art Museum presents Lee Krasner: A Through Line. The exhibition provides a context to explore important abstract paintings and collages from the 1940s to the early 1960s. The exhibition includes four of the five Krasner works held in the Museum's Gordon F. Hampton Collection and works on loan. A Through Line specifically highlights breakthrough moments in her career made possible through her practice of revisiting ideas over time. The artist leveraged exemplary marks, spatial strategies, and recurring themes in her pursuit of illusionistic gestural abstraction.  
A Through Line begins with an exploration of Krasner's early interest in cubism and her desire to develop purely abstract painting that appears dimensional without the illusory techniques of representational painting. Influenced by Pablo Picasso, Henri Matisse, and Hans Hofmann, her work in the 1930s and 1940s set the stage for her transformation in the 1950s and 1960s. We invite Museum visitors to study Krasner's untitled work from 1942. It hangs alongside Pablo Picasso's 1926 print, Scène d'intérieur, and Hans Hofmann's painting Pure Space (1952) which has not been exhibited since its creation. These three works illustrate shared interests in exploring depth of field, linework, and different modes of geometric and gestural abstraction. Pure Space offers visitors to the exhibition an opportunity to better understand how Hans Hofmann theory of "push and pull" was translated into paint. As the exhibition continues, Krasner's works demonstrate the continuing influence of Picasso, Matisse, and Hofmann.  
From Krasner's early cubist painting, visitors continue toward the center of A Through Line. Her poorly received 1951 exhibition at Betty Parsons Gallery is a main event in her career after which she hit a sustained stride that would cement her reputation. The Museum is pleased to present one of two paintings which survive from this Parsons exhibition. On loan from Kasmin Gallery New York, the breathtaking Number 2 (1951) will be on view for the third time in its history and, seventy-one years later, only the second time in the United States ever. Number 2 survived destruction by Krasner. She used most of the paintings from Parsons for collage scrap or underpaintings for later works presented in 1955.  
Image Following her adventure with Betty Parsons, it appears that Krasner did not work for at least a year. In 1953 she began anew. On loan from Des Moines Art Center, Black and White (1953) is a collage incorporating scraps from her own work and from works by her husband Jackson Pollock. The collage illustrates a key step toward new works the artist debuted in a 1955 exhibition at the Stable Gallery. This exhibition is now recognized as historic highlight not only for Krasner, but for American abstract painting. The result of Krasner's creative reuse was later described as "one of the great events of the decade" by art critic Clement Greenberg. On view from this exhibition is an iconic work from the Museum's collection. Stretched Yellow (1955), which is painted atop a 1951 painting exhibited at Parsons, is critical to understanding how Krasner's early work leads up to 1955 and to what happens after. Experiencing both works in the same gallery clarifies how Krasner's cycles of revision helped drive her progress toward creating spatially complex gestural abstractions.  
While the exhibition unfolds chronologically, the works defy linear models of time. Later works on view, including Cornucopia (1958) and What Beast Must I Adore? (1961) illustrate how Krasner continued to revisit gesture, illusory depth, and line and shape in new ways while remaining grounded in an embrace of pure abstraction and a familiar creative language.  
A Through Line demonstrates Krasner's independent vision and stylistic hallmarks. The works included in this exhibition prove Krasner was not only resilient and dedicated, but also visionary. In illustrating a continuity Krasner's critics sometimes denied she had, the Museum disputes critiques of Krasner that are often gender biased. Today, Krasner is a revered artist whose importance to the history of art is finally garnering deserved recognition. With A Through Line, we recognize that Lee Krasner helped shape the course of art history and assert that she will continue to inspire the next generation. 
Acknowledgements
Lee Krasner: A Through Line is made possible through financial support from the Arts Council for Long Beach, ASI instructionally related funds, the Carolyn Campagna Kleefeld endowment, the Constance W. Glenn endowment, and a gift from Linda Haley and Marvin Zamost, MD. The labor of our staff and volunteers, the generosity of our lenders, and the support of College of the Arts and California State University Long Beach has also ensured we can share this exhibition. 
Image Credits:
Banner image: Lee Krasner, Number 2, 1951. Oil on canvas. 92 1/2 in × 132 in. Collection Pollock Krasner Foundation. Courtesy of Kasmin & The Pollock-Krasner Foundation.  
Featured in-text image: Lee Krasner, Stretched Yellow,1955. Oil with collaged paper on canvas. 82 1/2 in × 57 3/4 in. Gift of the Gordon F. Hampton Foundation, through Wesley G. Hampton, Roger K. Hampton, and Katharine H. Shenk. 1999.9.45. Collection of Carolyn Campagna Kleefeld Contemporary Art Museum.
Clifford Prince King: Yesterday and Beyond
Mini Gallery
February 7–May 19, 2023
Image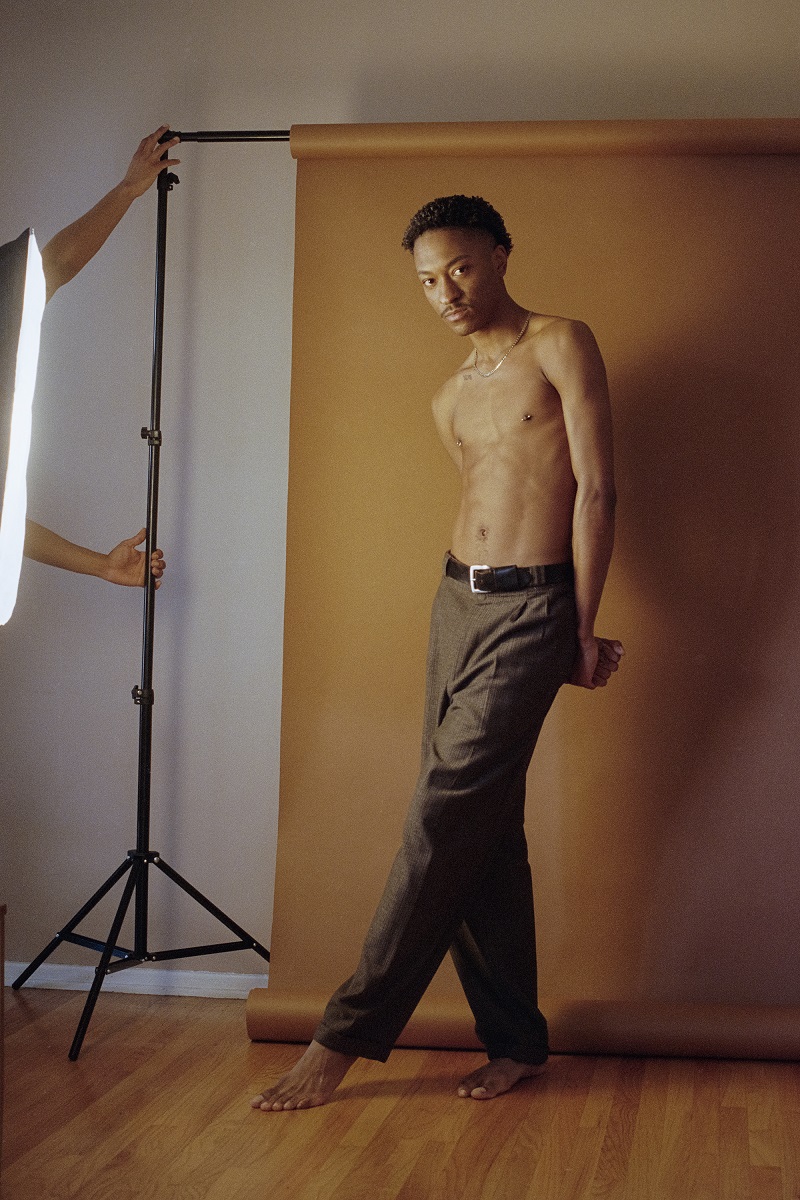 Clifford Prince King, J, 2020. 24 x 36 inches. Canson Rag 310 GSM. Courtesy the Artist and STARS Gallery.
Carolyn Campagna Kleefeld Contemporary Art Museum is pleased to organize the first museum solo exhibition in the Los Angeles area for LA-based photographer Clifford Prince King. Yesterday and Beyond, is open February 7 through May 19, 2023. King's exhibition will be accompanied by a digital catalogue with an essay by Darnell Moore.
This is the first solo photography exhibition following the Museum's work to redefine its collecting priorities. Recently acquired, King's For What It's Worth, 2019, was the Museum's first photography acquisition by purchase in over a decade.
King's large photographs printed digitally from scanned 35mm film negatives embrace the grainy artifacts of the scanning process. His golden-hued compositions of friends and acquaintances in mostly domestic spaces connect with the history of figurative photography and classical painting. Yet King's delectable color palette and historically grounded figurative arrangements feature Queer Black bodies in moments of close intimacy largely absent from art history. In a review for the New York Times, critic Aruna D'Souza writes that King's work "is about the subtleties of human contact." Emily Dinsdale, writing for Dazed magazine, explains that King "explore[s] themes of Black male queer identity by documenting shared, intimate moments of human camaraderie and vulnerability among friends and lovers."
King's work has developed decades after the origins of personal, no-holds-barred diaristic images made by Boston School photographers like Nan Goldin, Mark Morrisroe, and Jack Pierson. Yet, that art history offers valuable context for King's photographs. Early critiques of images by photographers in the Boston School circle often proposed that their work offered an unfiltered look at the artists' lives in 1980s and '90s New York City. Later critical responses questioned how unfiltered the images really were. Given the pervasive culture of selfie-taking and camera phone photo-making today, many of us—through daily image making—now better understand how mediated and personally subjective photographs are. Today, we often look at historic photographs and question what or whose reality is being presented to us. Working at a time when social media appears to have removed all boundaries between private and public, King's work suggests new ways of thinking about how we share and why. Rather than trying to resolve this tension between what a photograph is and what a photograph does, King leverages these qualities to chart an additional use of the photographic image. He accomplishes this by carefully creating photographs that propose to be neither absolute truth nor complete fiction; King creates realities he and others need.
In the introduction to his anthology, Brother to Brother, New Writings by Black Gay Men (1991), poet Essex Hemphill wrote, "In our fiction, prose, and poetry, there is a need to reveal more of our beauty in all its diversity. We need more honest pictures of ourselves… Ours should be a vision willing to exceed all that attempts to confine and intimidate us." In this vein, King uses a film camera to make images from situations he sets up and allows to unfold. Akin to planned documentation, the scenes in his photographs capture moments in an action sequence set in motion. Suggestive and not entirely clear, the narratives shared with the viewer are coded and either legible or partially illegible depending on who is viewing them.
Clifford Prince King: Yesterday and Beyond is made possible through a grant by Pasadena Art Alliance, funds from The Constance W. Glenn Endowment, and the collaborative labor and time of the Museum and CSULB communities, Darnell Moore, Jeff Keiss, Light Work, and Clifford Prince King.
Image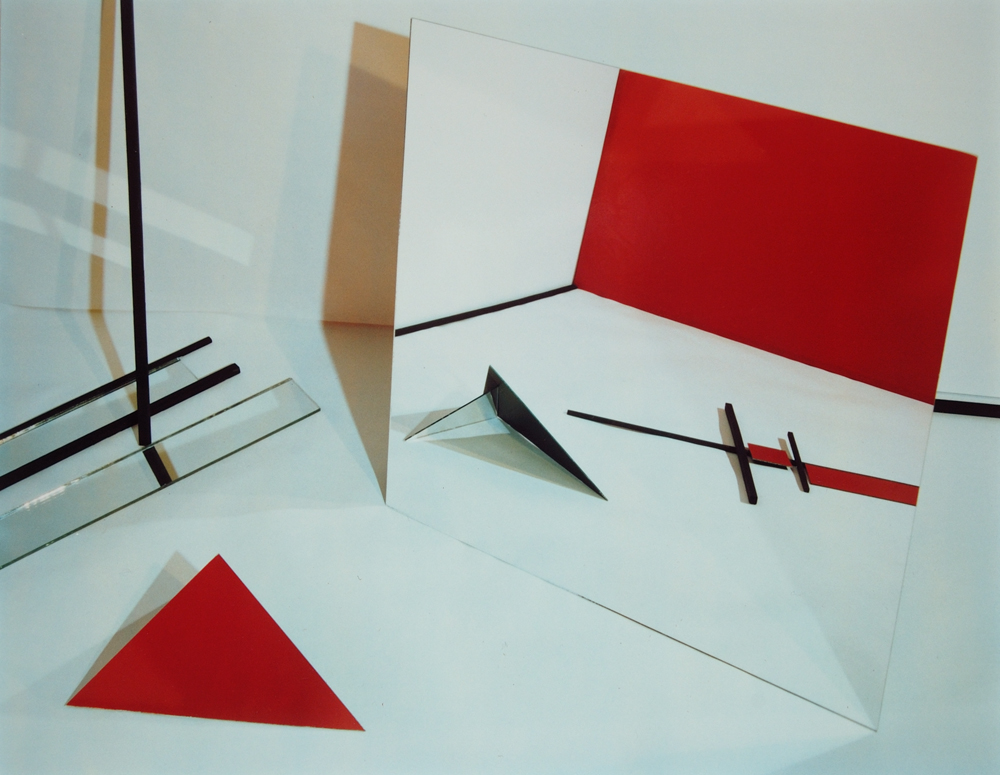 Barbara Kasten: Centric Revisited
February 7–May 19, 2023
Main Gallery Corridor
This exhibition highlights seven photographs which were welcomed into the permanent collection in the early 1980s after being commissioned for the original Centric exhibition series. In 1981, founding director Constance W. Glenn launched Centric, an exhibition series envisioned with a two-pronged mission; it alternated between exhibiting underseen work by well-known artists and sharing the work of emerging artists with strong potential.  
The works exhibited in Centric Revisited were originally a part of Centric 2 in February 1982, curated by Gloria B. Skovronsky and Constance W. Glenn. An excerpt from an interview between Barbara Kasten and Glenn included in the 1982 exhibition's catalogue reveals how interdisciplinarity was inherent to the creation of these works. The artist shared that she did not necessarily consider herself a photographer. Instead, she communicated that she "think[s] of the process as sculpture, but when I show the photographs which result, I'm a photographer."
In preparation for the Museum's 50-year anniversary celebration in the 2023-2023 academic year, we draw attention to historic exhibitions, archives, and memories from the past five decades. Our remembrance in this exhibition and other projects honor artists, arts professionals, and visitors who have helped build our community.  
Image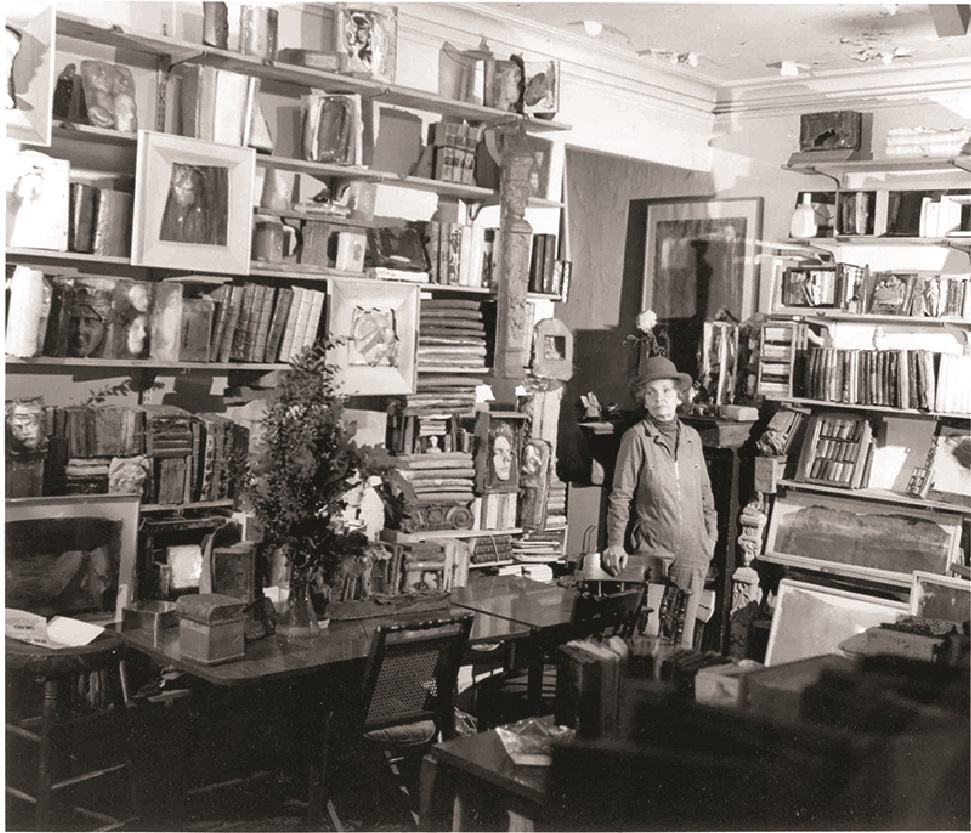 Stella Waitzkin: From the Chelsea Hotel
February 7–April 28, 2023
Constance W. Glenn Court
A selection of Stella Waitzkin's sculptures will be on view in Constance W. Glenn Court, recreating a small section of her library-like installations. Waitzkin dedicated her practice to artist-built environments, casting antique, leather-bound volumes and arranging them in large-scale, lived-in spaces. The artist's obsession with literature drove this process, and indeed, a few "real" books were sometimes scattered throughout her constructions. Other cast objects of animals, fruit, and columns, and clocks, evoke curiosity. All are executed in full color and variable translucence and luminosity, making each work one-of-a-kind.
These works showcases a segment of the recent acquisition of 23 sculptures by artist Stella Waitzkin through a gift from Kohler Foundation, Inc.  Founded in 1940, the Foundation is a leading force in preserving art environments across the United States in addition to funding scholarships, conservation, and arts programs.
Stella Waitzkin (1920-2003) was born in New York City.  After briefly studying acting, she married in 1942 and shortly thereafter gave birth to two sons. In the 1950s, Waitzkin began creating visual art as an abstract expressionist painter. She studied painting with Hans Hofmann and life drawing with Willem de Kooning. Waitkzin began friendships with other New York artists and musicians including Jackson Pollock and Tony Fruscella in Greenwich Village at this time as well. When her sons were teenagers she moved to West 9th Street, took a studio on 14th Street, and expanded from painting to sculpture, performance art, and film.
Image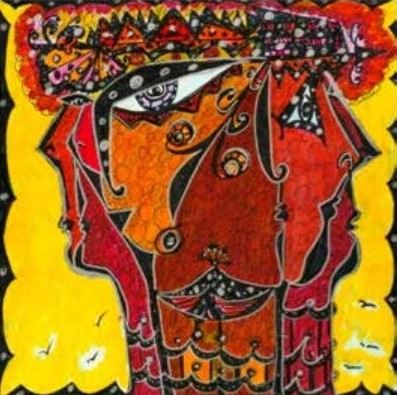 Carolyn Campagna Kleefeld: On Top of a Mountain
Opens February 7
Carolyn Campagna Kleefeld Gallery
Carolyn Campagna Kleefeld works from her Northern California home and has welcomed friends, creatives, and thought leaders there for decades. In her journals, she describes her studio as sited "on top of a mountain", which has inspired this selection of works. Her way of living is organized around sustained engagement with nature, love, solitude, writing and visual art making, and a rejection of market values and consumerism. Always inspired by her life, the drawings on view are part of a large gift of art given by the artist to the Museum.
Cal State Collects
February 7–April 28, 2023
Community Gallery
Discover stories behind historical objects that are housed across campus in Cal State Collects. The Museum isn't the only collecting unit on campus. Ranging from preserved animals to video games, California State University Long Beach is home to many learning resources. Though you can't check most of these learning tools out and take them home, collections on campus are like libraries in other ways. Democratic, accessible, and publicly-owned, collection materials are held and conserved for all who wish to learn more about the world around them.
Ongoing Exhibition
Candida Höfer
September 6, 2022–May 19, 2023 
David Campagna Prints and Drawings Room 
Carolyn Campagna Kleefeld Contemporary Art Museum presents Candida Höfer's architectural photography in a small exhibition in the David Campagna Prints and Drawings Room. Höfer is known for her precisely composed, large-scale color images of architectural interiors that evoke a quiet, mysterious elegance. Typically, the people who would inhabit her environments are absent, thus enabling her to discover in the spaces what she describes as an "almost magical presence of things." The artist's images ask viewers to conduct a distanced examination through the window she has created. Her rhythmically patterned images present a universe of interiors wholly constructed by human intention, unearthing the patterns of order, logic, and disruption imposed on places by their now absent creators and residents. 
Ongoing Project
sm[ART]box
Project by TBM Designs (Doris Sung, Scott Horwitz, Karen Sabath)
Installed on Cal State Long Beach campus from December 2020–to mid-February 2023
Curated by Kristina Newhouse
View Curatorial Essay and other additional resources in the sm[ART]box Linktree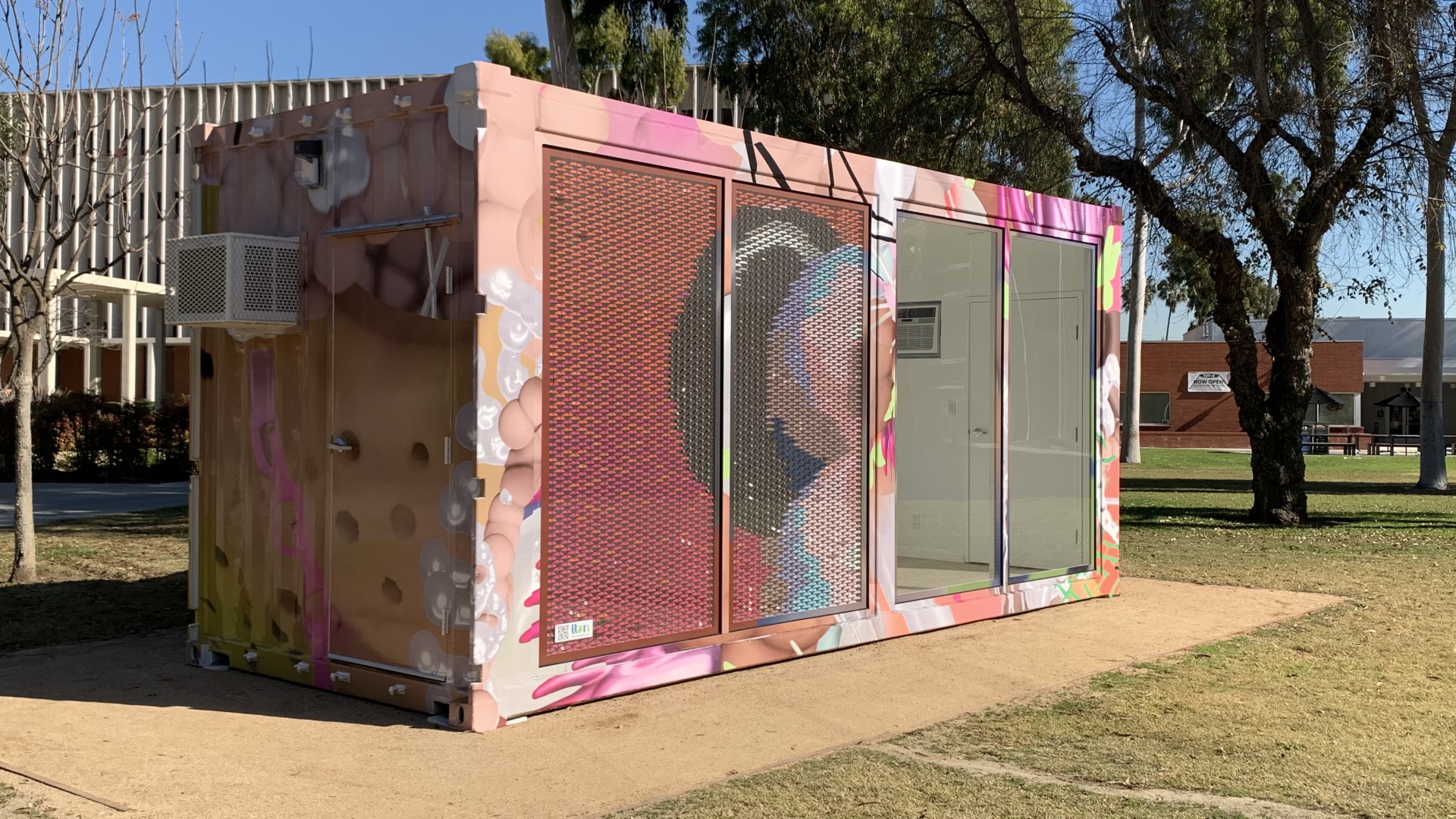 Carolyn Campagna Kleefeld Contemporary Art Museum presents the newest sustainable design to be installed on Cal State Long Beach campus: sm[ART]box. The structure, which repurposes a 20-foot steel shipping container, sparks imagination with self-cooling technology. Inventor Doris Sung designed the kinetic InVert™ Self-Shading Window System (InVert) to index time and temperature; the museum embraces its multidisciplinarity and ingenuity to prompt discussion of an integrated and sustainable future.  Standing apart from other smart technology—sm[ART]box tracks the sun and responds to the changing temperature of the air—all without computers or human intervention. Besides its impressive passive technology, the structure expands thinking about the function of materials, our environmental experience and even our sense of time and space.
sm[ART]box will soon be installed within the built environment on campus. Although temporary, its stay on a grassy quad next to a busy pedestrian thoroughfare will last for two years. Its inventions, instruments and design innovations will activate communal space. As an art object and an architectural structure, sm[ART]box will be perceived as a "place" over time. The unique building element of thermostatic bimetal (tbm) in the InVert shade system will attune observers to the visible presence of time; indeed, the structure's function brings to mind philosopher Mikhail Bakhtin's concept of a chronotope, the awareness of time as it "thickens, takes on flesh, becomes artistically visible." With the movement of the sun overhead, individual tbm pieces bend or flatten, alerting visitors to perceptions of time: personal or collective, biological, seasonal and geographic, among others. Through awareness of time, Bakhtin believed "space becomes charged and responsive to the movements of time, plot and history." His concept of the chronotope aligns with Sung's description of sm[ART]box as a sundial of sorts.
Sung's self-cooling technology is inspired by organic forms. The gentle yet marvelous diurnal movement of its tbm components calls to mind the heliotropic activity of plants, like flowers that open and close or leaves that rotate in relation to the passage of the sun through the sky. This activity is a subtle index of ambient changes in atmospheric conditions.
Learn more about the sm[ART]box project through Doris Sung's Material Concerns lecture linked below.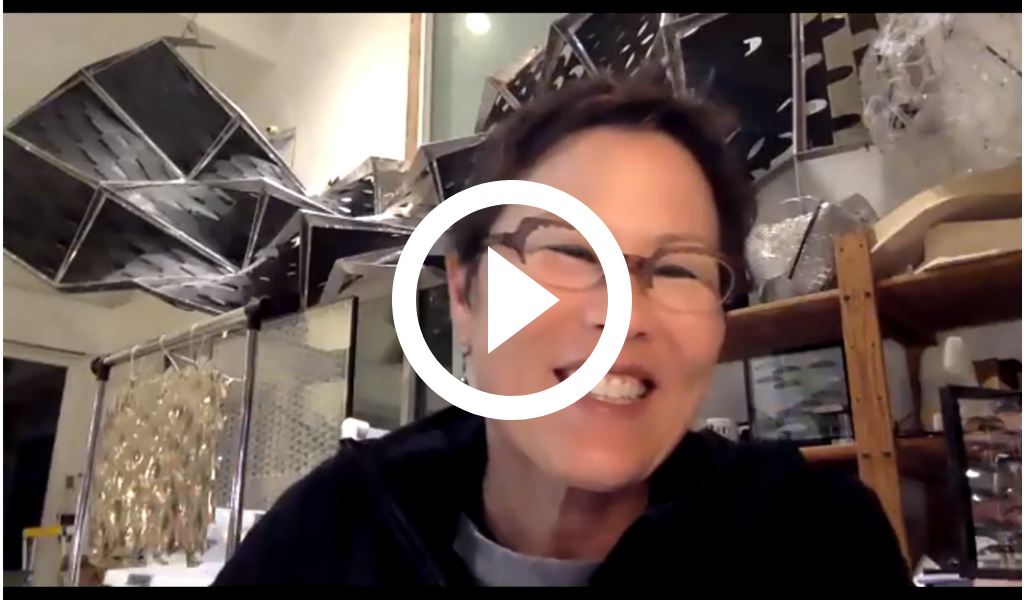 In its first phase, limited faculty, students and campus community will be able to view sm[ART]box. Once campus re-opens, the art installation and architectural case study unit will become an observation site and educational hub for students, researchers, designers and scholars. The structure's simple response to the warmth of sunrays proposes a novel way to view, sense and feel air, light, and space in the built environment. In this, perhaps it helps us to imagine a future less dependent upon energy consuming creature comforts like air-conditioning. Sensing and absorbing the project's potential impact may seed new insights about sustainable collective responses to climate change. We all must commit to significantly alter the trajectory of the Anthropocene. We cannot exist outside the environment, and it is our charge to think meaningfully and creativity about our position on the planet.
The exterior walls of sm[ART]box will incorporate eye-catching visual design by Yaloo Ji Yeon Lim, a South Korean contemporary digital artist who relishes the opportunity to collaborate on site-based installations. Yaloo, the mononym she goes by, recently inaugurated the first ever Korean Media Art Series in September at the Korean Cultural Center in Washington, D.C.
Design History
As an architect in the early 2000s, Sung thought of exterior walls as "skin." Walls are an essential aspect of the human environment, which architectural critic Sibyl Moholy-Nagy once described as a "shield between withinness and withoutness." Investigating the boundary between interior and exterior, Sung deeply examined how permeable and responsive materials could transform the future of energy efficiency and sustainable building methods. She was especially drawn to "smart materials" that react "flexibly to external conditions physically or chemically in response to changes in the temperature, light, electric field or movement." Computational advances followed material innovations and soon digital modeling accelerated to such a degree that the construction-based "low-tech" side of architecture yielded new capacity for innovation. The technology used in sm[ART]box epitomizes Sung's belief that cost-effective, responsive architectural systems will help us keep up with changing ecological dynamics in an ever-changing and ever-warming world.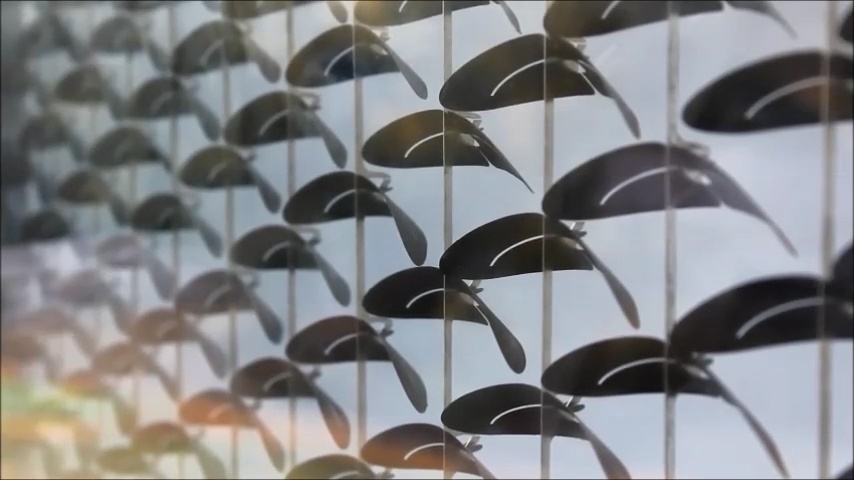 About the InVert™ Self-Shading Window System 
Doris Sung and Karen Sabath named their firm, TBM designs, after the material used in their InVert™ Self-Shading Window System—environmentally responsive thermostatic bimetal (tbm). The innovative technology has the potential to improve window design and make high rise buildings less dependent upon air conditioning. These design and engineering feats are one step in the road to a greener and more arts-integrated future.
Activated by solar heat, the tbm pieces inside the sm[ART]box insulated glass unit flip and reflect heat away from buildings. Assembled in interlocking shutter systems, tbm pieces bend and curve as temperatures change throughout the day. Their movement lowers sunlight exposure, shades interior spaces and cools structures passively—without any manual intervention, mechanical support, or added energy use. This dramatically reduces solar heat gain, lowers need for artificial cooling and cuts greenhouse gas emissions.
Cal State Long Beach research opportunities
This project offers distinctive interdisciplinary learning opportunities for Cal State Long Beach. The TBM Designs team aims to collect quantitative data to measure the efficacy of the InVert system and survey-based qualitative data to assess visitors' attitudes about the technology, including its appeal and thoughts on potential future applications. Faculty and students from a variety of disciplines will be encouraged to experience sm[ART]box to spark discourse and discuss creative solutions to bring about societal and environmental change.
Sustainability and community impact
sm[ART]box calls attention to Cal State Long Beach's environmental goals named in the President's Commission on Sustainability (PCS). These goals were established in 2018 with the mission of integrating sustainability, defined as the intentional and simultaneous focus on environmental, social and economic health—into all aspects of university life. sm[ART]box also offers opportunities to engage Cal State Long Beach students, Long Beach residents and Southern California communities in dialogue about sustainability and urban planning.