Anabel Juárez: Recordar Es Vivir
April 5–June 25, 2022  |  Mini Gallery
Carolyn Campagna Kleefeld Contemporary Art Museum (the Museum) presents Recordar Es Vivir (Remembering is Living), a new solo exhibition by Los Angeles-based artist Anabel Juárez which integrates ceramic objects, sculptural media, and drawings to commemorate a sense of home that is both felt and created. Developed during her 2021 tenure as Artist in Residence for the CSULB Center for Contemporary Ceramics, this new project brings memories of her formative years living in Michoacán, México to life. In the central sculptural installation entitled Recuerdos (Memories), Juárez pays homage to sentimental objects as she constructs a repository for her recontextualized childhood recollections. Through this multimedia installation and a pair of works on paper, the artist builds a bridge between the past and the present and proposes questions around concepts of home following emigration. The exhibition runs from April 5 to June 25 in the Museum's Mini Gallery.
Inspired by the pushcarts of street vendors who labor on both sides of the US/Mexico border, dual multi-tiered carts serve as the framework for Recuerdos. These custom-built metal carts are reminders of the experiences of migrant communities. In creating this work, Juárez considers the act of migration itself, imagining what migrants carry with them, physically and emotionally, to remind themselves of what they left behind. The artist's conglomerations intuitively interpret personal experiences and use artistic means to embody memories of people or places.
When the artist immigrated to the United States in 2003 at the age of fifteen, she could only pack a backpack full of possessions to take on her journey across the border. According to Juárez, the chosen items then became catalysts for accessing "memories of the experiences, the people I left behind, and the place that I called home." The artist's object selection process in developing Recuerdos parallels her experience of packing to leave home as a young teenager. Some sculptures—the backpack, stuffed animals, and Purepécha doll—represent real objects which have emotional or symbolic value. Their iridescent and luster glazes imbue them with a precious quality. All the hand-built ceramic objects, from small furniture, household tools, and spiritual icons like the Sacred Heart, tree of life, and Virgin Mary are mementos that act as mediators between a tangible place and the intangible experience.
Additional objects in Recordar Es Vivir blend dreamed imagery, real images of migration, and literal traces or indices of Juárez's childhood home. Resting atop the carts, glass roof structures make the carts themselves house shaped and symbolize a memory of home close to the artist's heart. She recalls serene moments in the house where she grew up, saying she was "mesmerized by the sun rays shining through the ceramic roof tiles in my room," and used the translucency of glass to convey this. A pair of pastel drawings entitled Portal and Window are rubbings made during a past visit to the same childhood home. In combination with ceramic sculptures on and around the metal cart, these works on paper introduce a sense of a place into the exhibition and emphasize how a home's structural remnants can be cherished.
Moving between abstraction and representation, Juárez's works directly relate to objects that she surrounds herself with to feel "at home." The artist shared, "I was drawn to the notion of a mobile home full of souvenirs as a way of talking about mobility and the objects and imagery that help me feel connected to my culture and my home, no matter where I am geographically." In making works to exist as metaphorical keepsakes, the artist's objects themselves become portals to home, symbols of cultural celebration, and tributes to nostalgic memories that live on through time and space.
View Press Release
View Artist Statement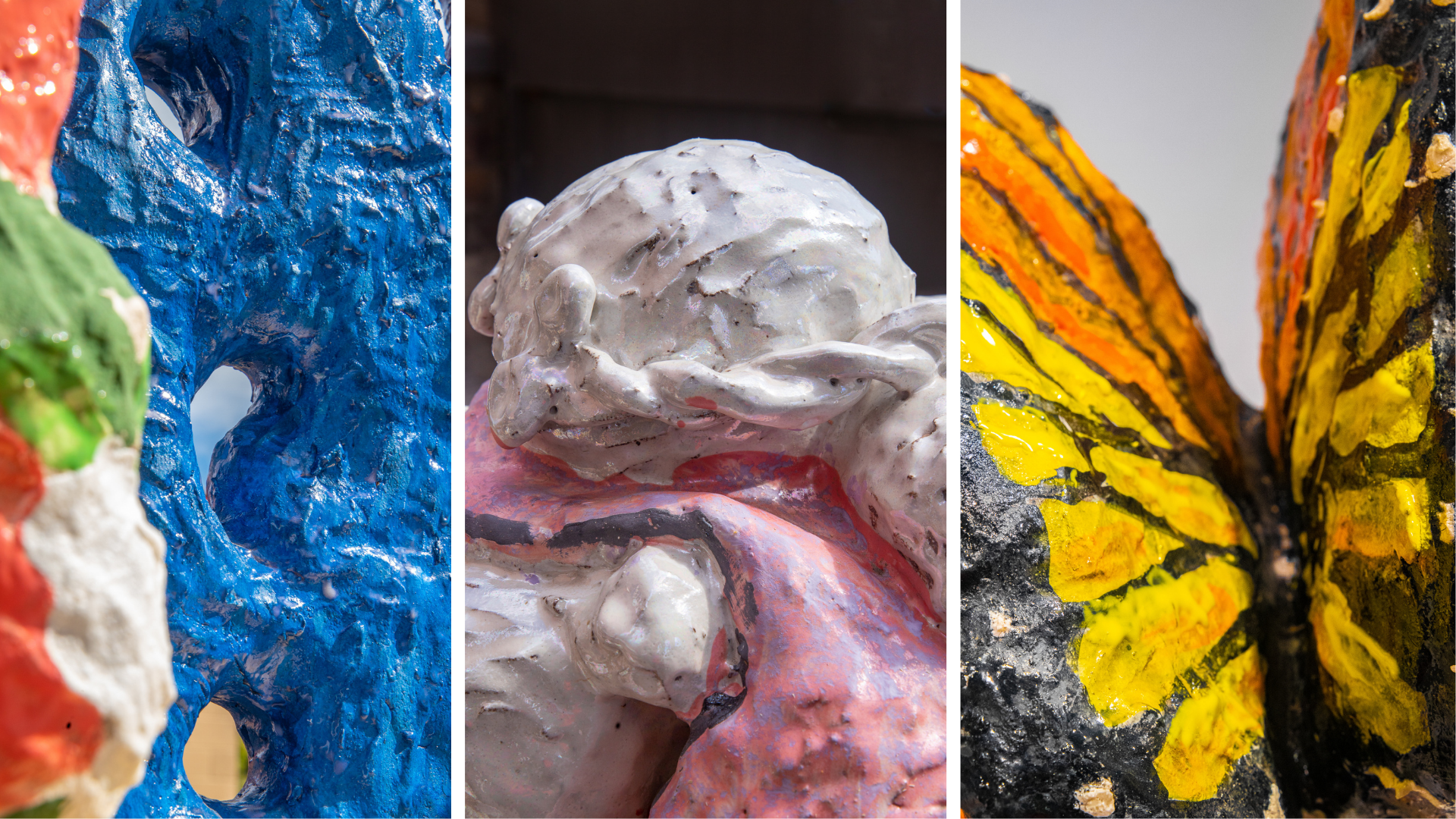 Detail images of sculptural ceramic works in Recuerdos, the central installation of Recordar Es Vivir. Courtesy of the Artist. Photos by Tatiana Mata.