SACNAS Is a Proving Ground for Future Researchers
Published November 15, 2017
The Society for Advancement of Chicanos/Hispanics and Native Americans in Science (SACNAS) holds a three-day conference every year, which has become the largest multicultural and multidisciplinary STEM diversity conference in the United States. It celebrates science culture and community, and provides a venue for cutting-edge science, professional development, training and mentoring for students and scientists at all levels.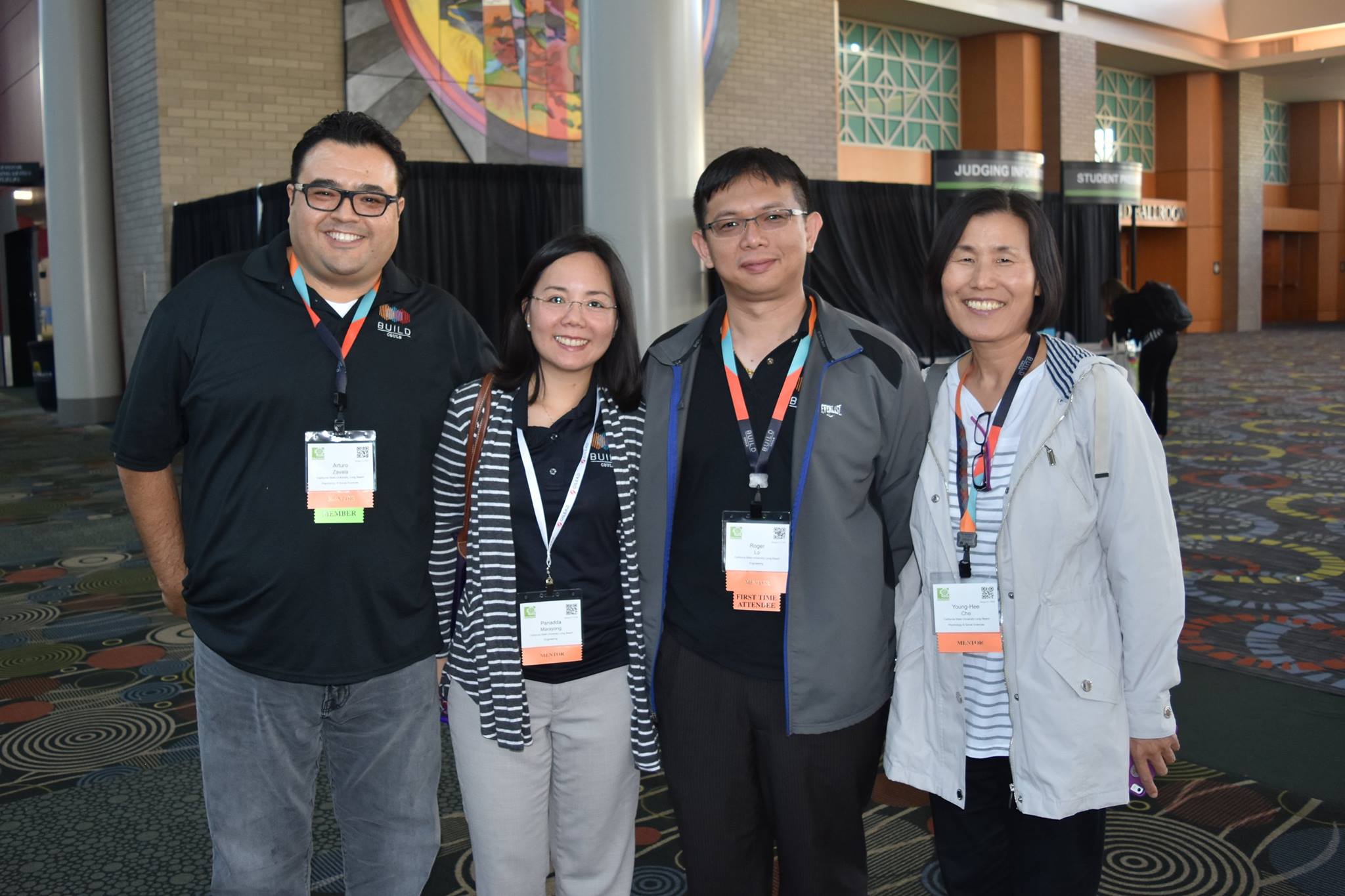 This year, SACNAS was held in Salt Lake City, Utah, from Oct. 19 to 21, and 14 BUILD trainees attended along with several of CSULB BUILD's training directors. "I like the supportive atmosphere at the conference," said Panadda Marayong, Ph.D., one of the Training Directors for Year Two Scholars. "It is quite different from other professional meetings since the focus of the conference is on students."
Roger Lo, Ph.D., joined the BUILD team as a Training Director for Year One Scholars this year and took the opportunity to attend SACNAS for the first time. What he liked best about the conference is the total focus on students' development and encouragement. He especially appreciated the way the keynote speakers shared their life stories. "The most important point is how they became what they are today by working hard against all odds and not giving up on themselves," he said. "I think that sends to our students the most important message, 'You can do it if I can!"
The support for students at the conference extends beyond inspirational talks and educational workshops. There are excellent opportunities to network with graduate school recruiters, as well as fellow students. "I spoke with recruiters, faculty members and industry professionals," said Marian de Orla-Barile, a Year Two Scholar, "all of whom were very open to discussing any questions I had for them.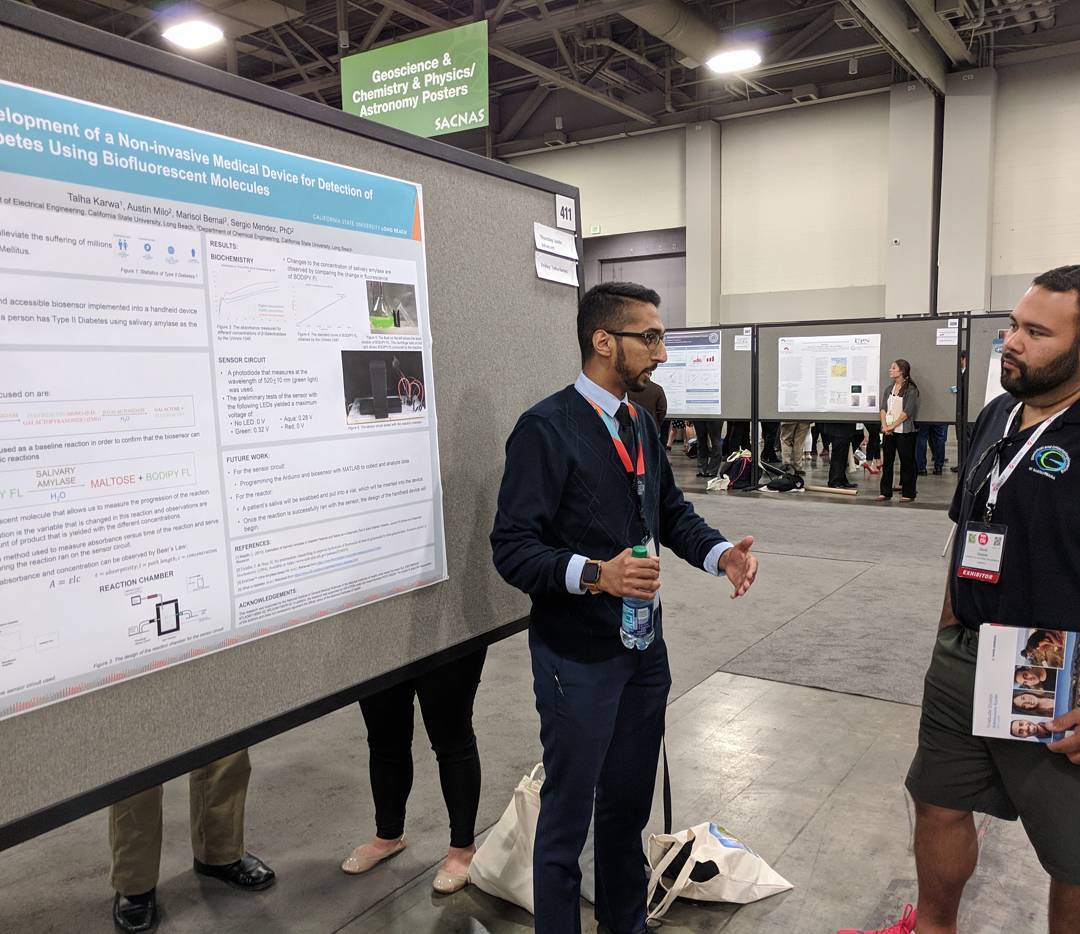 "The SACNAS experiences allowed me to meet with different professors and directors from other institutions," said Talha Karwa, a Year One Scholar. "Talking with them has given me a better idea of which school would be a better fit for me when moving forward with graduate studies."
"It was great to see how the students provided support for one another throughout the entire trip," said Dr. Marayong.
Young-Hee Cho, a Training Director for Year One Scholars, enjoyed watching the students' enthusiasm over the information and networking they had available. "I got to know them better," she said, "and was very glad to see that they took in all the opportunities and were energized by them."
The Presenting at a Conference Experience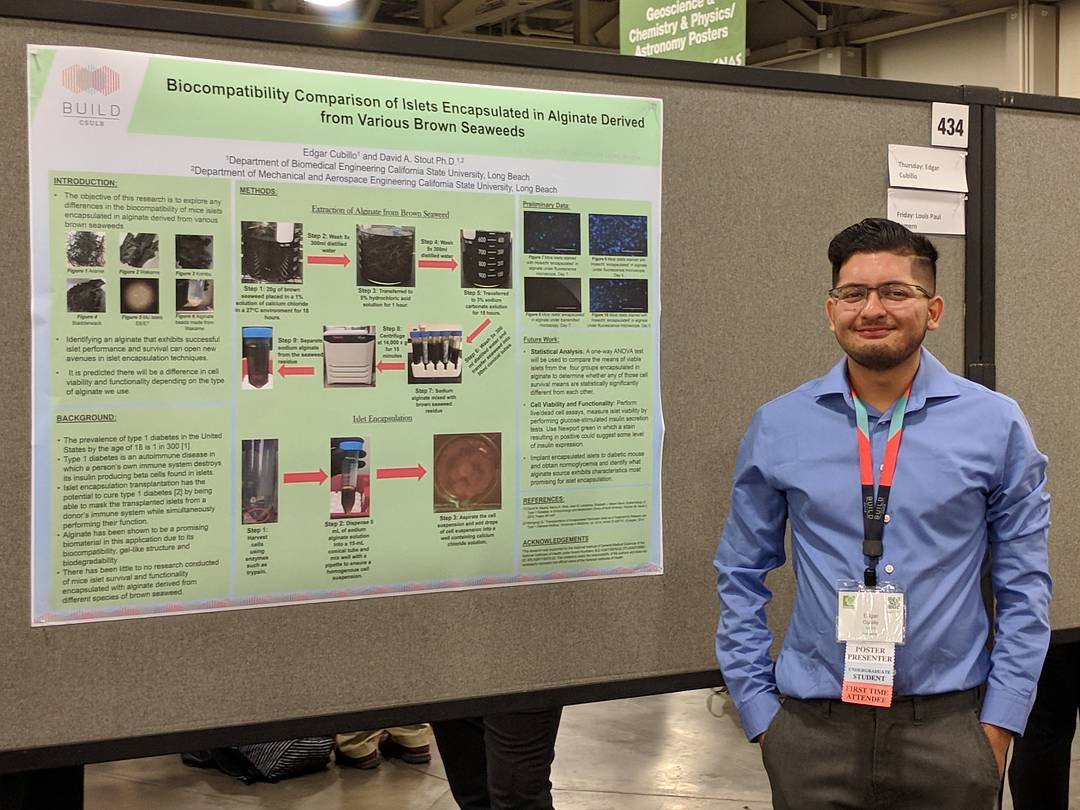 Several of the CSULB BUILD attendees presented their research at the conference, some for the first time. Edgar Cubillo, a Year One Scholar, enjoyed his experience, as well as the lessons he learned. "There were judges who were there to give you feedback," he said. "I learned some helpful presentation tips: Engage with people who come to your poster when you are mid-way through your presentation and tell them if they are interested in hearing more to stick around." He added that presenting the information in a chronological way was helpful, too.
"This was my first time presenting at a national conference," said Karwa. "I felt nervous at first, but once I started presenting to people, it came naturally and I was in the zone. I liked having the opportunity to present my research to so many people and I appreciated any feedback they gave on the presentation itself or pertaining to the research." He added that when presenting his research "two hours can really fly by."
Advice for Future SACNAS Attendees
Come Prepared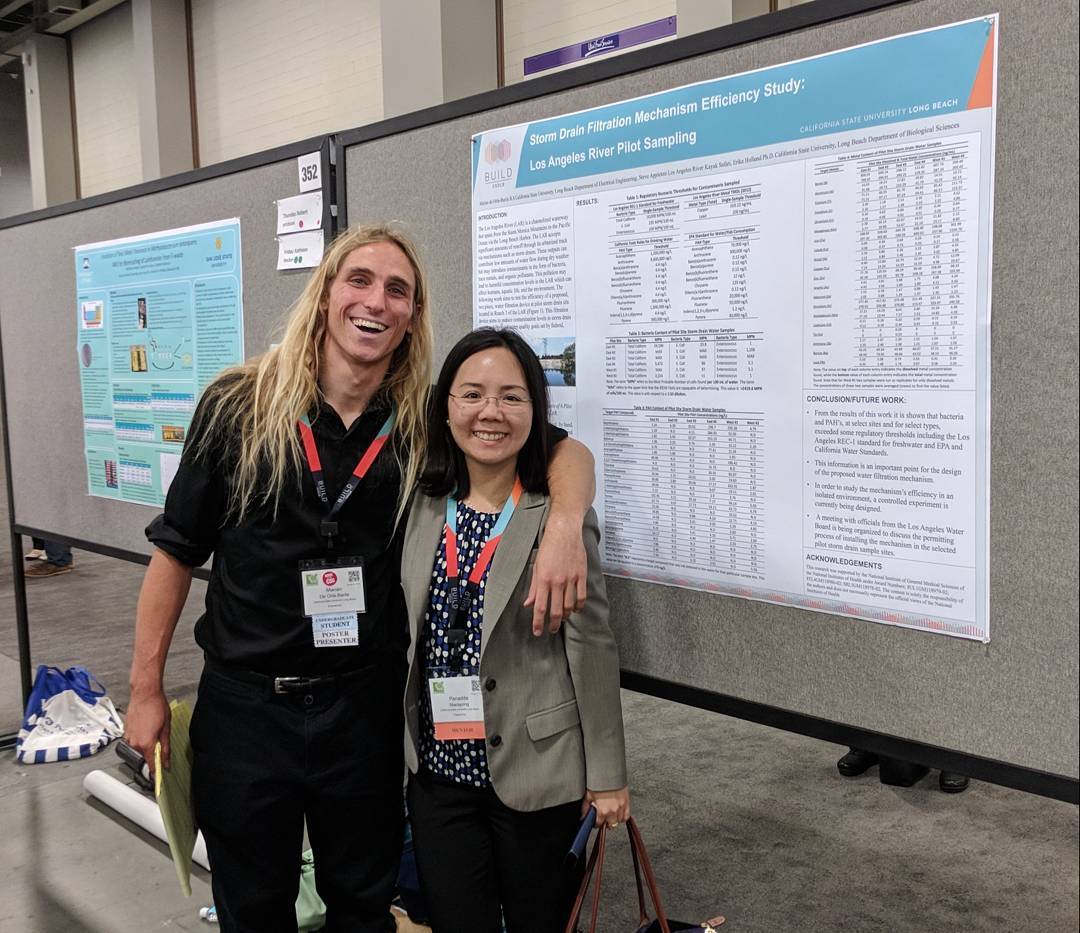 SACNAS provides the opportunity to network with prospective mentors and graduate program recruiters. So, you want to "have business cards and sometimes even CVs ready to give to someone," said Karwa.
You'll also want to come prepared with questions you'll want to ask various graduate programs, suggested de Orla-Barile, who has been to SACNAS twice. "Coming prepared to a conference can really make a difference," he said, "in terms of improving confidence and putting yourself out there to talk with professionals in a field that you are interested in."
Set Yourself Up for Future Success
de Orla-Barile recommends speaking to as many professionals as possible. "There is such a plethora of faculty and industry related professionals that can give so much advice," he said. This information often cannot be found on the Internet, he added.
"Explore the exhibit hall and try to attain as many fee waivers as you can for graduate school programs that you are interested in," de Orla-Barile said. "Simply go up to graduate school booths, talk with recruiters, ask questions, and inquire if they are offering any fee waivers for their programs," he said. "This will save you money when applying to graduate school."
Awards Add Motivation
"SACNAS gives awards to top undergraduate poster presenters based on discipline," said de Orla-Barile. "Although winning an award is secondary to actually attaining the experience of presenting your work, it is a fun way to motivate and drive yourself to give the best presentation you can."
Dejuante Walker, a Year One Scholar won an award for his poster, "Optimization of Electrolytes for Use in Bioabsorbable Sodium-Ion Batteries."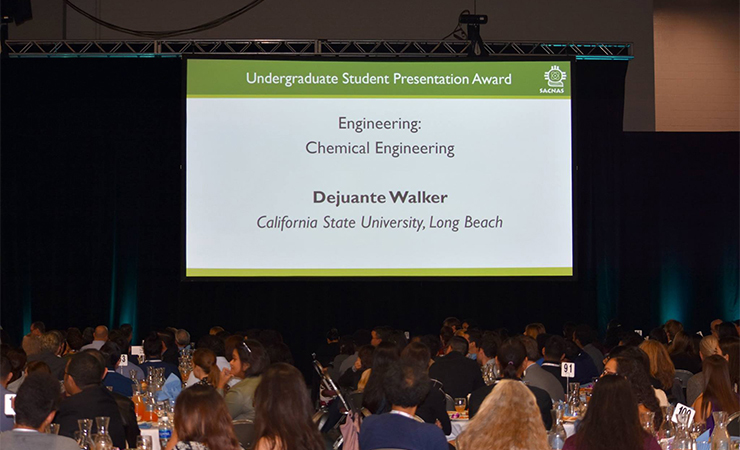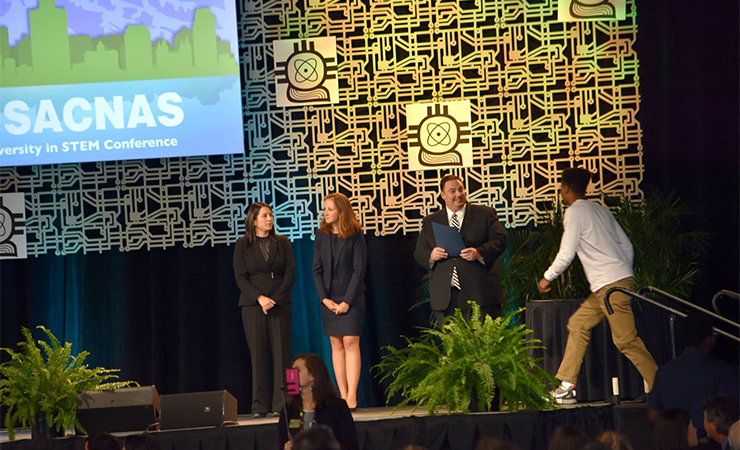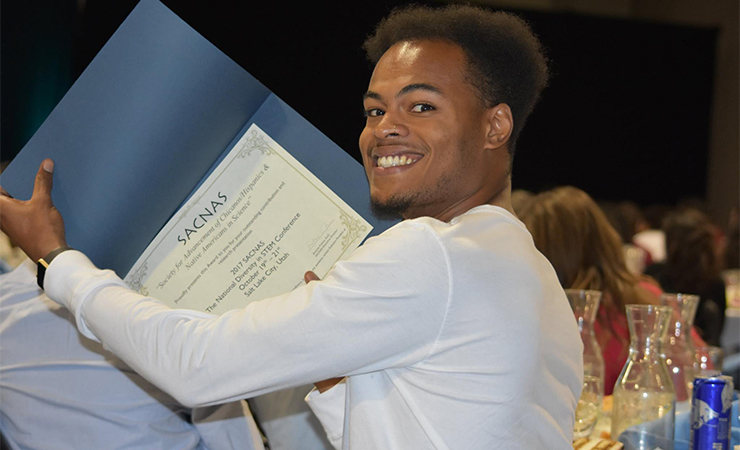 SACNAS 2017 Photo Gallery