Engineering Students Get BESST Start at CSULB
Image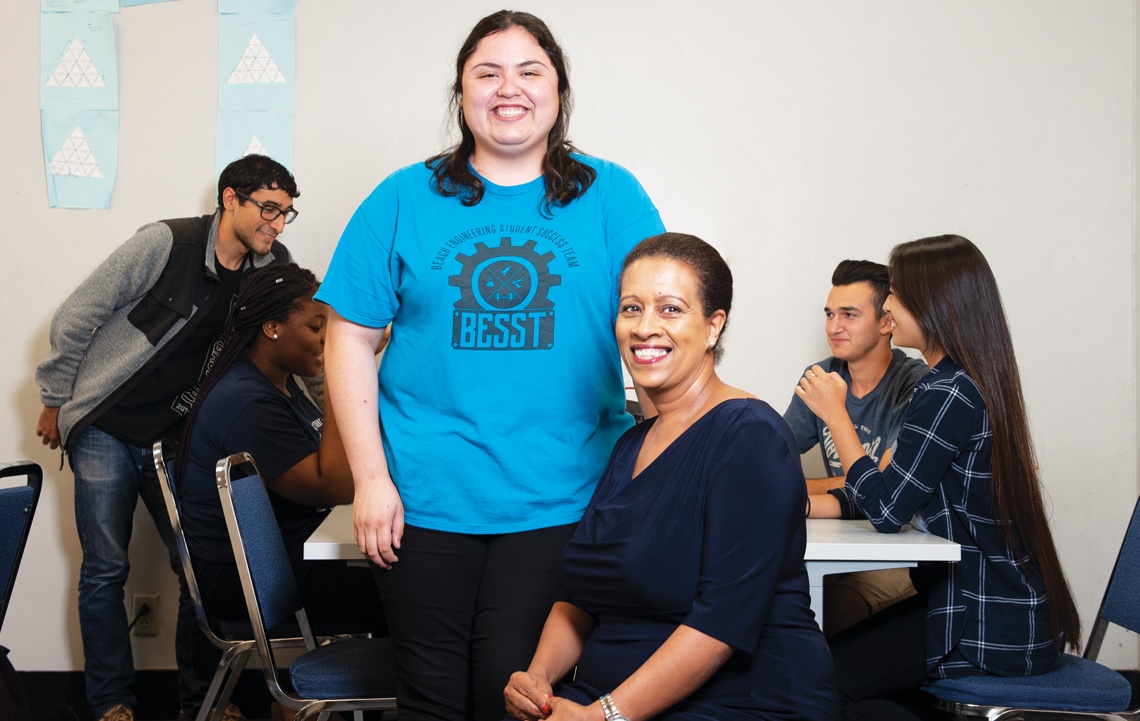 Calculus is defined as "the mathematics of continuous change," but failure rates for college-level calculus courses remain stubbornly fixed — at about 50 percent nationwide — while U.S. employers struggle to fill hundreds of thousands of STEM (Science, Technology, Engineering, and Math) vacancies.
Too often, difficulty or failure in calculus results in engineering students transferring out of the major, a growing concern for educators, STEM advocates, and engineering-industry leaders. At California State University, Long Beach, it is perhaps the biggest barrier  to degree completion for underrepresented, underserved, and economically disadvantaged engineering students.  The resulting achievement gap, in turn, contributes to  the national shortage of skilled STEM professionals and weakens efforts to cultivate a STEM-literate citizenry. 
Recently, donors to the innovative Beach Engineering Student Success Team (BESST) program have sought to make a change that promises to expand and diversify the engineering talent pipeline, in part by giving first-year engineering students at CSULB a better shot at clearing the calculus hurdle. Now in its fourth year, this highly successful pilot program has already attracted much-needed financial support from corporate (Edison International), private (The Ralph M. Parsons Foundation), and individual (Jo Anne and Scott Charmack) philanthropic partners.
"I was nervous about attending college and majoring in civil engineering," recalls Savannah Correa, a BESST program alumna whose interest in the field was inspired by her construction-worker father. "But when I heard about BESST, I was excited and relieved that there was a program designed to help first-year engineering students achieve success."
Eschewing a one-size-fits-all approach to engineering education, BESST strives to improve academic performance and ensure timely degree completion, both by building supportive learning communities and by focusing on participants' individual needs and interests. In addition, BESST sponsors a five-day campus-based summer experience, which allows students to get to know one another and to become familiar with teachers and their expectations before classes even begin. Student cohorts remain intact throughout the academic year, creating a built-in support network.
Savannah notes, "I was part of the first BESST cohort in the school year 2015-2016 and I still continue to stay in touch with my fellow peers.  We get together to study for exams, do homework, discuss internships, and have fun together.  We've become a family, really."
Students receive extra support in the form of one-on-one and group tutoring, academic advising, academic and professional-development workshops, priority registration, and credit at the University Bookstore. All classes and support services are housed in one classroom.
Early data paint an equally impressive picture. After being identified as at-risk for failing calculus, 95 percent of students in the first-year cohort passed Calculus I with a B or better. By comparison, the pass rate for all students taking the course university-wide was 70 percent.
Dr. Saba Yohannes-Reda, director of K-12 outreach and recruitment for the College of Engineering, firmly believes that the BESST program provides participants with the framework to achieve both academic success and personal and professional growth.  "The BESST cohort model continues to support and challenge BESST students academically, and most have maintained above a 3.0 GPA, which qualifies them to receive multiple scholarships," says Dr. Yohannes-Reda. "The most rewarding part about working with BESST students is to witness BESST alums advising and mentoring the incoming BESST students."
BESST BEHAVIOR
Incoming freshman can apply for BESST after qualifying for one of two tracks during Student Orientation, Advising Registration (SOAR). Once accepted into a BESST track, students attend the summer program in late August.
For more information, please see the College of Engineering website.