Miller Foundation: The Legacy of a Name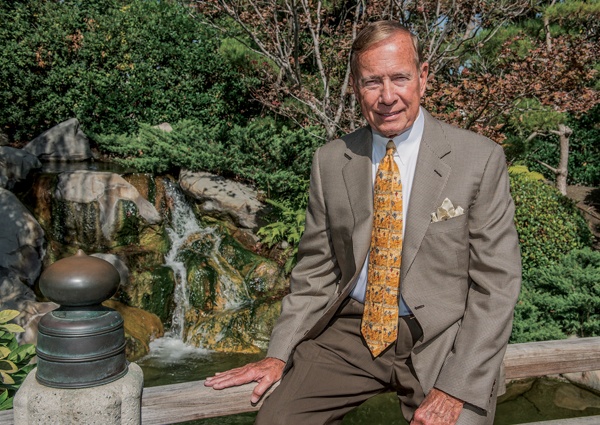 The definition of philanthropy is one who "makes an active effort to promote human welfare," which is a fitting description of the Miller Foundation and its founders, Loraine Miller Collins and Earl Burns Miller, whose legacy has made a profound difference to CSULB.
The foundation is a longtime, staunch supporter of the university, wielding its financial largess across many areas of the campus and leaving indelible marks on students, community relations and housing.
At a point in time when STEM education is vital to our country's future, the organization's annual contributions to the Young Scientists' Camp provide opportunities for children throughout the community to take part in hands-on exploration, discovery and fun of various topics in the sciences. In 2011, the funding was extended to cover a special program for homeless children at Long Beach's Mary McLeod Bethune Transitional Center at the Villages at Cabrillo. CSULB's College of the Arts, University Library, Department of Social Work and Center for Scholarship Information have also received funding from the Miller Foundation.
Laura Henriques, professor of science education and the Young Scientists' Camp director, recognizes the importance of the foundation's support. "Thanks to them, close to 350 homeless youth in Long Beach have had the chance to spend two weeks exploring science, doing hands-on investigations, and learning about college and STEM careers. It's exciting to think of the impact that this experience and science exposure can have on kids and their future. Talk about making a difference and promoting human welfare!"
Several campus icons owe their existence to the foundation and the generosity of Loraine Miller Collins, daughter of Long Beach banker Charles E. Huntington and his wife, Dora, who married Earl Burns Miller, co-founder of one of Southern California's largest construction firms. The Millers had no children but gained satisfaction in benefiting the community through the establishment of the Miller Foundation. After Earl died, Loraine married former newspaper publisher Lawrence Collins.
The most noticeable focal point is the Earl Burns Miller Japanese Garden, established in 1978 in memory of Miller Collins' late husband. It provides a serene venue for visitors, weddings and social events, as well as an educational setting for Japanese cultural programs. Each year, over 5,000 school children enjoy a tour/field trip to the garden or participate in special programs arranged by the garden's education department.
As a funder of the garden's master plan study, the Miller Foundation is currently working with the venue on a first-phase design initiative, which entails building an educational site for use as an interpretation center and guest services, and renovating the entrance.
In 2012, the organization funded a study to identify how to conserve water in the garden through improvements to irrigation and pond management and maintenance, resulting in substantial water savings.
"The Miller Foundation has supported a plethora of projects over the years and has made such a difference to the garden's development and preservation," commented Jeanette Schelin, director of the garden. "And it has provided much more than just monetary gifts. Through sound counsel and the encouragement of investment by others, the foundation has been a visionary partner at each stage of the garden's growth."
Miller Collins' love of international culture led to the funding of the university's International House (IH) residence hall, with its two wings named for her and her father, Charles Elmer Huntington. Opened in 1987, IH pairs American and international roommates in a modern, lodge-like setting that encourages residents to learn about each other's cultures.
When Miller Collins died in 1991, she left her home near campus to serve as the university president's residence—another reminder of her lasting imprint on CSULB.
"Loraine and Earl always had a love for the university and its place in the community," said Walt Florie, Jr., the foundation's president and CEO. "The Miller Foundation continues to focus its funding on not only the Japanese garden but programs CSULB offers that fit our strategic plan."