Donor draws from her career experience in creating internships
Published January 17, 2023
BFA candidate Megan Ng fine-tuned her graphic design prowess as an intern at Gunn-Jerkens, a prominent full-service marketing firm in Long Beach. She spent several Fridays at the company's headquarters, an open-concept workspace where creatives, brand ambassadors and media strategists come together to develop compelling marketing campaigns. 
"During my internship, I was able to create my own branding deck under the guidance of the creative director and even present my vision and ideas to the client," said Ng. "I've learned so much already, from cross-department collaboration and naming conventions to file organization — and I'm looking forward to all the valuable lessons to come while working part-time with Gunn-Jerkens."   
The experience of working side by side with a full house of professionals is invaluable for students in any field, but internship opportunities in the arts aren't easy to find or economical to hold. Ng's experience was made possible by a new Arts & Creative Industry Internships class section at Cal State Long Beach – a first-of-its-kind partnership between the College of Liberal Arts and College of the Arts – that provides interns with placements and a financial stipend through the semester. 
This partnership empowers Beach students to seek a path of their choosing, which aligns with the No Barriers campaign theme of creating a national model for student achievement, empowerment and equity.
The program is sponsored by entrepreneur Linda Gunn, founder of Gunn-Jerkens and a supporter of students in the arts. After more than a year of planning, the pilot program rolled out with a cohort of six students serving internships at local arts-related partner sites. 
"Students don't always know how to apply, interview, negotiate, write a resume, write a thank-you note – all these things one can do to position themselves as a talented industry professional," Gunn said. "I had to learn the process throughout my career. I wanted to give students the opportunity to step outside their boundaries and explore their industries."  
Gunn gained much of her industry knowledge on the job, and it was her career experience and philanthropic passion that compelled her to seek ways to support students and young professionals.  
From her home office, Gunn slowly built a wide client base, eventually opening her Long Beach office and assembling a brilliant team under one roof. Gunn has created a collaborative space, a learning environment and strong culture that contributes to her success. 
"That's why I first approached the Arts Council for Long Beach to develop a program that would equip students for the real world," she said of the Creative Long Beach program.
 To cap off the summer, the cohort and COTA leaders joined Gunn for a post-internship reception and dinner at the Gunn-Jerkens office. Linda Gunn welcomed guests into the sprawling, two-story industrial-chic facility, and gave a tour of its glass-walled meeting spaces and eclectic modern and indigenous art installations.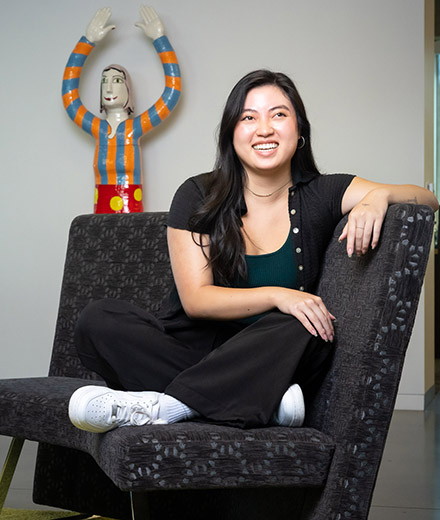 After taking in the facility and introducing the Gunn-Jerkens marketing teams, Gunn led the CSULB group into the conference room to hear the interns' experiences.  
"I worked on a branding project doing marketing collateral, which I got to present to a client," Ng shared. "I think some of the biggest lessons I learned were about naming convention and file organization."  
BFA candidate Jessie Cao touched on her experience as a social media intern at The MAYE Center, while Jenna Koo and Natalie Waldo discussed their time at Dreamkreator Studio —where they made NFTs for VIP Records, a major record label affiliated with hip hop stars, including Long Beach-native Snoop Dogg.  
Gunn's passion lit the room throughout the session as she encouraged each student to share their success and the lessons they learned working in a professional setting. 
Hearing the stories of success from her program's first cohort was gratifying for Gunn. She said students not only sharpened their social media, graphic design and copywriting skillsets, but also broadened their industry knowledge and built their confidence. 
 "These are the skills we want to teach. Don't be afraid. Have courage. I never thought I'd own a company. I never thought I'd be able to give back in this way. If we can set the stage and the foundation so students can explore and experience, that's invaluable."  
 Numerous CSULB alumni have worked at Gunn-Jerkens, and Gunn was eager to strengthen that employment pipeline. The trend continued with Ng, who continues to work part-time for Gunn-Jerkens.  
 "I believe interns should be treated like any other team member and receive compensation. That's why this fund was set up. We look at CSULB as an amazing university – the students are intelligent, they work hard, and they're the backbone of this company."