The need for food and housing continues to increase among students
Published November 18, 2019
The numbers are alarming.
According to research performed by Cal State Long Beach social work professor Rashida Crutchfield, 10.9% of students in the California State University system said they have experienced homelessness one or more times in the last year, and 41.6% reported food insecurity.
The figures for homelessness are even bigger at Long Beach.
Crutchfield's research showed that 12.5% of Cal State Long Beach students reported experiencing homelessness one or more times in the last 12 months.
"I think this issue should be alarming to everyone," she said. "We have to think about this urgently. We need to act urgently."
Crutchfield's research resulted in the need for a CSU-wide Basic Needs Initiative, which launched in 2018. Most recently, Crutchfield helped write a book, "Addressing Homelessness and Housing Insecurity in Higher Education: Strategies for Educational Leaders," along with authors Jennifer Maguire, a social work professor at Humboldt State University, and Ronald Hallett, a research associate in the Center of Higher Education Policy Analysis at the University of Southern California. The book also includes a forward by CSU Chancellor Timothy White.
"It was written as an easy-to-read manual for institutions of higher learning," she said. "It acts as a guide and a timeline for an institution that wants to start really understanding the issue and addressing it in their own climate."
The book is meant for a national audience, Crutchfield said.
Image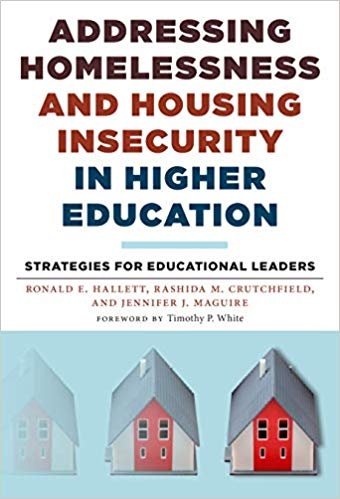 "When I started talking about this issue in 2010, I heard a lot of people say, 'we don't have that,'" she said. "I heard a lot of people say, 'I don't see anyone who looks homeless on campus.' Students are experiencing homelessness on every institution. We need to forget our stereotypes of what homelessness looks like."
An increase in applicants for emergency housing could come from rising rents, more enrollment, limited dorm space and an increased awareness of the program, Basic Needs Program Director Kenneth Kelly said.
"If you take the numbers and do the math on enrollment, we don't have the space or the resources to address (student homelessness) at its true level," Evelyn Klaus, a coordinator for CSULB's Basic Needs Program, said. "We are only really addressing the students who are coming to us."
An unstable semester
One of those students who came to them was Imani. The recent graduate, who asked that her last name not be used, was one semester away from getting her degree when she found herself without a place to stay.
"I needed to be physically, mentally and emotionally stable so that I was able to study and focus on finishing my classes and getting my degree," she said.
At first, she avoided reaching out for help, but knew there was a former professor and supervisor she could trust, someone who had also become a close friend. The professor asked Imani bluntly: "What do you need?"
She pointed Imani to the Basic Needs Program on campus.
"It was so comforting, her showing me that," Imani said. "It was so needed."
She applied to the emergency housing program and was accepted. Basic Needs Program representatives placed her in a dorm room and pointed her to the Feed a Need program..
Imani was able to finish the requirements for her degree, graduate and land a full-time job.
"I never forget the hurt or how hard things were," she said. "I also never forget the generosity of everyone and what they've done for me. I'm so grateful."
Going forward
As the Basic Needs Program expands, Klaus said that she envisions more long-term solutions.
"Just because a student is in crisis but then finds a permanent housing solution, it doesn't mean that everything is solved," she said.
More resources are needed to incorporate long-term plans, but both Klaus and Kelly say they are humbled and inspired by helping students focus on graduating and getting their degree.
"We look at these stories, and we think 'How are you here? How are you still standing? How are you still trying to go to school?'" Klaus said. "These students, they are so resilient."
Help support CSULB's Basic Needs Program so more students can have access to the resources they may need.