New Long Beach fire chief credits experiences at CSULB for his promotion
As a longtime soccer player, Dennis Buchanan loved the camaraderie he found playing team sports. But never having landed "that big contract," he found another profession that provided him the sense of teamwork and commonality he desired. 
Firefighting has seen Buchanan '09 rise from a young firefighter in the Long Beach Fire Department to paramedic, captain, battalion chief, deputy chief and now fire chief. Buchanan was promoted last month, becoming the first Black/Latinx fire chief for Long Beach, a city he said believes in the importance of diversity and inclusion. 
In his new role, the Cal State Long Beach alumnus will oversee about 545 sworn and civilian staff over four divisions with an annual $154 million operating budget. 
"It's an honor to lead the men and women of the Long Beach Fire Department family," said Buchanan, who has served in the city's fire department for 29 years. "The job allows me to make a difference in serving the community and to have an opportunity to increase our engagement within the community."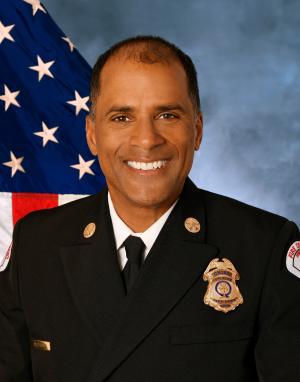 Buchanan said the training and education he received in getting his B.S. degree in vocational education at The Beach helped prepare him for this role, giving him the management skills that he would use later in his career. 
He said he used his education and mentoring he received at CSULB to advance within the department, taking on special projects, eventually landing a position in the fire academy, where he trained incoming firefighters. 
"That helped me to become an effective instructor at the fire academy," Buchanan said. "There, I was able to really look into immersion management, which overseas specialty topics such as high-rise fires, hazardous materials and rescue operations." 
When his soccer career fizzled, Buchanan looked for something that would get his adrenalin pumping as much as scoring a goal did. When a friend of his older brother, a firefighter for the city of Los Angeles, invited him to ride along on a few calls, he jumped at the chance. 
The friend explained how teamwork was important in successfully saving lives and property. The friend also talked about the camaraderie in the challenge and the physical endurance needed to put out fires or respond to emergencies. 
"It was a job that physically challenges you, just like sports," Buchanan said, who enrolled in the fire academy shortly thereafter. 
The job of putting down fires fulfilled both his need for camaraderie and serving others, a task he learned doing missionary work with his mother in Central and South America.  
"I was very fortunate to get employment with the city of Long Beach," Buchan said. "The city has provided for me and my family so much. 
"Throughout my career, I've had outstanding mentorship from the men and women of the Long Beach Fire Department and other community members." 
Buchanan already was a firefighter and paramedic when he decided to earn his degree. He initially enrolled at Mt. San Antonio College, then Long Beach City College before transferring to CSULB at age 30. 
"It was awkward being that old on campus, but it was nice to see the perspective of the youth," he said. "In certain classes, there were some older students and different age groups, different perspectives and different input and views in the classroom, which allowed me to grow." 
Buchanan said listening to students from various backgrounds and age groups helped him learn to deal with the inclusive community of Long Beach. He said the instructors, many of whom were retired fire and police personnel, allowed him to see the job from different viewpoints. 
"In the early part of my career, I was just looking at (the job) more through an operational standpoint, but going to Long Beach State expanded my knowledge, looking at it more as a manager or an administrator. It expanded my views and I'm grateful for that."