Making Waves: Accomplishments of the CSULB Community
Kristin Bonetati honored as outstanding staff member at The Beach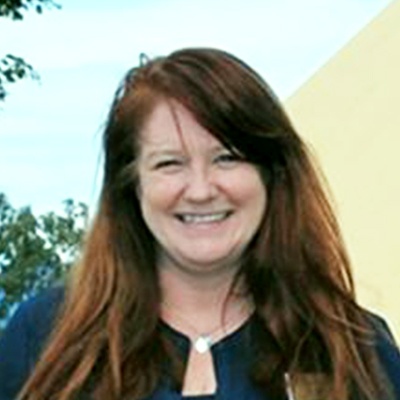 Kristin Bonetati, a staff member at The Beach for 21 years, was named 2021-22 Staff Council Outstanding Staff Award winner. 
Bonetati, University Bookstore associate director, has been described over the years by her many colleagues as a leader, focused, highly organized and someone who embodies the spirit of The Beach. 
She has served the CSULB campus community in a variety of initiatives and committees, such as staff council chair, staff council special events committee chair and Beach 2030 facilitated staff action plan and action team. 
Dr. Madeleine Liseblad receives Fulbright Specialist Award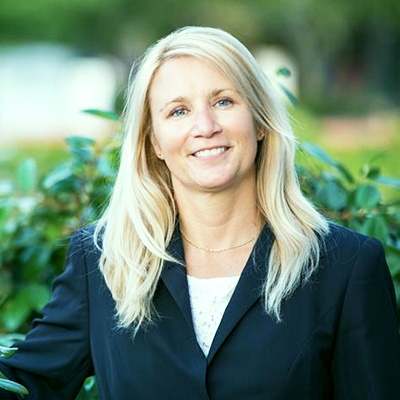 Dr. Madeleine Liseblad, an assistant professor in the Journalism & Public Relations department, received a Fulbright Specialist Award. In May, she will complete a project involving misinformation, independent journalism and media framing across platforms at Babes-Bolyai University of Cluj-Napoca in Romania. 
It is the department's first Fulbright award, according to Chair Jennifer Fleming.  
Dr. Liseblad is one of more than 400 United States citizens who were chosen based on academic and professional achievement, demonstrated leadership in their field, and their potential to foster long-term cooperation between institutions in the U.S. and abroad. 
Professor Angelica Gunderson earns coveted Milken Educator Award
Professor Angelica Gunderson '04, '12 received a $25,000 Milken Educator Award for her work as a science teacher at Los Alisos STEM Magnet Middle School in Norwalk. Gunderson also teaches pre-service and in-service science educators at CSULB. 
Gunderson, the lone recipient from California out of 60 winners, serves as the lead teacher for Los Alisos' Project Lead the Way, a three-year science program that involves coding, robotics and green architecture. Because of its extensive PLTW offerings, Los Alisos was recognized by the California League of Schools as a "School to Watch" in 2020. 
The Milken Family Foundation has been celebrating teachers for 35 years with the Milken Educator Award and its accompanying unrestricted $25,000 cash prize. The award was conceived by Lowell Milken to celebrate, elevate and activate the teaching profession.
Glen Seymour named April Employee of the Month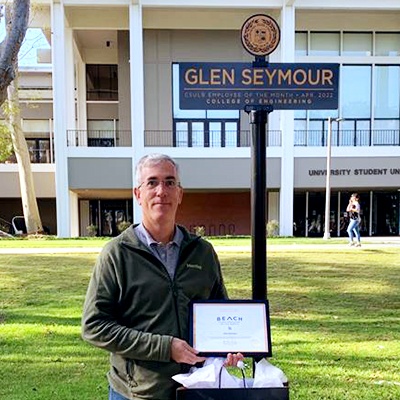 Glen Seymour, facilities and equipment coordinator for the College of Engineering, credits the education he received from the CSU system for his ability to keep the college running. 
"It prepared me well for work as a design engineer for brands such as Thermador and GE Monogram," said Seymor, a graduate of San Diego State. "A little over five years ago, I was hired into the COE as the facilities coordinator and have enjoyed working with faculty to modernize our teaching labs and meet the needs of industry." 
His efforts earned him April Employee of the Month.
Seymour took over the role in 2019, a critical time for the college since several items from the Chancellor's Office 2019 Safety Audit were pending. He successfully revised the chemical hygiene plan and developed a new laser safety plan for COE. In addition, he took extensive training as a laser safety officer so the college faculty could continue their research. 
COE Associate Dean of Research & Graduate Programs Hamid Rahai recognized Seymour's contributions.
"With his work ethic and knowledge, Glen has made significant contributions to space management, safety matters, laboratory instrumentation, classroom allocation, instructional facility design and many other areas," Rahai said. 
Alumna joins Gov. Newsom's staff
Rayshell Chambers '07 has been appointed to the state's Mental Health Services Oversight and Accountability Commission by Gov. Gavin Newsom. 
Chambers has been co-executive director and chief operations officer at Painted Brain since 2016. She was Program Analyst III at Special Service for Groups from 2011 to 2018 and held several positions at the City of Los Angeles Human Services Department and Commission on the Status of Women from 2006 to 2010. 
In 2007, she earned a Master of Public Administration degree in public policy and administration from CSULB. 
Alumna was chosen to attend prestigious Disney teachers' conference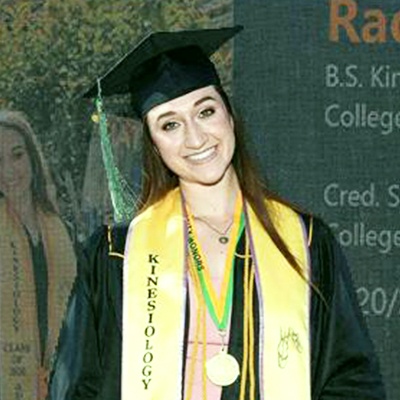 Rachel Posteraro '20 was chosen as one of 50 teachers to attend the Disney Imagination Campus Teachers Celebration, which is a special event and conference being held Memorial Day weekend at Walt Disney World. 
Posteraro, who received her bachelor's degree in kinesiology-physical education with an added authorization in adaptive P.E., creatively uses dance to teach physical education for students with disabilities.
She also received a minor in dance and completed her physical education teaching credential in 2021 and earned that credential in spring 2021. 
"I'm a huge Disney fan and I can't wait for the day to be surrounded by other educators and to learn and to grow at the Disney Imagination Campus 50 Teachers Celebration," she said. 
Professor wins Distinguished Research Award
Dr. Kim Kelly, an associate professor in the Department of Human Development, received the 2022 Distinguished Research Award in Human Development from the American Educational Research Association Division E: Counseling and Human Development.
She also was awarded a book contract with Oxford University Press for a forthcoming edited volume, titled "Narrative Story Complete Methodologies: Research Approaches across the Lifespan" 
Alumnus publishes book about his time in Long Beach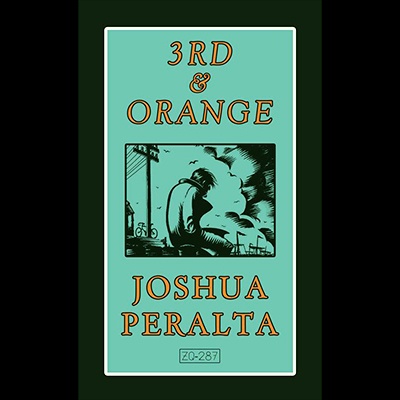 Joshua Peralta '06, '11, a Bay Area-based writer, has published a book that captures the author's nostalgic insights of his time in Long Beach.
First told in poetry, then in prose, "3rd & Orange" (ZQ-287 Press Long Beach) tells of how a young college student searches for independence and his voice as a writer.
Peralta, who earned his B.A. in English and a teaching credential at CSULB, was born and raised in Long Beach and calls his first novel "a crossroads, a place and a time, a dream, a love song, a message in a bottle.