Making Waves is a monthly feature celebrating the Beach community.
John Brockie promoted to UPD police chief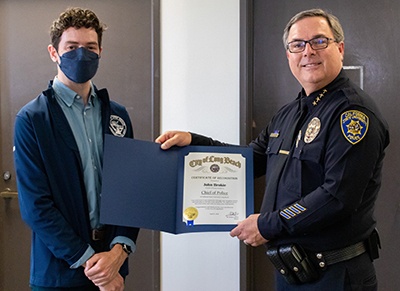 John Brockie has been appointed Chief of Police for the University Police Department, replacing Fernando Solorzano, who retired after 11 years at the helm.
Brockie brings to job a distinguished career in community policing, having served as captain of the UPD under Solorzano after 21 years at Cal State Fullerton as the school's support services captain. He also has 10 years of management experience.
Throughout his career, Brockie has been assigned to patrol as an officer and sergeant, crime prevention, investigations sergeant and administrative and patrol lieutenant.
Brockie earned his B.A. in criminal justice from Columbia College and served in the Coast Guard Reserve with a deployment to the Middle East during operation Enduring Freedom.
Beach earns gold-level status for wellness on campus
The Beach was again awarded gold-level status by Exercise is Medicine for its efforts to create a culture of wellness on campus. CSULB was one of 153 universities and colleges around the world to be honored by EIM, which calls upon universities and colleges to promote physical activity as a vital sign of health.
The program also encourages faculty, staff and students to work together to improve the health and well-being of the campus community. Gold level campuses are viewed as having created a referral system where campus health care providers assess student physical activity and refer students as necessary to a certified fitness professional as part of medical treatment 
It is the seventh consecutive year The Beach has been honored.
Alyssa Torres named March Employee of the Month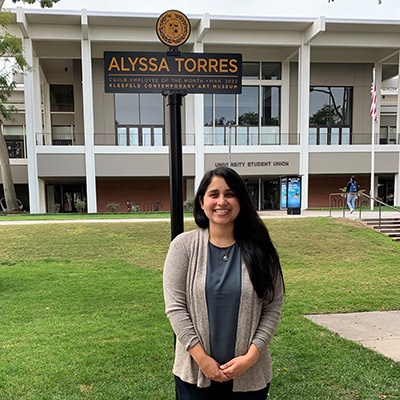 In her role as museum registrar in the Carolyn Campagna Kleefeld Contemporary Art Museum, Alyssa Torres tracks and safeguards every object in the museum. It is a collection that is held in stewardship for all Californians.
Yet, it was her work during the museum's recent large-scale renovation, which was completed in February, that Torres was named Employee of the Month for March.
Museum director Paul Baker Prindle said Torres' work ethic makes everyone's job easier.
"Many professionals never have the chance to be part of a new museum build and reopening," Prindle said. "Alyssa has led her department through this (incredible) growth opportunity with aplomb. Through this all, Alyssa has been the picture of grace and professionalism."
During the renovation, Torres was tasked with, among other duties, moving 89 large paintings from a donor's home, traveling to Northern California to move hundreds of gifted art works and making condition reports of the art works.
DSA anti-racism program receives national honor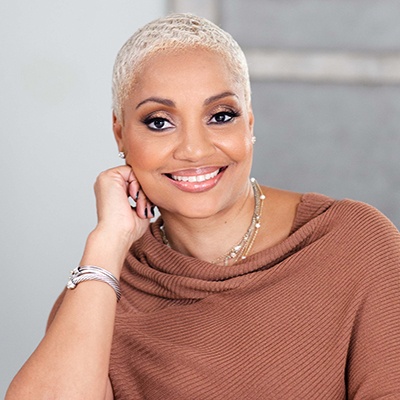 Division of Student Affairs' "Anti-Racism Series" was selected as the recipient of the national NASPA Silver Award. NASPA is the professional association for Student Affairs professionals.
The program, authored by Dr. Shelly-Ann Collins Rawle, a staff psychologist, in Counseling and Psychological Services (CAPS) and Anna Nazarin-Peters, director of Student Life & Development, was recognized at the NASPA Annual Conference in Baltimore in March. CSULB was the only CSU university to receive recognition this year. 
NASPA recognizes the contributions of members who are transforming lives at the higher education level through programs, innovative services and effective administration.
Alumna Myeshia Armstrong named VP at Cal State East Bay
Myeshia Armstrong '93 was named vice president for administration and finance at Cal State East Bay. She joins the CSU campus from East Los Angeles College, where she served as vice president of administrative services.
Armstrong has more than 20 years of experience in public education administration and has managed a portfolio of institutional assets exceeding $1 billion.
She received her B.A. in finance through the College of Business and a master's degree in business administration from DePaul University.
Alumna interviewed for new film
Rhiannon Aarons '17, a lecturer in the School of Art, was interviewed for a documentary called, "Brainwashed: Sex-Camera-Power" discussing feminist film theory, gender bias in cinema, and how it operates in films such as "The Hurt Locker." The documentary, directed by Nina Menkes, premiered at Sundance and Berlinale film festivals. 
Aarons' 2017 MFA thesis, entitled "Rabbit Hole: Remains of an Illegal Operation," was included in a book, "RatedRX – Sheree Rose with and after Bob Flanagan." 
Dr. Emily Berquist Soule named 'Woman of Distinction'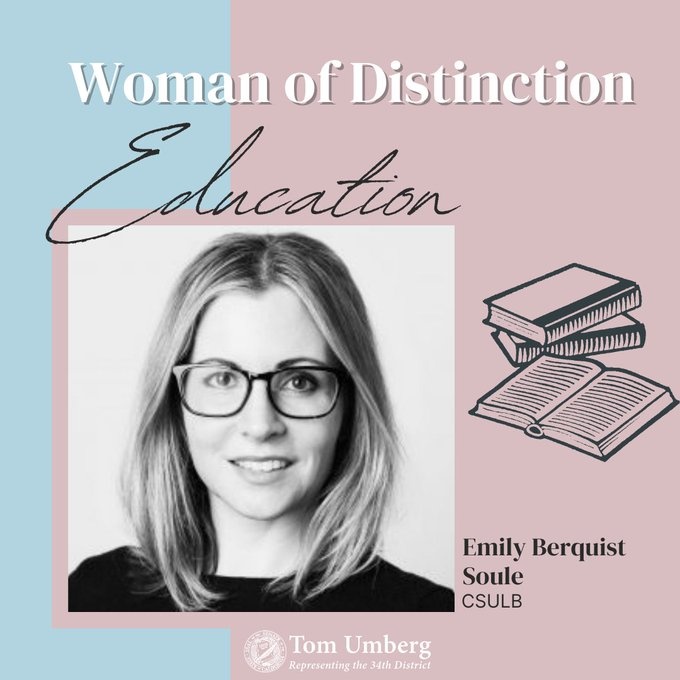 Dr. Emily Berquist Soule, a professor of history at The Beach, was recognized as a "Woman of Distinction" in education by Sen. Tom Umberg's office. She specializes in the Spanish Atlantic world, the early modern Spanish empire, and colonial Latin America.
Berquist Soule also co-founded Parents and Caregivers United to support people who have been working from home during the pandemic. 
Have an item for Making Waves? Send your ideas to janis.carr@csulb.edu