Student public relations team wins first place in nationwide competition  
CSULB's student public relations team won the 2021 Bateman Case Study Competition held by the Public Relations Student Society of America (PRSSA). The team, composed of (from top left) Shani Crooks, Samantha Troisi, Alyssa Canales, Giselle Ormeno and David Rowe, beat more than 50 college teams from across the nation.  
The CSULB team is advised by Krista Coriaty, a lecturer in the Department of Journalism and Public Relations. This is the second Bateman team victory for JPR in three years. 
In this year's competition, students had to research, plan, implement and evaluate a public relations campaign that focused on "reversing the corrosion of civility in American life and fostering more constructive and inclusive public discourse in all corners of society," the Public Relations Society of America press release said.
Professors receive grant to serve student parents on campus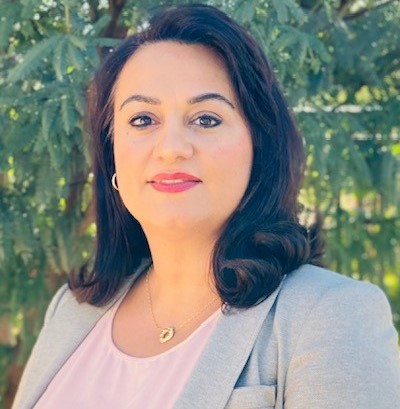 Assistant Professor Nancy Dayne (left) and Associate Professor Roudi Roy of the Family and Consumer Sciences Department received a grant from the California Association of Family and Consumer Sciences to start a family resource cart to serve student parents on campus.
The professors conducted a study in 2017 to find out how CSULB could better support pregnant and parenting students. The data showed students wanted more family-friendly spaces, parenting classes, family-friendly events, support groups, and outreach that included referral services.
Within the two years allotted for the grant, they will acquire supplies for the family resource cart and begin holding weekly coffee hours for student parents and their children. During the coffee hours, children can spend time with Child Development and Family Studies interns while parents participate in workshops, connect with other student parents, and learn about campus resources.
Engineering students receive Department of Defense scholarships
Three CSULB engineering students were recently awarded Department of Defense SMART scholarships for graduate studies. Aerospace engineering alumnus David Ramirez '20 and fourth-year student Kyle Horiuchi received the scholarships for their work in Assistant Professor Joseph Kalman's Solid Propulsion and Combustion Laboratory. Aramis Kelkelyan, a third-year mechanical engineering student, is on the Long Beach Rocketry team and works in Assistant Professor Navdeep Singh Dhillon's STEAM-I Lab.
The SMART scholarship provides full tuition and education-related expenses, summer internships with mentors, and employment at a Department of Defense facility after graduation. Recipients of the scholarship, which has an 18 percent acceptance rate, are described as "among the most talented and innovative minds in STEM." 
Professor appointed to American Psychological Association panel
Dr. Bita Ghafoori, a College of Education professor and director of the Long Beach Trauma Recovery Center, was recently appointed to the American Psychological Association's Guideline Update Panel for the Treatment of Posttraumatic Stress Disorder in Adults. 
Ghafoori will review and update guidelines that impact clinical practice as a member of the panel.
Shirley Quan named April's Employee of the Month
Shirley Quan, Technology Help Desk Supervisor, was named Employee of the Month for April. 
Quan provides IT support to faculty, staff, students, prospective students, and emeriti. In response to the COVID-19 pandemic, Shirley and her team have assisted customers with supporting services such as Multi-Factor Authentication, Zoom, Global Protect VPN, and remote desktop. She is known for her dedication, hard work and customer advocacy.
Michael Sullivan named May's Employee of the Month
Michael Sullivan, the Digital Media Producer in Strategic Communications, was named Employee of the Month for May.
Sullivan is the university's sole videographer and always impresses his colleagues by going the extra mile. He also led his team through several Microsoft Teams trainings and ensured the team's workflow was efficient and organized.
"Michael is a unique employee, we are proud and lucky to have him in our team, he is one of those employees who make the Beach a truly special workplace," said Jorge Hurtado, Director of Design & Digital Development. "His work, his initiative, his knowledge on a wide range of subjects, his flexibility and his warm, positive attitude help our team thrive." 
CSULB helps launch student media newswire for CSU
Austin Brumblay '20 and Madalyn Amato, a fourth-year journalism student, were among a group of students who helped launch a CSU-wide newswire service. The newswire is a shared forum on Slack where students from any Cal State school can share stories, photos and events for students at other schools to use as content for their university's publication.
Design & Construction Services student interns help design campus projects
Four student interns at CSULB's Design & Construction Services made their mark on campus by creating designs for various projects including wall designs, tent graphics, signage, furniture and finishes. 
Congratulations to Mizuho Gonzales '20, and fourth-year students Tiara Coughlan, Leyloni Gonzalez and Amber Bibilonia, for their excellent work. 
Have an item for Making Waves? Email it to emily.holland@csulb.edu.