Lt. Gov. Eleni Kounalakis takes in sights, issues during visit
California Lt. Gov. Eleni Kounalakis visited Long Beach State on Wednesday to meet with students, faculty, and staff for an afternoon tour, as well to discuss the campus' existing and future needs.
Kounalakis, who by virtue of her office is a member of the California State University Board of Trustees, is on a series of fact-finding visits to all of the Golden State's public universities. Her visit to Long Beach State on Wednesday afternoon occasioned conversations on several topics of interest to the campus community, such as student housing and food needs, helping students achieve the transition from lecture hall to workplace, and mental health.
"Food insecurity and housing insecurity are clearly an escalating problem at all of the campuses," Kounalakis said. "The need for investing in the deferred maintenance of buildings has been very apparent."
Kounalakis said she has also observed student pride over the course of her campus-to-campus travels, and students are also keen on protecting their senses of wellbeing.
"We have a lot of very bright and enthusiastic students, and that always comes through," she said. "At the same time, the issue of mental health is always raised by students."
Kounalakis began her visit at Earl Burns Miller Japanese Garden where she met President Jane Close Conoley and other campus leaders.
Image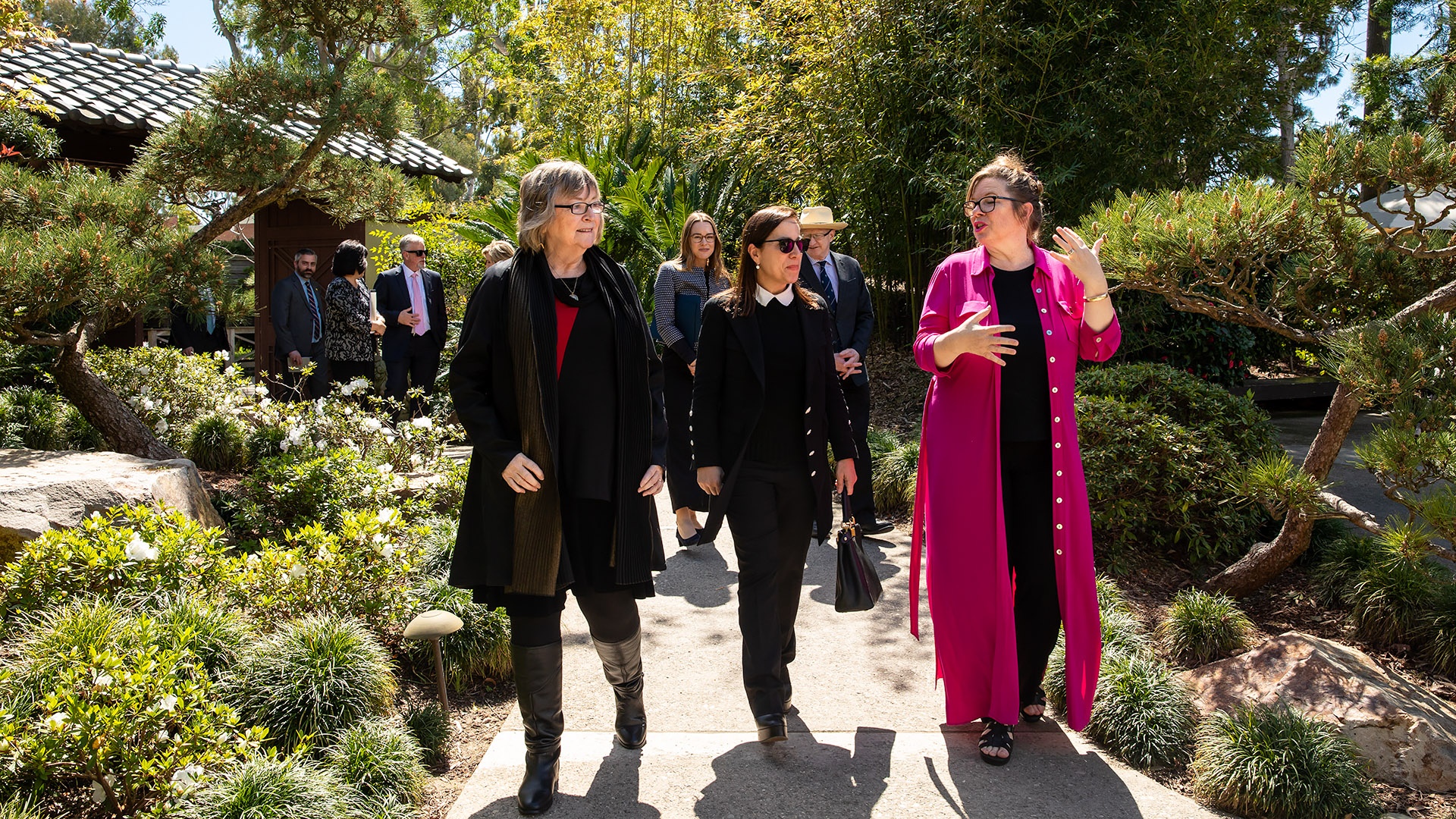 "We thank Lt. Gov. Kounalakis for visiting our campus and reaffirming her support for public higher education in California. I look forward to working with her, the Legislature and the Board of Trustees to ensure we obtain the resources necessary to provide students with safe and energy efficient housing and classrooms, as well as an excellent education."
In the garden, Kounalakis walked through the greenery, stopping to feed a few of the garden's koi fish and view the blossoms of its newly-blooming crabapple tree before continuing with her tour.
The lieutenant governor took time to visit several locations on campus: Los Cerritos Hall; the Isabel Patterson Child Development Center, which serves students who are also parents of small children; and the newly-rebuilt Student Success Center.
Along the way to the Student Success Center, she stopped to view the campus' 4.75.megawatt solar panel installation, which is helping the campus approach its goal of achieving climate neutrality by 2030.
"At this point it provides a third of the campus' energy," Michael Gardner, manager of campus planning and sustainability, told Kounalakis.
And at the Student Success Center, Kounalakis greeted a group of students who had gathered for a tutoring session and also saw new lab spaces for students studying the health sciences.
She also met Beth Manke, associate dean of the College of the Liberal Arts, to discuss how labs and internships help students learn soft skills and acquire hands-on experience, often key points on the checklist to preparing to enter a career.
"We think of internships as high-impact practices," Manke said after her visit with the lieutenant governor.
Kounalakis' final stops on her Long Beach State tour occurred at University Student Union, where she addressed a meeting an Associated Students, Inc. Senate meeting before visiting Beach Pantry, which has helped students put food on their tables since 2016.
During her remarks to student senators, Kounalakis expressed her support for possible ballot measure that would ask California voters to approve bonds for capital improvements at California State University and University of California campuses.
"One of the pieces of this that I am very interested in is, how do we allocate or encourage the use of these funds for some housing," she said during the student government meeting.
Kounalakis also praised student senators for their work to solve students' problems.
"You have all recognized the importance of civic engagement, and finding your own voice," she said.