Anna W. Ngai Alumni Center will bring community, campus together
Published October 1, 2019
Anna W. Ngai was told six years ago that building an alumni center at Cal State Long Beach would take time, perhaps as long as a decade.
The retired restaurant entrepreneur and Cal State Long Beach alumna had valued her college experience and wanted to give back by supporting a planned alumni center with a lead naming gift. Ngai, who had earned her B.A. degree in finance in 1974 as an international student from Hong Kong, pledged the founding money in 2013.
"So, I was patient and waiting," Ngai said. "Sometimes I wondered if this was going to happen in my lifetime."
Ngai and the rest of the 330,000 alumni will not have to wait much longer for the long-anticipated Anna W. Ngai Alumni and Visitor Center. Led by President Jane Close Conoley, construction of the center officially kicked off Saturday in a groundbreaking ceremony at the site of the Soroptimist House.
The Soroptimist House, which was red-tagged after the July earthquakes, is scheduled for demolition in June 2020, and construction on the planned 6,300-square-foot $8.5 million alumni center is set to begin October 2020. It will open December 2021.
Image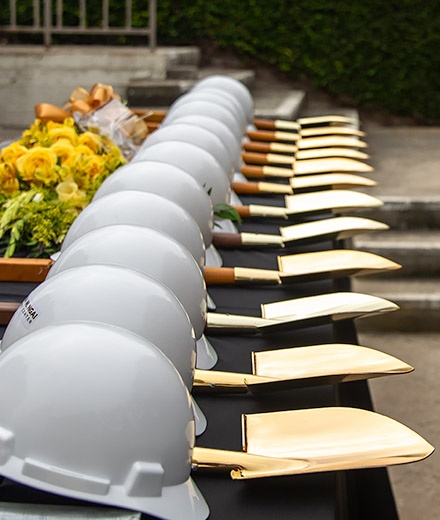 "The Anna W. Ngai Alumni and Visitor's Center will help us distinguish our campus, and its presence will signify to the world that Cal State Long Beach is a mature, forward-looking institution that enjoys the support and endorsement of the whole Beach family," Conoley told a gathering of approximately 150 alumni, staff and guests, who attended the ceremony.
Conoley said the center will "touch the lives of all those who study, teach and work at the Beach," adding that it also will serve as a bridge between the campus and community and facilitate connections between alumni and current students.
Ngai thanked the many donors who were in attendance and those who couldn't make it. Among those missing was John C. Molina, former CEO of Molina Healthcare, whose $3 million donation capped the fundraising efforts to get the center built.
"After six years, we are ready to start the construction," Ngai said. "It is way ahead of the projection, and this would not be successful without the financial support of all you."
During her 30-year career, Ngai created more than 2,000 jobs in California and Oregon as co-founder, vice president and treasurer of several companies that operate restaurant franchises. She credits her time at Cal State Long Beach for her success.
"I know that there is one thing that we all share and that is we love this school, and we all want to do something for her, so here we are," Ngai said.
The ceremony was part of the Founder's Day, marking the campus' 70th anniversary. The Golden Graduates were honored the previous day.