Beach 2030 Project Spotlight: The Future U
Imagine: By the end of the decade, a modern, student-centric hub anchors the Cal State Long Beach campus.  
It's a student union fit with an array of dining options that guarantee no one has to leave campus for lunch. Social and study spaces promote peer connection, community and learning. A mobility-minded layout ensures easy access for all students throughout. 
It's a space configured with the needs of today's students in mind — because their ideas helped design it.  
The Future U project, a year-long campaign to gather student feedback for a possible renovation and expansion of CSULB's existing University Student Union, aims to capture how this shared, central space could be transformed to best support future learners at The Beach. 
Helmed by the Associated Students, Inc., the Future U alternative consultation campaign culminated on April 28, 2023, when the Student Fee Advisor Committee unanimously adopted the proposal. The campaign garnered thousands of responses through surveys, tabling events and an ongoing concept exhibit housed inside the University Dining Plaza, highlighting the most pressing issues students hope an updated campus hub might address.  
The project to expand and renovate the USU will break ground around the summer of 2025, with anticipated completion by fall 2028. This comes after decades of delayed major infrastructure improvements on the facility that has served students since 1972.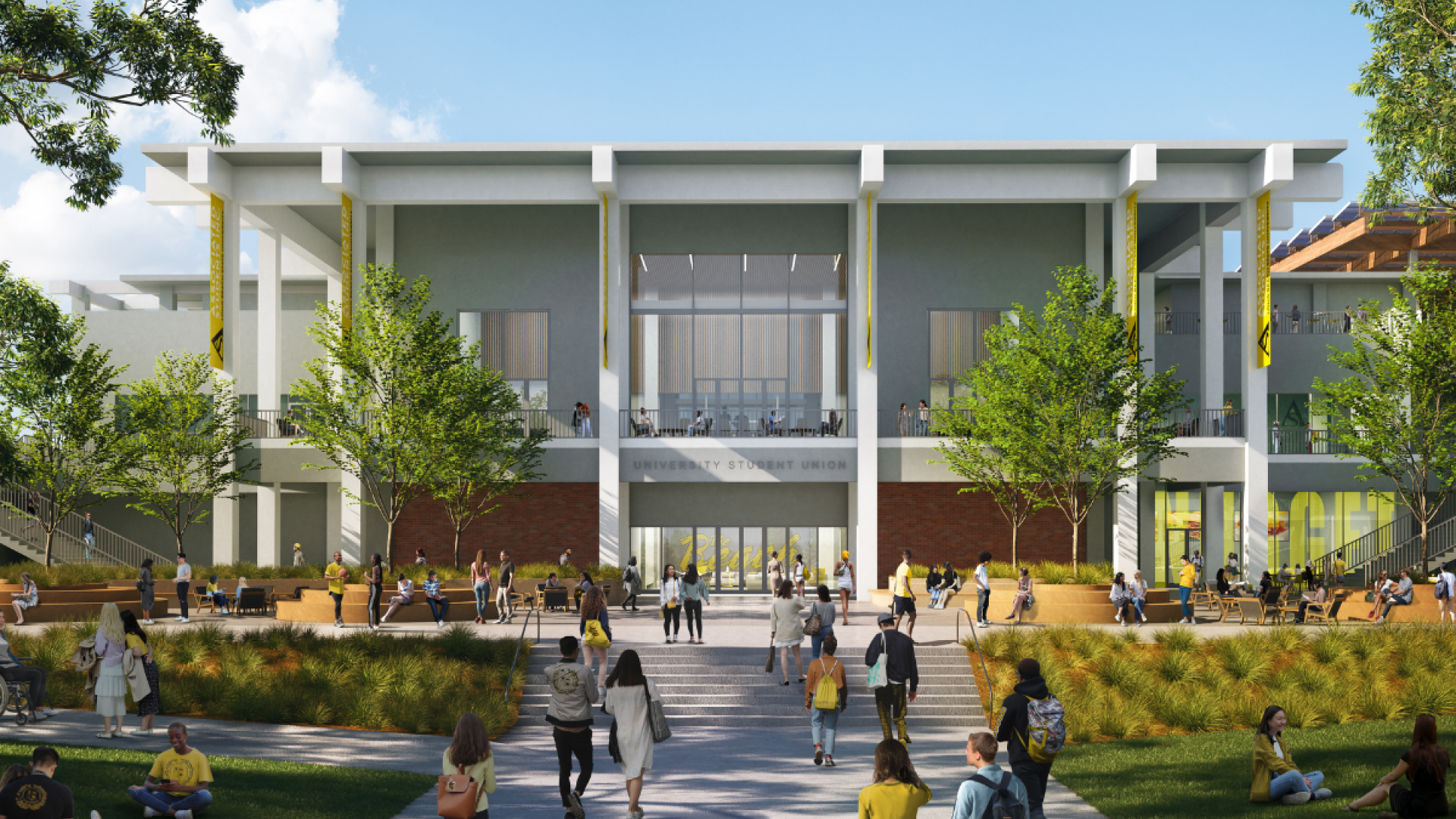 In 2018, as campus leaders set out to develop a strategic plan that would prepare the university for a decade of change, conversations around the value of community and belonging proved prescient in light of rapid societal changes just on the horizon. Sudden isolation and the shift to virtual learning prompted questions around the future of physical and shared spaces in higher education, and how our campus must evolve to meet the needs and expectations of tomorrow's students. 
The Future U campaign represents a major step in gleaning those answers. In the process, ASI's efforts to garner broad participation from students and stakeholders serve as a model of ways the university works to build community — a core tenet of the Beach 2030 strategic plan vision — by ensuring everyone's voice is valued. 
The project pushes CSULB closer toward its goals to foster a community of belonging, prioritize student health and well-being, and connect learning to the future of work — objectives key to the university's mission to be student-ready.  
In its five decades, the USU has undergone a handful of renovations — the most recent major work completed in 1998 — yet the general condition of the center has languished over time, said Shannon Couey, communications coordinator for ASI. Serving the second highest population of students in the CSU, the space has reached its capacity to support CSULB's campus. 
As feedback is collected, familiar themes have underpinned many comments canvassed so far, Couey said. Among them: A desire for more food options, spaces to work and connect with friends, accessibility upgrades to move around without difficulty and technology improvements to ensure broad connectivity within the facility.  
Initial renderings of a possible USU renovation feature a modern, open concept with more spaces for lounging, working or socializing. The design explores a 50,000 square-foot expansion with ideas for more food options and seating, wellness spaces, and a student resources wing, among other improvements.  
Although the formal consultation campaign has ended, student input is still being collected. A comment form on the Future U website remains open for feedback.