Cars begin lining up early, the drivers eager to receive a bag of nonperishable foods and fresh produce. Sometimes there are extras, such as pizza, that are placed in their cars. 
These Cal State Long Beach students are among those in need who depend on the ASI Beach Pantry for food throughout the school year. Others find themselves struggling now because they lost their jobs during the COVID-19 pandemic and join in the line of cars at the weekly ASI food giveaways. 
Nearly 225 bags of food, stuffed with items such as tuna, pasta, rice and snacks are handed out each Friday in the parking lot near the USU. Graduate student Iraida Venegas and ASI staff member Christina Limon coordinate the effort, working 30 hours a week to make sure each donations are secured and received, and that every bag contains 15 nonperishable items and enough produce to make a week's worth of nutritious meals. 
"There is no question that without their work, the pantry would not be available each week," said James Ahumada, senior communications manager for ASI. "We owe them much gratitude, and often see how grateful students are through their social media."
For two days in the lower level of the USU, Venegas and Limon select from hundreds of boxes of donated food items and stuff them into the plastic bags. Donations have come from community sources such as Grocery Outlet, Food Finders, Temple Church, LB Organics community gardens and the 49er Shops. 
Other donations have come from StarKist, United Airlines as well as private donations from community members who have dropped off various sundries and checks.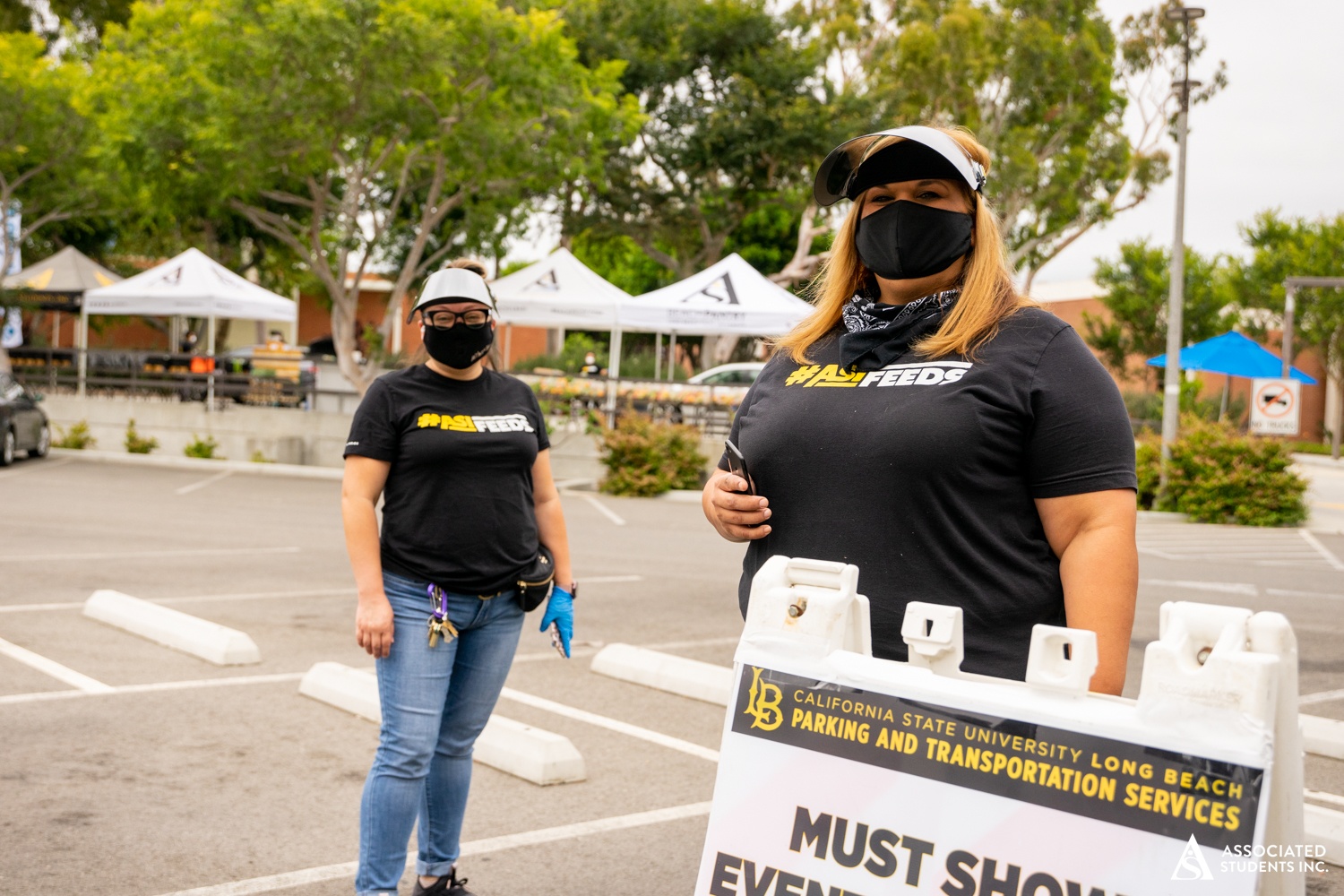 Once the food has been sorted and bagged, Limon, Venegas and a few staff members line up plastic bags on tables in the parking lot near the USU, ready for Friday's drive through. 
"I was brought up to always serve others, so, this is important," Venegas said. "Out of those 200 students that we serve, we will get that one email that says, 'You don't know what this did for my survival.' That's why I do this."
In addition to filling bags, Venegas handles the emailed requests for assistance. She said sometimes the students are brief in their asking; others tell stories. 
"One student said she's been relying on her neighbor's garden for food," she said. "Some say they are in dire need or 'I'm homeless and I rely on the Pantry.' " 
Limon said many students have visited other food giveaways and tell them that ASI's operation is seamless. Cars line up, students, wearing face masks, then tell them their names and bags and other items are placed in their trunk.  
"I had one student tell me that they had just gone to a food drive-through in Carson or Compton and said that ours was well-organized and it wasn't a four-hour wait like the last one I went to," Limon said. "They told us that we have created a process that's seamless – it's in, it's out. No contact." 
Limon said when COVID-19 prohibited in-person visits to the Pantry, they had to come up with another way to reach students. Venegas said that on a slow day during a regular school semester, they served 175 students a day; on a busy day, the number can soar to 225. 
They knew they had to keep going, so they devised an online registration for food and the no-contact giveaway. 
"Christina and Iraida do this work on top of all the other areas they manage," Ahumada said. "Between the two of them, they are responsible for grant-writing, commercial serve, vendor contracts and other essential programs that ASI continues to run." 
Limon said knowing that students routinely visit the Pantry three times a week during regular semesters keeps her going. 
That really impacts me when I'm packing food items," she said. "We try to have 15 items to put into the bag, along with fresh produce, because when the pantry was open throughout the week you could visit the pantry three times and grab five food items. I, at least now, know they are getting their protein, they are getting their carbs. Something nutritious.
Two hours after the first car rolls through, Limon, Venegas and the crew begin cleaning up and breaking down boxes. 
"At 1 o'clock, we are done," Limon said. "Then we come in the next day and start getting ready for the next one." 
To donate to the ASI Beach Pantry click here.