The Process
Image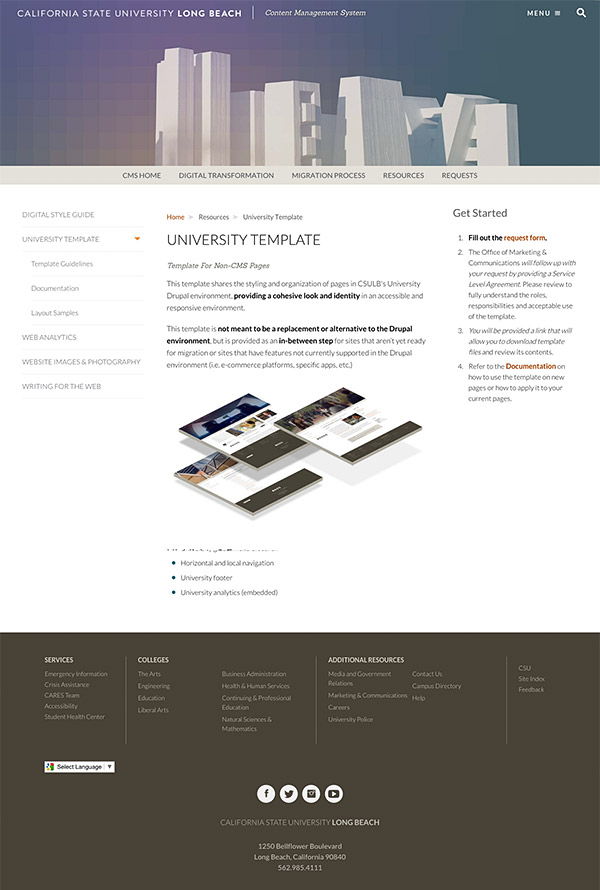 Our team has spent several months fine-tuning all of the new features. With the size of our current site (approximately 30,000 pages) getting all areas of the university on board will require additional resources, time and multiple phases.  
We will continue to analyze site analytics, investigate user experience issues, ensure web pages meet accessibility standards and re-write content to deliver clear, concise and engaging content to our audiences in an effective manner.
Content is critical to migrate into our new web environment. Departments and colleges will need to de-clutter, re-organize and re-write their pages. When it is your department or organization's turn to migrate, your area's web specialists will meet with someone from our team who will guide them through the transition process, and set up training sessions.
First Phase Launched
What have we launched in our first Phase? Here is an overview:
Newly Designed Homepage
Content Management System – Drupal
Responsive (mobile) Design
ATI Compliant
Site Hosted on a Cloud
Digital Style Guide
Multiple Language Feature
Shark Lab Homepage
University Art Museum Homepage
49er Bookstore Homepage
New Apply, Explore, Give pages
Steps for a Successful Migration
Our team will identify the next phase of colleges, departments and organizations that will be involved in Phase Two of the website migration. Once identified, teams will be responsible for following these steps for a successful website migration.
Online questionnaire to start process (set up priorities, describe their process - define their roles/team, list samples)
Initial Meeting
Service Level Agreement (SLA)
Client deliverables: Sitemap, audiences, analytics data, etc.
Marketing & Communications Porvides Documents, Edit details, etc.
Meeting to Review General Scope of Project
Establish Client/OMC Timelines
MEETING: Content
MEETING: Imagery
Proposed Site Structure From Client
Finalize Site Structure
Training
Create Unit/Group in Drupal
Client Uploads Content and Imagery
MILESTONE: Client Checkin/Review
Client Finalizes Content
OMC Finalizes Imagery
Site Changes Based on OMC/Client Feedback
ATI Review
MILESTONE: On Site Review
Approval from Dean or VP or ....
Website Launch
MONITOR Website to ensure client adheres to agreed standards