Introducing The Content Management System
Digital Evolution — CSULB Launches New Website
Image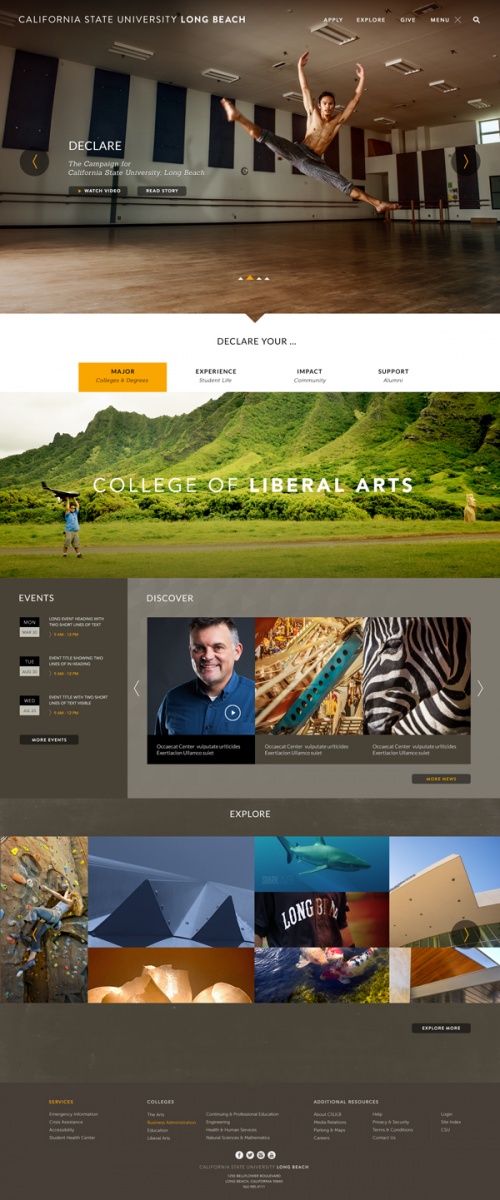 Over the past year, we've been busy creating a new website and transforming our digital strategy. Thanks to the support of various constituencies across the university, we are proud to deliver a digital experience that is creative, intuitive and elevates our mission and vision to students, faculty, staff, alumni and the world.
The university's homepage had not been redesigned since 2007, so in 2013 a web task force was created with various university representatives. The task force delivered a report with recommendations that have directed our planning and building of the website.
This launch includes a complete redesign of the homepage, a new content management system, responsive (mobile) design, accessibility compliance, a digital style guide, multiple language feature, and new homepages for the Shark Lab, University Art Museum and the 49er Bookstore.
Transforming the entire website is a massive project that will take time and be done in multiple phases. It will require patience, resources and teamwork.
Our vision and goals for the new digital environment focus on several key areas:
DESIGN
The university's homepage is a destination. For many visitors, our website will be their first experience with us. Wherever you are in the site, every section feels like a new destination, important, engaging and serves as a resource.
Responsive
Image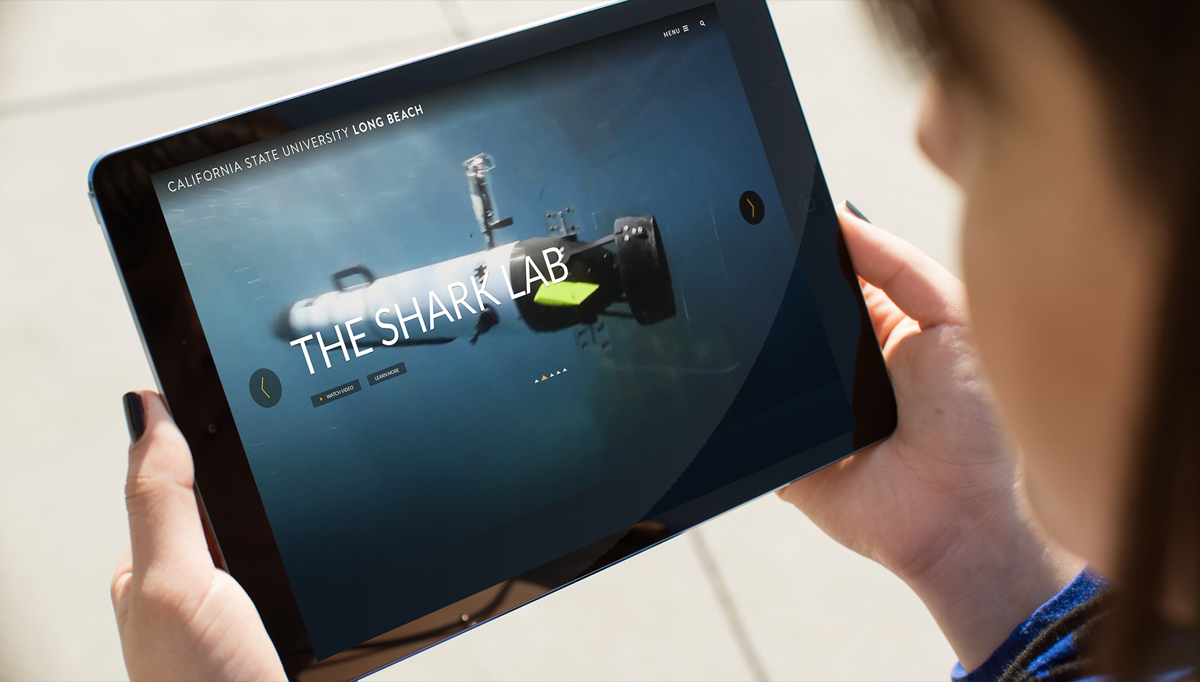 Internet usage on mobile devices has exceeded web access via personal computers. Therefore, it is critical that our website offers an optimized mobile experience. Our new website will feature responsive design, meaning it will automatically scale to fit your device, whether it be a desktop, tablet or smart phone.
Digital Style Guide
A new digital style guide will help guide content contributors as they develop their pages so we can maintain a collective consistency throughout the website. The style guide will include proper use of fonts and colors.
NAVIGATION
Explore the new features of the redesign with this step-by-step walk through that welcomes you to our digital transformation. 
Menu
Image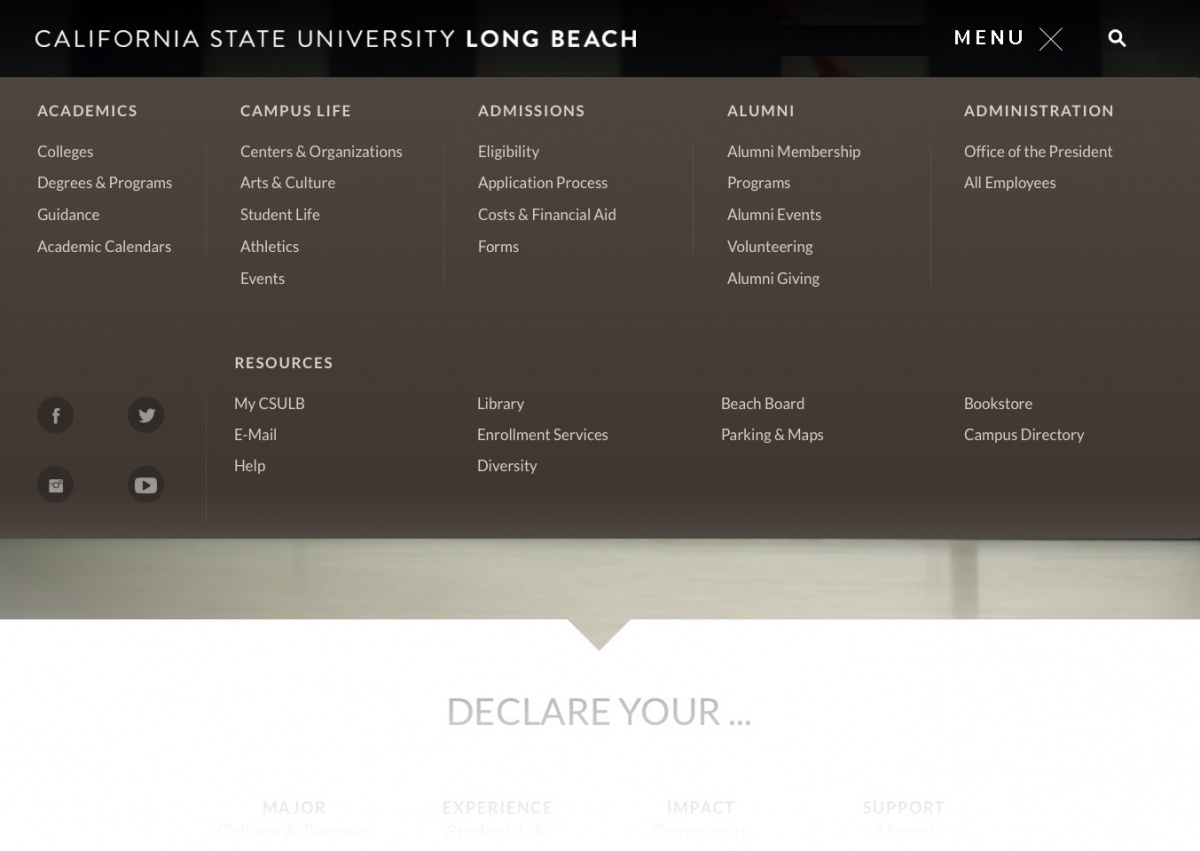 Using Google Web Analytics data, recommendations from the web task force, faculty, staff, students and alumni, we thoughtfully uncluttered the clutter in the new menu section.
Resources
The Resources section is dedicated to meeting the needs of current students, staff and faculty. Here, you'll find quick access to MyCSULB, BeachBoard,  E-Mail, Library, Bookstore, Enrollment Services, Parking and Maps, Campus Directory, and Diversity.
Declare your…
Image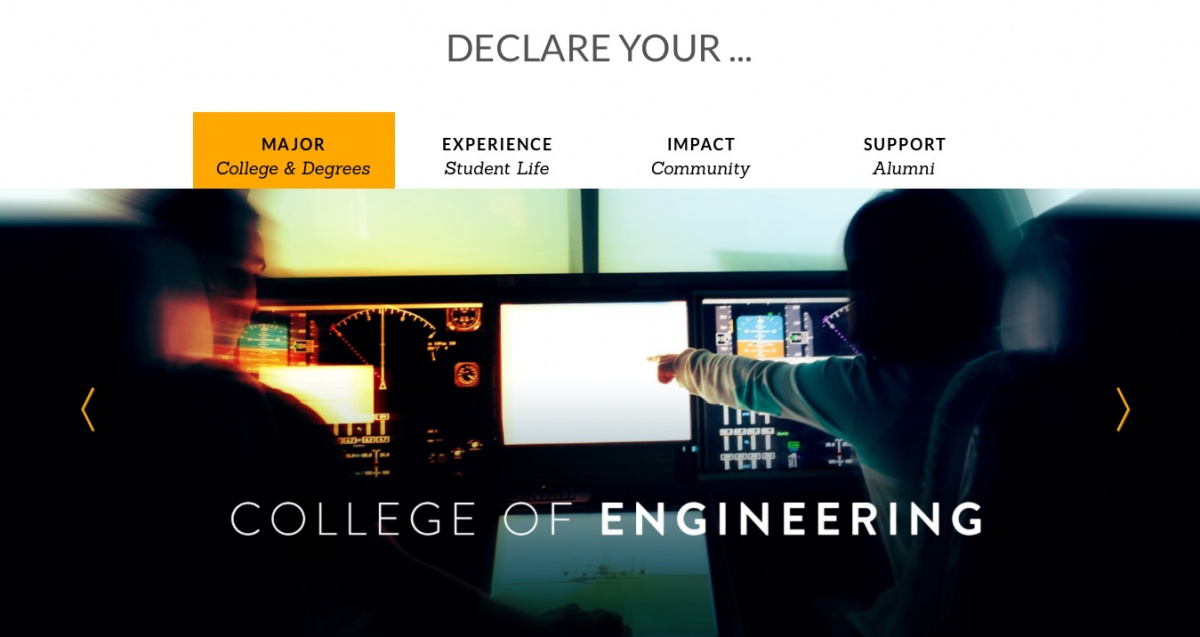 This area encourages visitors to declare their major (colleges and degrees), experience (student life), impact (community) and support (alumni). This section is intuitive in navigation, imagery and content.
Discover
News at The Beach is about discovery. This section gives us an opportunity to feature research by our faculty. News has been re-imagined to tell our stories through rich and vibrant imagery.
Image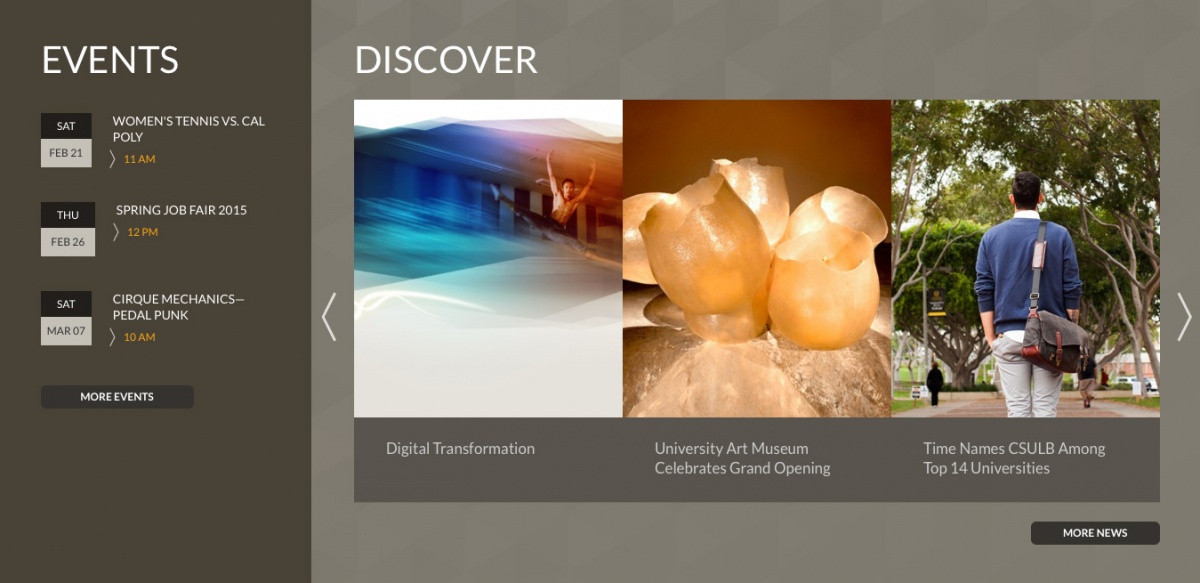 Explore
We are excited to include an area on our site that promotes the many unique destinations on campus. The Explore section invites the world to visit our university. You don't have to be a current or prospective student to visit. Whether it is The University Art Museum, The Earl Burns Miller Japanese Garden or The Walter Pyramid, we are a major destination with a lot to offer.
Image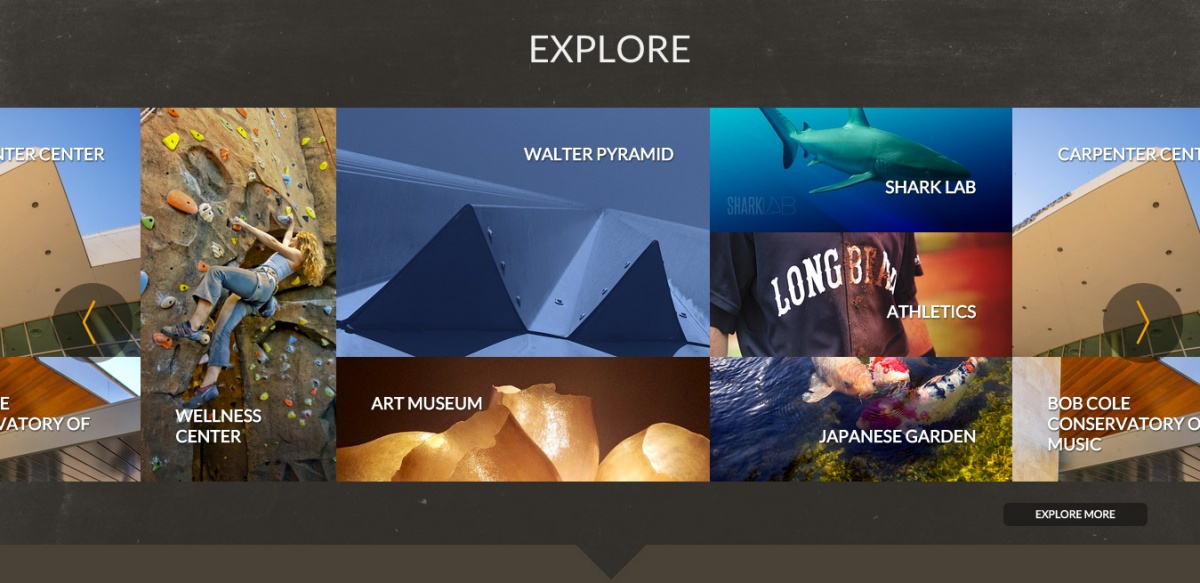 FOOTER
An often-overlooked section, we created this space to offer important resources for all visitors. Here you'll find a multiple language feature, crisis assistance for students, careers, the site index and direct links to all of our colleges.
Image

Site Index
Many users rely on the site index. It is now located at the bottom right of our homepage.
Login
Once we begin to migrate departments and pages to the new platform, content creators will be able to login to update and edit their own web pages. Training will be provided.
Multiple Languages
We pride ourselves on being one of the most diverse universities in the nation. Our website will reflect that, and offer 91 different languages. The multiple language feature is located at the bottom left of the footer.
TECHNOLOGY
Content Management System
Currently, there are multiple content management systems (CMS) used by various departments across the university. It is our vision to put the content writers/editors first, by selecting a tool that is simple to use. This is critical to the overall success of our site.
We selected Drupal, an open source content management system. This allows users like us to grow with the technology as our needs change. Drupal is the leading CMS in higher education, used by every Ivy League school, six CSU campuses, as well as by Tesla Motors and the NFL. Training on how to use the system will be provided to content writers/editors.
Cloud
Our website will be hosted on a cloud server with Acquia. Our partnership with them provides us with a high-level of expertise 24 hours a day, 7 days a week with a large number of resources. Acquia will provide an optimal, scalable and highly secure website. More than 300 universities globally host their websites with Acquia, as well as companies such as Tesla Motors and the NFL. Currently, five CSU campuses host their websites with Acquia.
Accessible Technology Initiative (ATI)
ATI compliance is at the forefront of our execution. Our redesigned pages will be filtered and scanned to ensure our website is accessible for those who are impaired.
PHASE ONE
What are we launching in our first Phase? Here is an overview:
Newly Designed Homepage
Content Management System – Drupal
Responsive (mobile) Design
ATI Compliant
Site Hosted on a Cloud
Digital Style Guide
Multiple Language Feature
Shark Lab Homepage
University Art Museum Homepage
49er Bookstore Homepage
New Apply, Explore, Give pages

 
WHAT'S NEXT?
After the launch of Phase One, our team will spend the next several months fine-tuning all of the new features. With the size of our current site, approximately 30,000 pages, getting all areas of the university on board will require additional resources, time and multiple phases.  We will continue to analyze site analytics, investigate user experience issues, ensure web pages meet accessibility standards and re-write content to deliver clear, concise and engaging content to our audiences in an effective manner.
Content is critical to migrate into our new web environment. Departments and colleges will need to de-clutter, re-organize and re-write their pages. Your area's web specialists will meet with someone from our team who will guide them through the transition process, and set up training sessions.
Need Help?
If you are having problems, you can contact the  Help Desk   (562.985.4959), send Email to  Marketing & Communications  or  you can help us fix this issue by providing  more detailed  information on  what went wrong. Be sure to provide details like the URL, browser and operating system  you were using when the error occurred.