Ceremony Information
College Ceremony Dates
College of Engineering - TBD
College of Education - TBD
College of Liberal Arts - TBD
College of the Arts - TBD
College of Natural Sciences & Mathematics - TBD
College of Business - TBD
College of Health & Human Services - TBD
Before the Ceremony
Handicap parking is available at the stadium. The stadium provides wheelchairs for transport only; guests must bring their own for seating. 
The facility is ADA accessible and upon request, will provide reasonable disability-related accommodations. Guests may request accommodations at the gates once they arrive if they have not previously requested through the Bob Murphy Access Center when it is available in April.
Image

Please contact the Bob Murphy Access Center at 562.985.5401 if you would like more information on services. 
Located at 2000 Gene Autry Way, Anaheim, CA 92806, Angel Stadium of Anaheim provides a unique and exciting experience which ensures an in-person commencement to celebrate our graduates' accomplishments. The campus utilizes the entire stadium environment to provide custom, personalized experiences for our graduate and their families.  We are excited to welcome the Class of 2023 to the CSULB Alumni family!
Angel Stadium of Anaheim provides a venue with flexibility to accommodate graduates along with their guests. The stadium maintains an exciting graduate experience while accommodating graduate and guest capacity growth.
There is no charge to park at the stadium and parking passes are not required. All parking lot gates will be open. For more information on directions or rideshare options please visit the Stadium website.
Tailgating is not permitted.
No outside food is allowed inside the stadium.
No alcohol is permitted anywhere on the premises, including the parking lot and inside the stadium.
Each guest will be allowed to bring in one factory sealed plastic water bottle up to 16.9 ounces or one empty water container.
No confetti, air horns, balloons.
All banners and signs brought into the stadium must meet the following guidelines: Must be in good taste (as determined by Angels Baseball personnel); Cannot be commercial, political nor obscene in nature; Not allowed anywhere within the playing field; may not be affixed to any ballpark wall, staff, or pole; Cannot cover up any advertising in the ballpark; Limited in size to 3 feet tall by 12 feet wide and be made of a fire retardant material.
Strollers are not permitted inside the stadium.
One clear bag will be allowed per guest. All large bags, backpacks, and other carriers are prohibited with the following exceptions:
Purses or bags that are 4.5" x 6.5" with a single zipper closure/flap (size of an adult hand) or smaller
Clear bags no larger than 12.75" x 6.5" x 12.75"
Medically necessary items, including diaper bags
Other bags must be returned to vehicles.
Image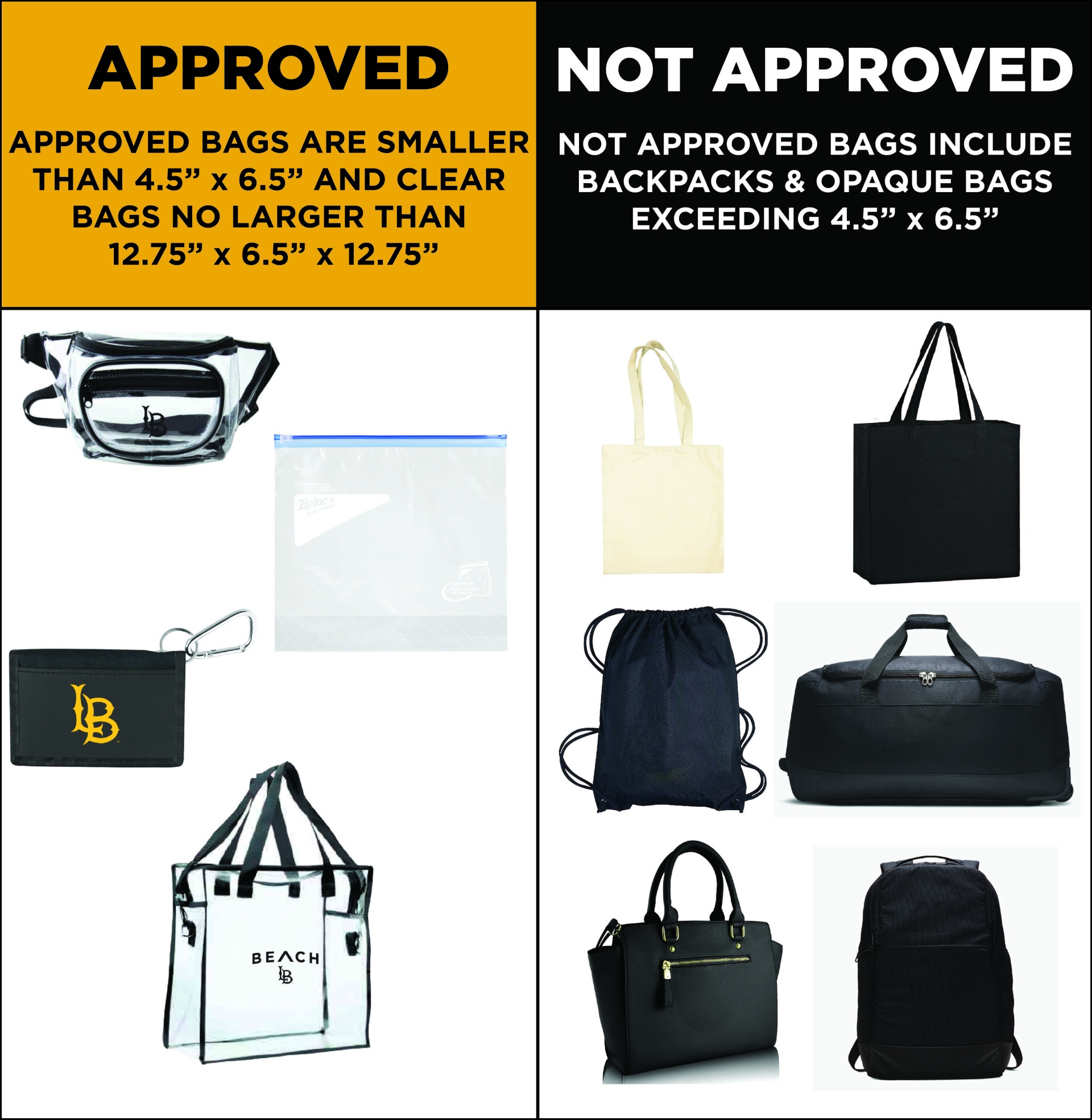 *The examples in the graphic above are for reference only. It is not required that bags be university affiliated.
Purchase your Beach LB Clear Tote Bag from the University Bookstore or online.
The commencement ceremonies will comply with guidance by Angel Stadium of Anaheim and current mega event guidance from the California Department of Public Health.
Ceremonies will take place in all conditions. Consider weather conditions, such as sun exposure, heat, and rain. Take appropriate precautions related to weather protection.
Attire should be appropriate for walking and sitting outdoors for two hours as well as climbing stairs and/or ramps within the stadium.
For Grads: Graduates are expected to arrive in traditional regalia, available to order from the Bookstore, and are welcome to decorate their mortar board caps.  In addition to climbing stairs, a portion of the procession will take place on a paved steep incline and also along a dirt track. Please plan your attire (under regalia) and footwear accordingly.
Flower sales and preorder pickup will conveniently be available on site. Share in this commencement tradition and preorder your orchid leis and grad bouquets to pick up at the stadium the day of your ceremony. *Link to preorder coming soon.
Additionally, the 49er Shops will also be located throughout the stadium parking lot as well as inside the stadium, open before, during, and after the ceremonies. Get your Beach gear and grad gifts at the stadium or online!