Pandemic has changed the way nurses interact with patients
Emergency room nurse Tassia Trink was standing outside Long Beach Memorial screening patients for COVID-19 in a full-body protective suit, an N95 mask layered under a surgical mask, gloves and goggles, when a young man came running up to her.
The man, who looked like a "buff, construction worker-type," was distraught and emotional because his father was just admitted into the ER after getting injured, she said. He was begging to be let inside, but he wasn't allowed because of new coronavirus restrictions.
"You don't understand, I have to see my dad," he pleaded with Trink.
Through her layers of personal protective equipment, she calmed the man down and arranged for him to speak to his father via FaceTime on an iPad.
"He was so distraught at first, and I had to stop what I was doing to talk to him and comfort him," said Trink, a Cal State Long Beach alumna. "Once he was able to hear his dad's voice and see that he was OK, he was able to calm him down even though he couldn't physically be with him. He was a young guy who just needed comfort."
Image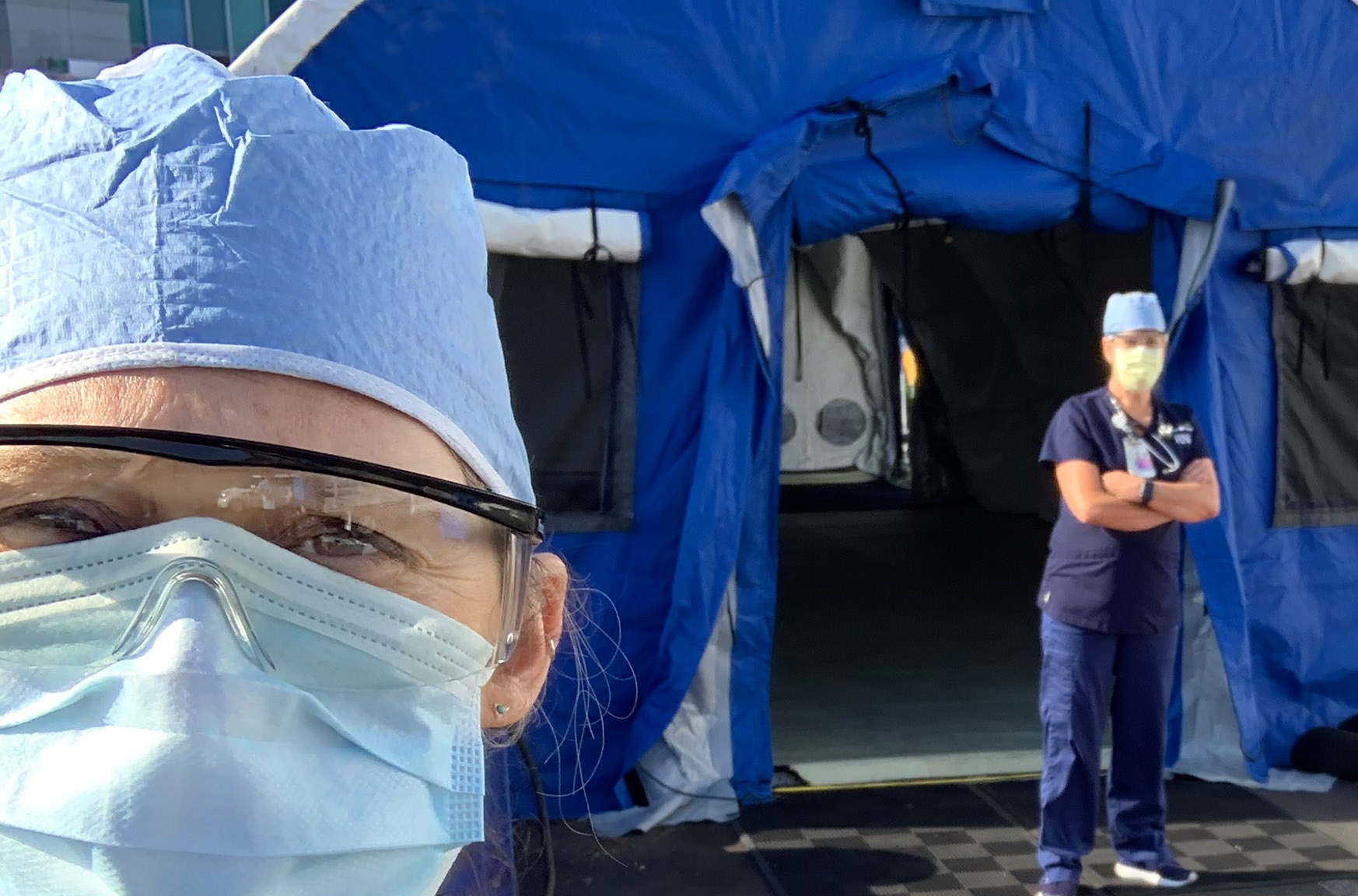 Image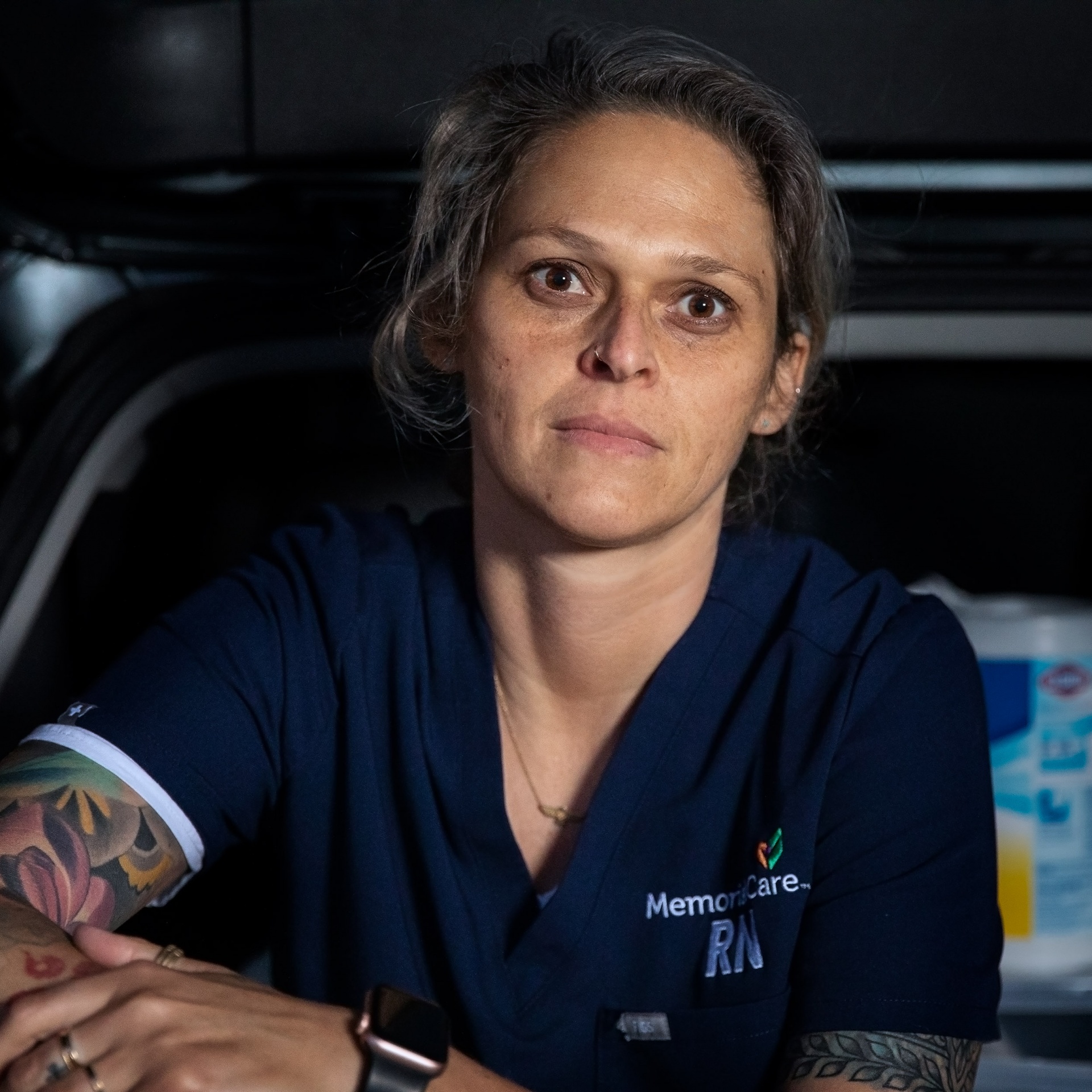 Coronavirus has changed the way nurses connect and communicate with patients and their families. The healthcare professionals are covered head-to-toe in protective gear with only their eyes visible, making it impossible for patients to see facial expressions; touching is now taboo. Patients are no longer able to have their families with them for comfort and that adds stress to everyone involved. Nurses now must overcommunicate with patients and their families since personal protective equipment blocks most of their faces.
"Nurses are harboring that extra layer of 'we'll be there for them, we'll hold their hand, we'll take that on for you' when talking to patients' families," Trink said. "When you're protected, you can still touch your patient, but everyone is more aware. There's that basic human contact element that's the backbone of nursing that's now under the microscope."
The virus seems to have seeped into every aspect of her life: how the ER operates, and her routines at home and at work. Nearly every symptom can be suspected COVID-19.
A patient could come in with chest pain that would signal a heart attack, but the ER is forced to derail and rule out coronavirus before other symptoms can be treated, she said. Long Beach Memorial's "lean system" to streamline processes, like drawing blood, now has added steps to rule out the virus.
"There's no emergency in a pandemic. The virus becomes your first and foremost to treat," she said. "It's overpowering everything. It has become everything we eat, breathe, sleep and wash."
In a way, the virus has "stolen the shine" from herself and her coworkers, many of which are CSULB alumni. They are scared, not sleeping, defeated and exhausted as their entire lives revolve around COVID-19, she said. Although they are seeing fewer patients in the ER, the patients they do see are in worse condition.
"I'm seeing the hospitalized COVID-19 cases. I'm not getting as much of a chance to see the 'walking wounded,' the ones that are mild and recovering, so it's more frightening to me," she said. "I read something that said, 'this is what doctors are trained for, but they never think will actually happen.' Pandemics are often that chapter in a book that you just skip over, because you don't think it will happen in your lifetime."
Trink, who has been an emergency room nurse for eight years, said she doesn't usually stress about work, but now it occupies her mind. The night before her shift, she worries about what section she'll be working in and what kind of patients she'll see the next day. She even has "COVID-19 dreams and PPE dreams," she said.
They always say you can't take the nurse out of a person — it's what they eat, breathe, sleep, and do — and that couldn't be more true now," she said. "When I'm at the grocery store, I'm looking at signs and symptoms I see in people. When I walk around my neighborhood, people know I'm the local nurse, so I'm a resource and I'm being asked questions.
Trink, who received her bachelor's in kinesiology in 2003 and her bachelor's in nursing in 2011, said her education helped prepare her for the stressful emergency room environment by getting her accustomed to fast-paced work and teaching her how to prioritize and triage assignments. She is handling the added stress of coronavirus by taking walks with her dog Trip, a German/Australian shepherd mix, working out, cooking and focusing on "controlling the things she can control."
Some of the stress is also mitigated thanks to help from the local Long Beach community.
Dayna Mance, owner of PRISM Boutique, has arranged deliveries twice a week to Long Beach Memorial, including goodie bags full of items from vendors from her store, and gratitude packages with self-care items. Local restaurants -- Salud Juice, The 4th Horseman and Plunge -- have also made donations to the hospital staff.
"It's like your birthday when everything is being delivered. Our break room is practically filled with food and snacks, and it's helped so much," Trink said. "I probably wouldn't be feeding myself well if it weren't for these people."
The sense of community and generosity coming from local businesses and friends has been beautiful, she said. A friend brought her toilet paper and hand sanitizer after she ran out, and another friend that works at a grocery store frequently asks Trink if she needs anything.
"The outpouring of community support is absolutely amazing. Long Beach is a large city with that small community attitude," she said. "Everyone's coming together to help. The kindness, I hope it stays after all of this is over."
This is one of an occasional series where CSULB healthcare professionals share their experiences from the front lines of the COVID-19 fight.