CSULB artist draws inspiration from fields
Published January 26, 2017
Narsiso Martinez needed a job so he went back to what he knew – picking fruit and vegetables in agricultural fields. He had worked in the fields as a youngster growing up in Oaxaca, Mexico and found solace among the colors of the apples, the richness of the hues in the crops. Although it was back-breaking work, Martinez relished the natural beauty that surrounded him during the summers.
One day he took a closer look at his surroundings. Martinez toiled alongside people whose faces painted a different picture, told a different story. They were stories he wanted to share through his emerging artwork.
Martinez is one of 21 Cal State Long Beach student artists who will have their work on display at this year's Open Studios as part of the annual Greater L.A. MFA Exhibition (GLAMFA).
Image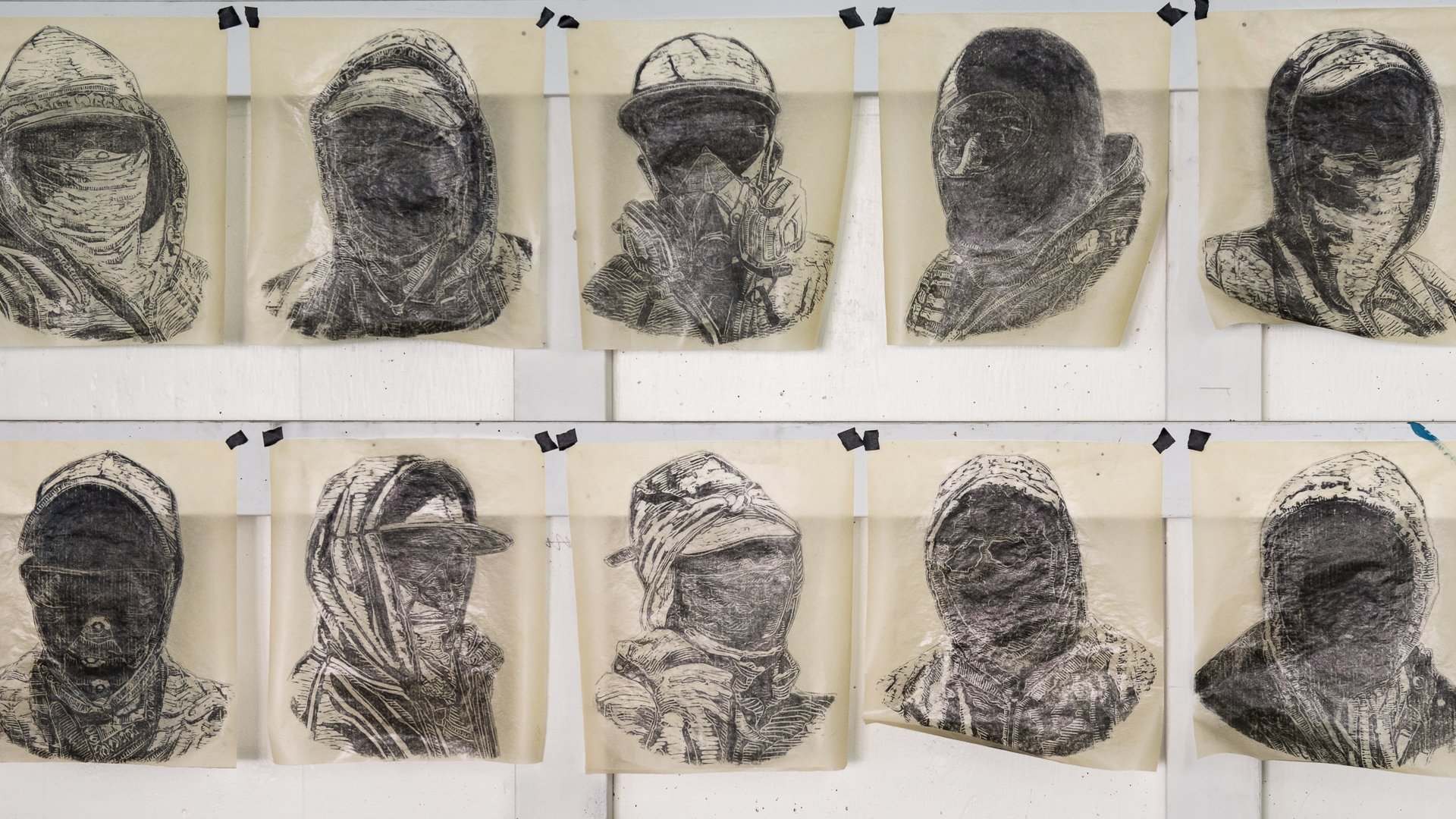 GLAMFA, organized and curated by CSULB art students, brings together 28 contemporary artists from area universities and art schools. It opens Sunday and runs through Feb. 1 in the Max L. Gatov Galleries East & West located on campus.
Martinez's work portrays the struggle of the farmworker, painted or drawn on discarded produce boxes he collects from grocery stores. The majority of his stark pieces are done in oil paints, charcoal pencils and ink wash.
"[The landscapes of the fields] was what I was drawn to, but as I kept doing them and doing talks about my work, this political issue would come out and I started looking at it differently," said Martinez, a second-year MFA student..
"I started noticing how farmworkers live, how they work. How ranchers live. So, that's how I decided to embrace more of their values. I would talk to a lot of people, my co-workers. I would visit them, see how they live and I thought oh that's not fair," he added.
"So now every time I have a chance to speak about it, it makes me feel a little better exposing this idea [way of life]." 
Martinez, 39, came to the United States at age 20 with a ninth-grade education. He said he wanted to immerse himself in his new country and that meant getting an education, starting with English classes. The day after arriving at his brother's house in Los Angeles, he enrolled at Hollywood High and later in adult education courses to earn his GED.
Martinez wasn't sure what to study until he took an art history class at Los Angeles City College, stirring up memories of his younger days when he would sketch the faces of family members.
His passion eventually led him to CSULB, where he began researching the lives of field workers and transferring their plight onto cardboard. Although he has had several exhibits and one of his paintings hangs in the National Immigration Law Center in Los Angeles and another at the L.A. Municipal Art Gallery, Martinez hasn't earned much of a living from his paintings.
He said his work right now is showcasing the farmworkers' plight, earning them recognition for their struggles.
"I like speaking about it so people at least have an idea of what we do, what the immigrants in this country do," he said. "We work really hard and this at least shines a light – this is what we do. It's not all rhetoric. This is something positive."