Graduate Student Orientation
The Office of Graduate Studies and the greater CSU Long Beach Community is pleased to welcome you to The Beach! Each Fall, the Office of Graduate Studies offers the University-Wide Graduate Student Orientation for incoming graduate students to welcome them to the CSULB community and support their transition to both The Beach and graduate study.  This Orientation covers topics, resources, and opportunities that promote the success, growth, and achievement of graduate students.
The University-Wide Graduate Student Orientation: 
Initiates the acclimation process for campus life at the BEACH

Introduces university requirements, expectations, policies, and protocols 

Reviews student rights and Title IX

Highlights graduate milestones

Presents graduate opportunities related to:

Academics

Research

Funding

Professional Development

Networking

Shares the systems of support available to graduate students
Incoming graduate students should plan to attend both the  University-Wide New Graduate Student Orientation and the orientation offered by their graduate program. Most graduate programs hold program-specific new grad student orientations. Check with the graduate program for information.
Watch the recording of Fall 2023 Graduate Student Orientation
Date: Thursday, August 10, 2023 
Questions: graduatecenter@csulb.edu
Fall 2023 Welcome Events and Programs
Graduate Center Open House
Date: Wednesday, August 30, 2023 
Time: 5:00pm - 7:00pm PST
Location: Graduate Center in the University Library, 2nd Floor
Questions: graduatecenter@csulb.edu
Graduate Studies invites you to stop in to explore the newly renovated CSULB Graduate Center on the second floor of the Library.  Join faculty, staff and incoming masters and doctoral students for an opportunity to learn more about resources available to you while a graduate student at CSULB. Continuing graduate students and staff will be available to discuss funding opportunities, mentorship, writing support and financial assistance for conference travel. Refreshments will be served.No need to register–just show up!
Image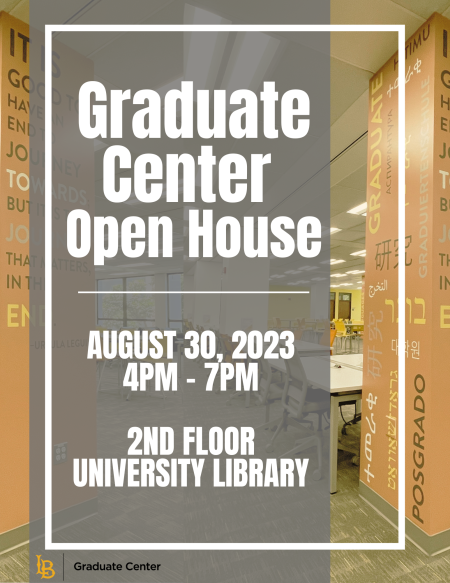 ASI Week of Welcome 
Date: Tuesday August 29 and Wednesday, August 30, 2023 
Time: 11am - 1pm PST
Location: Central Quad, CSULB
Every semester, Week of Welcome (WoW) helps students make connections, join clubs and organizations, learn about university resources and so much more. We have expanded WoW to include more events!