Thousands attend vigil
Published November 16, 2015
UPDATE 11.18.15: For those asking how to donate and show their support, there are two funds set up in Nohemi's honor. The Nohemi Gonzalez Fund To Support International Education will assist CSULB students with international travel and study-abroad opportunities and The Nohemi Gonzalez Memorial Fund will assist her family during this difficult time.
UPDATE 11.17.15: The Bob Cole Conservatory of Music Chamber Choir rehearsed and recorded this song as a gift for the community in the wake of the tragic loss of student Nohemi Gonzalez. The piece, titled "Let My Love Be Heard," is an original composition by Jake Runested, a friend of Bob Cole Conservatory Associate Director Jonathan Talberg.
In a message, Talberg wrote: "We recorded it for the community -- for Design and for CSULB. It is a gift from the Bob Cole Chamber Choir to our hurting University...I wish you, and our beloved school, healing and peace."
---
Image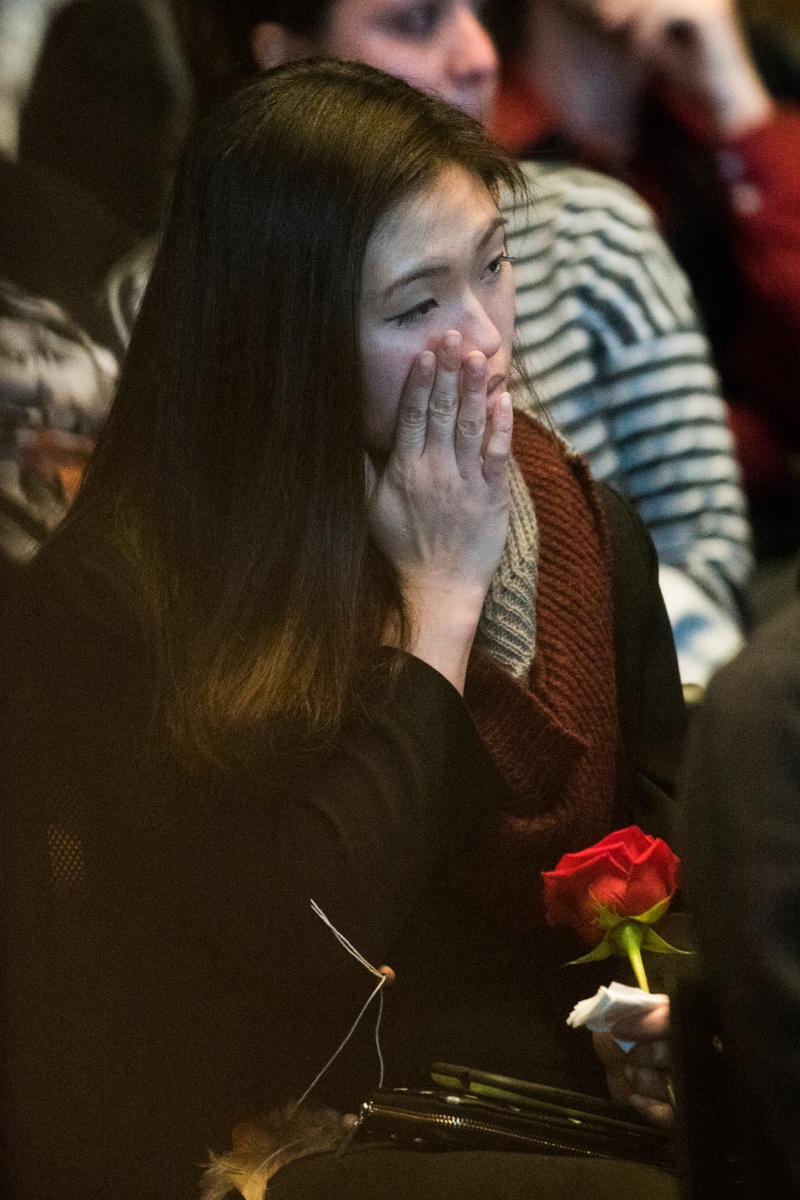 November 15, 2015
 -- It was an emotional and moving sight on Sunday as more than 2,000 students and community members gathered at the University Student Union to mourn and honor
Nohemi Gonzalez
, the 23-year-old design student killed during the Paris attacks on November 13.
As grieving faculty, students and loved ones took to the podium to remember Gonzalez, known fondly as 'Mimi', a similar picture emerged – one of a sunny, positive and driven young woman who had an enormous impact on the Design Department, the university and the community. 
Standing in testament to her influence, were the thousands of tearful and somber figures wearing black and yellow ribbons that filled the student union ballrooms, spilled out into the lobbies and overflowed onto the lawn outside. It was a symbol of solidarity and love for Gonzalez, the campus and the global community.
The vigil began with messages of support from CSULB President Jane Conoley, California State University Chancellor Timothy White, French Consul General Christophe Lemoine, Design Department Chair Martin Herman and friends and family of Gonzalez. 
"[Nohemi] emanated a light and a special energy that seemed to come out of every pore, from her eyes, from her unforgettable smile that communicated love, acceptance, happiness and sweetness mixed in with a little bit of zaniness," said Department Chair Herman. "She was beloved by all of our design students."
Jose Hernandez, step-father to Gonzalez, spoke on behalf of Gonzalez's mother Beatriz, thanking attendees for being there and sharing stories that echoed the playful and fiery spirit that Gonzalez showed to her friends and peers.
"We are here because Mimi is in our hearts. Mimi is not dead, Mimi is right here," Hernandez said. "Mimi is on Beatriz's heart today, tomorrow and forever, and I want to thank all of you for this special vigil you did for Mimi."
After the messages, attendees were ushered outside where they lit candles in remembrance.
Classmate Ryan Seper shed tears as he walked with his mother Christine, who flew in from their home in Chicago, Illinois to support her son and his peers.
"[Nohemi] was actually the first friend that I made in the design department here because I came from out of state," Seper said. "She was a great person...She was just studying abroad in Paris. I assumed I would see her again. It's difficult right now."
Seper's mother said she met Gonzalez when the family flew out to attend student exhibits. "I know that Ryan valued [Nohemi's] friendship. She was always trying to help him with his designs and help him along to get internships at the Design Department," she said. "I know he'll miss her. They all will. They wanted her to graduate with them."
Design student Sara Davis said she remembers her friend as spunky and energetic. When working on difficult projects, Gonzalez would never show that she was stressed and would cheer her classmates on.
Image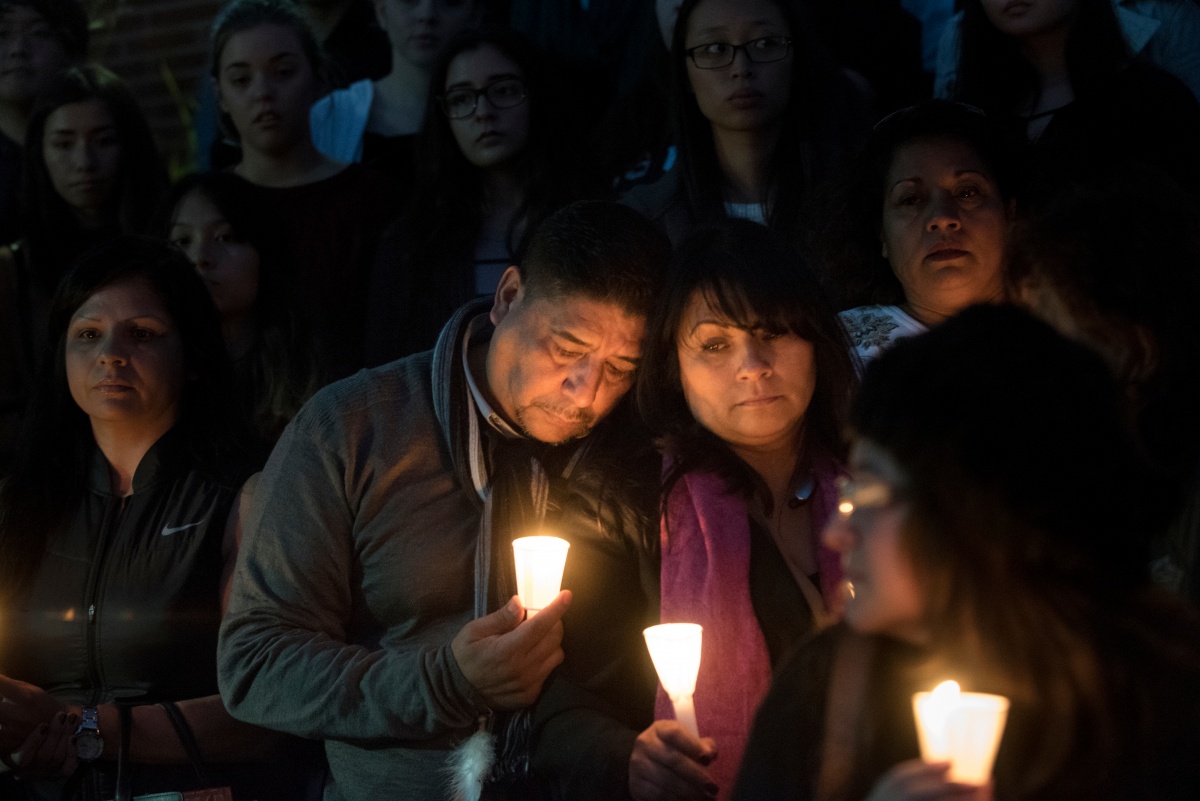 Davis said she'd miss seeing Gonzalez walk down the hallway in the Design Department, where she was a familiar face having been entrusted with the highest responsibilities as a student assistant in the shops, teaching students how to operate the machinery even on her off hours.
"She really just owned the hallway when she walked down it," an emotional Davis said. "That was her place, you know? She was very passionate about design and passionate about the people who are in our program. That's what I'm going to miss the most."
Three other CSULB students were studying at the Strate College of Design in Paris with Gonzalez. They are currently deciding with their parents whether to return home early or finish the semester. Herman said faculty and staff of the department are having an emergency meeting to determine how to "most honorably remember Nohemi and how to deal with our own mourning and grief." The Strate College of Design will be holding a vigil for Gonzalez on Monday.
Photos from the vigil are available here.
Full copy of Poet Laureate Juan Felipe Herrera's poem read at the vigil is available here.
Photos by Joseph Philipson