The Beach repeats as national champions
It was their home court. Their fans. Their title. And no one, not even the No. 1-ranked team in the nation, was going to wrest the championship trophy from them.
Not this team. Not this year.
Led by National Player of the Year TJ DeFalco, Long Beach State held off a tough University of Hawai'i team to retain the title of NCAA Division I Men's Volleyball champions for a second consecutive year. The Beach defeated the Rainbows, 3-1, in front of a sold-out Walter Pyramid crowd with scores of 23-25, 25-23, 25-22, 25-23.
Coach Alan Knipe struggled to put the season into perspective and what it meant to coach seniors such as Josh Tuaniga, Kyle Ensing and DeFalco for the past four seasons. The core group of seniors carried Long Beach State to four Final Four appearances, two NCAA titles and into the discussion of the greatest collegiate team assembled.
"You're talking about a team that came in and went to four Final Fours and won back-to-back national championships," Knipe said. "It the meantime, they won 40-plus matches in the Pyramid, smashed records right, left and center and they did it the right way. They did it very unselfish, they did it with hard work and brought their teammates along."
Image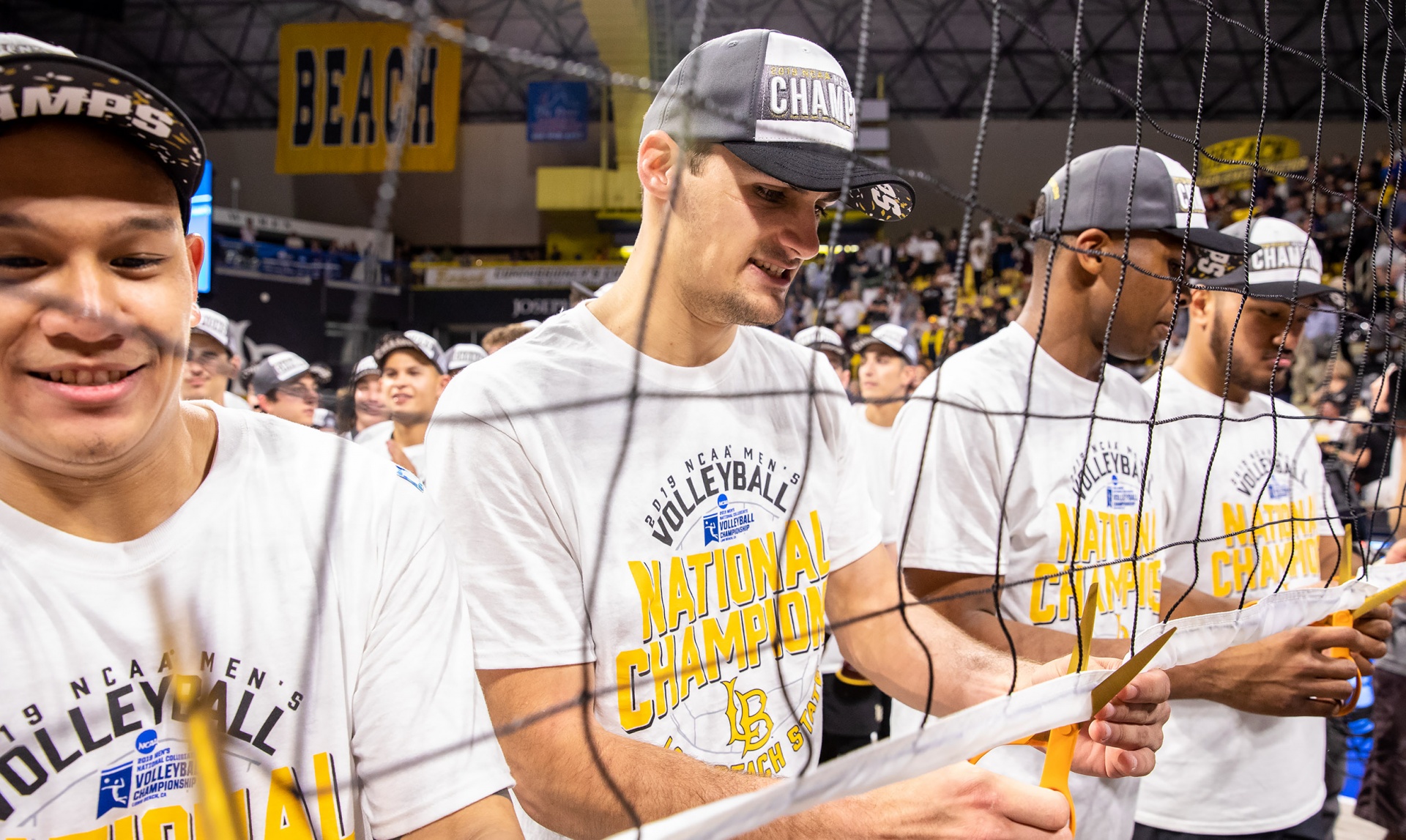 After dropping the first set, a determination set in.The Beach fell behind the Rainbows, but each time, didn't get flustered and either came up with a timely ace or spike to halt Hawai'i's momentum. Tuaniga said that the team maintained their composure during the latter stages, refusing to let up and put Hawai'i away in four sets. In their three previous meetings this year, each match went five sets with Long Beach winning two.
DeFalco had 20 kills and Ensing added 13, while Tuaniga led the balanced attack with 43 assists.
"I could tell at the start of the match how much they wanted this," Knipe said. "In timeouts, I could hear them talking and they were so dialed in on what they were going to do on the next point. They weren't worried about the calls, not worried about an error they just made.
"So, I stepped back at the end of the fourth set because they were rolling and just let them play."
Knipe said this year's victory was different than 2018 because of the challenges the team overcame.
"It was so much more in the sense last year we had the dream season of staying healthy and had no real hiccups," Knipe said.
This year, we went through about a month and a half of not being close to healthy. We had everything from strep throat to mono to sprained ankles to bruised and barely cracked ribs. We had to weather the storm a lot more than we did last year, and that just shows the resiliency of this group.
"Grit comes from a lot of things, but this year grit comes from flat out being willing to commit to being able to being 100 percent of whatever you are, even if you aren't 100 percent for your team and the program."
Long Beach State and Hawai'i meet for title 
It is the match most wanted, a match anticipated since mid-April.
No. 1 Hawai'i vs. No. 2 Long Beach State will play for the NCAA Division I Men's National Volleyball Championship title.
These are two teams separated by an ocean but just three sets in three matches this season, each contest going five sets. Long Beach, defending national champion, won the first two, but dropped the third to Hawai'i in the Big West Championship match. The conference rivals now will play for the title of the best 5 p.m. Saturday at Walter Pyramid.
Image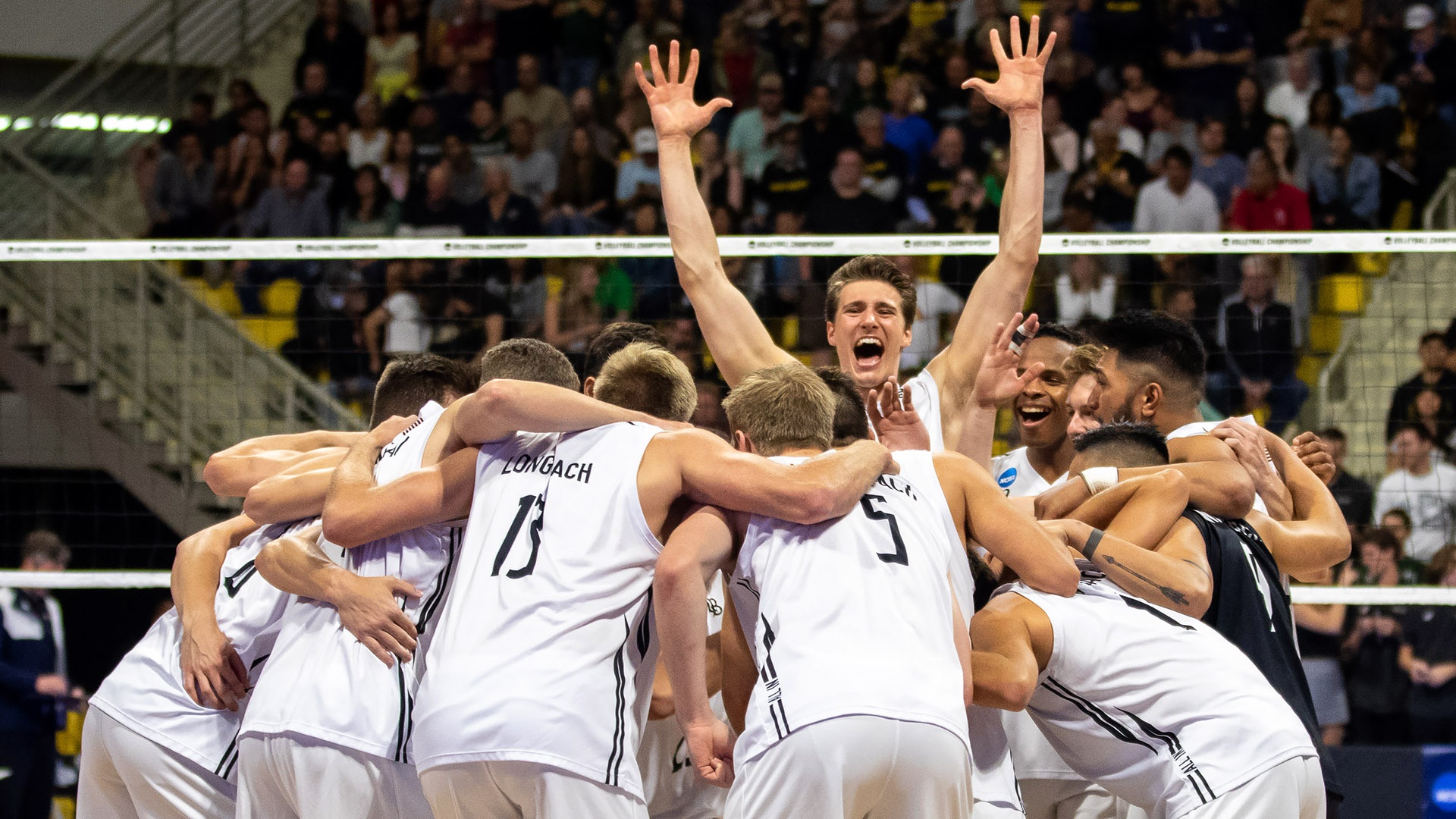 "I think the unique part is of the whole thing is how the conference season played out," Coach Alan Knipe said. "It just led to this perfect storm that both teams stayed away from each other for four months and then we played each other three times in 10 days or whatever it was.
"We've had these really, really exciting close matches but ultimately it comes down to that they are a very talented team and we like to believe that we are, too."
Long Beach State advanced to the final with a 3-1 victory against No. 3 Pepperdine, while Hawai'i stopped a feisty Lewis team 3-1 in the earlier semifinal.
"I think we're just excited to have the opportunity to play one more match," said TJ DeFalco, named AVCA National Player of Year. "And the fact it's Hawai'i, I'm excited. But it wouldn't matter who the team was, I'm excited to play for the national championship."
Backed by an enthusiastic home crowd, the Beach defeated the Waves 25-21, 21-25, 25-26, 25-15 behind the play of hitter DeFalco, who finished with a match-high 17 kills, five blocks, five digs and two aces. The Beach hit an impressive .461 (second-highest in men's volleyball history) while limiting Pepperdine to a .168 attack percentage. Setter Josh Tuaniga had 42 assists to lead the offense.
"We talk about roles all the time, and every team has the star power of a guy and TJ is the straw that stirs the drink for us," Knipe said. "When you can score points in every facet of the game, you separate yourself."
Kyle Ensing is key to Long Beach State's volleyball success
Glance at Kyle Ensing's biography, and the list of volleyball accomplishments is overwhelmingly impressive. All-this and all-that. First team here, most valuable there.
What you don't see among player's accolades, though, are those achievements that reflect the other side of Ensing, the numbers that make a mother proud. The student part of student-athlete. The senior opposite/outside hitter is not only an All-American on the court, he is an All-American in the classroom and will graduate this spring with his Bachelor of Arts in Consumer Sciences.
"When people give you credit for being a good athlete, a lot of times there's not a lot of good academics to go with it because athletes don't put as much effort into their academics," said Ensing, who has earned Academic All-American status the past two years.
Image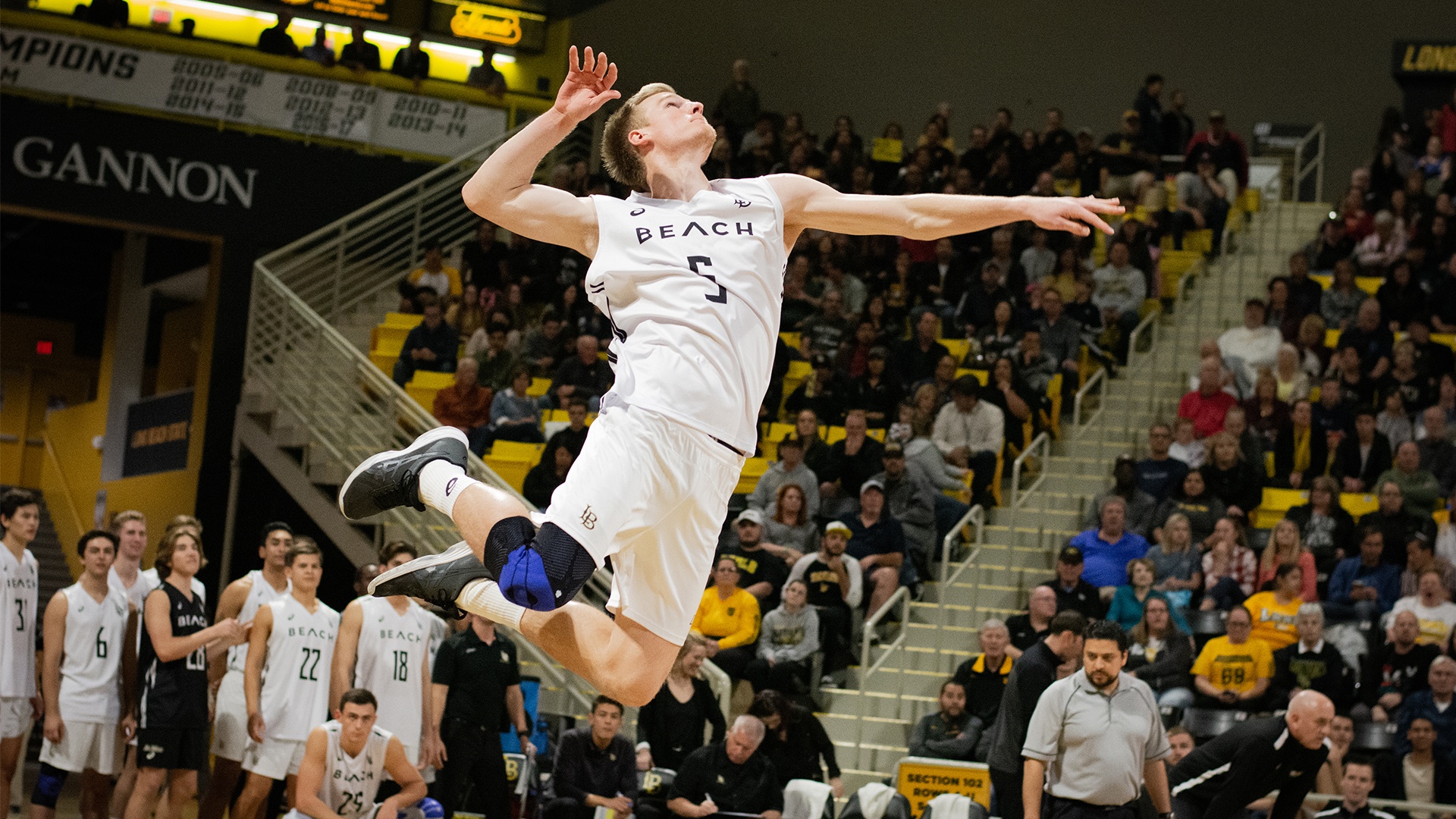 "But excelling in academics has always been in my family ... it's always nice to make them proud."
His mother and the rest of the family were equally proud last year when Ensing helped Long Beach State win the 2018 NCAA Division I Men's Volleyball Championship. They will again be in the stands at Walter Pyramid on Thursday when the No. 2-ranked Beach takes on Pepperdine in the Final Four.
It will be the Beach's fourth consecutive Final Four appearance. It also will be Ensing's fourth in a row.
"Just thinking about it now, before we go into the national championships, of what we did the past four years, it's been an incredible ride because of these guys that I have been with," he said. "They are my family.
"(Winning the national title) definitely was a cool experience for us. If we do win another one, that would put a cherry on top of a great college experience."
Continuing his streak, Ensing, along with teammates TJ DeFalco, Josh Tuaniga and Nick Amado, was named to the American Volleyball Coaches Association All-America team. It was Ensing's third such honor.
Named 2019 Big West Player of the Year last week, the senior hitter leads the team with 3.61 kills per set on a .361 attack percentage. His kills per set ranks him in the top 20 nationally and his rated No. 18 in hitting percentage.
"Kyle means everything to this team because he is so important to every facet of the game," Coach Alan Knipe said. "He's only positive and super easy to deal with on the athlete side. He's easy to coach, a super teammate, and he comes ready to play every day.
"He checks off so many boxes on the things we need to get done. He is a huge portion of this team."
Ensing said it hasn't been difficult balancing the rigors of volleyball with his studies. He said the key is time management, and a bit of brotherly advice.
"There have been some situations where, I would have a game the next day but had been up until 3 a.m. studying," he said. "But it kind of would be my fault because I procrastinate a bit. Sometimes it's tough, sometimes it's not that bad. My freshman year was tough trying to figure that out, but my brother helped."
Eric Ensing played volleyball at Long Beach State from 2014 to 2017, and helped his younger brother learn how to juggle sports and academics. Kyle said his brother did well in school "and I wanted to follow him in that."
Kyle, however, has far exceeded his big brother on the court. While Eric is playing volleyball overseas, Kyle is eyeing a spot on the U.S. National team and a chance at the 2020 Olympics.
"Ever since my freshman year, I've realized that maybe I could do something with volleyball," Ensing said. "I've been pushing to be on the team."