Even though you've graduated and are climbing the career ladder, you can still come back to CSULB. Connect with peers and professors and help give future engineering students a leg up by:
Upcoming Events
Happy Hour, Tuesday Nov. 13, 5-7 p.m.
Join your fellow alums at Rock & Brews, 143 Main St., El Segundo, Calif., to connect and share ideas on the future of engineering in 2030. RSVP at csulb.edu/coe-event.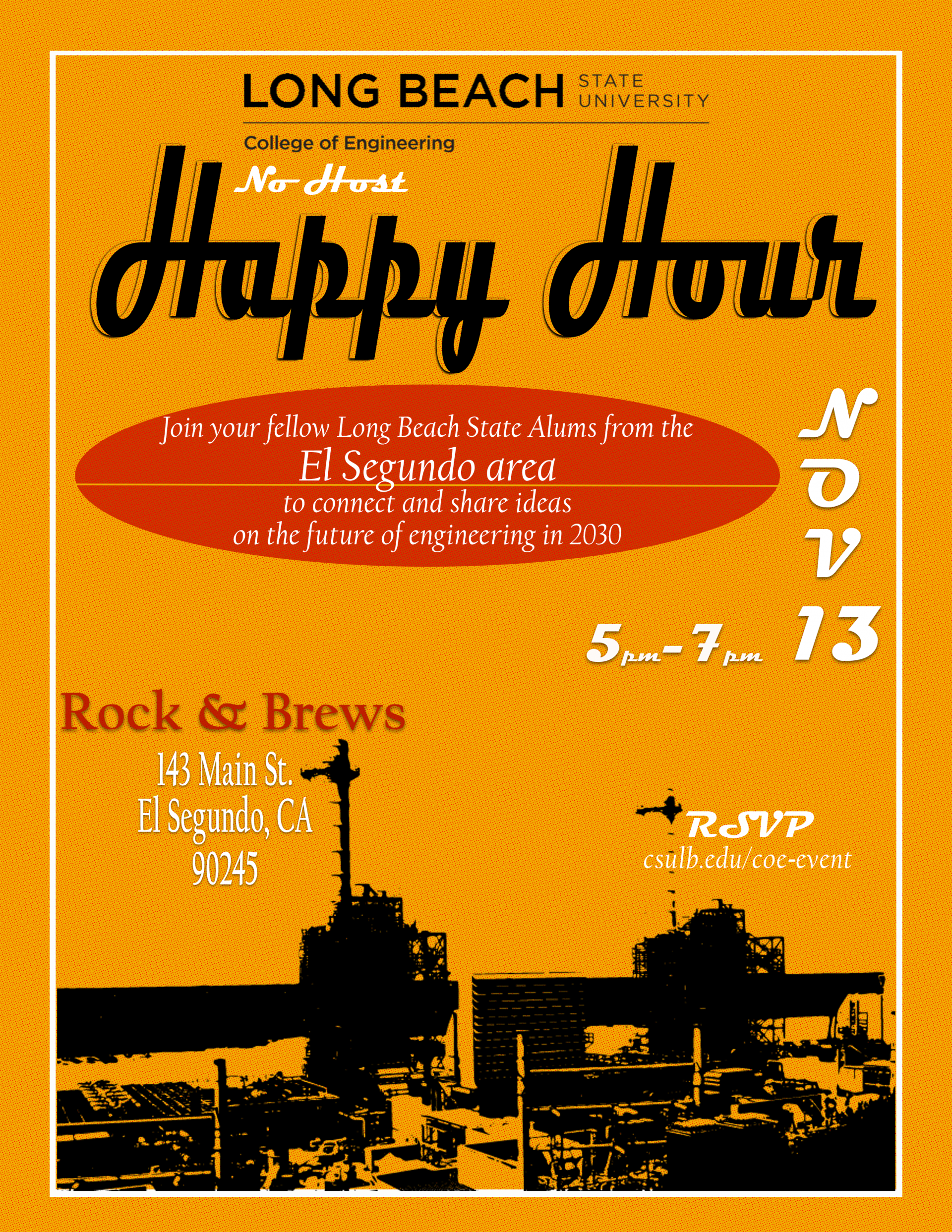 Engineering Night @ the Pyramid, February 2019, Date TBD
Join us for this annual alumni event to network and enjoy a game at The Pyramid.
Recent Events
Monday, Sept. 24, 2018: Silicon Valley Happy Hour 
Saturday, March 3, 2018: Engineering Night @ the Pyramid. View photos
Saturday, Jan. 20, 2018: Bay Area Alumni Event, Stanford University
Thursday, April 6, 2017: Innovation Challenge Awards Presentation.
Thursday, March 16, 2017: Fall Distinguished Lecture.
Saturday, Feb. 4, 2017: Engineering Night @ the Pyramid. View photos.
Saturday, April 2, 2016: Bay Area Alumni turned out to support CSULB's volleyball team as they took on Stanford University in San Jose. Join the Bay Area Alumni LinkedIn group for updates.
Tuesday, Nov. 22, 2016: Engineering Night @ the Pyramid. View photos
Saturday, Nov. 5, 2016: College of Engineering Open House at Homecoming. View photos.
Thursday, Oct. 20, 2016: Fall Distinguished Lecture
Join the Bay Area Alumni LinkedIn Group
The Bay Area is home to more than 1,000 CSULB engineering alumni. Join the group, started by committee members:
Jim Green '85 - Chair
Steve Lagna '71 - Vice Chair
Tom Hoff '96
Debbie Meeks '86
Steve Seto '73
Richard Temple '90
Jon Armantrout '72
Paul Flowers '82