Development Office
Why Give:
Although California State University, Long Beach is a publicly supported institution, your generous contributions to the College of Education are critical to supporting our continued growth and development. Private support is increasingly important as state contributions to the overall budget of CSULB have fallen below 50%. There are several ways in which alumni and friends may contribute to the College of Education: online, mail, phone, stocks and securities, planned gifts, matching gifts and payroll deduction.
Giving Opportunities:
Scholarships & Fellowships
Creating or contributing to an educational scholarship fund is a meaningful way to give back to your community or to honor a loved one. Your support will provide our exceptional students with access to affordable, high-quality education and ensure that we graduate teachers who are not only highly qualified, but also highly effective in the classroom. Providing a scholarship in the name of an incredible educator, or supporter of education, is a rewarding way to honor that individual.
Contribute any amount to an existing scholarship fund.
Call or email our office to create a scholarship fund. Minimum named scholarships are $2,250 and endowed scholarships funds start at $25,000.
Dean's Excellence Fund
Contributing to the Dean's Excellence Fund allows the Dean the flexibility to promote the highest quality educational programs, research, public service and economic development activities for The College of Education. Your generous gift in support of the Dean's Excellence Fund is especially meaningful because it expresses your confidence in fulfilling the collective mission of the College.
Contribute any amount to the Dean's Excellence Fund.
Program Funds
Contribute any amount to support any program in the College of Education.
If you do not see your program listed, please contact our office at 562-985-2069 to arrange a direct program donation.  You can also select Dean's Excellence Fund and write in your program in the comments/ instructions.  
Contacting the Development Office
If you would like more information about making a charitable contribution, please contact Maryanne Horton, Senior Director of Development for the College of Education.
Email: Maryanne.Horton@csulb.edu
Phone: 562-985-7477
Mail: 1250 Bellflower Blvd.
          MS-2201, ED1-50
          Long Beach, CA 90840-2201
Give to the Dean's Endowed Student Teacher Scholarship and support future teachers! 
Please join other supportors in contributing to the College of Education Dean's Endowed Student Teaching Fund.  Together, our gifts have the potential to change lives by building a permanent source of support for student teachers. Make a difference for future educators!
Contribute directly to the Student Teacher Scholarship Online!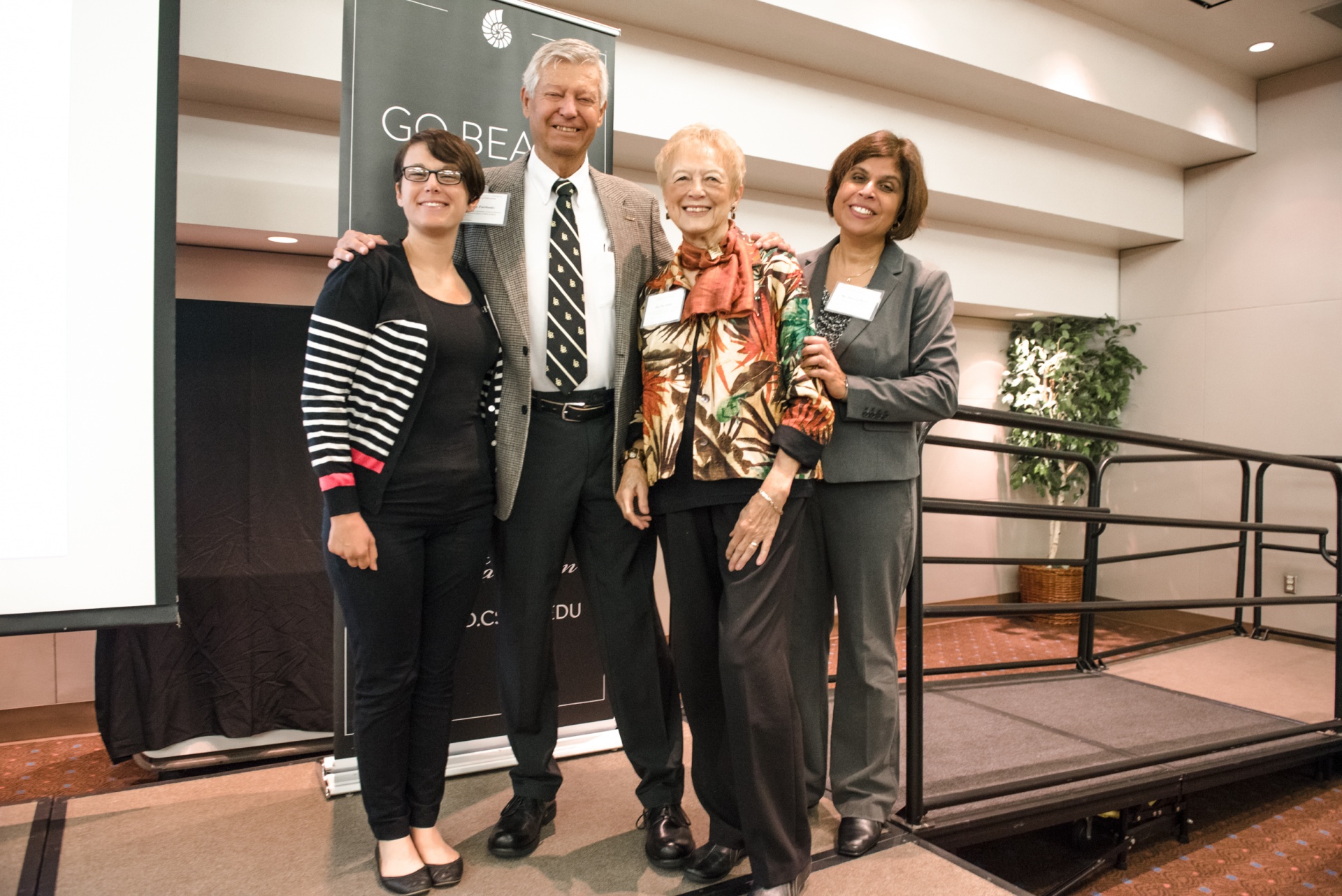 Scholarship donors, Dale and Jan Fairbanks, with the 2017 recipient of the Jan and Dale Fairbanks Endowed Scholarship in Memory of Beth Biddick, Catherine Robinson and Dean Shireen Pavri
---
Ways you can give to CED:
Give Now!
Make a cash donation of any size – cash, check or credit card.
Gifts That Cost You Nothing Now
Include the College of Education in your will or trust. For more information Contact Susan Berkman in the Office of Gift Planning (562) 985-5122.
Other Giving Opportunities
Please contact our office for more information on:
Life Insurance gifts
Gifts of stocks or bonds
Earn an income through a gift annuity
Gifts In Kind
Match Your Gift!
You may be able to double the amount of your gift if you work for a company that offers an employee matching gift program. To make your matching gift, contact the Matching Gift Coordinator for your company or call your personnel office to fill out the necessary forms. Please identify CSULB College of Education as your charity.
---
The development office builds enduring relationships with alumni, friends, corporations and foundations; matching donor passions with College priorities to generate financial support. These resources support students, transform programs, and have a powerful impact on the next generation of educators and educational leaders in California.