Current Exhibition
Call and Response, When We Say... You Say
January 28 – April 14, 2019 
Exhibition flyer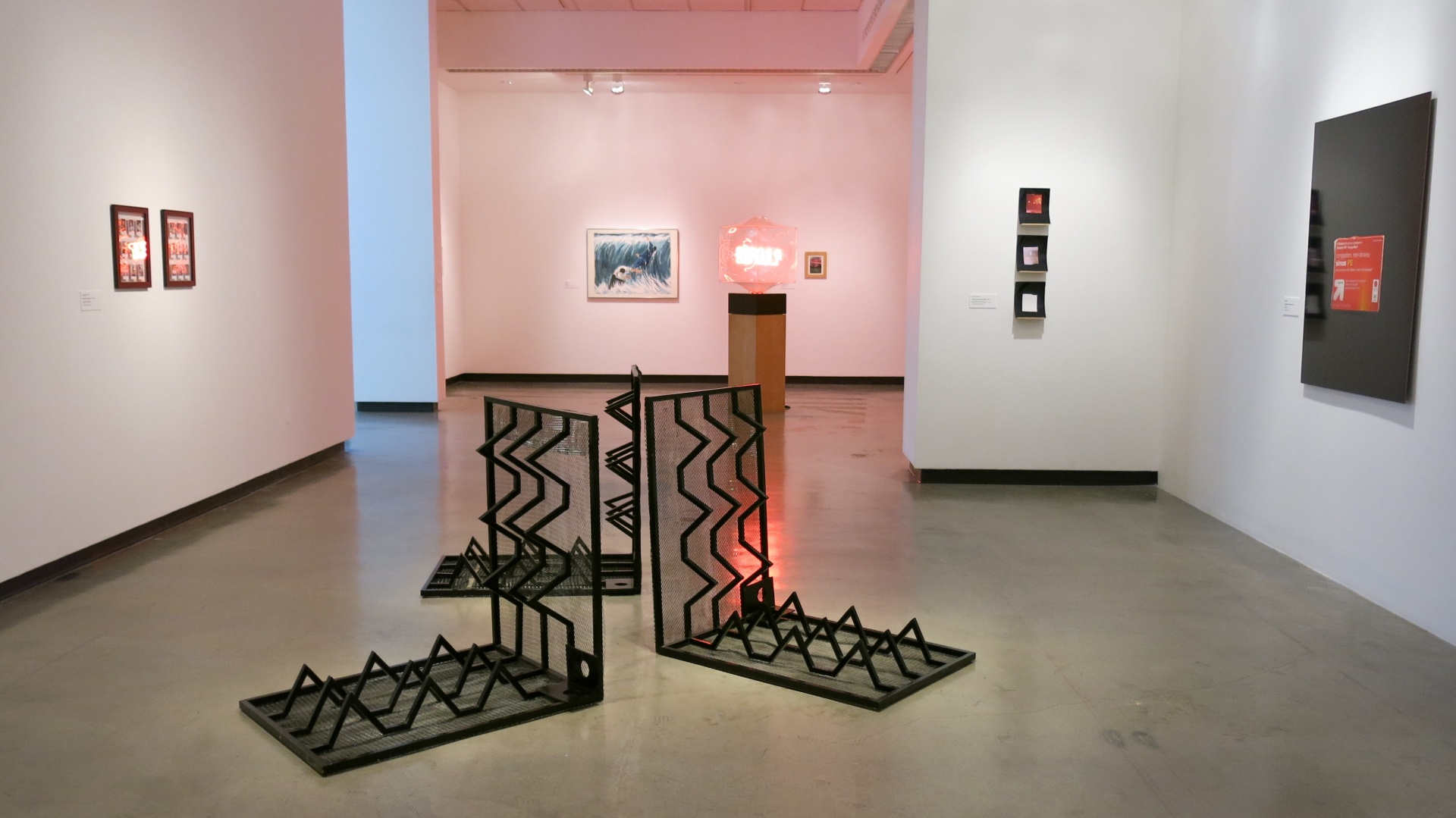 The UAM presents Call and Response, When We Say…You Say, curated by Mario Ybarra Jr. and Karla Diaz, co-founders of the renowned Wilmington art collective Slanguage. With the UAM collection as their inspiration, Ybarra and Diaz examine how "high art" and pop culture intersect, as they address social inequities and different inter-generational aesthetic perceptions over the course of this evolving group exhibition. The title reflects the playfulness at the heart of the Slanguage practice, taking cues from the volleying collaborative interaction between artist, art, and audience.
Kim Abeles, Richard Bosman, Patricio Cabrera, Albert Contreras, Adolph Gottlieb, Graciela Iturbide, Lee Krasner, Piotr Kowalski, Ken Light, Ken Price, Lorna Simpson, Andy Warhol
Abel Alejandre, Valerie J. Bower, Karla Diaz, Gabriel "Gobs" Fernandez, Alonso Garzon, Rosalie López, Antonio De Jesus Lopez, Aydinaneth Ortiz, Marlene Tafoya, Arnoldo Vargas, Mario Ybarra, Jr.
Call and Response creates content to engage diverse student populations in a meaningful way. Its programs focus on relevant issues, active participation, and restorative negotiation. Educational activities encourage exchange based learning to find new ways for modern and contemporary art to have personal resonance. Building these connections emphasizes the relevance of participatory practices in art making and strengthens communal understanding.
Dialogue, critique, and cooperation are key to this project, as one of the gallery spaces will transform into a classroom/lab space for university students. Conversations and class sessions within the gallery spaces challenge institutional practices while they inspire a deeper appreciation of the arts. Collaborations with visiting artists question the histories, assumptions, and biases of the museum acquisition processes. New themes, artwork, and participation arise out of this mediation, a negotiation that centers on shared values, common ground, creative agency, and artistic empowerment. 
About Slanguage 
Slanguage is an artist-run space that grew organically from an active studio to a public engagement space. Located in Wilmington–at the heart of the Port of Los Angeles–Slanguage has led teen workshops, hosted art exhibitions, and presented music and performance events since 2001. Its residency SlangA.I.R. has been a catalyst for young emerging artists, youth, teaching artists, and the community. In acknowledgment of their groundbreaking practice, Mario Ybarra Jr. and Karla Diaz have been invited to pilot events, exhibitions, and programs in diverse cities, museums, and art galleries all over the world. Their work has been presented at ICA Boston, the Whitney Museum, LACMA, MOCA, Tate Modern, Chicago Hyde Park Center, and was included in the first Made in LA Biennial.

Image Credit, web header: Artists Karla Diaz and Mario Ybarra Jr. in Slanguage Studio, Photo by Emilio Venegas Jr., Courtesy of the Artists.
Featured UAM Collection Artwork
Upcoming Exhibition
INSIGHTS 2019: The Annual School of Art Student Exhibition
The University Art Museum and the School of Art present the annual student exhibition, Insights 2019, featuring work from both graduate and undergraduate students in the School of Art. Juried by School of Art Faculty during this year of accreditation, the exhibition highlights work by students in Art Education, Ceramics, Drawing and Painting, Fiber, Graphic Design, Illustration/Animation, Metals/Jewelry, Photography, Printmaking, Sculpture, 4/D, and Wood.  
Award Ceremony  
Thursday, May 9, 5:00 pm to 6:00 pm  
UAM North Lawn 
Student award winners are announced and School of Art students are honored by Faculty. 
Opening Reception  
Thursday, May 9, 6:00 pm to 8:00 pm  
University Art Museum  
Join us for a celebration of students and their artwork.