---

New Research Workshops
Enhance your research career with new research techniques, such as confocal microscope and protein assay, in BUILD-sponsored workshops.
RNA Sequencing Data Analysis Workshop - Aug. 1, 3 and 5
Immunoassay Workshop - Aug. 8
---
Research Mentor Interest Forms
The next round of Research Mentor Interest Forms are now available.
---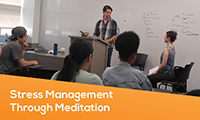 Jun. 30, 2016: Stress Management Through Meditation
By nature, college students are stressed. In fact, four out of 10 reported in an Associated Press and mtvU survey conducted in 2008 that they were stressed often. And one in five said they were stressed most of the time. This stress can lead to a variety of problems, both mental and physical. Because of the extra commitment that the BUILD program requires, as well as that of a research career in general, scholars participating in the Summer Undergraduate Research Gateway to Excellence (SURGE) program were provided a Stress Management workshop.
---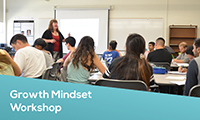 Jun. 29, 2016: Scholars Learn to Cultivate a Growth Mindset
How you view things, from feedback to failure, from skills to setbacks, affects whether you are successful in life … or not. In June, in collaboration with the Heroic Imagination Project (HIP), CSULB BUILD Scholars attended a Growth Mindset Workshop where they learned how about how to cultivate a growth, rather than a fixed, mindset.
---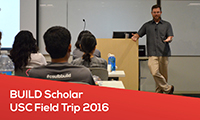 Jun. 22, 2016: USC Field Trip 2016 Highlights
On June 22, 2016, upper division scholars, along with some CSULB BUILD faculty and staff, traveled to the University of Southern California (USC), one of our research partners, to learn more about the research conducted there and meet potential mentors.
---