---

Fall BUILD Student Research Colloquia Begin in September
Regular research colloquia inform BUILD Associates and Scholars on a variety of topics and give them opportunities to network with others. The first Research Colloquium is scheduled for Friday, Sept. 30, 2016. More are to be announced.
Sept. 30, 2016: The Evolution of a Statistician: How to Change with Circumstances in a Career, 9 to 10:30am, including a 30-minute Q&A session. A reception for faculty and trainees will follow. Location to be announced.
---
New Research Workshops
Enhance your research career with new research techniques, such as confocal microscope and protein assay, in BUILD-sponsored workshops. New workshops are offered every month.
RNA Sequencing Data Analysis Workshop - Aug. 1, 3 and 5
Immunoassay Workshop - Aug. 8
---
Research Mentor Interest Forms
The next round of Research Mentor Interest Forms are now available.
---

Jul. 27, 2016: Two BUILD Students Present at International Meeting
"Do not be intimidated from attending conferences!" said Rhea Addo, a CSULB BUILD Scholar who recently presented a poster for the first time at the meeting of the Society for the Study of Reproduction (SSR). She was one of three undergraduate California State University Long Beach (CSULB) students presenting posters at the internationally attended meeting – and where most presenters were professors, post-doctoral fellows, and Ph.D. students.
---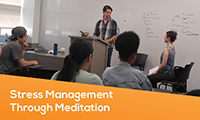 Jun. 30, 2016: Stress Management Through Meditation
By nature, college students are stressed. In fact, four out of 10 reported in an Associated Press and mtvU survey conducted in 2008 that they were stressed often. And one in five said they were stressed most of the time. This stress can lead to a variety of problems, both mental and physical. Because of the extra commitment that the BUILD program requires, as well as that of a research career in general, scholars participating in the Summer Undergraduate Research Gateway to Excellence (SURGE) program were provided a Stress Management workshop.
---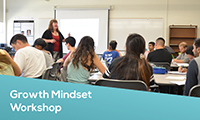 Jun. 29, 2016: Scholars Learn to Cultivate a Growth Mindset
How you view things, from feedback to failure, from skills to setbacks, affects whether you are successful in life … or not. In June, in collaboration with the Heroic Imagination Project (HIP), CSULB BUILD Scholars attended a Growth Mindset Workshop where they learned how about how to cultivate a growth, rather than a fixed, mindset.
---