Learning Community
What is a Learning Community?
A learning community is a group of people who share common academic goals and attitudes and who meet regularly to collaborate. It is a phrase that pairs two commonly used words "learning" and "community" to mean something new. Learning communities are found in many disciplines and focused on many topics including professional learning communities, sustainability learning communities, and service learning communities of practice. A learning community intentionally links together courses or coursework to provide thematic curricular organization, more opportunities for collaboration, and increased interaction between students and faculty.
Learning communities can be residential, as in the case of our Freshman Living-Learning Communities, or non-residential as in the case of the sustainability-focused learning community that we are trying to create.
Image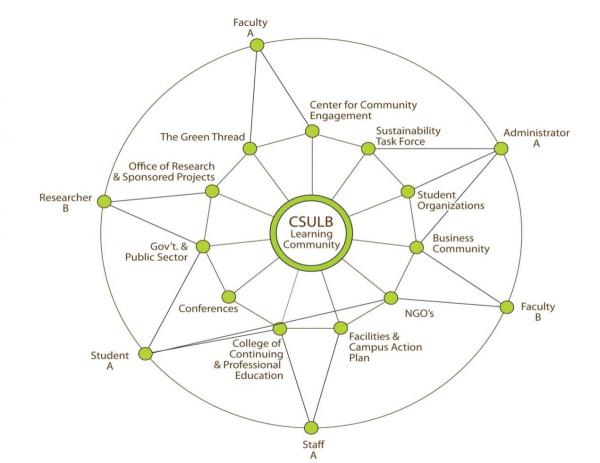 A Sustainability-focused Learning Community at CSULB
Our goal is to develop a learning community that will help provide a foundation to launch the next generation of leaders faced with the challenges of integrating sustainability into their decisions, whether as professionals or their everyday life choices. A learning community that is successful in meeting this objective will require creating an institutional structure that is inclusive and respectful of all disciplines and perspectives related to sustainability and sustainable development.
Our goal is to create two parts to our Learning Community:
'Community of Interest'
To grow a community composed of individuals or groups that come together based upon a shared commitment to achieve a better understanding of sustainability.
'Community of Place'.
To create a physical location that is used as our community of place. We believe it is essential that there exist a specific location at CSULB that provides a clearinghouse function as well as an intellectual center for all the diverse efforts underway on campus integral to the related community of interest.
Some elements required to achieve a sustainability-focused Learning Community are already in place and provide the foundation for our efforts including creating the Sustainability Task Force, hiring a Sustainability Coordinator, supporting the Green Thread effort, initiating steps to integrate sustainability in the curriculum for some programs, as well as a number of other initiatives.
To learn more about our sustainability-focused Learning Community, check out this white paper.
To join our sustainability-focused Learning Community, email wade.martin@csulb.edu or christine.whitcraft@csulb.edu