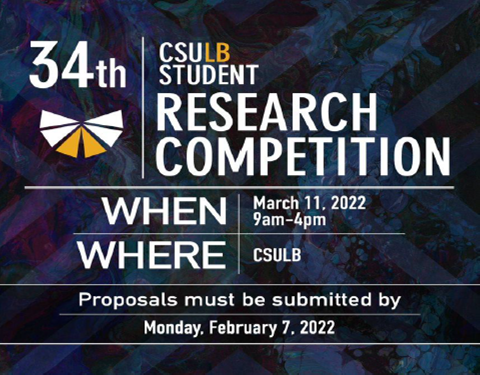 The 34th Annual Student Research Competition will take place Friday, March 11, 2022. As a currently enrolled graduate and undergraduate researcher or artist you may compete for honors and cash prizes in the following disciplinary categories:
•    Behavioral and Social Sciences
•    Biological and Agricultural Sciences
•    Business, Economics, and Public Administration
•    Creative Arts and Design
•    Education
•    Engineering and Computer Science
•    Health, Nutrition, and Clinical Sciences
•    Humanities and Letters
•    Physical and Mathematical Sciences
•    Interdisciplinary
Submit your application by Monday, February 7, 2022. This year the CSU system wide research competition will be hosted by San Francisco State University on April 29th and April 30th , 2022 and ten (10) CSULB competitors will be selected to represent our campus.

For more information about the Student Research Competition there will be a virtual information session held on Friday, November 12th from 1-2:15pm.
We would be happy to answer any questions you may have about the Student Research Competition--email us or see the Student Research Competition website for additional information.

Best regards,

Elyzza M. Aparicio, Ph.D.
Director, Office of Undergraduate Research Services (OURS)
Undergraduate Research Opportunity Program (UROP)
Bryan A. Rodriguez, Ph.D.
Director, Graduate Center
Simon Kim, Ph.D.
Associate Vice President for Research and Economic Development