Healthcare Heroes
The COVID-19 pandemic has changed life for everyone, but for healthcare workers on the front line, the devastation is painfully real.  
Monique Wood works at a hospital in Long Beach "floating" from one unit to another. The pain has been evident in each place she has been. 
Wood, who graduated in 2017 with a B.S. from the School of Nursing, is among the Cal State Long Beach graduates who work within the Long Beach community. More than 90% of CSULB nursing graduates find employment upon graduation, and right now they are playing a critical role in the fight against coronavirus. 
When COVID-19 hit, Wood was temporarily assigned to a unit for tuberculosis patients and others affected by airborne illnesses, such as COVID-19. She is still treating COVID-19 patients. 
These days, Wood and other nurses encounter a lot of tears, a lot of laughter, and a lot of pain. For them, the pandemic is ubiquitous: it's in the news, in the concern from loved ones, talked about in the hospital breakrooms where everyone has personal stories, and then in the care for patients. Wood acknowledged the looming presence of the virus is taking its toll on nurses, but that comes with the job.  
"We love what we do. It's hard to explain, but we came into the industry knowing something like this could happen. If you look at nurses before us, they were going off to war, working through other pandemics or plagues. It's what we do," said Wood. 
A great deal of Wood's patients come from skilled nursing facilities, where many have dementia. She recalls an older mild dementia patient who was able-bodied before he was hospitalized. Once admitted, his health declined at an alarming rate.  
"I think every nurse has an instant when taking care of COVID-19 patients when they switch from 'oh, this is not a big deal,' to then seeing it, and going 'okay, this is a big deal', and I think that was my big moment. It's a lot different when you see it in person," Wood said. 
Wood had to turn the dementia patient every few hours, clean, feed and help him to the bathroom.  
"He didn't know where he was or what was going on, but throughout everything I was doing he was always saying 'thank you so much for what you're doing'," said Wood. "When I'd be turning him, he'd often say 'am I doing this OK?', 'is this what you're wanting?'" 
The devastation of the virus became agonizingly real when Wood showed up to work a few days later and discovered her patient was gone. The hospital keeps "Expired" and "Discharged" lists, so if a nurse is worried about a patient they can go back to the lists and check.   
To be honest I was a little afraid of what I was going to find, so I didn't look. This is going to stay with me for a long time.
While times are uncertain, Wood remains adamant that she and her colleagues are facing the pandemic with courage and level-headedness. 
Today, she looks back with appreciation on the clinical work she received at the School of Nursing. In her ICU clinicals, she witnessed "code blues" (emergencies where a patient is in cardiopulmonary arrest), and patients who died. After each day, her professors would discuss the events of the day, teaching not only by textbook but by clinical and real-life instances.   
"The type of instructors we have possess a kind of maturity that you see with seasoned nurses," she said. "They made sure to stress throughout the program that nursing isn't just a job, it's a lifestyle. In taking care of the patients we also take care of the community." 
Image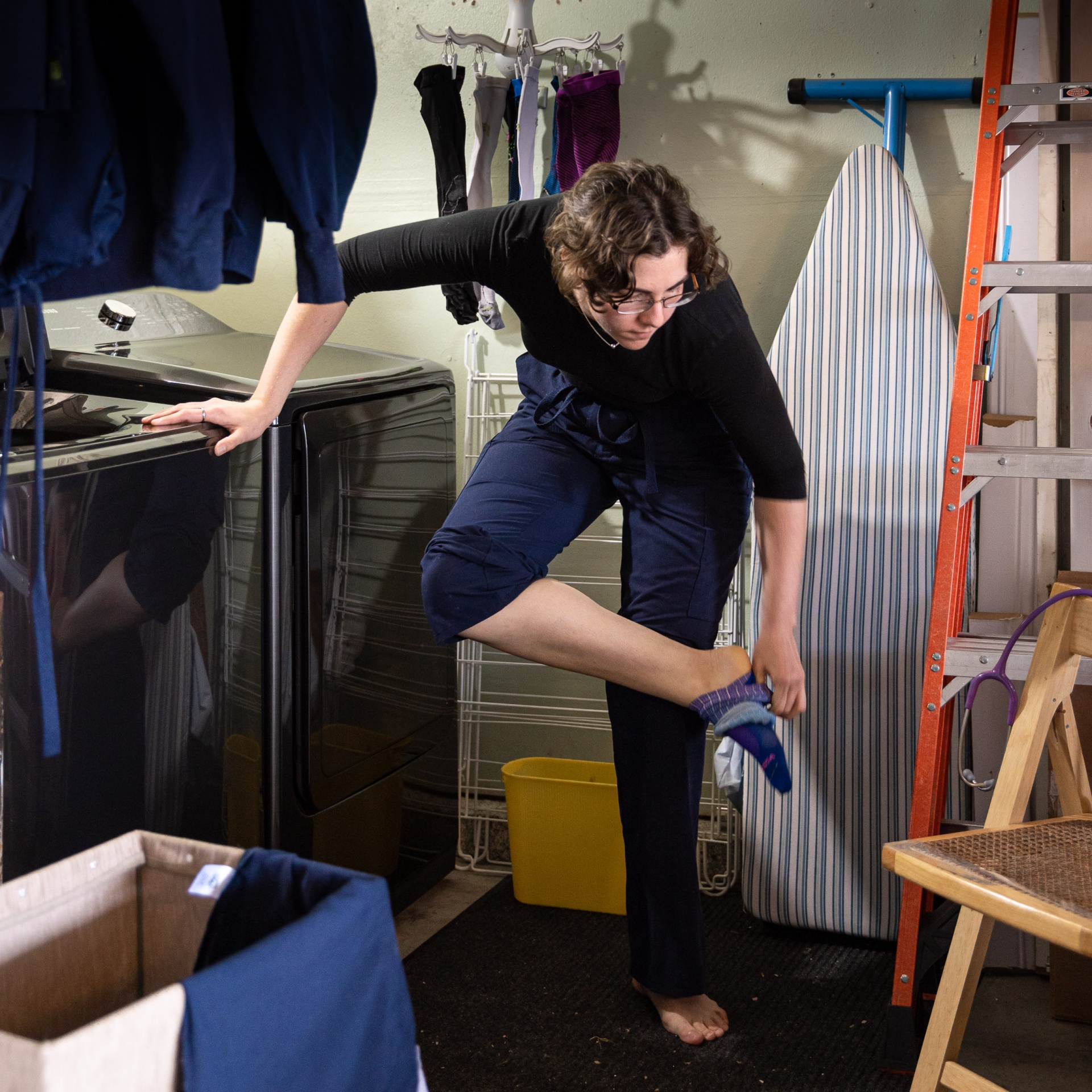 At the end of her 12-hour shifts, Wood pulls into her Lake Forest garage and begins what has become a daily ritual. She wipes down her shoes with a bleach wipe and places them aside in the garage. She takes off her pale blue scrubs and tosses them into the washing machine. She then wipes her hands and arms with a Chlorhexidine disinfecting wipe. Wood said she is relieved to take off her clothes after a shift.  
As a nurse, we go through experiences which make us desensitized to things that would be emotionally draining for somebody else. We need strong nurses that can muscle through a shift, leave tired at the end of the day, and be ready to come back the next morning.
This is one of an occasional series where CSULB nurses share their experiences from the front lines. 
Photography: Daniel Hubert.
---
Read more:
The best way to help our doctors, nurses and other healthcare workers on the front lines is to continue cooperating with the "Safer-at-Home" order.